View all SEAT Leon reviews


SEAT Leon X-PERIENCE (2014 - 2018)
Review
Off-road Leon is an excellent all-rounder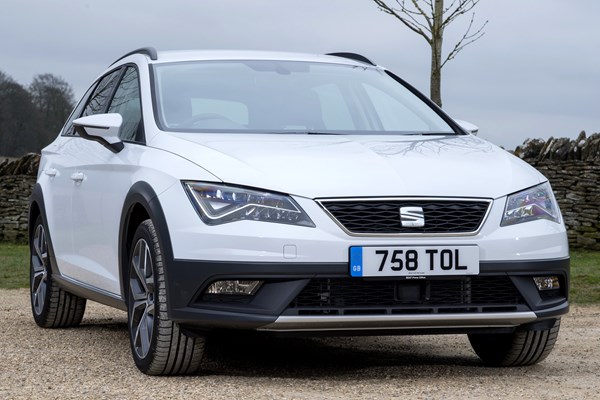 PROS
Sharp yet rugged styling
Decent to drive
Spacious, practical interior
Well-equipped
CONS
Limited choice in engines and trims
Leon ST could make more sense for most
Expensive top-spec models
Some will find interior dull
PROS
Sharp yet rugged styling
Decent to drive
Spacious, practical interior
Well-equipped
CONS
Limited choice in engines and trims
Leon ST could make more sense for most
Expensive top-spec models
Some will find interior dull
Verdict

Take one look at any estate car brochure and you'll soon realise just how active manufacturers like to think their customers are – the kind of people who cycle up a mountain every Saturday morning and go white water rafting on a Sunday. The SEAT Leon X-Perience is one of those cars that fits the bill for this kind of lifestyle, at least according to SEAT.
It's based on the SEAT Leon ST estate, but has been jacked up a bit, had some black plastic cladding added to the exterior and given all-wheel drive.
It doesn't have the class to itself though, with in-house rivals in the form of the Volkswagen Golf Alltrack and Skoda Octavia Scout to contend with, as well as upmarket rivals like the Audi A4 Allroad and Volvo V60 Cross Country. Not only this, but it also has to fend off competition from the fiercest of competition – the every-expanding crossover/small SUV class.
Off-road ability, everyday practicality
The Leon X-Perience is based on the capable and capacious Leon ST estate model, and benefits from that car's impressive 587-litre boot (1,470 litres with rear seats folded) but adds 28mm to the ride height along with chunky plastic body cladding.
It also features four-wheel drive, which channels power to whichever of the four wheels possesses the most grip at any given point, though in normal driving conditions it uses front-wheel drive to improve efficiency.
Without a dedicated off-road mode or hill-descent control, it's not a true off-roader but it can cope with heavily rutted roads and provides reassurance of the extra traction if affords in wet, muddy, wintery, or just plain miserable conditions.
Engine and trim choice
There's only one engine with two different power outputs available – a familiar 2.0-litre TDI turbodiesel that's found in several VW, Audi and Skoda models, as well as other SEATs.
Buyers can choose from a 150hp version, which is only available with a six-speed manual gearbox, while those looking for more power can opt for a 184hp model paired with a six-speed DSG dual-clutch automatic gearbox.
There are two trim choices, again dependent on which engine you choose. The 150hp diesel comes in SE Technology trim, while the higher-powered model is only available in SE Lux form.
All models come packed with standard equipment though, which is reassuring considering the X-Perience's relatively high price at the top of the Leon range.

If you can stretch to the price of the higher-spec, higher-powered 2.0-litre TDI SE Lux, the DSG gearbox suits the car's nature very well indeed, and makes for an excellent all-rounder that's punchy, refined and economical. It also has all the equipment you could possibly ask for in a family car, too.
Well-built, practical interior
The standard sports seats up front offer an ideal mix of support, comfort and adjustability while being available in cloth, Alcantara and leather trim. A smattering of X-Perience badges feature throughout and rear seat passengers enjoy ample leg and headroom.
The X-Perience comes fitted with a large and clear 8.0-inch touchscreen infotainment system as standard with sat-nav, DAB radio and Bluetooth connectivity, and it's all very easy to use. You can pay extra for a more feature-packed system that incorporates Apple CarPlay and Android Auto, as well as an upgraded sound system and 3D maps.
In the boot you'll find the same split-level load floor as in other Leon ST models, and size remains the same thanks to clever packaging of the four-wheel drive system. Swapping from the 587-litre space to the maximum 1,470-litre capacity is only the flick of a lever away too, thanks to remote backrest releases in the sidewalls of the boot.
The Parkers Verdict
For most, the standard Leon ST will suffice, after all most buyers – despite what the brochure might depict – will spend more time at the DIY store than up the side of a mountain. But for the select few who are happy to pay extra, want the X-Perience's rugged looks and go-anywhere image, or genuinely require the extra functionality and reassuring ability of the four-wheel drive, it's a great choice.
Read on for the expert SEAT Leon X-Perience review.