The Smart Forfour is a compact, economical five-door hatchback that was introduced in 2004. You can find both generations for sale used and nearly-new on Parkers. As a four or five-seater city car, the Forfour is ideal for young, urban families - but the first and second generations are very different. Look for a 2004-2006 model if you want a cool, front-wheel drive car with colourful two-tone bodywork; based on the Mitsubishi Colt, it's easy to drive with funky looks. Find a Brabus Forfour if you want a quick supermini, there's also an automatic version for more relaxed progress. If you want a newer car, the 2015-on Smart Forfour is a clever, rear-engined four-seater with wide-opening rear doors and a pure EV option, too. Closer to the classic Smart Fortwo layout, the current Forfour also shares engineering with the Renault Twingo. Search hundreds of deals with Parkers to find your next used Smart Forfour
Read more
Results

1

to

10

of

217

2015/65
63,104 miles
Manual
Petrol

Reynolds Motor Group,

Basildon

2019/19
101 miles
Manual
Petrol

Mercedes-Benz of Chesterfield (JCT600),

Chesterfield

2016/16
24,000 miles
Manual
Petrol

Outwood Motors,

Hawkins Lane

2015/65
27,242 miles
Manual
Petrol

Wearside Autoparc,

Sunderland

2016/16
23,000 miles
Manual
Petrol

2015/65
35,000 miles
Manual
Petrol

2017/17
14,448 miles
Manual
Petrol

AvailableCar Leeds,

Leeds

2015/15
5,800 miles
Manual
Petrol

Palmers Fiat Hemel Hempstead,

Hemel Hempstead

2016/16
24,621 miles
Manual
Petrol

2015/65
12,293 miles
Manual
Petrol

Evans Halshaw Ford Darlington,

Darlington
Disclaimer
Telephone numbers starting with 08XX will cost you 7p per minute plus your phone company's access charge. Calls to other telephone numbers will only cost your phone company's access charge.
What is the Smart Forfour?
The Forfour is a funky small car from Smart to rival the Renault Twingo, Citroen C1, Toyota Aygo, Peugeot 108, Volkswagen Up and others of similarly diminutive dimentsion. It twists Smart's cleverly-packaged small car formula into a more premium flavour, including more than a hint of its Mercedes-Benz parentage.
The current Forfour has only been around since the start of 2015, with the previous model going out of production in 2006 after just two years on sale. The Forfour does what it says on the badge, being the only Smart with seating space for four occupants.
Top-speed: 80-96mph
0-62mph: 10.5-16.9 seconds
Fuel economy: 61-67mpg
Emissions: 96-104g/km
Boot space: 185-975 litres
Which versions of the Smart Forfour are available?
The Forfour is available in a variety of specifications, including the spiced-up Brabus variant to the all-electric EQ Forfour version. Two petrol engines are available, both with either a five-speed manual or six-speed dual-clutch auto transmission that Smart calls Twinamic.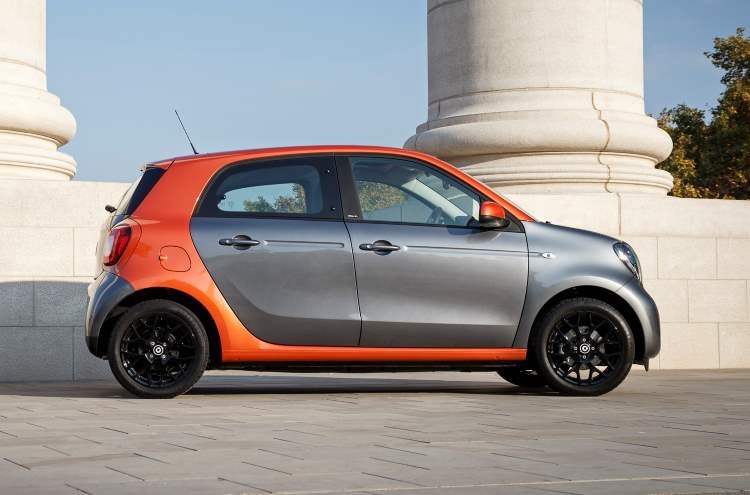 Specifications include Prime and the stealthy Urban Shadow Edition, which comes with 16-inch alloy wheels, black trim and a rear-view camera.
What is the Smart Forfour Brabus?
To call the slightly quicker Brabus version a performance derivative might be somewhat charitable. Yes, the chromed badges invoke notions of body-kitted Mercedes models with colossal power outputs, but its 110hp 900cc engine remains diminutive. Still, big wheels, body-coloured bumpers and twin exhausts at least look the part.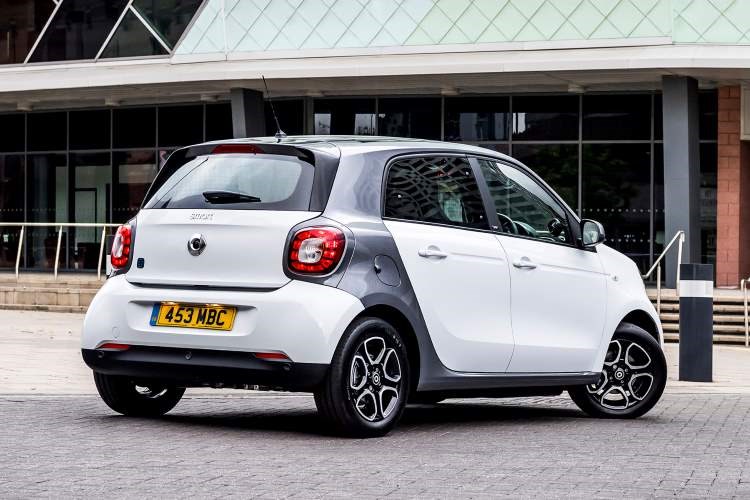 This all comes at a fairly hefty price, however, as does the EQ. Claimed range for the fully electric Forfour is a modest 100 miles.
Smart Forfour styling and engineering
The Forfour shares its steel safety structure, engines and transmissions with the third-generation Renault Twingo. The shell is marketed in Smartspeak as the Tridion – it's a compact, safe and clever design. As for the styling, it's an evolution of what's gone before, with an upmarket look inside and out. The funky design continues in the cabin, but it's beginning to age and the boot isn't exactly commodious.
The infotainment options are interesting. You can have a (noticeably aged) in-built system, or a place to mount and integrate your phone.
How does the Smart Forfour drive?
The Smart Forfour is by no means a scintillating drive, but that's not its goal. If you want B-road thrills and small bills, try the Ford Fiesta. If you want a feather-light, manoeuvrable and capable city car, on the other hand, the Smart is highly appealing. It's very single-minded in its focus. This is no motorway hauler, nor is at adept at cross-country routes.
It will get you around the city with ease, prove easy to park and sip fuel (or indeed electricity). It's good at what it was engineered to do, and average to sub-par at everything else.
How much does the Smart Forfour cost?
It's worth considering that the Renault Twingo closely matches the Forfour in terms of driving, but for less money. The Smart starts at £11,910, whereas you can get into the (newly updated) Renault for less than £10,000 after discounts. Indeed, most of the Forfour's rivals are significantly cheaper.
What do you get for your extra cheddar, then? The Mercedes association is appealing, for one thing. And models with big wheels do look suitably premium. Then again, you're paying serious money for a Brabus, or even just the tailor-made Brabus options.
Find out how Forfour drivers rate their larger Smarts with our comprehensive owners' reviews.
Parkers has thousands of used Smart Forfour cars for sale in our classified listings. Find your next secondhand model in our ads – we've everything from family cars and hatchbacks to executive saloons and sports cars.