View all SsangYong Korando reviews


SsangYong Korando Hatchback (2011 - 2019) review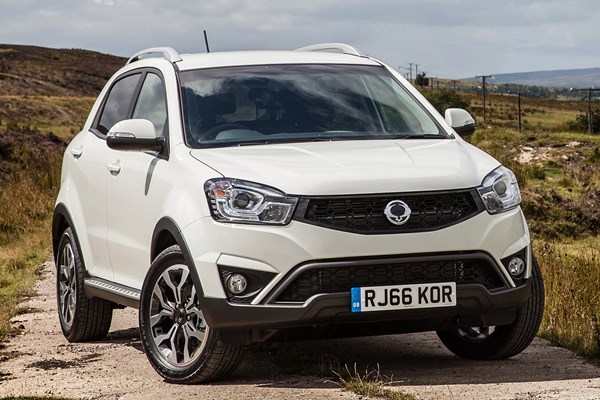 PROS
Spacious, stylish looks, rear seats easy to fold down, towing capacity
CONS
Wallowy handling, zero steering feel, bouncy ride, illogical control layout, notchy gearchange, clattery diesel
PROS
Spacious, stylish looks, rear seats easy to fold down, towing capacity
CONS
Wallowy handling, zero steering feel, bouncy ride, illogical control layout, notchy gearchange, clattery diesel
SsangYong is one of the lesser known Korean car makers that's eclipsed by the likes of giants Kia and Hyundai. It's no new kid on the block, however, churning out vehicles as far back as 1950. The SsangYong Korando was there at the start so, technically, it's one of the longest surviving models of all time. This version, the fourth generation, is a step away from the rather utilitarian iterations of the past and is a rather smart-looking 4x4 designed to take on popular soft-roaders like the Nissan Qashqai, the Hyundai ix35, the Mitsubishi ASX and Kia's Sportage. Clearly, it's got a lot of decent, well-priced competition to beat and without instant brand recognition, it'll have to be the complete article to justify its presence in such exalted ranks. In some respects it has to offer a lot more to potential customers to steer them away from Korea's volume manufacturers.
One engine, two- or four-wheel drive
There's just one engine available – a 2.0-litre turbocharged diesel available with either two- or four-wheel drive and either six-speed manual or six-speed automatic gearboxes. There are two power outputs available: 149bhp and 175bhp. The peak torque figure for each version is 360Nm, available between 2,000 and 3,000rpm.
The above enables each version of the Korando to get to 62mph in 9.9 seconds, with top speeds of between 112mph and 116mph depending on version. The braked towing weight is a substantial 2,000kg, while CO2 emissions range from 157g/km for SX and S models to 199g/km for the EX auto model. Fuel economy is claimed as ranging between 47.1mpg to 37.7mpg on the combined cycle depending on model and how many wheels are driven.