View all Hyundai ix35 reviews


Hyundai ix35 Estate (2010 - 2015) review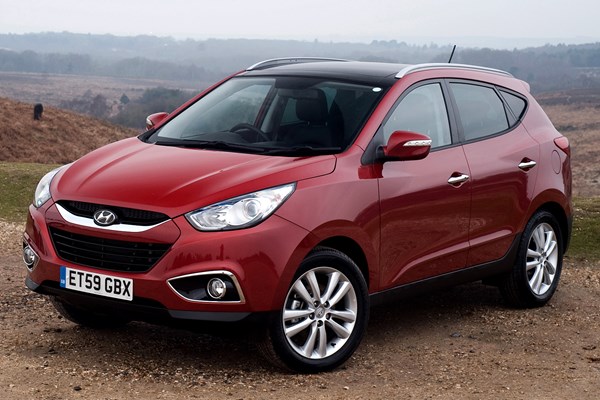 PROS
Great value for money
High quality interior
Comfortable and refined
Impressive levels of standard equipment
Low running costs
PROS
Great value for money
High quality interior
Comfortable and refined
Impressive levels of standard equipment
Low running costs
The Hyundai ix35 may effectively be the replacement for the underwhelming Tucson, but it's also much more than that. It represents a huge leap forward for Hyundai in terms of interior quality, exterior design and refinement.
Elements such as the distinctive grille and modern cabin design make their debut in the ix35 and it leads the way in terms of economy and emissions too with impressively efficient and cheap to run engines.
Despite its off-roader looks, most ix35s are two-wheel drive and it's surprisingly compact with an overall length shorter than a Vauxhall Astra, making it easy to park.
Comfortable and quiet on the move, there's little to find fault with and the icing on the cake is the ix35's superb value for money. It comes incredibly well equipped, has a five-year warranty as standard and is easily a match for more mainstream alternatives from Toyota and Volkswagen
2013 revisions
Hyundai introduced a mild facelift for the ix35 in September 2013, ushering in LEDs in the headlamps, specification changes including flagship Premium trim levels and a more economical 2.0 CRDi engine when mated to the automatic gearbox.
Great value
Hyundai has always been noted for its generosity when it comes to the standard kit count of its cars, and the ix35 is no exception to this. Even though the ix35 takes Hyundai up a notch in the contenders it competes with, the Korean firm sticks mercifully to its roots and every ix35 comes with alloy wheels, reversing sensors, air conditioning, electric windows all round, CD stereo with MP3 player and Bluetooth, USB connection and heated front and rear seats.
Try matching that spec with the ix35's main rivals and most of them will pile on the pounds to get anywhere close to such a generous loading of equipment, which makes the Hyundai great value, especially when it also comes with a five-year, unlimited mileage warranty.
Dull to drive
Due to its off-roader styling, the Hyundai ix35 has tall sides and sits further from the ground than the average hatch, even if the ix35 is a crossover rather than a mud-plugger.
The downside of this styling is the Hyundai needs firm suspension to prevent it from lolling in corners and that also means a firm ride that picks up on too many lumps and bumps in the road's surface.
The overly light power steering also detracts from the Hyundai's driving experience, though it does make it very easy to park in awkward spots. Read on for the full Hyundai ix35 review to see how it compares to its rivals.