View all SsangYong Rexton reviews


SsangYong Rexton SUV
Review
Current Model
Genuinely capable 4x4 can seat seven and tow big loads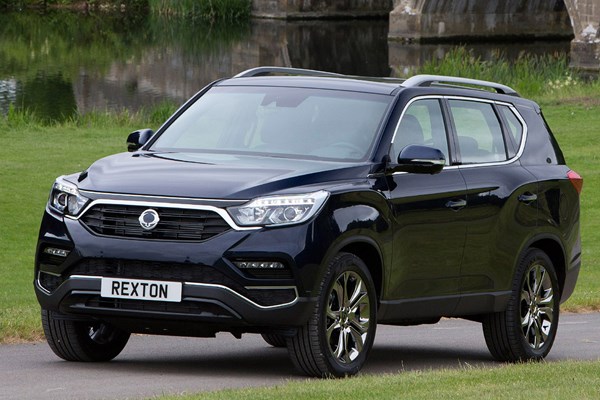 PROS
Tough, rugged and reliable workhorse
Long seven-year warranty

Huge boot in five-seat mode
Seven-seat version available
CONS
Ride can be choppy
Not much engine/gearbox choice
Relatively unknown brand
Low fuel economy and high tax
PROS
Tough, rugged and reliable workhorse
Long seven-year warranty

Huge boot in five-seat mode
Seven-seat version available
CONS
Ride can be choppy
Not much engine/gearbox choice
Relatively unknown brand
Low fuel economy and high tax
Verdict

The SsangYong Rexton SUV is the answer to a very specific set of requirements. It's a highly capable seven-seat off-roader and can tow very heavy loads, but doesn't appeal as a road car in the same way as its main rivals such as the Hyundai Santa Fe, Kia Sorento or Jeep Grand Cherokee. However, SsangYong also notes a second hand Land Rover Discovery among its most direct rivals for the Rexton, which indicates the kind of buyers it's targeting.
And while it's theoretically possible to seat seven, it's at its best in five-seat configuration to make the most of the huge boot space on offer. Indeed, top-spec Ultimate is only available as the latter, which indicates the sixth and seventh seats are too cramped for anything more than short journeys for taller third-row passengers.
Older design but very tough
Unlike most modern cars, the Rexton sits on what's known as a ladder chassis – a high-strength steel frame – with the body attached via eight rubber mounts. This means it's incredibly strong, able to tow huge loads (up to 3.5 tonnes) and capable off-road.
So much so, the same platfom and much of the visual design is also used for the contemporary SsangYong Musso pickup truck.
It feels a little off the pace in terms of handling and ride quality on the move, but there's no denying its off-road capabilities thanks to this slightly more utilitarian set-up.
There's just one diesel engine on offer – and you can have either a six-speed manual or seven-speed automatic gearbox, the latter of which is borrowed from Mercedes-Benz.
Simple, well-equipped trims
The trim structure starts at EX, with air-con, an 8.0-inch touchscreen, parking sensors, automatic lights and wipers, cruise control and a suite of safety systems included.

Moving up to ELX nets you a much nicer 9.2-inch multimedia screen and leather upholstery along with heated and powered front seats.
However, the lion's share of sales are likely to be top-spec Ultimate, which offers a very impressive spread of kit including a powered tailgate, quilted Nappa leather seats, mood lighting and a 360-degree parking camera. You can learn more about the equipment on offer by scrolling to the Equipment section of this review.
On face value the Rexton looks like a good-value proposition, but this is countered by the firm's inability to offer the sort of financial incentives its rivals' can, meaning leasing costs will be higher than the likes of the Kia Sorento and Hyundai Santa Fe.
Longer warranty for SsangYong Rexton
In July 2018 SsangYong UK announced a longer seven-year, 150,000-mile warranty for the Rexton and its sister vehicle, the Musso pickup. This improved the ownership proposition for both.
Fixed-priced servicing also adds extra value.
The Parkers Verdict
There's no doubting the Rexton has some serious capability, especially when it comes to interior space, standard equipment and rugged off-road ability. The only question is whether many buyers need that ahead of reasonable finance, lower running costs and more car-like manners on the road.
If your aims are primarily road use, towing, horseboxes and occasional rough roads the Rexton is impressive, in fact. Ground clearance is low enough to make really rough tracks and deep snow tricky – one area where the Discovery had an air-suspended advantage – though on the other hand, passengers and drivers don't need fold-out steps or a pole-vault to get in.
Crucially, that caveat of 'for the money' does not come with an implication of wanting an improvement in design or build quality. Rather, this Rexton has the foundations to carry a higher price, a more expensive-to-run engine, and all-wheel drive - without feeling like corners have been cut.
Read on for the full SsangYong Rexton review.