SsangYong Musso pickup review (2021)
Outstanding payload and towing capacity from this surprisingly refined pickup
PROS
Seven-year, 150,000-mile warranty
Impressive payload and towing combo
Very quiet inside for a pickup
Interior similar to Rexton SUV
Rhino LWB model is huge
CONS
Small load area on standard model
Lacks advanced safety tech
Vague manual gearchange
Very little feedback from steering
High insurance groups
Summary
This SsangYong Musso review covers the pickup truck first launched in 2018 and based on the same platform as the South Korean firm's contemporary Rexton SUV. It represents a dramatic improvement compared with the previous version, and in Rhino LWB guise has the largest double-cab pickup load area of any truck on the UK market.
The longbed Musso Rhino LWB version was added to the range in May 2020. Both this extra-long model and the standard version form the basis of this Parkers SsangYong Musso review.
A facelift version of both models is set to go on sale in September 2021; see below for more details.
Capable and strong value
The key points of the Musso's appeal are that it offers impressive towing and load capacity for relatively little money, while also being quiet and refined inside. But it still faces a not-insignificant challenge convincing pickup drivers that it's worth a punt versus the industry's leading contenders such as the bestselling Ford Ranger and world-renowned Toyota Hilux.
Brand aspiration may be less of a priority for commercial drivers than it is for car buyers, but brand values are arguably more important. Trustworthy reliability, dealer support and a consistent driver experience are as vital as knowing that the sauce in Heinz baked beans and sausages is the same in every tin.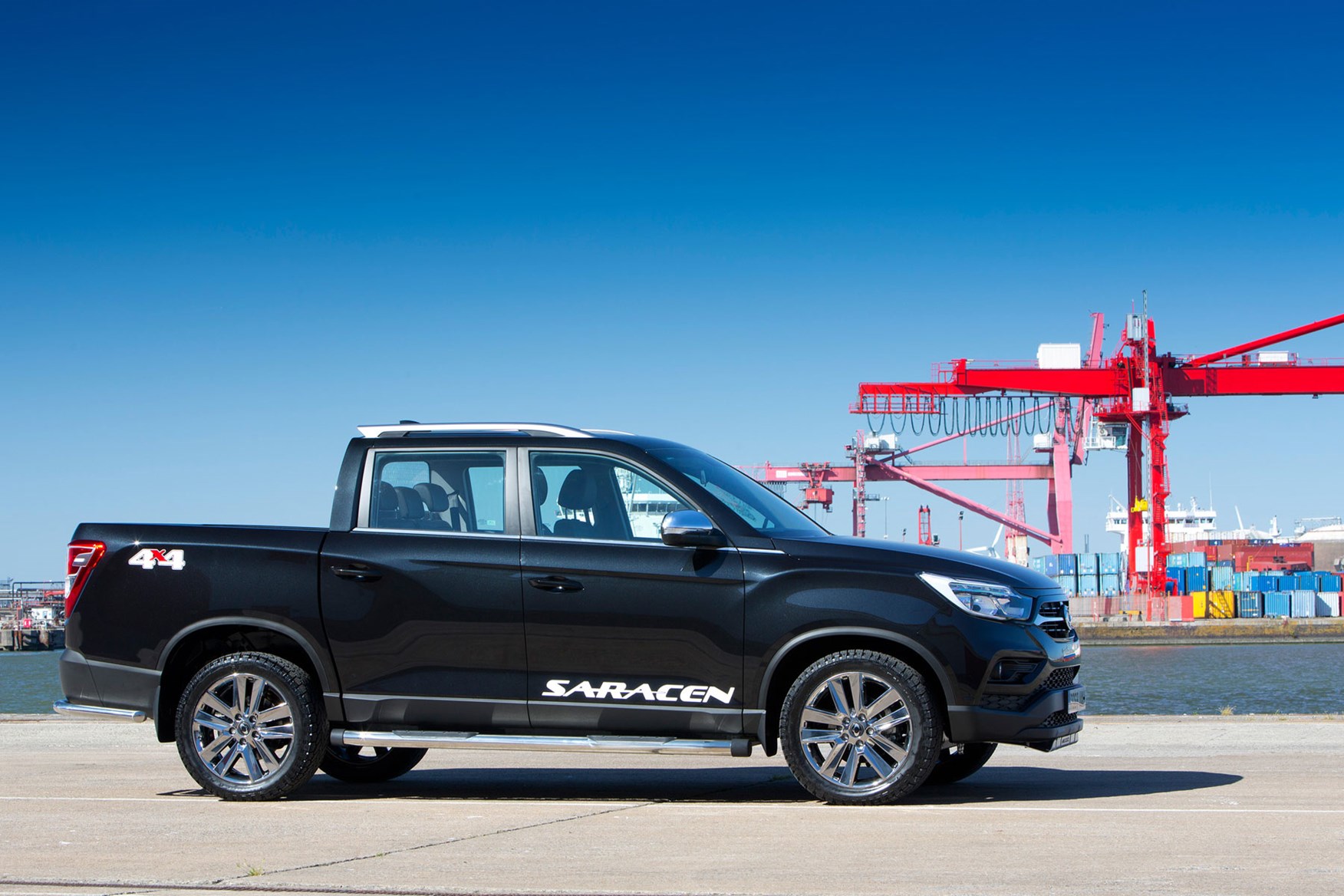 The Musso's seven-year, 150,000-mile warranty helps address the first point. But as a relatively unknown marque, is it really worth looking at a Musso before the more obvious choices?
For despite the budget-brand marketing, the reality is that the range's entry-level pricing faces some fierce mainstream 4x4 double cab pickup competition from the well-respected Isuzu D-Max.
>> The best pickups on sale in the UK
SsangYong Musso - a good looking pickup?
SsangYong has made some extremely challenging-looking vehicles in the past, but the Musso is much more mainstream, with an imposing, neatly-proportioned body and tightly integrated rear box.
From the front, its relationship to the Rexton SUV is very clear, and you have to get a long way round towards the back before its pickup status becomes obvious. As such, it will probably be no surprise to discover the standard Musso is one of the shortest pickups in the UK, with a correspondingly small load bed.
Italian design and engineering company Pininfarina (also part of Mahindra & Mahindra, SsangYong's parent company) developed the body sealing and insulation. This has been effective; noise levels inside the cab are lower than in many double-cab pickups.
SsangYong Musso Rhino LWB longbed pickup
The SsangYong Musso Rhino LWB joined the range in May 2020 - and is the UK version of what's previously been referred to as the Musso longbed and is known as the Musso Grand elsewhere in the world.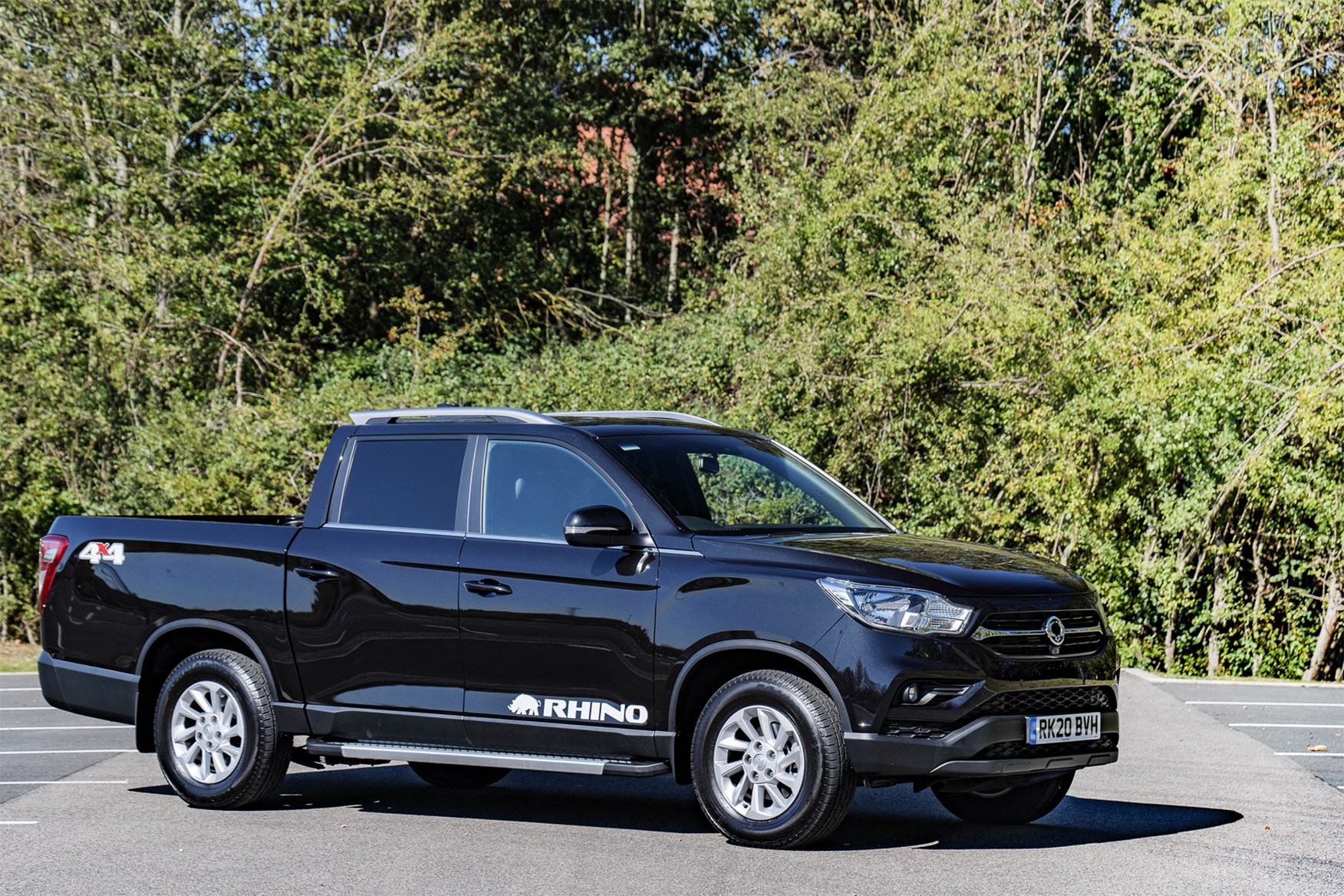 The SsangYong Musso Rhino LWB features an extended wheelbase (hence the LWB for long-wheelbase in its name) and load area, taking the Musso from the smallest double-cab pickup load bed on the market to the largest.
The Rhino LWB also features less sophisticated but stronger rear suspension, and comes with a load of extra kit, including a standard-fit six-speed automatic gearbox and more safety features.
SsangYong Musso engine and gearboxes
There's just one engine on offer – a 2.2-litre turbodiesel – and you get a six-speed manual gearbox as standard, with a six-speed automatic transmission available as an extra-cost option on the shorter model.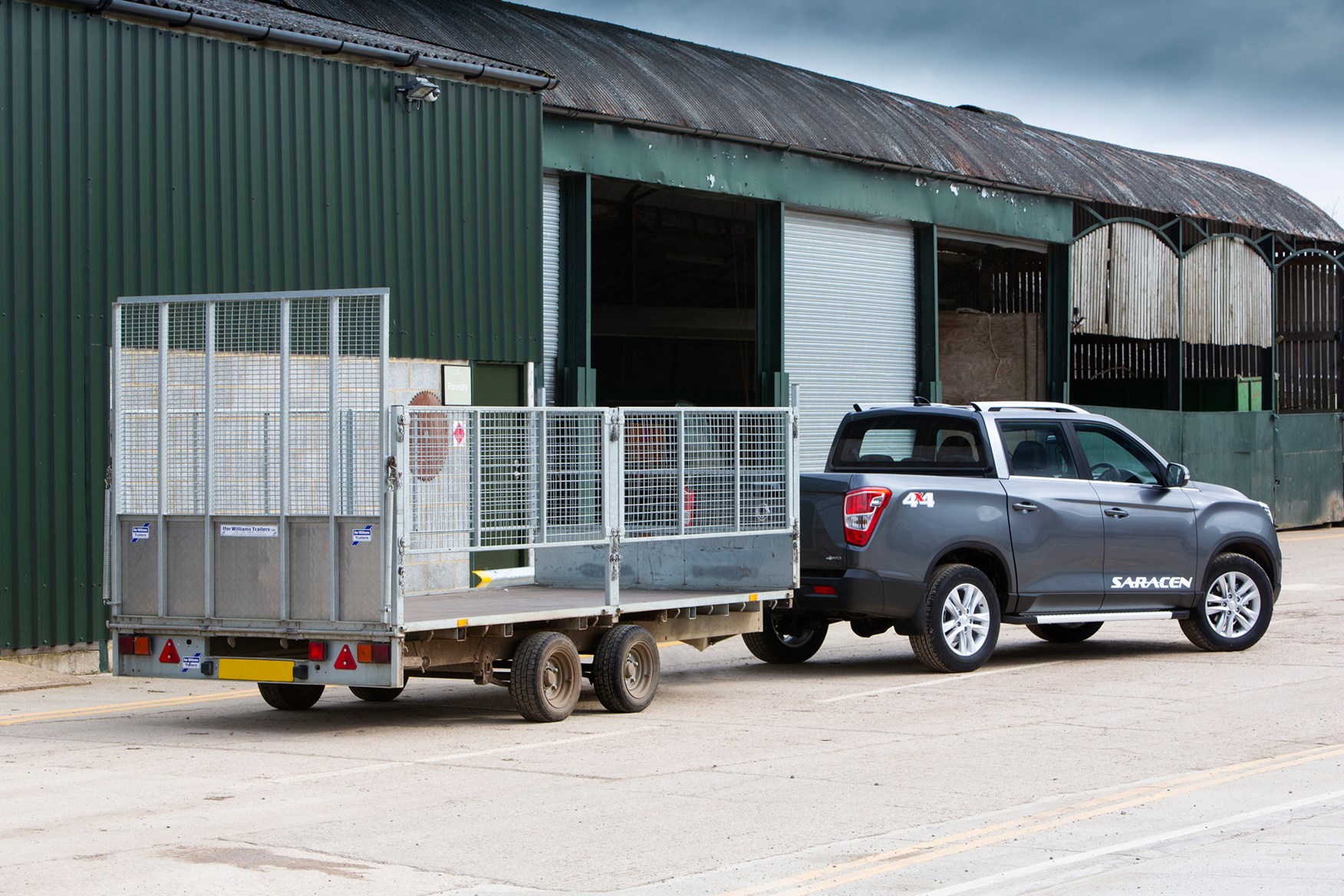 Either way, the Musso has some impressive statistics as a workhorse, with a minimum 3.2-tonne (3,200kg) braked towing weight - rising to 3.5 tonnes (3,500kg) for auto models, including the Rhino LWB - and huge gross train weights (GTW).
The GTW dictates the total legal weight of vehicle and trailer, and those for the Musso are so high that it can tow to its maximum while still carrying over a tonne in the load bed, something no other pickup in the UK can manage.
For more details of towing capacity, payload and load bed sizing, see our dedicated SsangYong Musso dimensions page.
SsangYong Musso four-wheel drive system
The Musso has a switchable four-wheel drive system (though this isn't for use on tarmac, only in slippery off-road situations) featuring a low-range gearbox for more extreme terrain.
It also has relatively short overhangs and good axle articulation for a pickup, so can cope when the going gets tough, as long as you respect the limitations of its ground clearance. Some models are sold with off-road tyres for increased grip.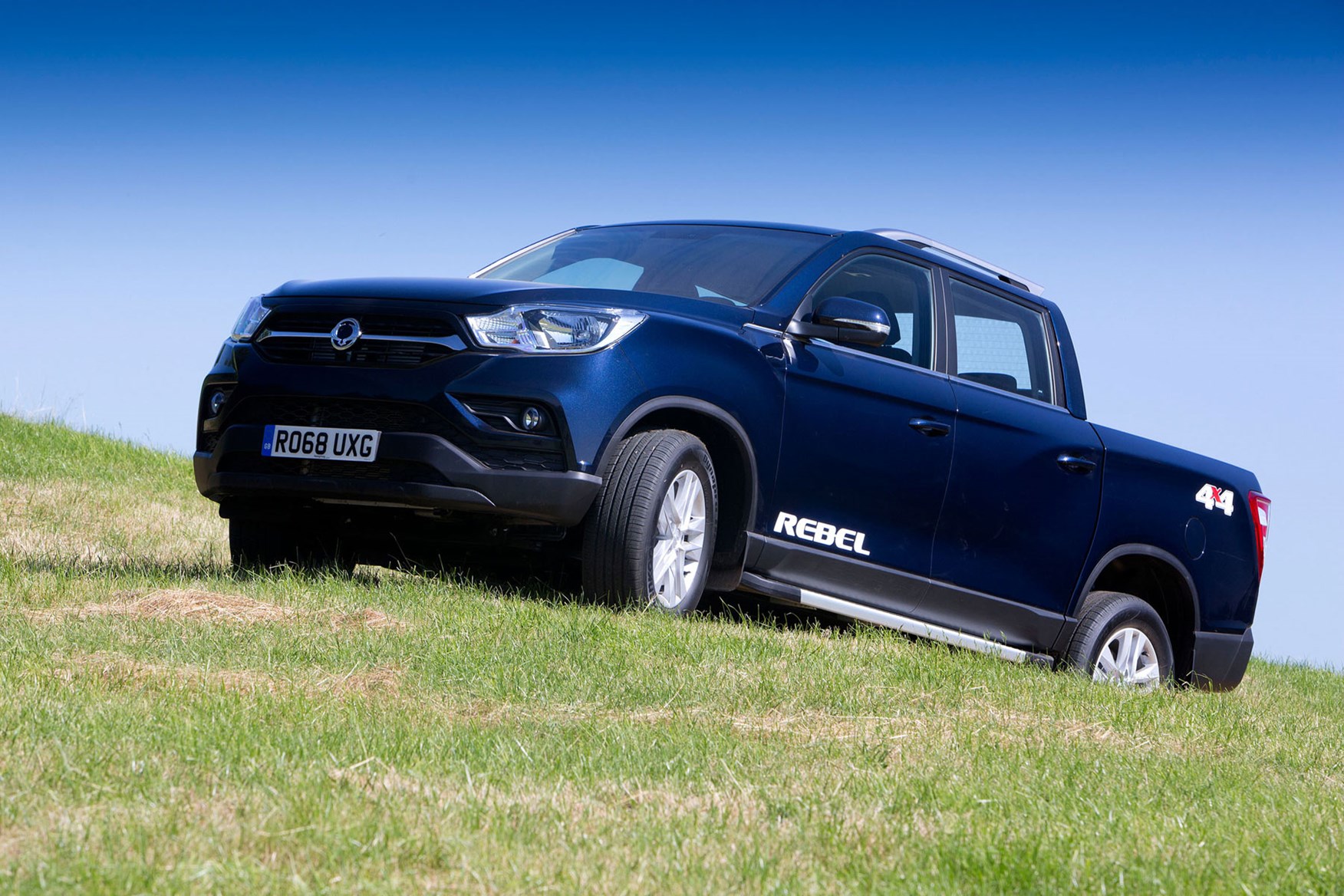 The chassis is of ladder-frame construction, like all pickups, with the body suspended by eight rubber bushings on top.
The Musso's driving experience isn't as honed as some rivals', however, and we have had to question the fitment of some accessories that appear to offer far more fashion than they do function.
But the cabin, which is very closely related to the Rexton, impresses with its fit and finish and its lack of noise, vibration and general harshness – a significant boon in an area where pickups typically struggle.
2021 SsangYong Musso facelift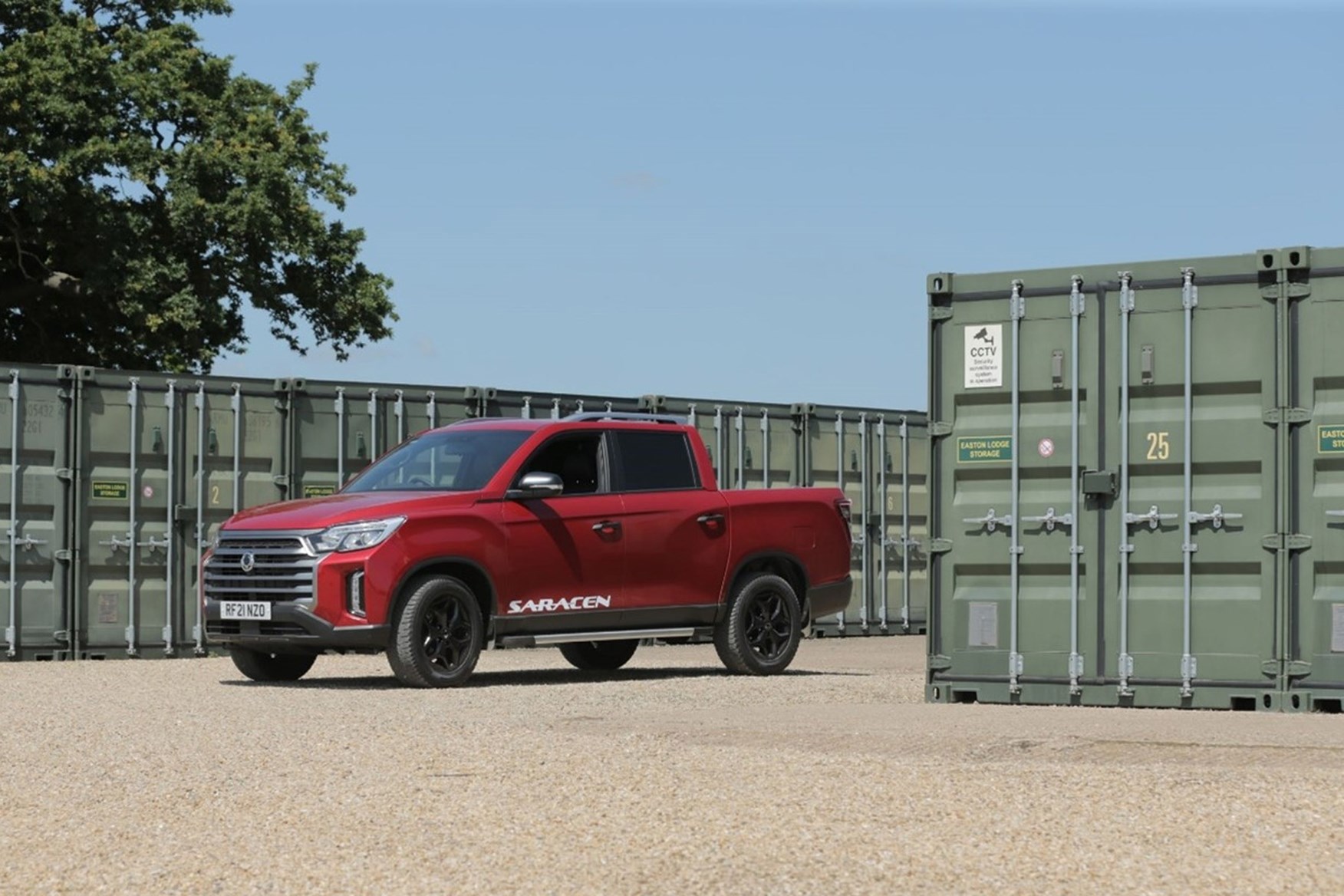 Making its debut at the 2021 CV Show, a facelifted version of the Ssang Musso arrives in September 2021. Details are scant at this stage, but the revised models do receive a new grille and front bumper treatment.
We'll update this review with more info and driving impressions of the new models as soon as we have them.
>> SsangYong Musso facelift - details on Parkers Vans and Pickups
---

Verdict: is the SsangYon Musso any good?
The SsangYong Musso offers genuine capability, high levels of kit and a car-like cabin, alongside a class-leading seven-year warranty and low list price. It's also very refined inside. The Rhino LWB version, with its huge load bed, also offers a level of practical functionality no other double-cab pickup can match.
The driving experience could be better, however, and it's perhaps not as cheap as SsangYong's budget reputation might lead you to believe.
Could this be the pickup for you? Keep reading for the full SsangYong Musso review on Parkers Vans and Pickups to find out.
Skip to our full verdict on...
Exceptionally good refinement for a pickup
More than acceptable comfort but poor steering feel
Capable off-road although ground clearance is limited
Our initial impressions of the SsangYong Musso's driving experience at its launch in 2018 weren't overly positive.
In order to achieve that outstanding gross train weight rating, very stiff rear springs were fitted, and seemed to cause some unpredictable behaviour on bumpy roads, especially when going round corners.
However, revisions have been made, and examples we've driven more recently have proved more pleasant.
What's the SsangYong Musso like on the road?
SsangYong claims the Musso is more like an SUV than a traditional pickup, but that does need a caveat; its own highest-specification SUV uses an old-school ladder-frame construction just like a pickup, so put ideas of the Musso driving like a modern Skoda Kodiaq or BMW X5 right out of your head.
However, multi-layer door seals and an all-round bonnet seal keep the 2.2-litre diesel's noise subdued in town as it busies itself producing 181hp and 400-420Nm. That's enough power for the Musso to reach as much as 121mph and accelerate briskly; manual gearbox models go from 0-62mph in 11.3 seconds, while automatics take 11.9 seconds.
Following the suspension tweaks, keeping up with other traffic in the standard-length model certainly isn't an issue. Speed-sensitive power steering and progressive brakes (discs all-round, unlike the rear drums of many rivals) make it a very light-touch pickup to drive in urban situations, and it's a lot more stable under unladen emergency braking than some rivals.
Similarly, the suspension is now soft enough that mid-corner drain covers and bumps are absorbed well with little noise, although as with most pickups there remains a constant background jitter on all but the smoothest surfaces. Pressing on along more rural routes, passengers will probably appreciate a more sedate pace than the performance allows, as there's a lot of body roll that takes time to settle in sequences of bends – though if you're driving alone there's plenty of grip
What there isn't much of is feedback from the steering. This isn't unusual for a modern vehicle, but the extent you can move the steering wheel around the centre point in the Musso without anything seeming to happen takes a bit of getting used to, and at speed this can contribute to a slightly lurching action when changing direction.
As such, the Musso is at its best when driven with smooth, delicate inputs, but ultimately you're very aware that this is a large, heavy vehicle without much feedback from the controls.
Visibility is good – though blind-spot monitoring would be a welcome addition - and in-gear acceleration on the automatic is ample for keeping up with traffic or overtaking safely.
What's the Musso Rhino LWB like to drive?
Launched in May 2020, the LWB version of the Musso isn't just bigger, it's also got different rear suspension - using more traditional leaf springs in place of the standard Musso's more car-like coil springs.
While this is definitely likely to be good news for strength, load carrying and towing, driving the now 5.4m long Musso Rhino is, for the most part, exactly like the conventional one. However you can really feel the move to leaf springs on poor roads, and where you'd anticipate the longer wheelbase yielding a more chilled-out motorway ride, it's scuppered by that beefed up rear suspension.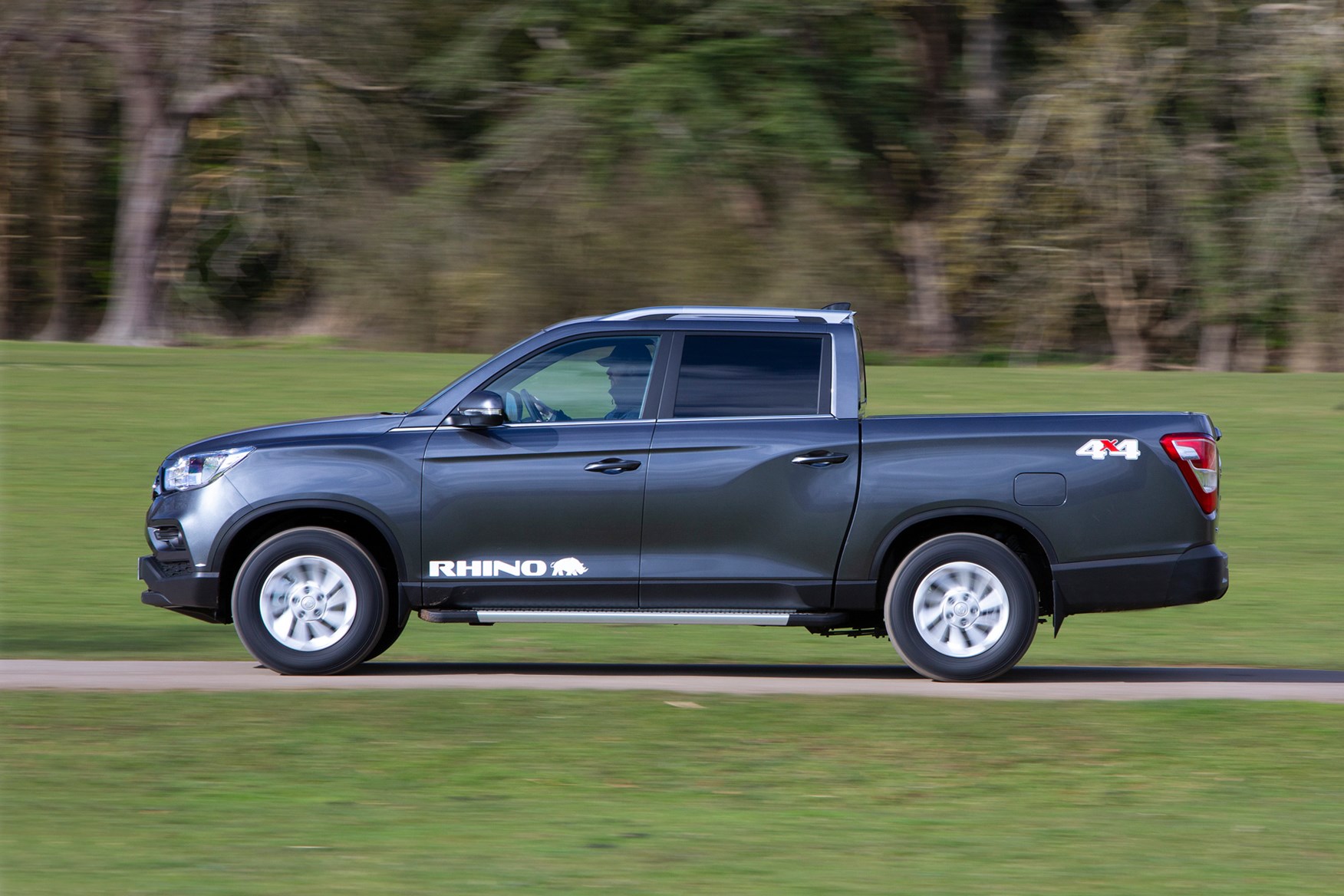 So, the price you pay for a near 7.0-tonne gross train weight, 3.5-tonne towing and 1.6m long load bed that can carry over a tonne at the same time is the sort of suspension suited to a 7.5-tonne van, and it's actually a bit harsher than the standard Musso. You can see the load bed shimmy over bumps in the mirror, which was never that obvious in our long-term Musso Saracen, for example.
It still has curiously light steering - a child could steer this with one finger - and the brakes are still impressive despite the cruder rear suspension, but it's been dropped from an SUV-like ride to 'an average pickup', though that's in the context of it being above-average in terms of hauling capacity. Standard-fit blind-spot monitoring is welcome, though visibility is good enough, and the reversing camera is essential given the length and turning circle.
It is very good value. It is still very comfortable, and nicely trimmed. But it still falls short of greatness for the smallest of tweaks to the way it steers and the finish of the trim. One thing's for sure, though, you will not want for space - and despite the stretched appearance, it is only 10cm longer than most pickups on sale in the UK.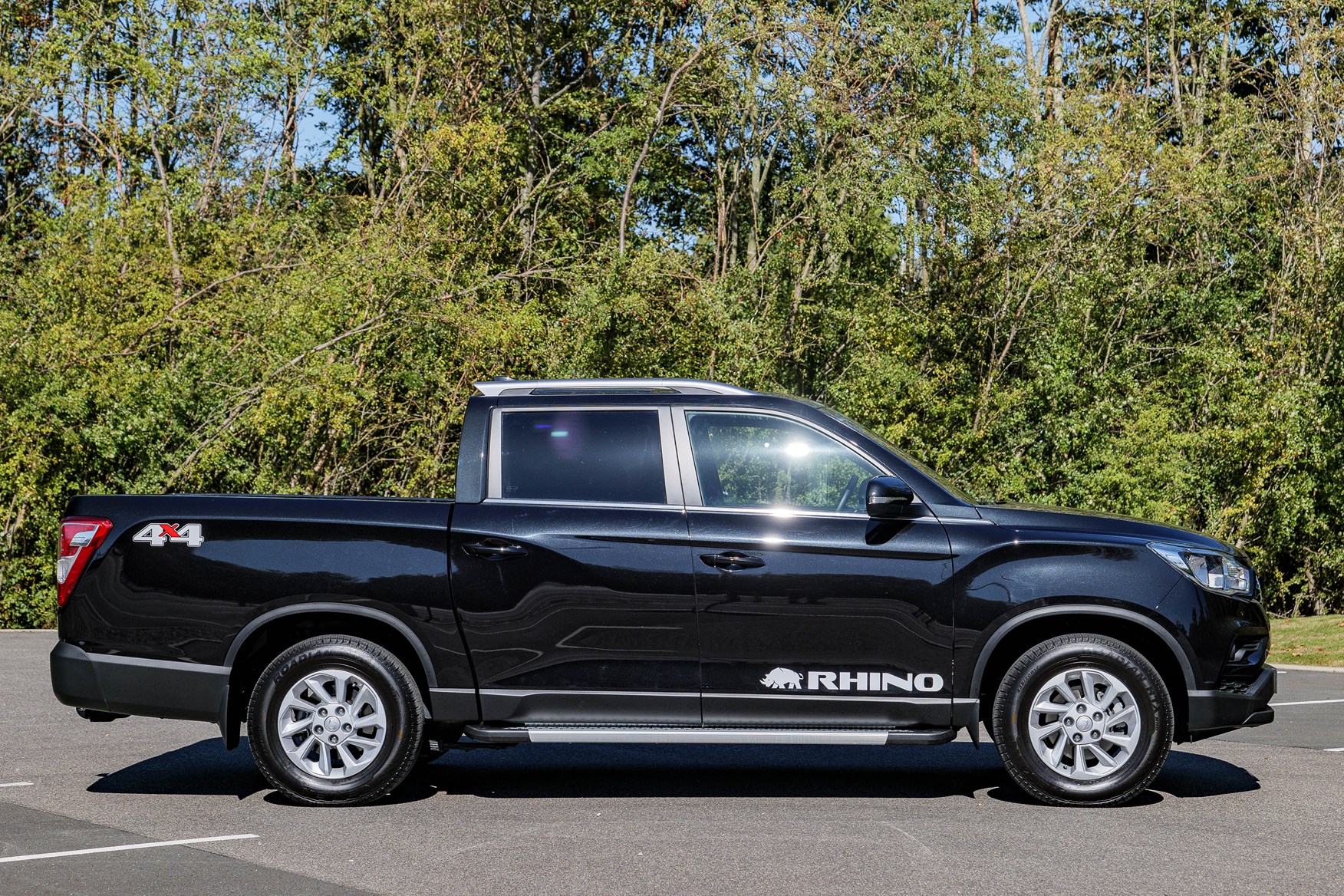 If you don't need the long load bed, the standard Musso is the nicer family-pickup in terms of comfort and ride quality, and if you do need it - you don't have many options for a high-capacity double cab pickup like this.
Off-road in the SsangYong Musso
SsangYong's official figures put the Musso at a disadvantage off-road because of the low wading depth of 350mm; the deep, sill-covering doors and large side steps also reduce the ground clearance, which falls as low as 215mm (220mm for the Rhino LWB).
Even so, the chassis is deep, and offers good protection for the transmission.
The all-wheel drive system is part-time selectable 4x4 with locked centre differential, and a low-range mode. The rear differential has electronic traction control, but no manual lock for dealing with really slippery conditions, and the hill descent control system only has a fixed speed, so you can't adjust this. It works perfectly well, though.
Part-time 4x4 means it's rear-wheel drive only by default - and this is the only way it should be driven on the road - and though engaging one of the two four-wheel drive modes is no more strenuous than twisting a knob by the gearlever, you do have to stop and put the Musso into neutral before selecting them.
Visibility is excellent, so placing the Musso in the environment is straightforward, but you'll want more suitable tyres than the road-biased Continentals on all but the limited-edition Rhino models.
A metal skid plate on the front of the Saracen model offers protection for the radiator while reducing approach angle, but as it doesn't extend to similar protection under the body it's largely cosmetic. Likewise the plastic arch trim is recessed, and the bumpers deep, leaving a lot of vulnerable bodywork and trim exposed during more extreme green-laning attempts.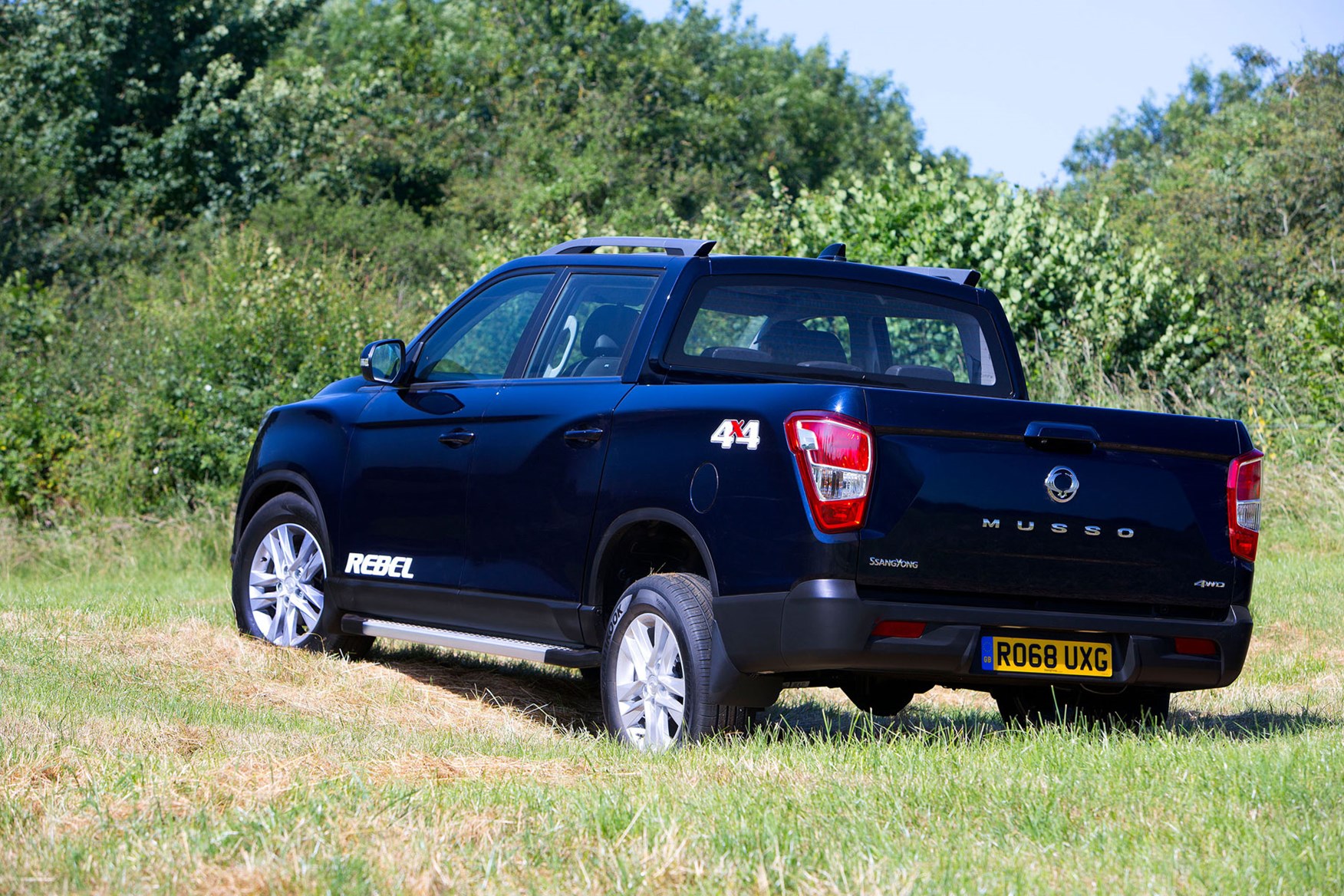 But stay within the chassis' limits and the Musso proves basically effortless off-road, especially when fitted with the automatic transmission. Traction is good, the light steering works in the Musso's favour when tackling undulating terrain, and there's plenty of power for climbing hills.
Towing with the SsangYong Musso
We've taken the opportunity to test the standard Musso towing an Ifor Williams CT136HD twin-axle car trailer and suitably heavy project vehicle. A combined mass of around 1,900kg posed no challenge, dynamically or in terms of safe performance, and the SsangYong's factory-fitted towing package includes niceties like enabling the trailer's side-marker lights with the daytime running lights. Large mirrors help keep an eye on the load, and the reversing camera and light, reasonably direct steering aid with confident manoeuvring of the combination.
Ride quality and stability when towing on motorways is impressive, and the Musso is a pickup well suited to covering serious distances while pulling a trailer. Naturally there's an impact on fuel economy, the additional load costing about 7mpg compared to unladen driving at the same speeds.
SsangYong Musso – one diesel engine, manual or automatic gearbox choice
The Musso's 2.2-litre turbodiesel engine is SsangYong's own design, and the same as the one in the Rexton
It produces 181hp and 400Nm between 1,400 and 2,800rpm – decent figures, especially given the Musso's budget-conscious cost. Its sound is also well insulated from the cabin, which helps the SsangYong to feel robustly built.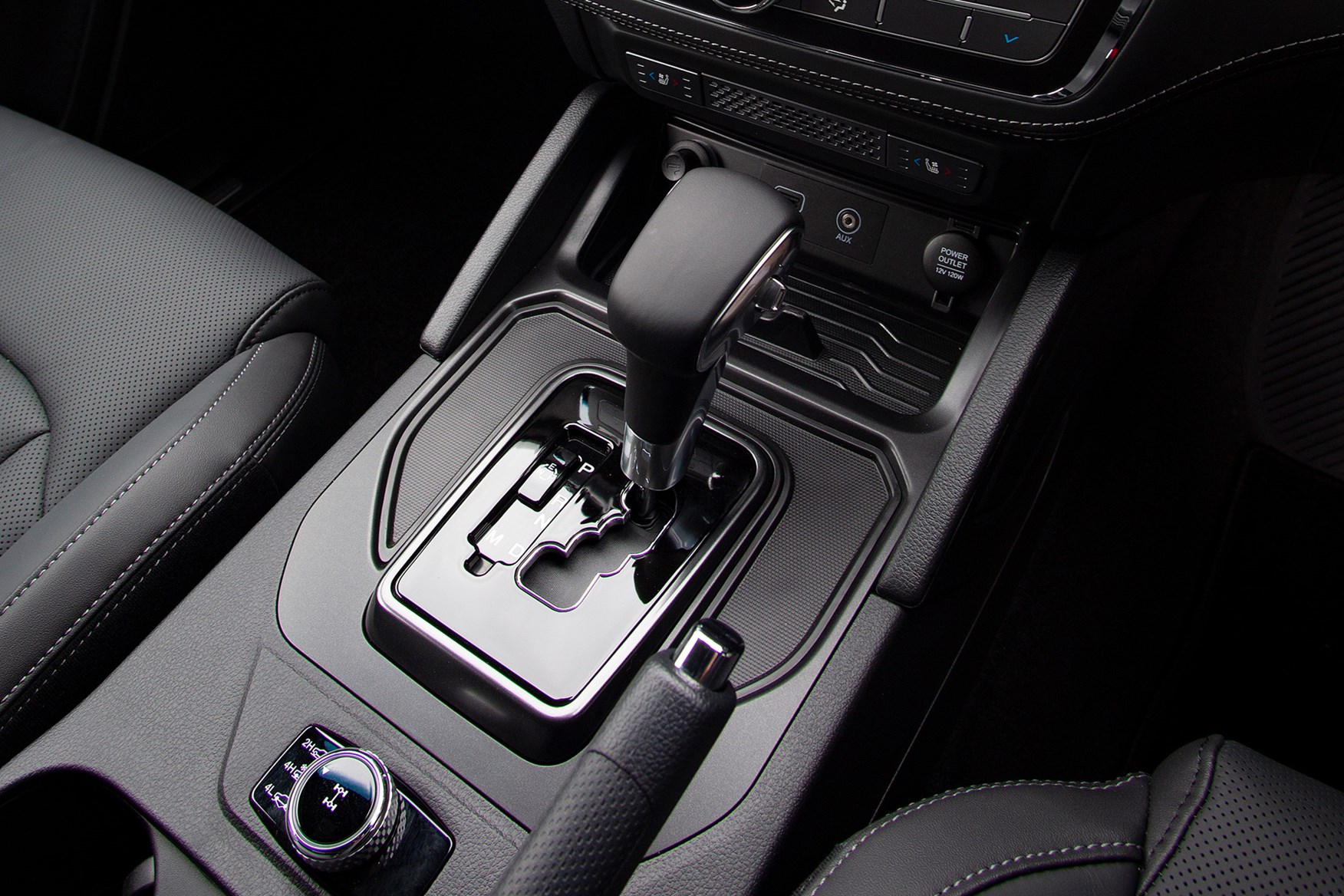 The engine comes with a six-speed manual gearbox as standard. This has a long, notchy shifting action, and isn't particularly nice to operate.
As such, the Musso is far better with the optional six-speed Aisin automatic gearbox, which replaces the more expensive seven-speed Mercedes-Benz auto fitted in the Rexton. You won't notice much of a penalty in the way Musso drives relative to its SUV sibling, as neither transmission is particularly quick-shifting.
The Musso's six-speed is smooth enough, however, and doesn't feel demonstrably worse than any other torque-converter auto in the pickup market.
Our only gripe is that if you want to manually select a gear you have to use a tiny thumb switch on the side of the automatic transmission lever. It would be so much easier with paddleshifters, or the more typical lever movement of other pickups.
Car-like interior quality and design - for the most part
Roomy inside for people in the front and the back
Some poor finishing in places
Taking the interior of the Rexton SUV almost unchanged, the airy, spacious interior and car-like dashboard of the Musso make an immediate good impression – there's a handy storage tray above the infotainment screen, and bold trim panels that integrate the tweeters in the doors and door handles. Some touch points could feel higher quality, like the stalks, but the soft-touch plastics and leather-look stitched trim are the equal of much more expensive rivals.
The large, wide windscreen offers a panoramic view compared to many smaller pickups. That square body, without protruding arches or curves falling away from your vision, and the relatively slim A-pillars help with placement on- or off-road, and a wide range of seat adjustments plus reach and rake adjustment for the wheel ensure the driving position can be comfortable for a wide variety of human shapes.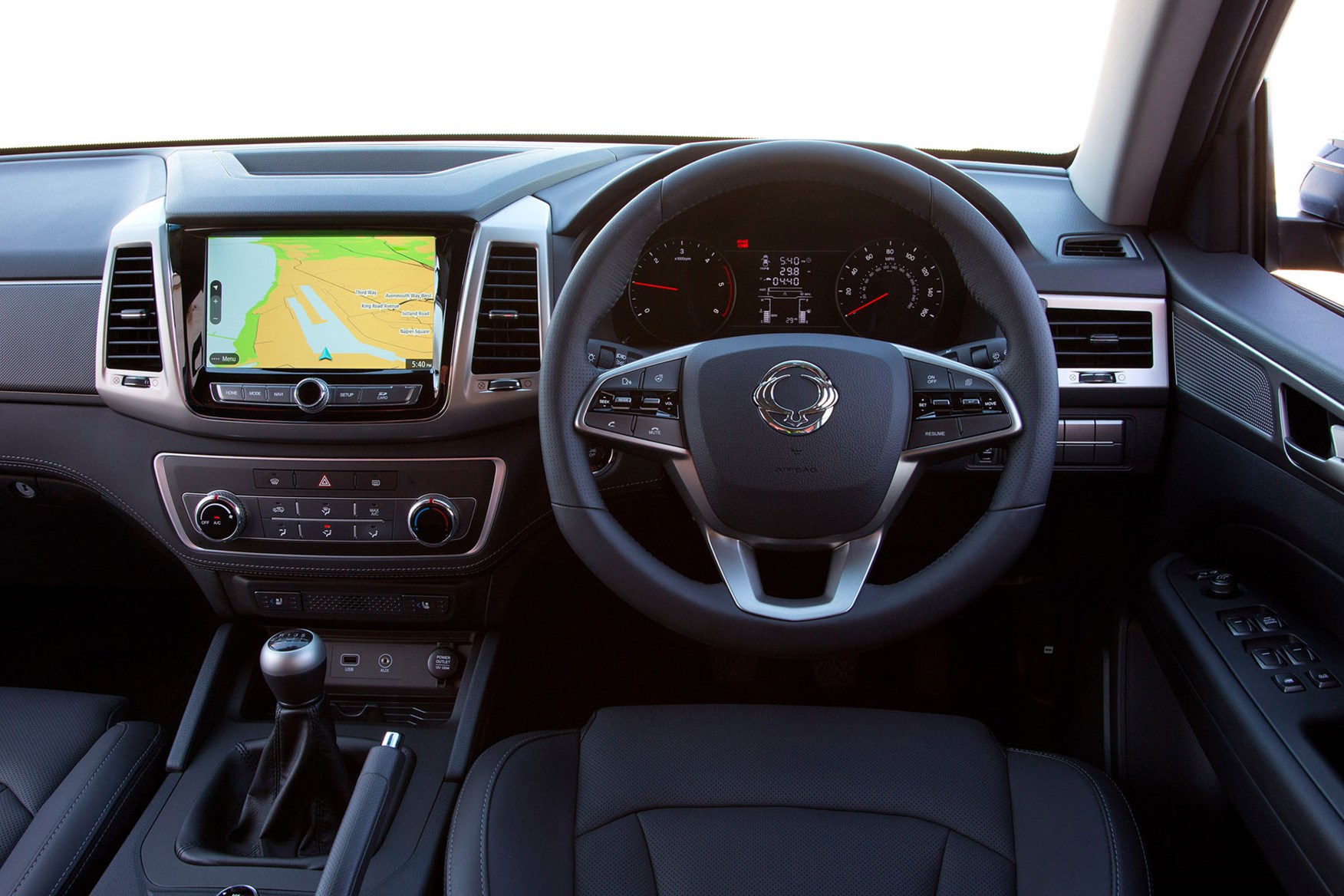 Detail differences, such as lacking the soft-trimmed doors of the Rexton (the underlying plastics appear to be the same) keep the Musso from having a genuinely premium feel throughout, but as it's ahead of the pack for what it costs already you'll probably like what you find.
At motorway speeds, the Musso is remarkably quiet, helped by road-biased tyres. It's possible to hold a conversation with rear passengers without shouting, and there's no need to crank the radio up to eleven (this is not entirely a positive mark; for all the attractive grille designs, 'carbon nanotube' speakers and 9.2-inch touchscreen, the audio side of things is relatively basic).
Overall, the SsangYong is a genuinely pleasant place for all occupants on long journeys, and extremely relaxing for the driver – albeit, without the latest attention-and-effort saving tech.
Plenty of room inside
Few pickups have the same feeling of room for front passengers. Of more interest for families and work crews, the rear passenger space is similarly generous. Not only is there an impressive amount of legroom, the door apertures are wide and rectangular without intrusions, great for child seats.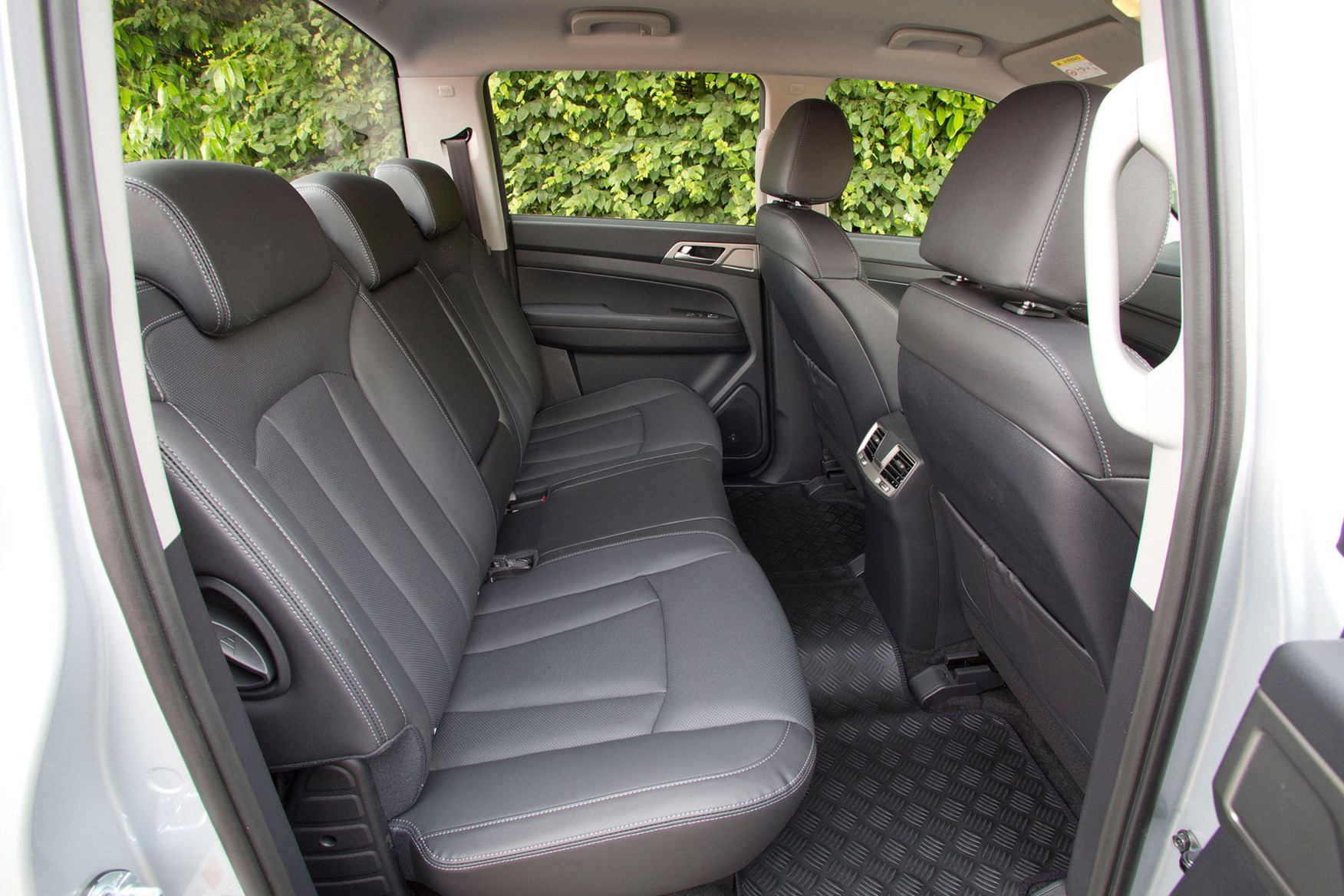 Although no longer adjustable (the previous model was), the rear seat back is reclined slightly rather than the bolt-upright seating position of most double cab pickups, and has a high base for a good view out.
There's ample room for three adults, but the one in the middle not only misses out on a warm bum from the available heated seats, there's a lap belt. A curious throwback when a solid bulkhead means there's really no reason to leave the shoulder belt out.
Still, the other two passengers enjoy a spectacular view out from the large windows – which open fully – and the safety of side curtain airbags that cover rear passengers as well. Under the rear seat base (untrimmed – so springs, wiring and foam are visible if you peer beneath) the carpeted flat floor continues to the back of the cab, adding a useful storage area.
Seven-year warranty
Limited dealer network
Average fuel economy
Lifestyle pickups are slowly, but surely, moving upmarket as an alternative to premium SUVs. The Musso is a very unusual blend, and without badge prestige to lead the way it's easy to overlook how it compares with rivals realistically.
Is the SsangYong Musso good value?
First, the Musso is big inside. If space is the ultimate luxury, then the width, the relatively low, flat dashboard, the big windows and the legroom are like going from a Ford Focus to a Mondeo, which changes the value equation somewhat; traditionally, drivers paid more for larger cars to get greater comfort.
As all pickups are already fairly big to start off with, most have hit the baseline need with room to spare, but the Musso still has a large-car feel compared to rivals.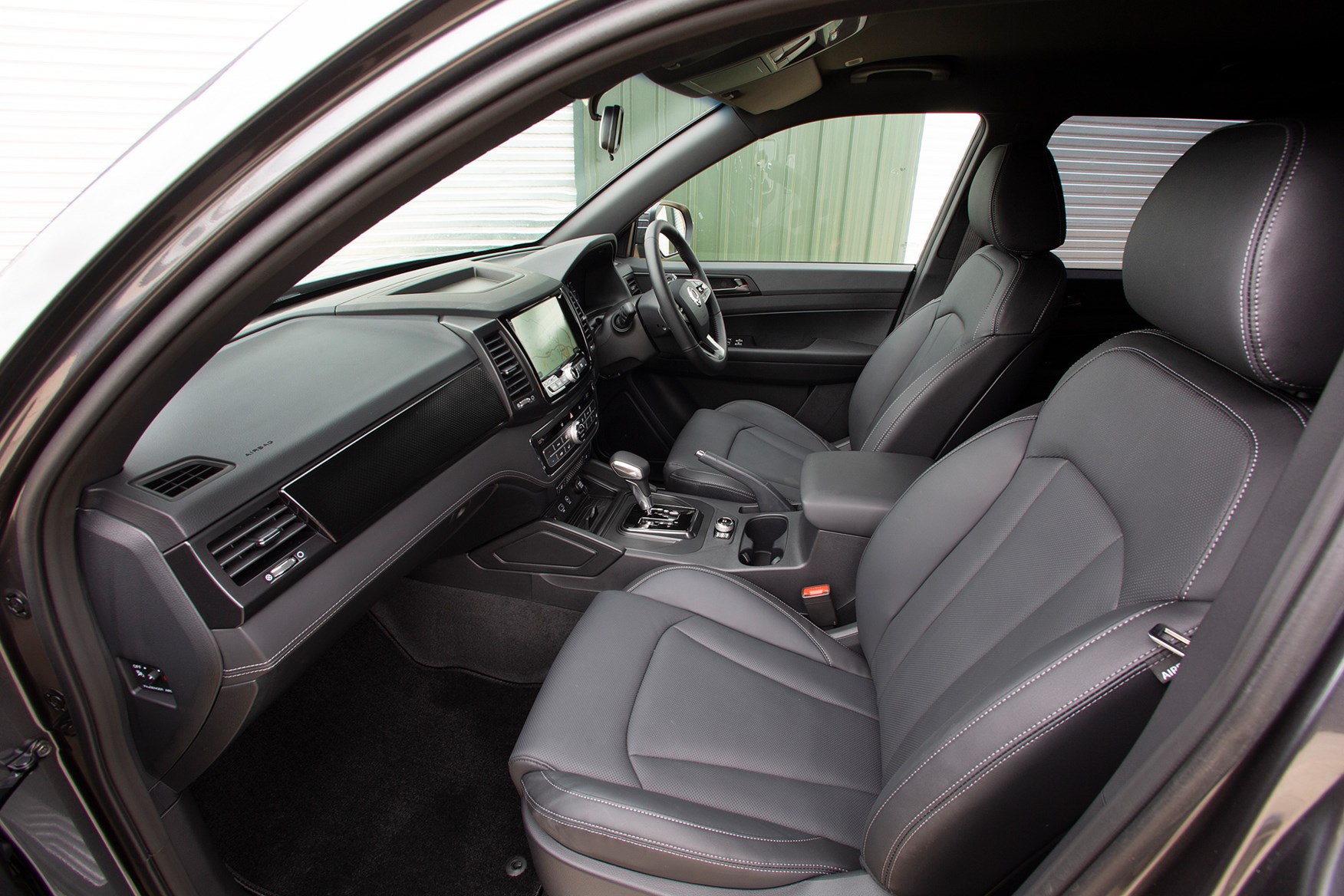 Design also contributes to the feeling of luxury, and SsangYong has done very well here. Prod the fashionably-styled door handles and aluminium-look speaker grilles, and the illusion wobbles, if not shatters, but it looks good, cohesive and pleasing to the eye.
Some design elements wouldn't be out of place in a modern mid-range car; quite a feat when many more expensive pickups feel like interior design was an afterthought. Rear grab handles help scale the tall sills (designed to be covered by the doors, so passengers avoid getting muddy legs) but front occupants need to rely on the side step, or be reasonably athletic.
However, the tacky, sharp-edged stick-on chrome on the Saracen model – where approximately £500 of the spec comes straight from the accessory catalogue – cheapens the otherwise quality feel.
SsangYong Musso seven-year warranty
The SsangYong Musso comes with a seven-year / 150,000-mile warranty, adding extra value for those buying rather than leasing.
It's the longest manufacturer warranty on any pickup, aside from the 10-year Toyota Relax warranty launched in 2021 (which relies on Toyota servicing).
SsangYong Musso service intervals
The service intervals for the SsangYong Musso are 12,500 miles on 12 months, whichever is sooner. About standard for a pickup.
SsangYong Musso fuel economy
The Musso isn't blessed with particularly good fuel economy, but this is a heavy, un-aerodynamic pickup so that's probably not a surprise.
Under the latest WLTP testing regime, the standard-length Musso with a manual gearbox claims to return 31.7mpg, while the automatic version claims 29.4mpg. The Musso Rhino LWB is rated to 28.2mpg.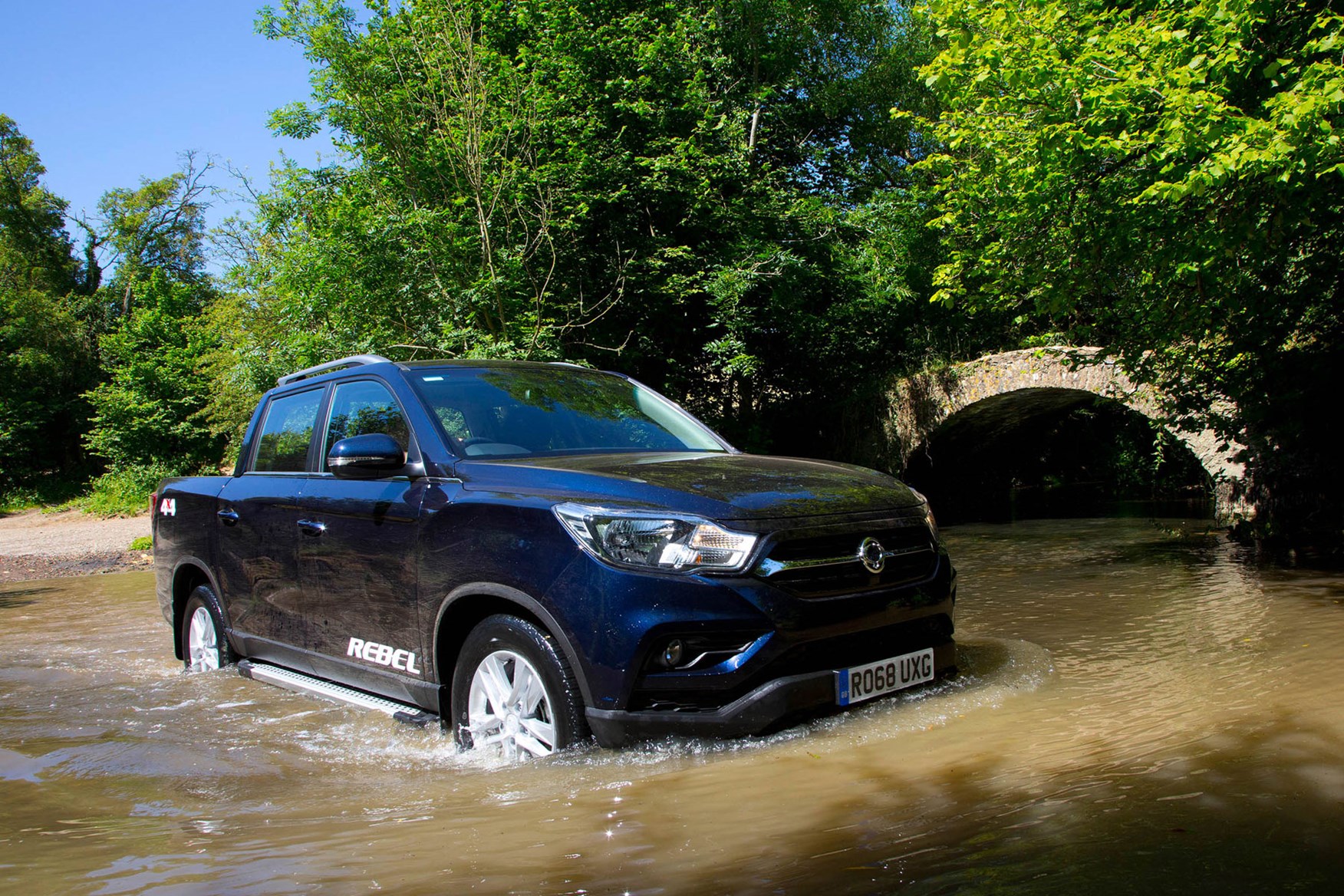 That said, the SsangYong Musso Saracen automatic we had on long-term test consistently returned over 30mpg in mixed on-road driving, falling to around 26mpg when towing – driven reasonably there's no suggestion that it won't deliver the claimed economy.
SsangYong Musso dealer network, insurance and tax costs
The Musso falls into insurance groups from 42 to 43D (out of a possible 50), which is on the high side.
>> Get an insurance quote for a SsangYong Musso via mustard.co.uk
Another drawback, depending on your location, is that SsangYong only has 65 dealers nationwide (as of October 2020). They're usually rural, and there are plans to expand this to around 90, but for now you may have to travel a bit.
Of course, the major advantage of a pickup over an SUV as a business car is the tax relief they qualify for. It's a flat rate for both private and company car drivers, and will almost certainly work out cheaper than a similarly appointed SUV.
>> Van and pickup tax explained
SsangYong Musso standard equipment
Top-spec models get electric front seats with height and tilt adjustment, and premium Nappa leather trim that is soft and comfortable. Wide cushions and carefully designed bolsters are pleasant for a variety of bodyshapes, too, though there's no lumbar adjustment; the seatbelts are also easily adjusted across a good range of heights.
SsangYong's wildcard is the inclusion of seat ventilation as well as heating on Rebel and Saracen specifications, and in our increasingly hot summers, that's a real boon. Winter drives are further helped by the heated steering wheel, standard on all but EX models.
Nestled below even the largest infotainment screen are a pair of chrome-ringed dials for fan, and cold to hot, without temperature markings. Where most rivals have dual-zone climate control at this price point, the regular Musso makes do with the sort of manual air-conditioning that you'd find on a bare-bones economy car. It's effective, if crude, and can defrost the windscreen quickly, but it's not set-and-forget like most pickups at this price.
The Musso Rhino LWB introduced in 2020 has a number of extra items of equipment - not least added safety kit - and does come with proper dual-zone automatic climate control. But it remains the only Musso to offer this at the moment.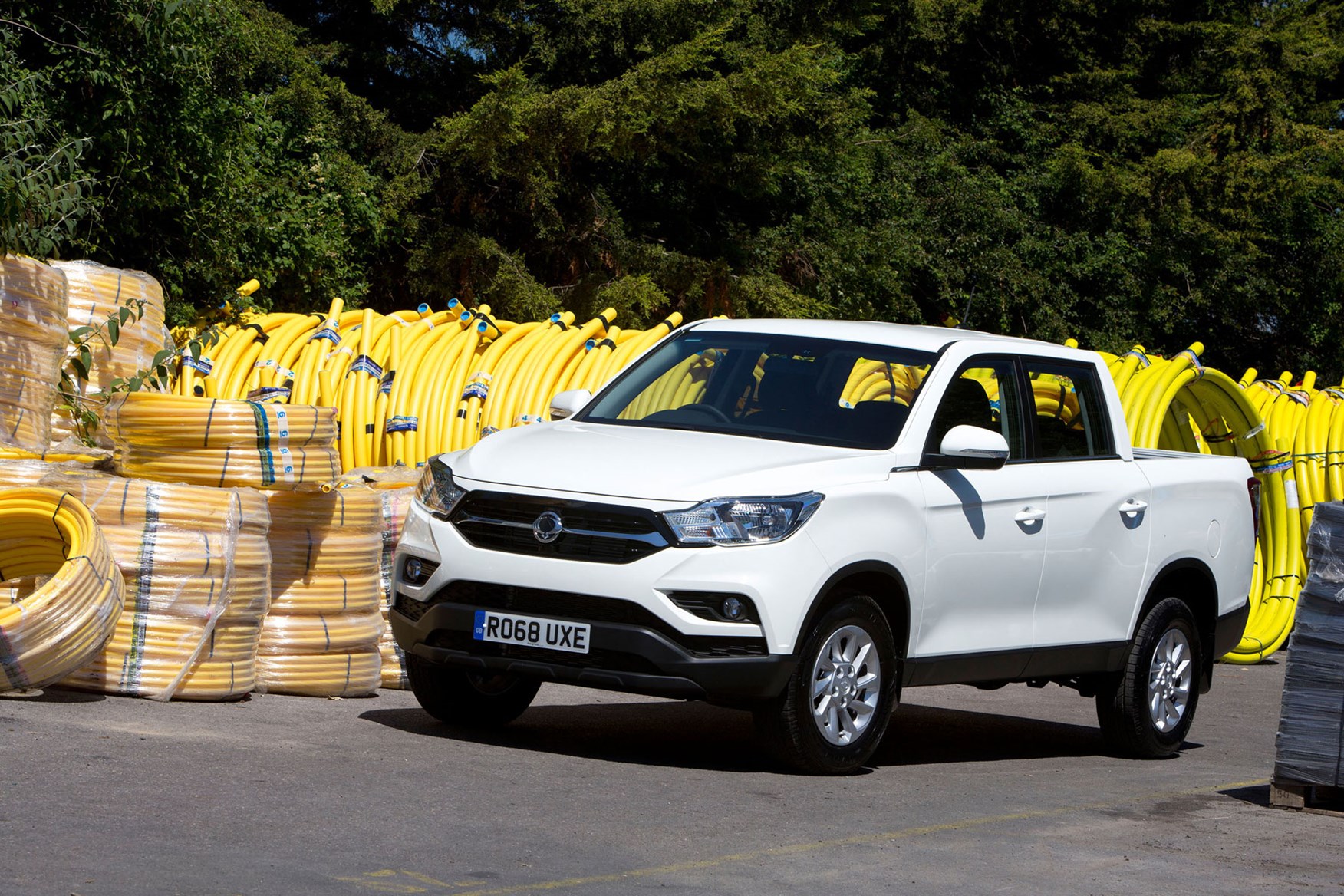 Base-spec SsangYong Musso EX models get the following standard equipment highlights:
17-inch wheels
Electric windows
Manual air-conditioning
Full-sized spare wheel
Alarm and immobiliser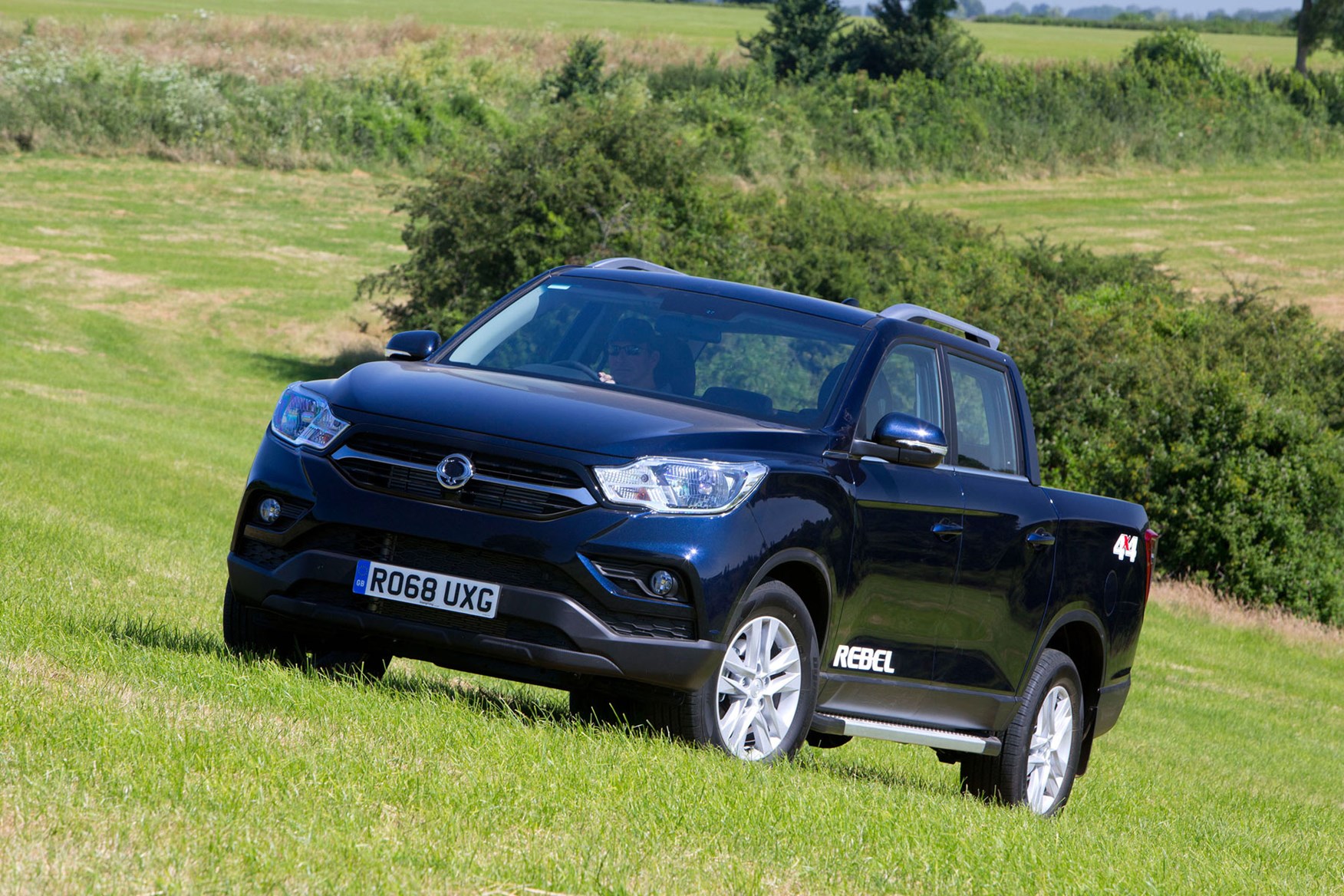 The SsangYong Musso Rebel benefits from the following standard equipment highlights (in addition to EX):
18-inch wheels
Roof rails
Floor mats
8.0-inch infotainment system with Android Auto and Apple CarPlay
Artificial leather upholstery
Heated and ventilated front seats
Heated steering wheel
Black side steps
Rebel graphics
Reversing camera (from mid-2020)
The SsangYong Musso Saracen gets following standard equipment highlights (in addition to Rebel):
18-inch alloys in black
Nappa leather seats
Electrically adjustable front seats
Heated rear seats
9.2-inch touchscreen
Cruise control
Saracen graphics
Front and rear parking sensors (new from mid-2020)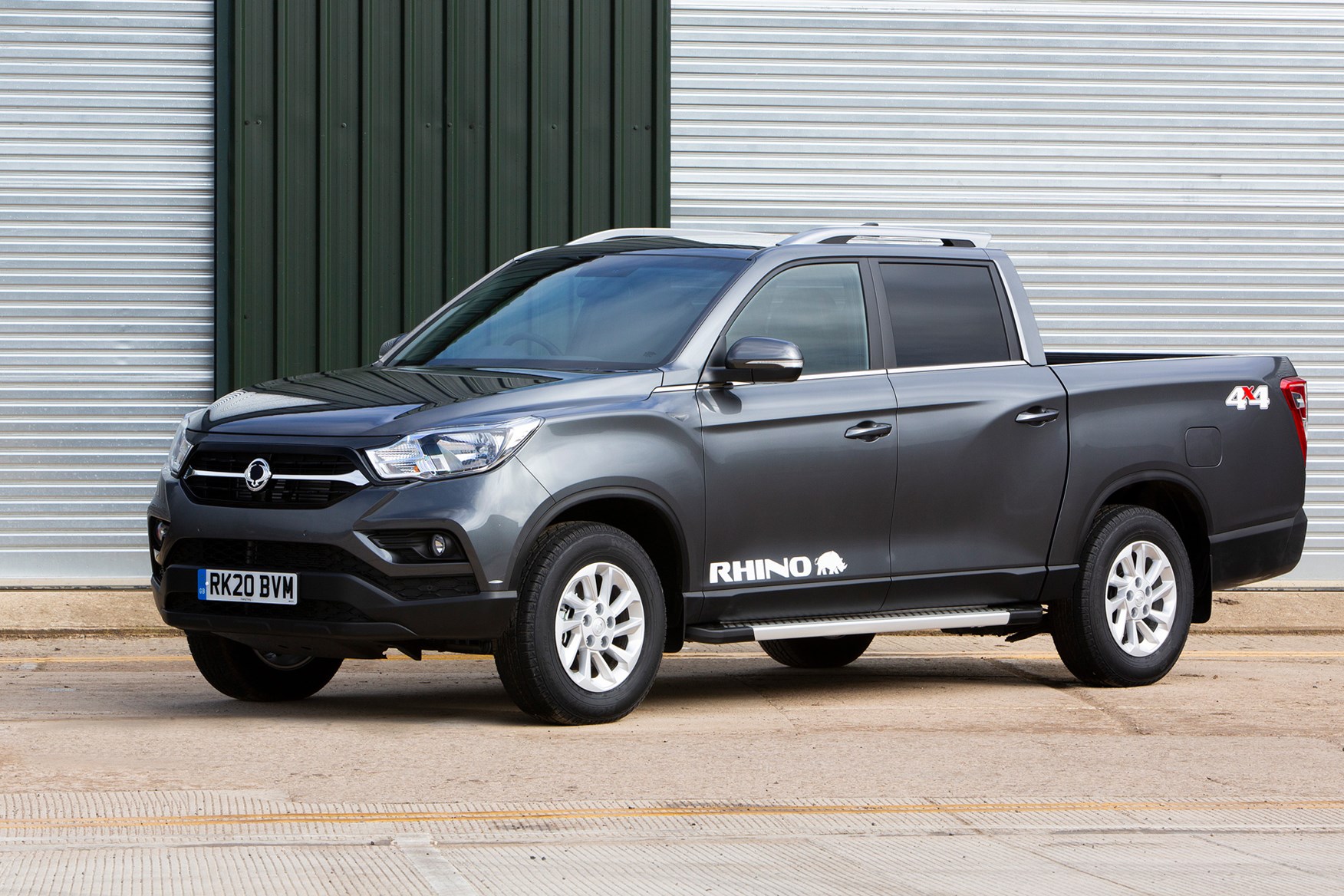 The SsangYong Rhino LWB tops the range with a substantial amount of premium kit and standard automatic gearbox, highlighs include:
17-inch alloy wheels
Six-speed automatic transmission
Automatic climate control
Front and rear parking sensors
Blind spot monitors
Rear cross traffic alert
Lane change assist
SsangYong Musso optional extras
Optional extras are limited to the automatic gearbox and metallic paint.
SsangYong Musso special editions
This generation of Musso launched in 2018 with a limited edition Rhino model that sat above the Saracen in the regular range. This is not to be confused with the Rhino LWB introduced in 2020, as it only came with the standard body length.
This Musso is an all-new vehicle, but it's based very heavily on the Rexton SUV. SsangYong has a reputation for robust build quality and there's no reason to expect anything too alarming here, but keep in mind that a pickup may be subjected to a harder working life than a passenger car.
At this stage, our only slight concern isn't with the vehicle itself, but some of the accessories that are bolted on when it reaches the UK. Specifically it's the sidesteps you get on all but base EX-spec Mussos. These are apparently rated to carry 85kg, but they felt incredibly flimsy and flexed considerably when leaned on with just one leg.
We certainly wouldn't feel confident using them to step up into what is a particularly tall cabin, so have to question their usefulness past added aesthetic appeal.The tubular steps on the Saracen proved far more robust, both in appearance and actual use.
Structure seems sound
Six airbags as standard
Lacks active safety equipment
SsangYong's build quality is promising, with doors that feel solid, six airbags, high-spec Continental tyres, a robust chassis and a kerb weight that suggests there's a lot of metal for the money here.
But what there isn't is much in the way of active safety kit.
SsangYong Musso safety equipment
That might be excusable if this were a budget pickup from a manufacturer that didn't offer such things.
Unfortunately, the Saracen model is snapping at the heels of an automatic Nissan Navara N-Connecta - before discounts. SsangYong does provide very impressive discounts, though, including straightforward deals for members of countryside and farming groups, no haggling needed.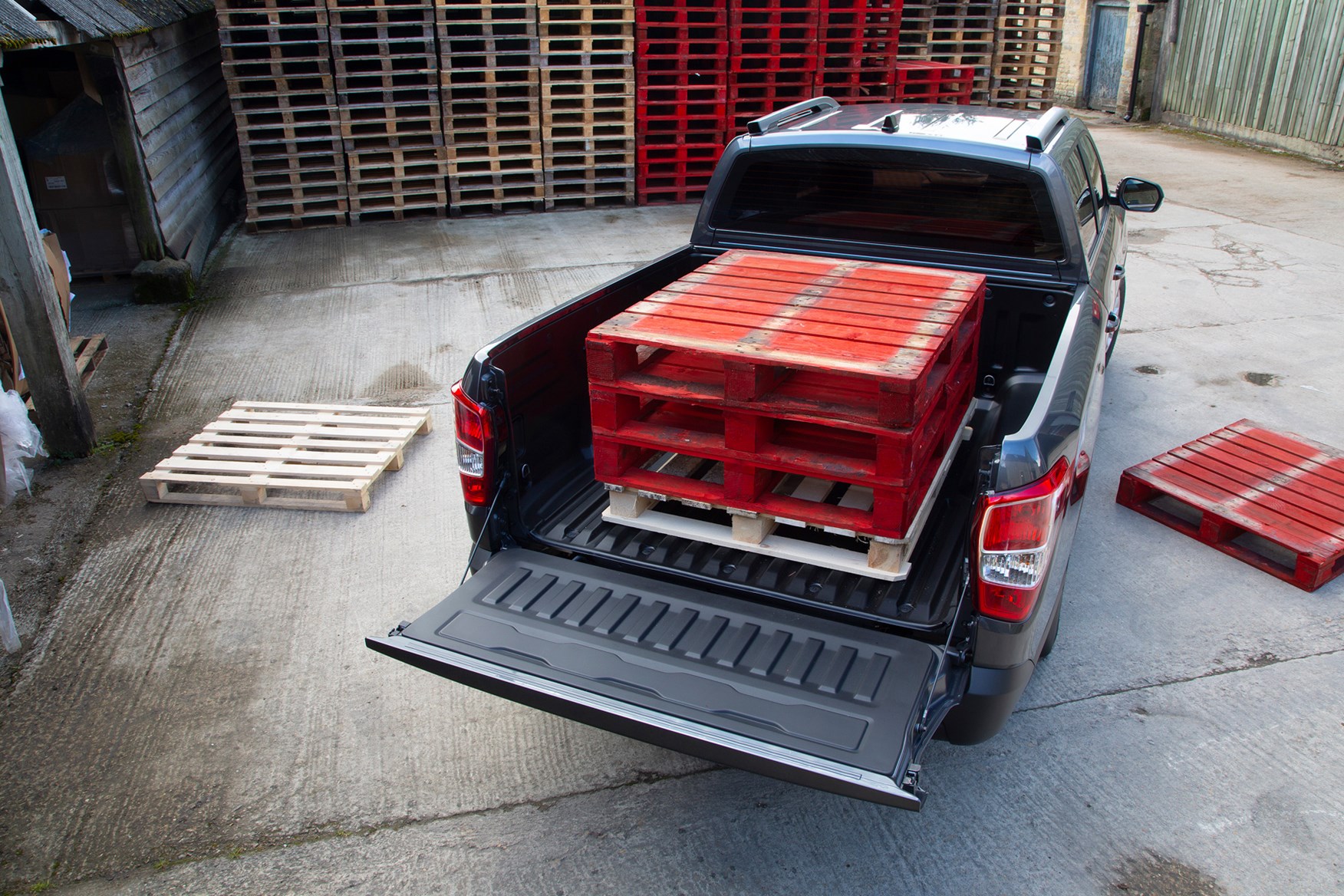 What's more, the standard UK-spec Musso lacks increasingly common basics such as autonomous emergency braking and lane departure warning, despite those features being offered on the Musso in other markets.
Still, Korean crash testing indicates the Musso is a safe pickup, though Euro NCAP has yet to test a UK/European specification.
If you want the safest version try the Rhino LWB, which does better than the others by including blindspot monitors, rear cross-traffic alert and lane change assist.
SsangYong Musso security
The Musso's tailgate locks with the remote central locking, and if specified, the optional luxury hardtop also locks on the fob. This saves a lot of faffing with keys, and isn't always the case with rival pickups.
Better yet, every version comes fitted with an immobiliser and a perimeter alarm system as standard.
Which Ssangyong Musso is best for me?
Better for lifestyle buyers than working operators?
Rebel automatic is the best choice for towing
Specification causes some confusion
If you want a working vehicle first rather than a lifestyle accessory, the standard SsangYong Musso may be hard to justify.
Standard-length SsangYong Musso
The large passenger compartment comes at the expense of load space, and if you're carrying rather than towing then the reduction in load volume is keenly felt. The strong chassis and overall refinement are intact in the EX, though, so unless you absolutely must tow 3,500kg, that's the one to have for serious work. Tempted by that towing ability? Go for the Rebel automatic.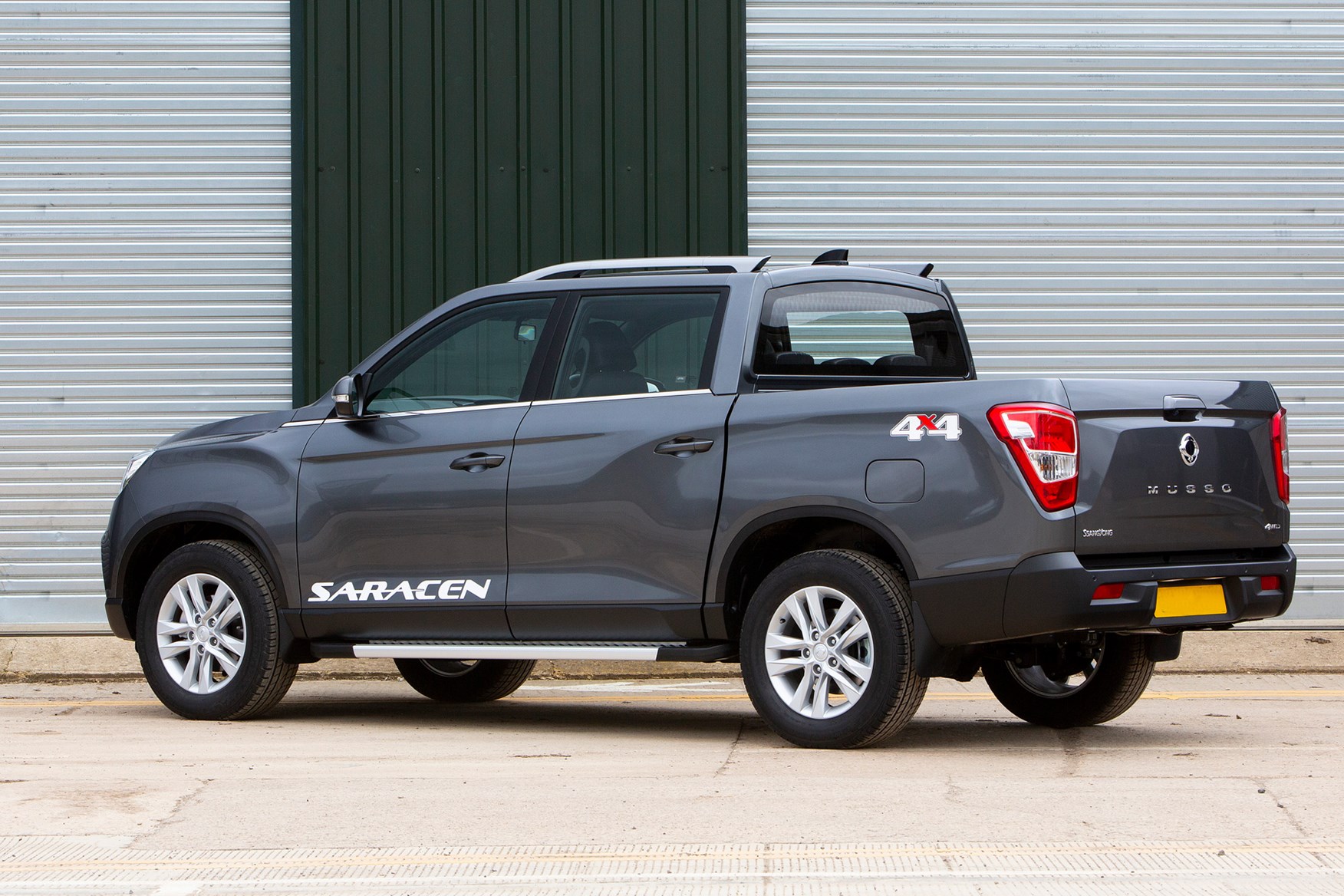 Lifestyle buyers face less confusion – the SsangYong Musso is a really comfortable, refined pickup for daily driving, and easy to live with. The range-topping Saracen is undeniably good value for the engineering.
However, a disjointed approach to specification means going up the price range on early models nets as much useless bling as it does actually decent kit, and the rather imperious, detached on-road feel is challenged by the basic gadgets and lack of driver assistants.
This has improved a bit with updates in 2020 (there's been a reduction in bling on the Saracen for starters), but the standard Musso could still do better for safety kit.
Extra-long SsangYong Musso Rhino LWB
All of the above makes the Musso Rhino LWB by far the better buy. It has the best payload and towing capability, a longer load space and more safety kit.
It only comes in a single specification, but this includes the six-speed auto as standard, and represents excellent value for money all things considered - even against the cheapest version. It's the Musso we'd pick, for sure, even if the ride isn't quite so smooth thanks to those rear leaf springs.