View all Suzuki Celerio reviews

Suzuki Celerio
Review
Current Model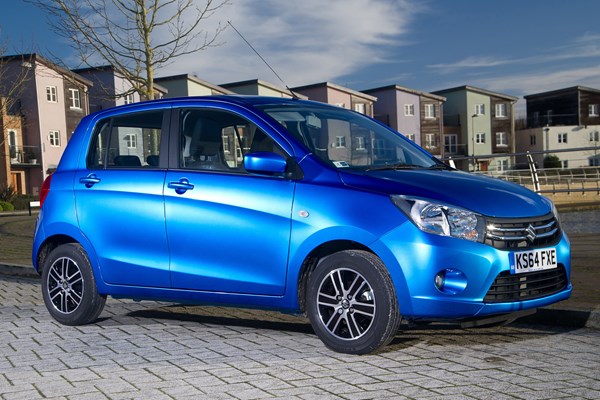 PROS
Loaded with equipment
Inexpensive to run
Spacious cabin
Comfortable ride
CONS
Feels a little cheap
Lacks rivals' charm
Lack of a 'proper' automatic
PROS
Loaded with equipment
Inexpensive to run
Spacious cabin
Comfortable ride
CONS
Feels a little cheap
Lacks rivals' charm
Lack of a 'proper' automatic
Verdict
Replacing both the inexpensive Alto and practicality-focused Splash as the entry point to the range is the Suzuki Celerio.
While it breaks little ground in the small car segment, there's much to commend the Celerio, particularly if capaciousness and sheer value for money are high on your priority list. Is the fact it's packed to the gunnels with standard equipment and offers more useable space enough to tempt buyers away from value propositions such as the Kia Picanto, let alone Citroen's C1 and Skoda's Citigo?
Functional, space-liberating design
Perpendicular bodywork and a tall stance do little in terms of blessing the Celerio with the cheeky charm so often encountered in this market sector; there's an essence of 'white goods' about the little Suzuki – it's functional and should prove very easy to live with, just like an appliance.
All Celerios are five-door hatchbacks, have seating for five (most in this class only have seatbelts for four) and the biggest boot in the class at 254 litres with the rear seats in place.
While there are seatbelts for five, three people in the rear would be a tight squeeze, particularly if even one of the positions is taken by a bulky, modern child seat. Four-up, there's enough head and legroom in the back for a six-footer, even if the front seat occupant is of similar stature, reinforcing Suzuki's claim that the Celerio is the most spacious of small hatchbacks.
Two trim levels, SZ3 and SZ4, are available from launch, both generously-equipped for the money, with all Celerios equipped with air-con, DAB radio, Bluetooth connectivity, alloy wheels and six airbags.
Although build quality is a positive attribute, the Celerio conspires to feel a bit tinny, not helped by hard and inexpensive-feeling plastics used for the interior. It's robust but not the kind of dashboard you'd find yourself caressing for its tactile qualities.
Efficient petrol engines
From its February 2015 launch, the Suzuki Celerio will be exclusively powered by a 67bhp, three-cylinder 1-litre petrol engine. Unsurprisingly, it's no ball of fire, but seeing as the Celerio weighs 835kg, it's perfectly adequate for keeping pace with traffic, whether in town or on motorways.
Those looking to minimise motoring costs will appreciate the official claim of 65.7mpg and CO2 emissions of 99g/km, meaning no VED car tax charge at current 2015 rates.
By April 2015 the range will double in size, with an automated version of the manual gearbox (it changes gear itself so auto-only drivers are fine) and an even more efficient DualJet engine, which will only be available with the regular manual transmission.
Because it's not a conventional automatic, the AGS (as Suzuki refers to the transmission), offers the same efficiency and economy figures as the manual, but they're both bested by the DualJet. Power for this engine remains the same but claimed economy jumps to 78.4mpg, with CO2 emissions dropping to 84g/km.
Overall, no other small car range offers such impressive fuel efficiency.
Comfortable rather than sporty
Suzuki makes no pretence that the Celerio offers enthusiastic drivers an engaging experience behind the wheel, but for a city-centric small hatch, comfort and ease of use are of primary importance here.
All the major controls feel very light and easy to use, although the trade-off is they offer little feedback. The five-speed manual gearbox in particular slips very easily from one ratio to the next, requiring the lightest of touches to snick it back and forth.
We were particularly impressed with the Celerio's ride comfort, avoiding the bouncy pitfalls which can blight small cars with good body composure and little shimmying transferred to passengers as it deals with ruts and undulations.
Read Parkers' full new Suzuki Celerio review to find out how appealing the overall package is in a market segment bristling with a range of capable rivals.