Buying a used family hatchback makes good sense when one considers just how versatile these three- and five-door cars are. Often compact and city friendly, the wide opening tailgate and folding seats that you get gives estate car practicality without the bulk. This list will point you in the direction of the best used cars to choose from for less than £5,000.
There are the usual options of class-leading cars such as the Ford Focus, Vauxhall Astra and the Volkswagen Golf – proven, predictable and safe purchases, and far more numerous than the line-up of best hatchbacks to buy new. Almost every manufacturer offers a car for this market, meaning you can choose something that reflects your personality, lifestyle and needs as well as your budget, and that's reflected in our choice.
We've rounded up some of the options to help you make your decision, but if you want more excitement, you might want to look at our list of best used hot hatchbacks for £10,000. Scroll down to discover our pick of the best used cars in the UK – and what to look for when buying. 
Editor's choice: Volkswagen Golf Mk7 (2013-2020)
Solid build, strong residuals
Parkers Used Car of The Year 2023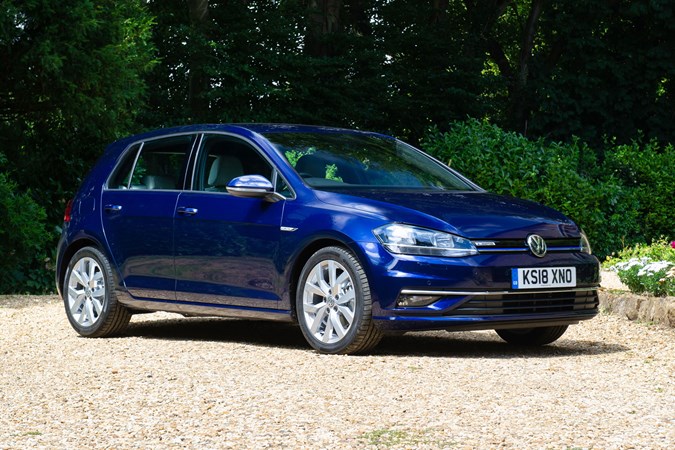 It's the default choice for many a family or commuter and with good reason. The Volkswagen Golf is an enjoyable car to own thanks to its blend of reliability, comfort and handling. It also holds its value very well, meaning you won't lose as much as others through depreciation. Servicing costs can be higher than competitors but parts costs are reasonable.

You can get a decent Mk7 from £4,500, although mainly high mileage examples. You could get a cherished Mk6, but we think the later car is a big leap and worth seeking out. There are Estate and Golf Plus MPV versions as well, and engines from 1.0 to 2.0 litres, but our pick if you're on a budget is the super-economical Bluemotion diesel.

Read our full Volkswagen Golf Mk7 review
Search for used Volkswagen Golfs for sale
Pros
Superb interior is ageing well
Lots of engines to choose from
Good to drive and comfortable
Cons
Can be very expensive to repair
Some early DSG reliability issues
Ford Focus Mk3 (2011-2013)
Decent technology, keen pricing
The Ford Focus Mk3 was one of the most popular hatchbacks on the market. It's well-equipped, comfortable, capable and reliable. It's possible to get into the 2011-2018 Focus for less than you think, with up-to-date and economical petrol and diesel engines, as well as modern safety equipment.

We're typically finding 2012-2015 models with less than 100,000 miles in this budget. Fords are also relatively inexpensive to service and maintain, so it shouldn't break the bank. Low mileage, well maintained 1.0T EcoBoost models will avoid potential restrictions on diesel car use in cities, without sacrificing economy.

Read our full Ford Focus Mk3 review
Search for used Ford Focus Mk3s for sale
Pros
Cheap to run, easy to find
Excellent 1.6-litre diesel engine
Great steering and handling
Cons
Beware of scruffy examples
Early EcoBoost engine issues
Vauxhall Astra (2015-2022)
Affordable quality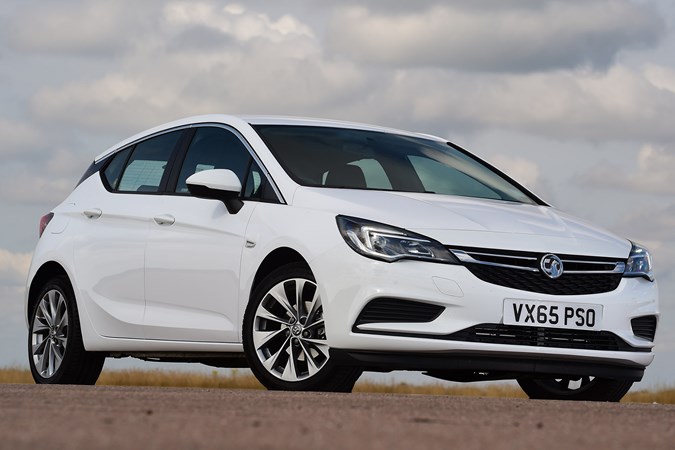 Vauxhall's fleet popularity and competitive deals ensure a good supply of Astras on the used market. Even if you're looking at a privately owned example, that availability ensures prices are low, making the Astra the best value of the mainstream models. And the good news is that of the cars on this list, this is the one where you get the most metal for your money!

An all-new generation, this one was known as the Astra J in the trade. Vauxhall also invested heavily in interior quality and design for this generation of Astra, making it a significant leap forward for every benchmark over the car that went before it. Our budget is enough to secure a smart 2016 1.6 CDTi with 45,000 miles on the clock.

Read our full Vauxhall Astra J review
Search for used Vauxhall Astra J cars for sale
Pros
Good to drive
Tough, reliable, cheap to run
Less expensive than its rivals
Cons
Dire image
Fast depreciation
Clever performance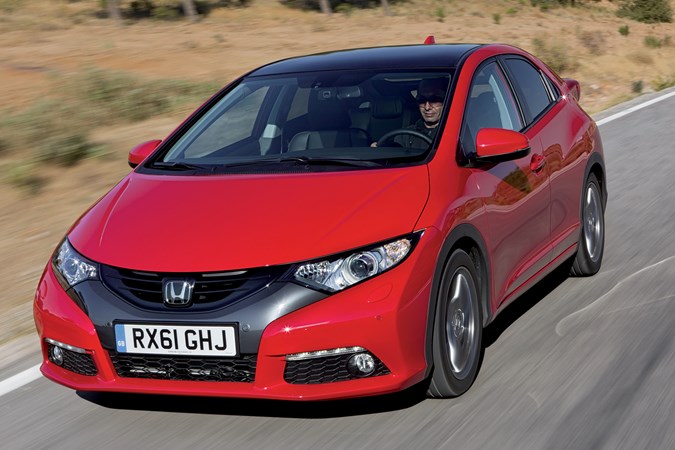 Honda's reputation for reliability and efficiency is well deserved, and as its core offering the Civic has the responsibility of maintaining standards worldwide. The release of the 10th-generation Civic in 2017 has ensured the previous model is now well within our budget with low-mileage 2013 models on readily available.

Impeccable build quality and excellent engineering means these are still a good buy, with the already impressive boot space (particularly given the aerodynamic, swooping style) further bolstered by multi-position 'Magic Seats'. Most examples available are powered by a 1.6-litre i-DTEC diesel engine.

Read our full Honda Civic Mk9 review
Search for used Honda Civics for sale
Pros
Roomy and practical
Excellent ride comfort
Supremely economical diesel
Cons
Not inspiring to drive
More expensive than rivals
Rear-wheel drive fun, but still practical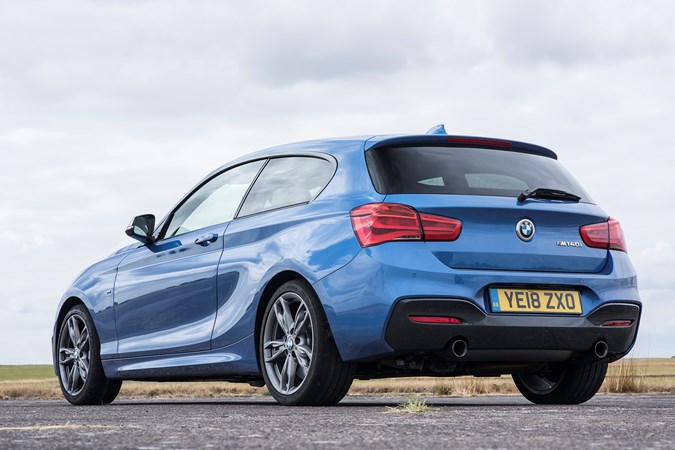 For those passionate about driving, the 1 Series offers more feedback and involvement than any of its front-wheel drive competition. Even in basic 116i or 116d form, the sharp steering and slick manual gearbox combine for a sporting drive without threatening your licence or bank account.

Practicality is compromised, with a smaller boot and rear passenger space, but it's still usable for four adults. Popularity is reflected in the strong values; you're looking at comparatively older cars in this budget, particularly if you want a diesel. Post-2012 second-generation models have improved economy; at this price range a good selection of 2012-2014 cars are available with little although mileage and history makes a big difference.

Read our full BMW 1 Series (F20) review
Search for used BMW 1 Series cars for sale
Pros
Balanced handling
Brilliant fast versions
Economical diesels
Cons
Not as roomy as rivals
More expensive to service, too...
Sensible hatchback for long-term ownership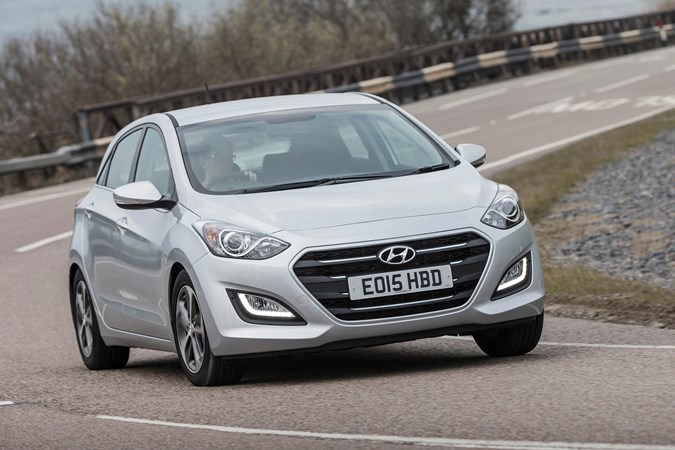 Leaping from a budget brand to a credible aspirational marque, Hyundai's 2012 i30 set new standards for the Korean firm, with crisp styling, tidy handling and appealing interiors backed up by long warranties. Those warranties, and the appeal for private buyers, make the i30 an extremely sensible used buy as many will have been looked after to a high standard.

Our price guides suggest that buyers agree, with the i30 holding strong residuals as they enter middle age and even relatively high mileages. Around £4,000 will get you a eight-year old car with average mileage or a six-year old car with higher mileage, and usually in lower-specification Classic trim. It's a safe purchase, and one which gives nothing away in terms of quality or dynamics.

Read our full Hyundai i30 review
Search for used Hyundai i30s for sale
Pros
Reliable and cheap to run
Tidy handling
Lots of tidy out there
Cons
Lack of image or desirability
Parts prices higher than rivals
Renault Megane (2008-2016)
Class-leading value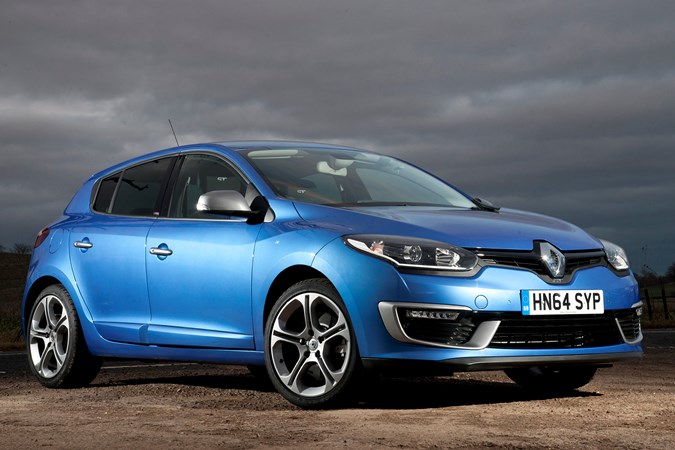 Renault's ascendency as a dominant global manufacturer, partnered with Nissan, Samsung and Mercedes-Benz as well as Dacia, coincides with massive improvements in quality and refinement. One of the first models to show Renault's potential, the 2008 Megane is nothing like the preceding generations. Most examples are powered by the 1.5 dCi engine, which can be found in a diverse range of brands.

Renault has consistently set the safety benchmarks other manufacturers try to match, too – which means strong, safe and well-made cars. Facelifts in 2012 and 2014 improved equipment and styling respectively; £2,000 gets the original, £4,000 will get the the best models out there. The current model just falls in this category, too.

Read our full Renault Megane review
Search for used Renault Meganes for sale
Pros
Better quality than older Renaults
Economical diesel version
Flashy-looking coupe version
Cons
Not so easy to sell
Some parts hard to source
Fun and excitable for enthusiastic drivers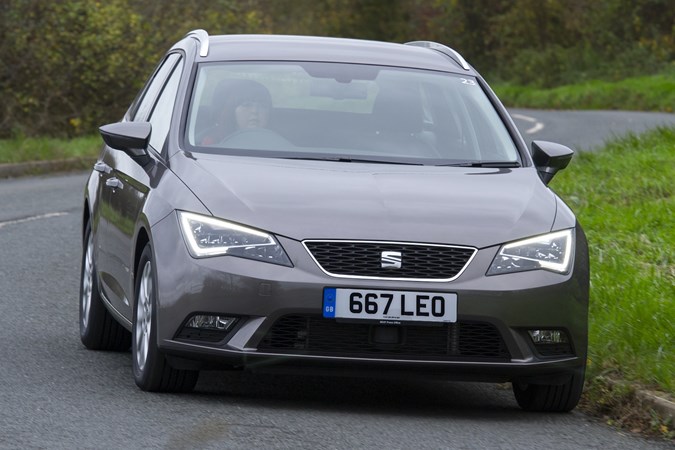 The SEAT Leon has garnered a reputation as a sporty and charismatic hatchback that's fast and fun to drive. Solidly built, the Leon manages to expand on its VW Golf roots with amicable styling and attractive details. 

It has aged really well, with only the Golf being more timeless, while the interior may not have been of the highest quality, it's still good enough to be considered a very sound choice. Servicing prices and maintenance costs are generally inexpensive and the fuel consumption of the 1.6 TDI model is exceptional.

Read our full SEAT Leon review
Search for used SEAT Leons for sale
Pros
It's a VW Golf under the skin
Mostly reliable and good to own
Efficient, punchy engines
Cons
Some DSG problems
Quality behind equivalent Golf
---
Used hatchbacks Frequently Asked Questions 
What is the most reliable used hatchback car? 
Far and away the most reliable hatchbacks to buy are Japanese. The Koreans are a strong second, with the Europeans a distant third. That means if you're placing dependability above all else you can do much worse than plump for a Honda Civic or Toyota Corolla or Auris – ironic, really, as the examples you'll find for less than £5,000 were all made in Britain.
That is not to say that the class-leading Volkswagen Golf and Ford Focus aren't dependable, it's just that both have known issues which you should take into account when looking to buy. Later cars to consider – and which are currently out of budget – are the Peugeot 308 and DS4, which are proving dependable in use, unlike their older cousins.
What is the best hatchback to drive? 
Depends on what metric we're looking, but if it comes down to steering feel and delicacy of control, then you're looking at a Ford Focus. Whatever generation you go for, you're on safe ground here, with even the earliest 1998 example feeling wonderfully communicative on the road.
However, it it's refinement and good motorway crusing you're after, you can't go far wrong with a Golf, thanks to its low levels of wind noise and creak-free interior. Generally, Renault and Peugeots are safe bets with a more comfort-focused set-up, but fluid handling on poor roads. Having said that, if you're after a purely sporty drive, a BMW 1 Series beats them all.
Why are hatchbacks so popular in UK? 
It's a historical thing, ever since the early 1980s, when the first Vauxhall Astra and Ford Escort Mk3 arrived on the scene, British families have loved the compact size and practicality of a hatchback. These days, this type of car is being overtaken by the SUV, but most smaller examples of this breed are just traditional hatchbacks on stilts anyway.
What should I look for in a used hatchback car?
Young families favour hatchbacks, so it's fair to say you need to look carefully for interior damage and other signs of wear and tear when looking for at used hatchbacks for sale. The luggage area will probably have had hammering, too, so check everything is as it should be. Other than that, it's a case of being sensible, checking the service history, making sure the paintwork is in good shape, and being mindful of any horrors lurking underneath. That should get you a very long way.
---
Keith Adams is the editor of Parkers and has been an automotive journalist since 2004. He's also edited Classic Car Weekly, Modern Classics, Honest John Classics as well as contributed to CAR, Evo, Octane, Autocar and Pistonheads as well as many other titles in a varied career.