Citroen Berlingo review (2008-on)
Value and capability in an appealing package
PROS
All-round improvements over previous model
Versatile features
Economical engines
Range of ready-made conversions
Good value
CONS
Lower-powered versions feel sluggish
Payload rating outclassed by rivals
Due to be replaced soon
Summary
The Citroen Berlingo has been a dominant player in the small panel van market since it was launched in 1996.
A market leader through virtue as well as value, this third-generation version brought a raft of improvements over the previous model but was introduced back in 2008 – which makes it one of the oldest models in the small van sector, alongside its sister van, the Peugeot Partner.
The Berlingo comes in two body lengths, L1 and L2, and was one of the first vans to offer a collapsible passenger seat to increase load length for especially long items.
However, compared to some rivals, its payload rating is no longer especially impressive, especially with the latest Vauxhall Combo and Fiat Doblo Cargo now able to carry over a tonne.
Click here to read our round up of the best small vans for payload
This is despite a significant update to the Berlingo at the end of 2013, which brought in a number of visual and practical upgrades. Outside, this model is distinguished by a new design of chrome grille and altered side body mouldings.
Perhaps more significantly, the Berlingo was enhanced again in 2015, when Citroen introduced new BlueHDi turbodiesel motors in order to comply with the latest Euro 6 emissions regulations.
These new engines also brought improved fuel economy, once again making the Berlingo one of the best small vans you can buy if miles per gallon is a major deciding factor.
This generation of Citroen Berlingo is also available as an electric van.
Click here to see every small van ranked by mpg
Factory conversions
Citroen has also sold the Berlingo in a Ready To Run range of factory-produced specialist conversions including glass-carriers, dual-fuel LPG models, micro-hybrid e-HDi engines and temperature-controlled vans.
It's also worth noting that the preceding Berlingo received a minor revamp and ran alongside the 2008 model until 2011, as a cut-price alternative called the Berlingo First.
Skip to our full verdict on...
When originally launched, Berlingo buyers could choose between a 90hp 1.6-litre petrol engine and a choice of 1.6-litre HDi turbodiesel engines with either 75hp or 90hp.
The petrol was offered as an LPG conversion through Citroen dealers, while diesels badged e-HDi featured a stop-start system (sometimes called a micro-hybrid). Later stop-start models are simply labelled S&S.
This basic engine line-up has remained similar over time, though power outputs have increased , and in 2015 Citroen introduced upgraded 1.6-litre turbodiesel with BlueHDi badging - signifying that they meet Euro 6 emissions regulations.
This comes with as much as 120hp and a six-speed manual in place of the standard five-speed gearbox; an automated six-speed called the ETG6 is available on the BlueHDi 100 and promises range-topping fuel economy. In practice this gearbox is jerky and frustrating.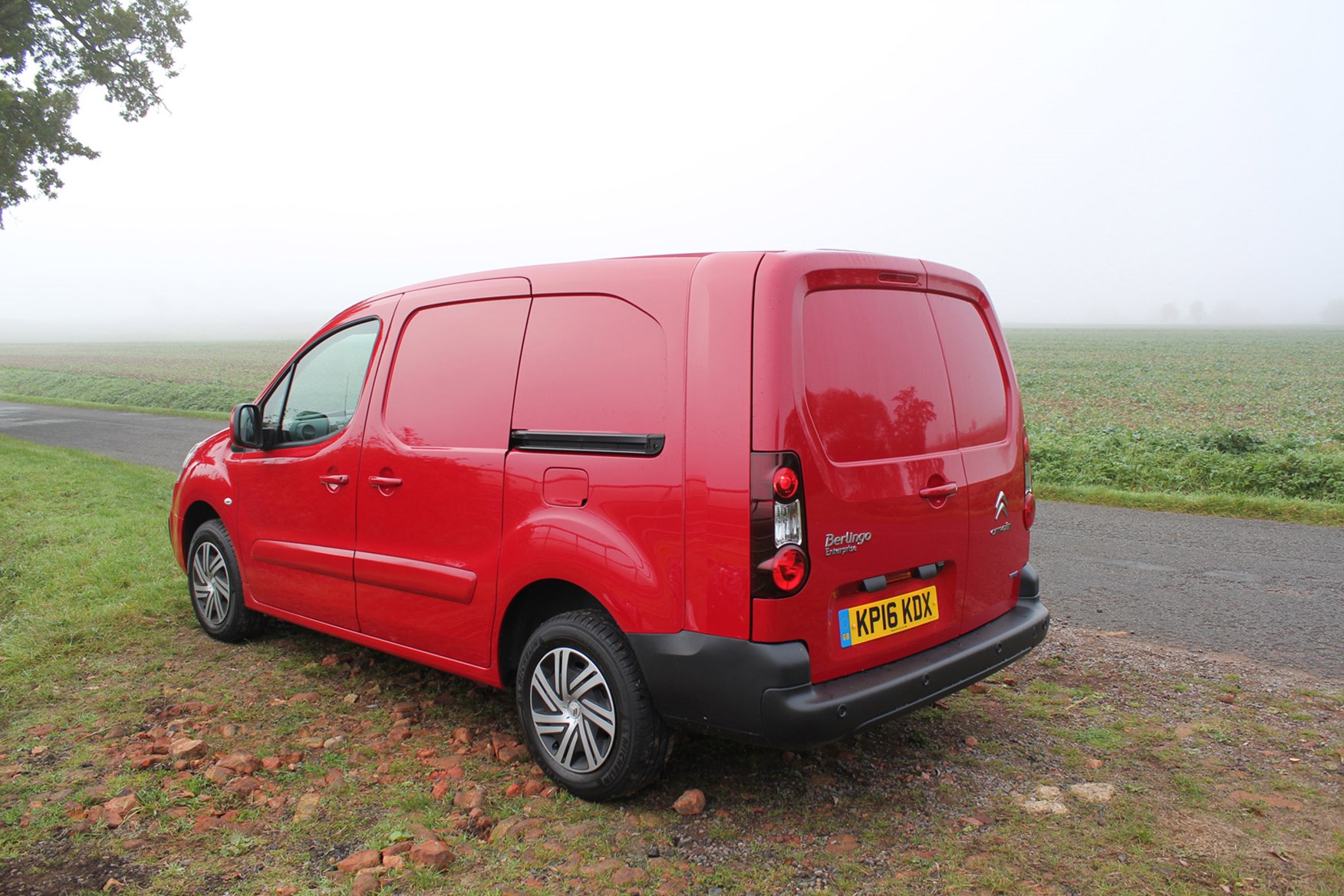 Driving
Performance and refinement is good on all models, though go for a higher-output diesel (at least 90hp) for the best experience.
As for actual driving, you'll find the Berlingo has direct steering and good body control, so despite a relatively high centre of gravity it holds on to the road rather well. However, the brakes aren't particularly confidence inspiring, and it lacks the comfort of the Renault Kangoo or the driving enjoyment of the Ford Transit Connect.
Special variants
Late in 2009 Citroën launched an XTR+ enhanced traction model. This comes with a limited slip differential at the front, raised suspension, a sump guard, plus mud and snow tyres as standard.
We tested it on a slippery off-road course that would have left standard two-wheel drive models stranded, but the XTR+ coped without too much complaint, and would be a cheaper alternative to choosing a four-wheel drive van if you only need it for occasional off-road use.
Citroen has also built all-electric versions of the Berlingo, but anyone interested in a small electric would be better served by the Renault Kangoo ZE or Nissan e-NV200.
Greater comfort and a better quality interior are the major features that stand out in the second-generation Berlingo compared with the original van.
The cabin is roomier (for two, at least), the materials used feel more expensive and standard equipment on all models included electric windows and a CD stereo from launch.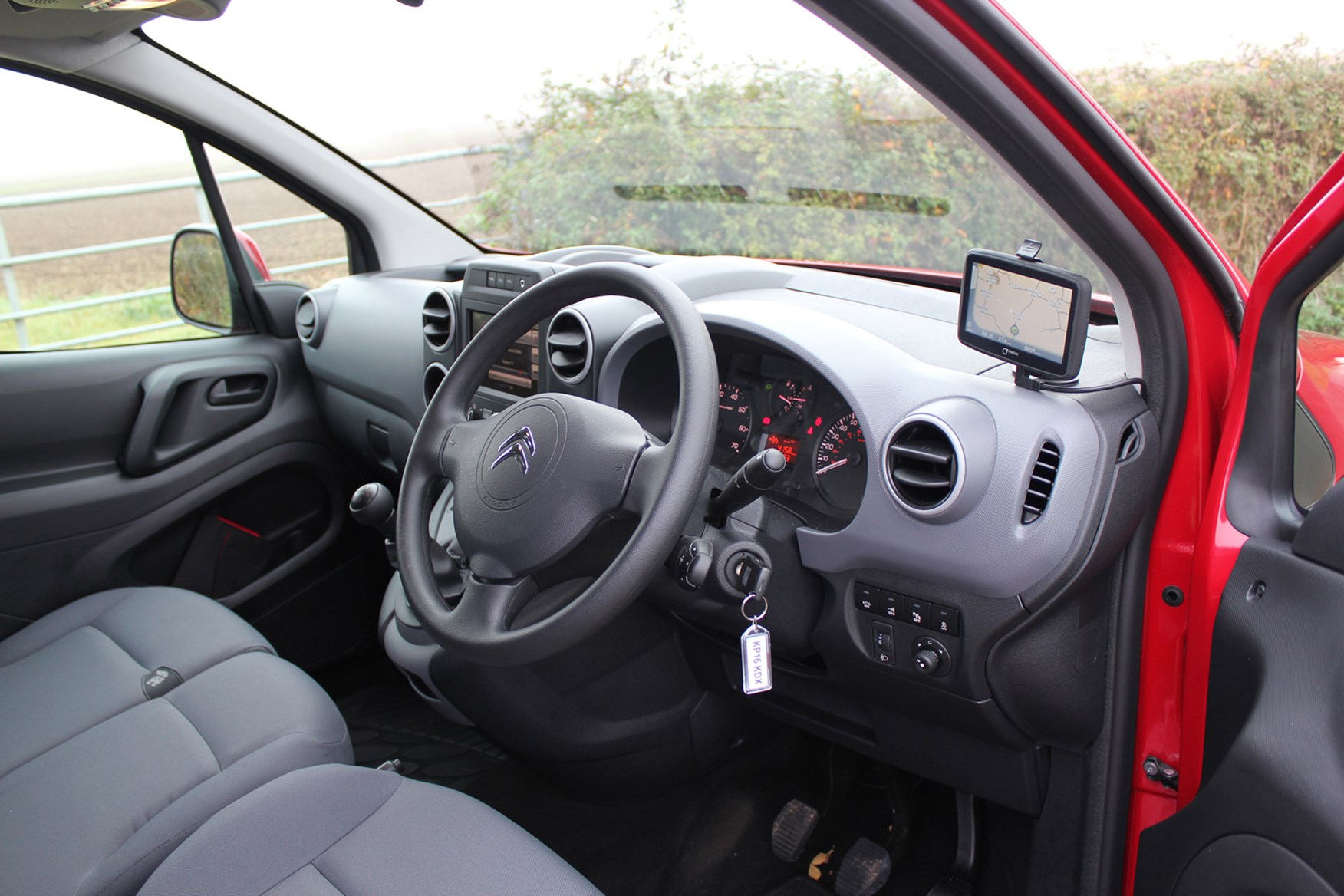 Major tirm level choices are X, LX and Enterprise (the latter added in 2010), though there is also an XTR+ variant designed for increased traction in low-grip environments, while Enterprise has also been an option pack for the LX that adds luxuries such as air conditioning, rear parking sensors and an alarm.
Full-on Enterprise models were fitted with DAB digital radio from mid-2015, while satellite navigation is standard across the range (except on some early entry-level X models).
In-cab storage is generous for a small van, and above all else this feels like a practical, functional vehicle.
Citroën has pulled back from the cashback deals it became famous for over the last few years, but the Berlingo is decent value at the asking prices, while the diesel engines are impressively frugal.
Service intervals are every 12,500 miles, and the cambelt life has been extended - Citroën claims it shouldn't need replacement for 150,000 miles.
The transition to Euro 6 has brought an improvement in efficiency that places the Berlingo amongst the very best small vans for mpg (not always the case with Euro 6). This is balanced against the addition of the AdBlue tank necessary to meet the new emissions requirements, which obviously needs to be kept topped up.
Check out the full list of the most economical small vans by clicking here.
The Berlingo should be reliable for the most part, with major components shared with Peugeot and Citroën products
In the past, Citroën has been guilty of occasional glitches, but it has pledged to work harder on quality and most of these should be ironed out with the Berlingo.
ABS and a driver's airbag are standard on the Berlingo, as you would expect.
Central locking is fitted to the X model, while the LX comes with remote central locking.
An alarm is optional on the LX, as is Bluetooth integration ensuring telephone calls can be taken hands-free.
When the Enterprise trim level was added in 2010 it included both of these items as standard, as well as rear parking sensors.
Which Citroën Berlingo (08-19) is best for me?