Land Rover Defender 110 review (2007-2016)
PROS
Almost unstoppable off road
Improved interior
Robustly built
CONS
Not available with airbags
Noisy
Uncomfortable
Poor ergonomics
Expensive
Summary
The Land Rover was invented in 1948 and despite several refreshes over the years, its antiquated origins are still obvious.
Significant changes were made in 2007, swapping the old Land Rover Td5 five-cylinder turbodiesel for a Ford Transit-sourced diesel engine and six-speed gearbox.
The interior has also been given a facelift, taking controls from the 2006 Freelander. It is still about as good as you can get for off-road work, (the short 90-inch wheelbase version is better than the 110), but prices are pretty steep.
Commercial versions of other 4x4s are available for less cash, although the Defender range is very broad and has a variety of flexible body styles.
Skip to our full verdict on...
The Defender is still very much a tool - something most people would need to use rather than choose to use - despite significant improvements in the way it drives.
The biggest changes surround its new engine. The old five-cylinder engine has been replaced with a four-cylinder engine also used in the Ford Transit, plus a six-speed gearbox has been added. The new engine has a broader torque band and a higher maximum output than the old engine, while thanks to the six-speed gearbox, shows fewer revs at high speeds.
You can now have a conversation on the motorway at 70mph in the Defender without resorting to bellowing at each other. Engine noise, while still intrusive, is less of a problem than in the old model.
The Defender is a tall, narrow vehicle, so a degree of caution is necessary when cornering at speed. Off road the Defender is still exceptional and better set up than most 4x4 rivals to tackle difficult terrain.
Using objective standards, the Defender's interior is more utilitarian than most modern commercial vehicles. It is still a mess despite an attempt to tidy it up in 2007.
The large steering wheel dominates, steering column stalks can be traced back to the 1970s, and controls for most functions are found the the dashbaoard centre.
High specification versions come with air conditioning, heated seats and electric windows. Switches for these - along with the CD radio - are the same as used in other Land Rovers.
Some models also come with a Quickclear heated windscreen, although the door mirrors, adjustable only by hand, often remain frosty on cold days.
The handbrake nestles beneath driver's left calf and when released is in the firing line of the foot-well air vents. This means when the heating is on, the handbrake becomes hot.
You sit extremely high, and there isn't a great deal to adjust to ensure you're comfortable. Taller drivers may find the seat doesn't travel back far enough, and there is no adjustment to the steering wheel.
Visibility is not bad although Hard Top and Utility Pack-equipped versions of the 110 model have panel van-style rear quarters compromising the view.
The Defender is built very simply and the basic design has hardly changed since 1948. If you're comparing with other passenger 4x4s, cars like the Nissan Patrol, Toyota Land Cruiser and Mitsubishi Shogun - all are just about as capable, easier to live with and cost much less.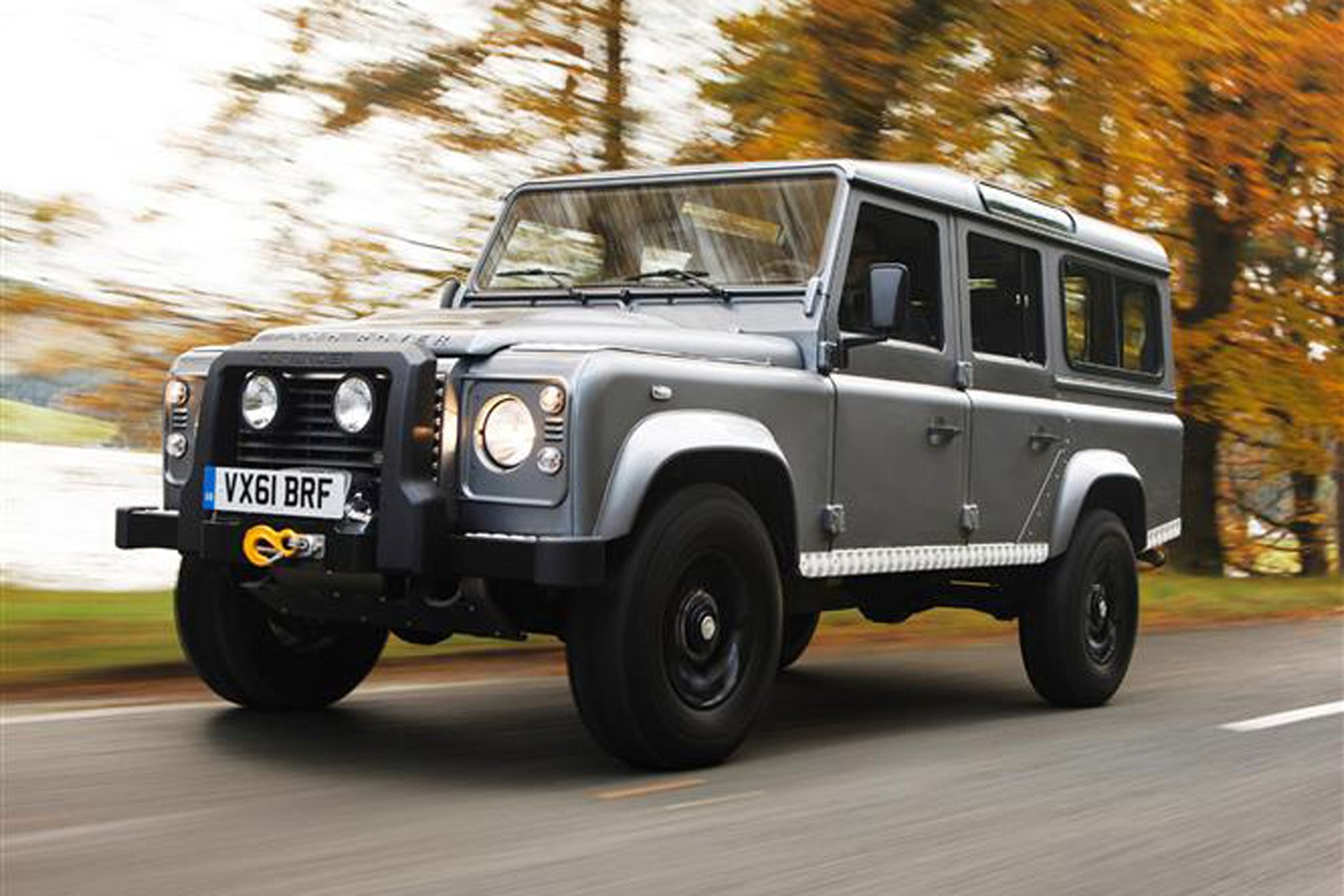 Likewise if you need a pick-up truck or double-cab, others do similar jobs for cheaper. The Defender does retain its value very well though.
Designed to keep running in the harshest conditions, the Defender should prove reliable, although Land Rover's reputation in this area is not as strong as its Japanese rivals.
Other parts of the car seem robust. The engine has been designed to run on poorer quality diesel available in remote areas of the world if necessary.
The Defender is not available with airbags, but does come with anti-lock brakes and traction control.
Pick Up versions are offered with canvas covers for the load areas, compromising security. An alarm and immobiliser are available.
Which Land Rover Defender 110 (07-16) is best for me?