Land Rover Discovery Commercial dimensions (2018-on)
Full details of the 2018-onwards Land Rover Discovery Commercial van's dimensions, covering both the exterior and the load space.
Keep reading for full details on the Discovery Commercial's cargo area, payload and towing capacity.
The Land Rover Discovery Commercial is based on a regular passenger SUV, so its load carrying capability isn't as versatile or expansive as that of a conventional van.
But then, the Disco doesn't look like a van, either – which together with the significantly nicer driving experience and high level of standard equipment (see our main Review page) is exactly the point of vehicles like this.
Land Rover has made a big effort to maximise the available space for load carrying purposes, even so. Not only has it removed both rear seat rows – leaving just the driver and passenger seats up front – and replaced them with a load platform, there are additional storage areas below this platform, as well as a reinforced bulkhead to keep occupants protected.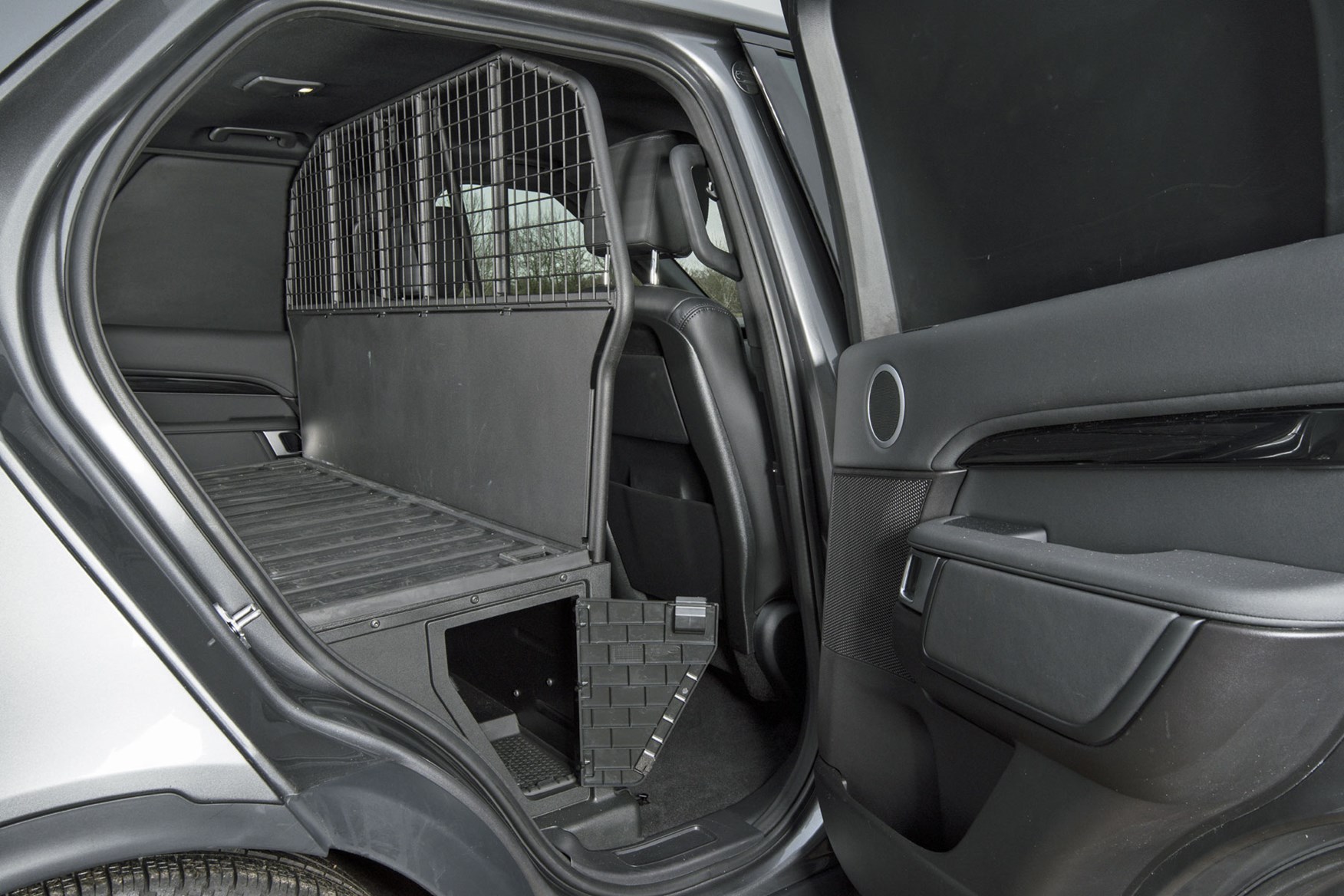 More unusually, all versions of the Discovery Commercial come with a powered tailgate – and a powered inner tailgate, which acts as a load-retaining lip when in the upright position and doubles as a seat when lowered. Just remember you need to leave room for both mechanisms when parking.
Land Rover Discovery Commercial exterior dimensions
It's no full-size long-wheelbase van, but the Disco is not a small vehicle. These are the exterior dimensions:
Length: 4,956mm
Width excluding door mirrors: 2,000mm
Width with door mirrors folded: 2,073mm
Width without door mirrors folded: 2,220mm
Height including roof antenna: 1,888mm
Height with tailgate open: 2,213mm
Land Rover Discovery Commercial load area dimensions and capacity
It's nicely finished in the load area, but it's not a massive space in van terms – it's also a long way from the ground, which is worth keeping in mind if you plan to carry heavy items.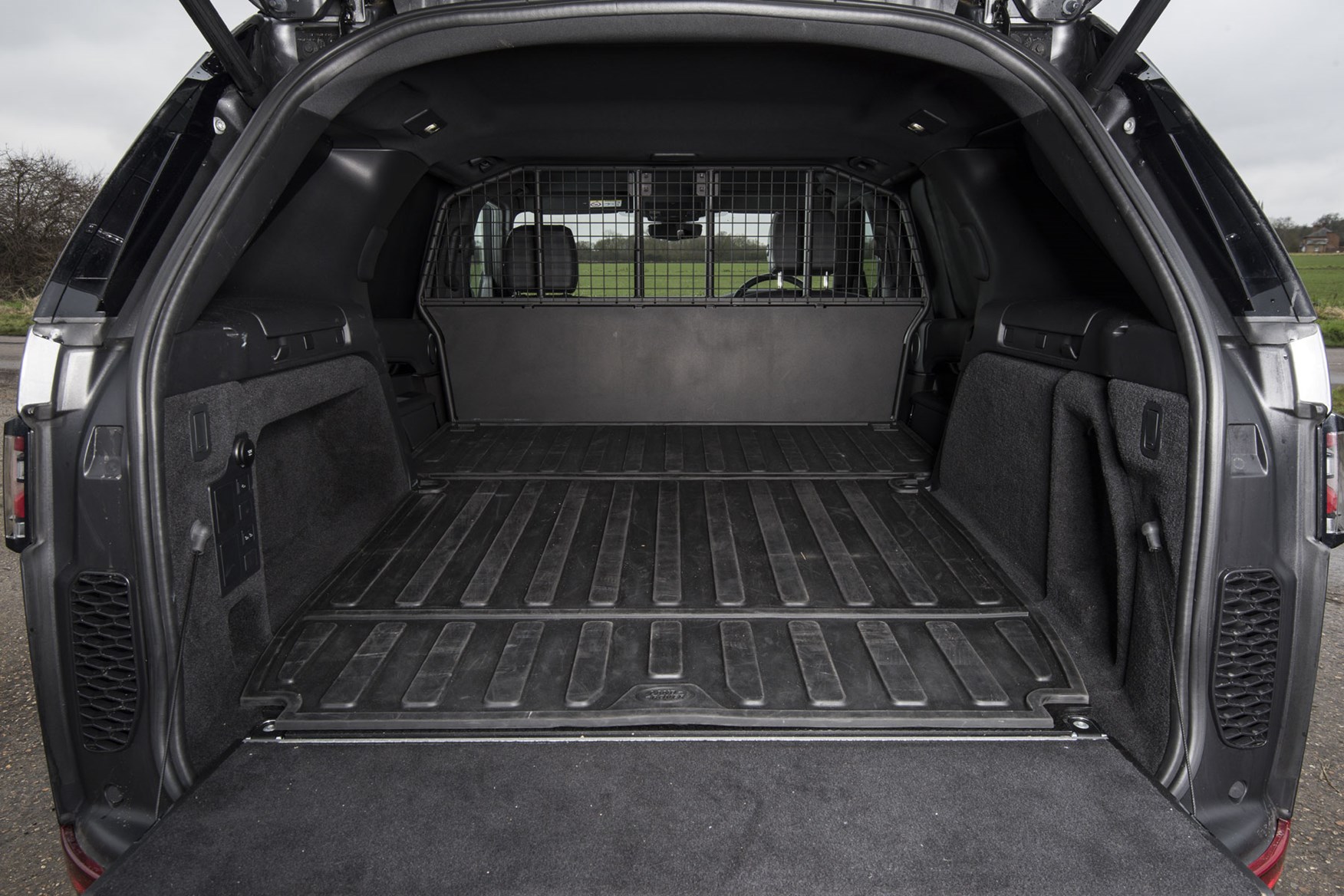 These are the full Land Rover Discovery Commercial load area dimensions:
Maximum load length: 1,635mm
Maximum load width: 1,411mm
Maximum load height: 939mm
Boot aperture width: 1,000mm
Boot aperture height: 735mm
Load volume: 1,856 litres (just over 1.8 cubic metres)
Note the load volume is officially given in litres, which is common for a car-based commercial vehicle.
The Land Rover Discovery Commercial has the following maximum gross vehicle weight (GVW) and payload capacity based on the available engines:
SD4 engine (2,940kg GVW) max payload: 728kg
SD6 engine (3,170kg GVW) max payload: 891kg
Not massively high, but you're unlikely to be hauling really heavy goods in one of these anyway. Just remember that fitted equipment and people eat into this payload rating, too, so higher-spec Discos will have lower carrying capacity.
All versions should prove excellent for towing as they have the legal maximum weight capacity of 750kg unbraked and 3,500kg braked.