Mercedes-Benz Sprinter review (2013-2018)
Hugely reliable class act - and a top large van choice
PROS
Excellent to drive
Lots of safety kit
Great residual values
CONS
Optional extras can be expensive
Fuel economy
Low payload
Summary
The Mercedes-Benz Sprinter is the de facto king of large vans - and has been since it was originally launched back in 1995. This version, on sale since 2013, is a highly-evolved development of the second-generation model, first introduced in 2006.
It will be replaced by a new, third-generation Mercedes Sprinter in June 2018.
>> Click here to read the Parkers Vans review of the 2018-on Mercedes-Benz Sprinter, the replacement for this model
Breaking sales records right up to the end of its life
Despite its imminent replacement, this model of Sprinter achieved record sales in 2017 - which tells you everything you need to know about how well-regarded this large van legend really is.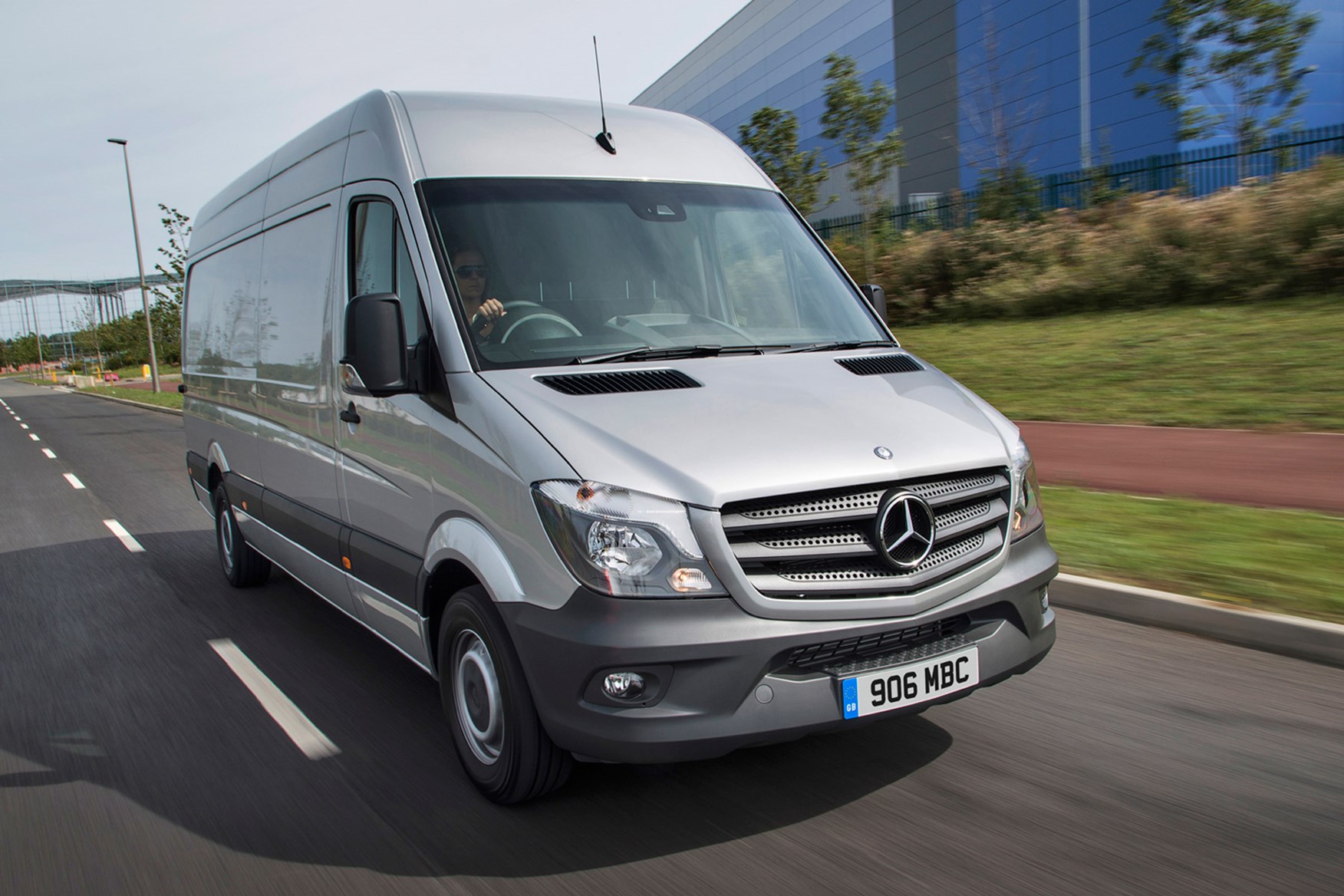 Billed as 'pioneer of the road', the Sprinter has always brought safety innovation in addition to being hugely versatile, good to drive and immensely reliable - typically placing first in the UK industry leading FN50 Van Reliability Survey.
Mercedes Sprinter rivals
For all that the Sprinter is so impressive, rivals have been getting closer and closer to its all-round accomplishments as this model has aged.
Up until 2017, you could also buy a Volkswagen Crafter that was essentially the same van at a slightly lower cost.
Now the all-new VW Crafter (introduced in 2017) is one of the Sprinter's greatest rivals - offering a particularly accomplished driving experience that is especially comfortable and easy to manage.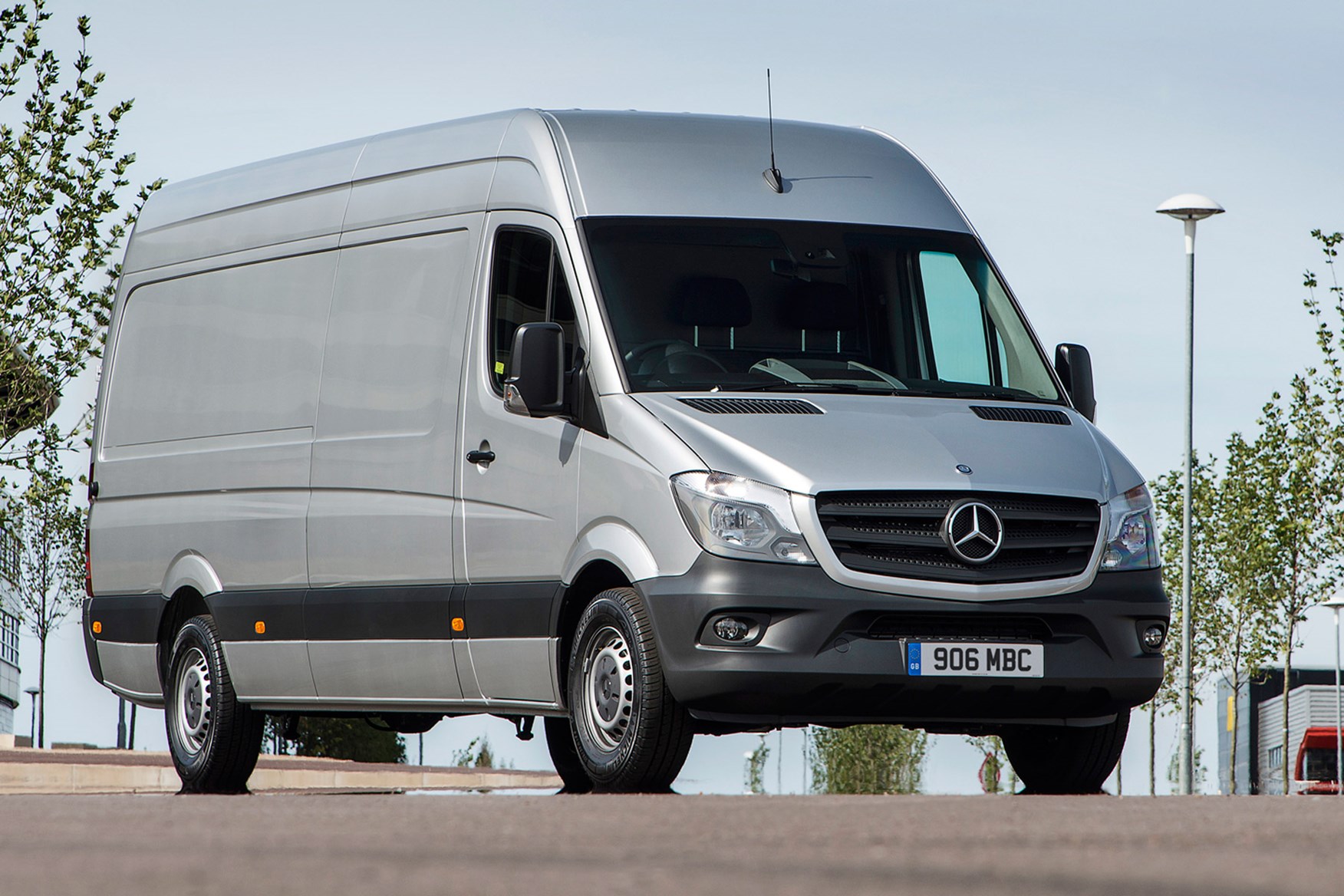 Similarly, the latest generation of full-size Ford Transit - launched in 2014 - is a comprehensively appealing all-rounder that complements its less premium image with a lower price tag.
None of the above are the best choice if maximum payload is your major concern, however. For that, look to one of the older large vans from either the Renault Master or Peugeot Boxer families.
What makes the Mercedes Sprinter such a good van?
The 2013-onwards Sprinter moved the game on; it's safer, more efficient, sports a revised look and boasts more technology than ever.
Safety is something Mercedes is famous for, and this Sprinter benefits from a raft of systems that aim to keep both occupants and pedestrians out of trouble.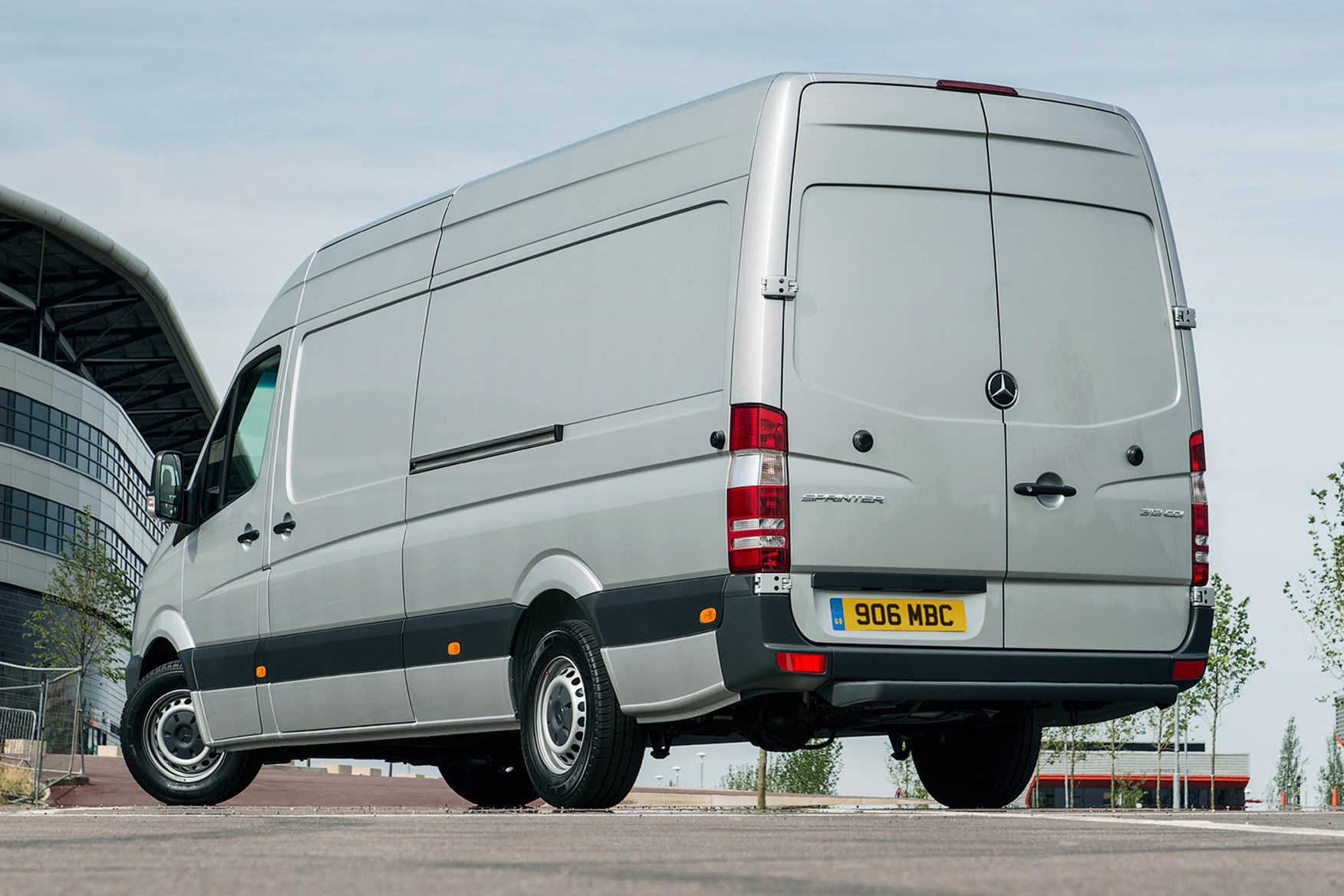 For instance, Crosswind Assist comes as standard. This can detect when a gust of wind pummels into the side of the van and compensates for it, meaning you stay driving in the direction you intend.
Mercedes Sprinter engines and variants
The Sprinter is available with a range of four- and six-cylinder engines, offering power outputs from 95hp to 190hp.
A large combination of wheelbase lengths and bodystyles, as well as the option of four-wheel drive (in addition to the standard rear-wheel drive) and a huge list of optional extras, means there's likely to be a variant that suits your needs.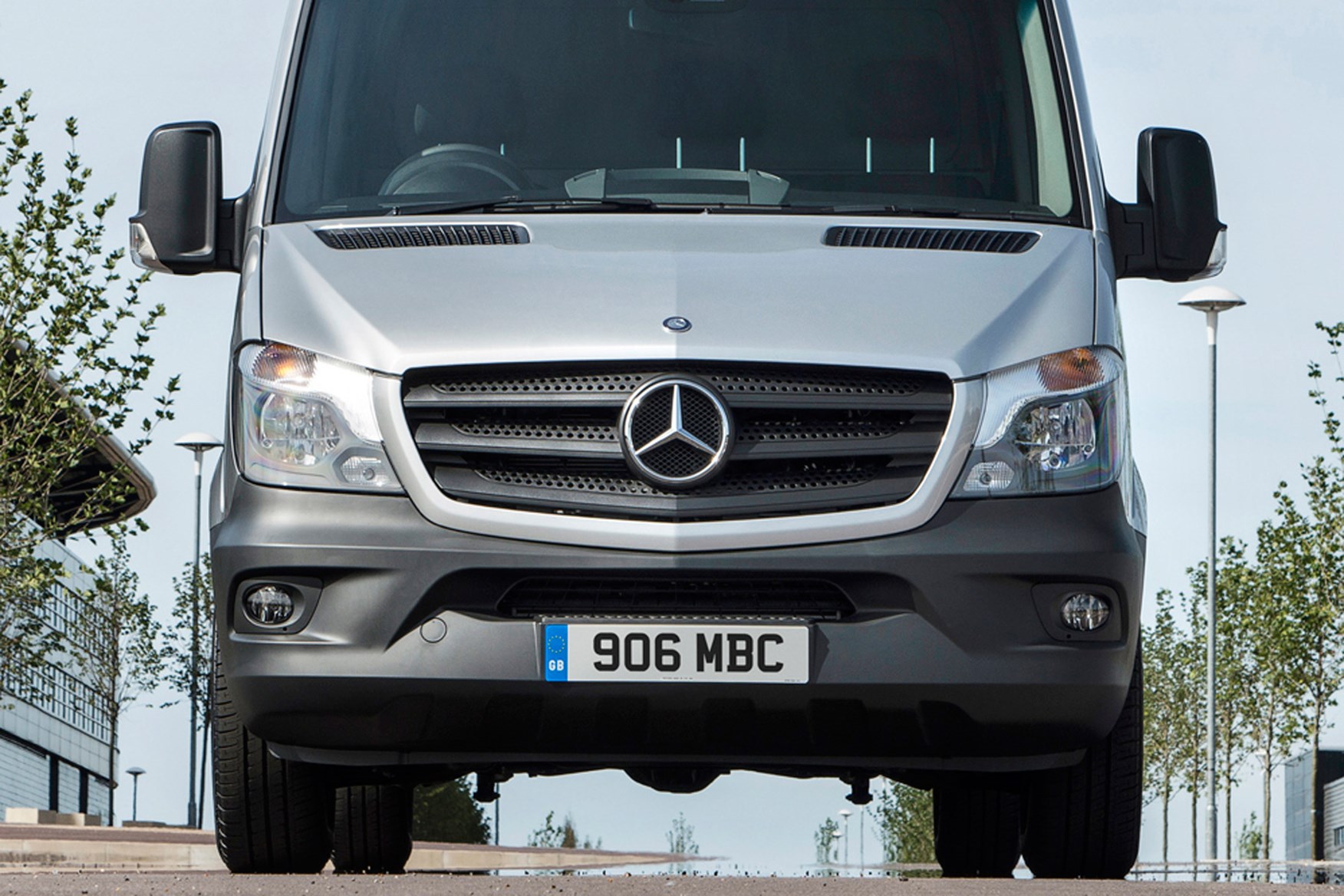 Mercedes Sprinter strengths and weaknesses
Performance is generally excellent, but these are also thirsty engines, and the Sprinter fares poorly in our full list of the most fuel-efficient large vans.
>> The best large vans for mpg
As mentioned above, however, the Sprinter doesn't offer the greatest amount of payload at the maximum 3.5-tonne gross vehicle weight (GVW) legal to drive on a regular car licence.
>> The best large vans for payload
---

Mercedes Sprinter - the Parkers Vans verdict
To find out more about this highly sought-after and extremely popular van, read on for the full Mercedes-Benz Sprinter review on Parkers Vans.
But suffice to say, if you've got the budget and aren't hampered by the need to carry enormous amounts of weight, the Sprinter makes an excellent choice. Reliability is second-to-none, build quality and safety are excellent, and few vans are more comfortable over long distances.
Skip to our full verdict on...
You'll find that driving the Sprinter is remarkably easy, considering the sheer size of this vehicle. Yet you don't feel like the firm has sacrificed on quality, either.
The controls feel very nicely weighted without being too heavy. Most indicative of this is the steering, which is sharp and direct without being over- or under-assisted.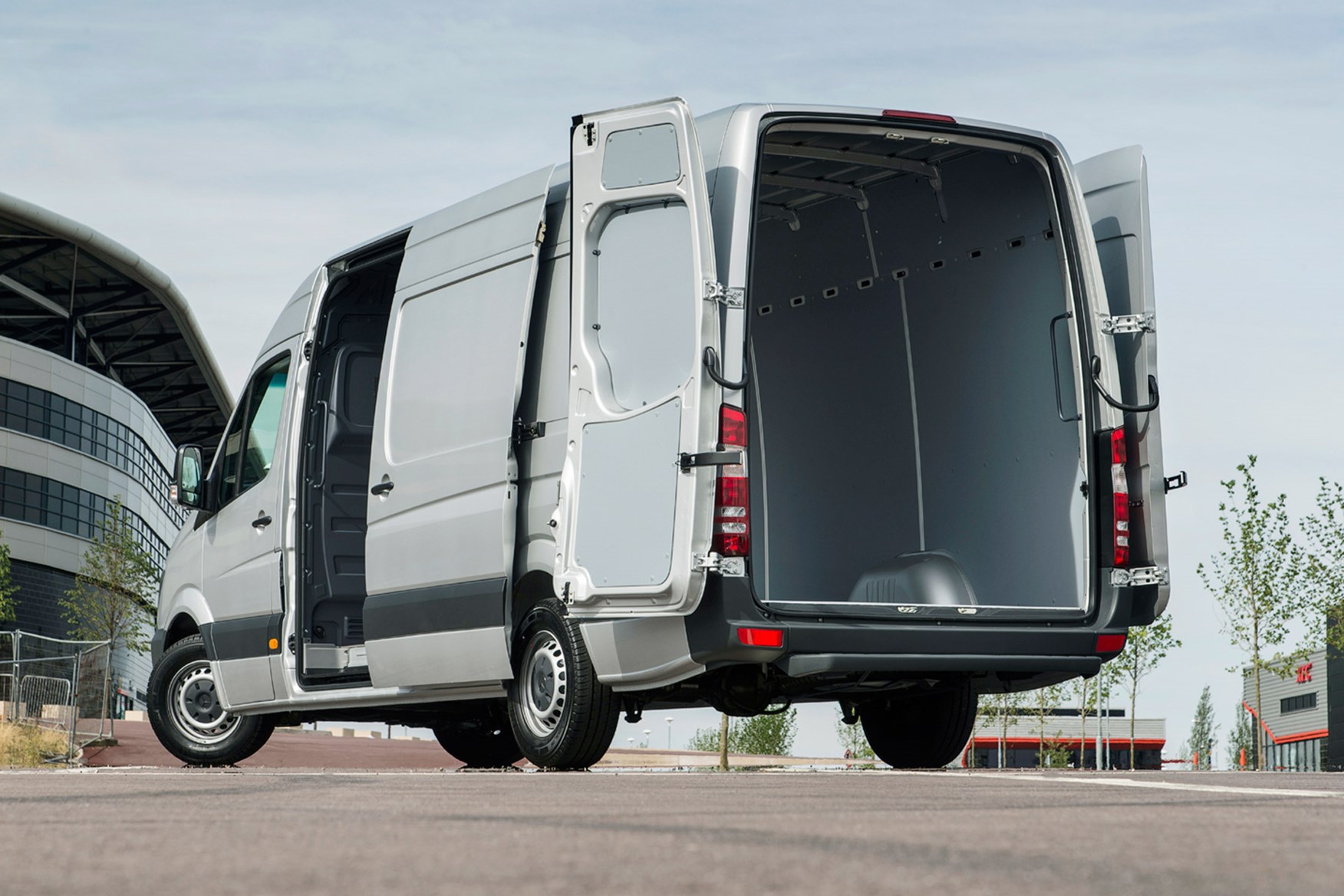 The turning circle is relatively small, too, which helps when moving in and out of parking spaces.
Mercedes Sprinter engines
The Sprinter is available with a choice of 2.1-litre four-cylinder turbodiesel engines or a stonking 3.0-litre V6 turbodiesel.
A 1.8-litre four-cylinder supercharged petrol is also offered, and can be had with a factory compressed natural gas (CNG) conversion, but this is very much a niche choice in the UK.
The 2.1-litre CDI turbodiesel offers the following power and torque outputs in the Sprinter:
95hp / 250Nm (rear-wheel drive models only)
129hp / 305Nm (rear-wheel and four-wheel drive)
163hp / 360Nm (rear-wheel and four-wheel drive)
The 3.0-litre CDI V6 comes with the following power and torque outputs in the Sprinter:
190hp / 440Nm (rear-wheel drive and four-wheel drive)
The 1.8-litre petrol / CNG model is rear-wheel drive only, and produces 156hp in combination with a modest 240Nm. As such, it's best suited to applications where low emissions rather than performance are critical.
With the possible exception of the entry-level 95hp variant, every Sprinter diesel engine is smooth, powerful and fully capable of achieving decent motorway speeds with plenty of payload on board.
In fact, we've tested some versions loaded with a one-tonne weight, and found little to complain about.
Mercedes Sprinter comfort
As usual, you'll probably find a loaded van is more comfortable than an unloaded one, as the rear springs are designed to cope with so much weight they can become bouncy without at all any to deal with. But the Sprinter is generally less sensitive to these changes than many rivals.
Speaking of comfort, the optional seven-speed automatic transmission is a real bonus if you often find yourself dealing with lots of traffic.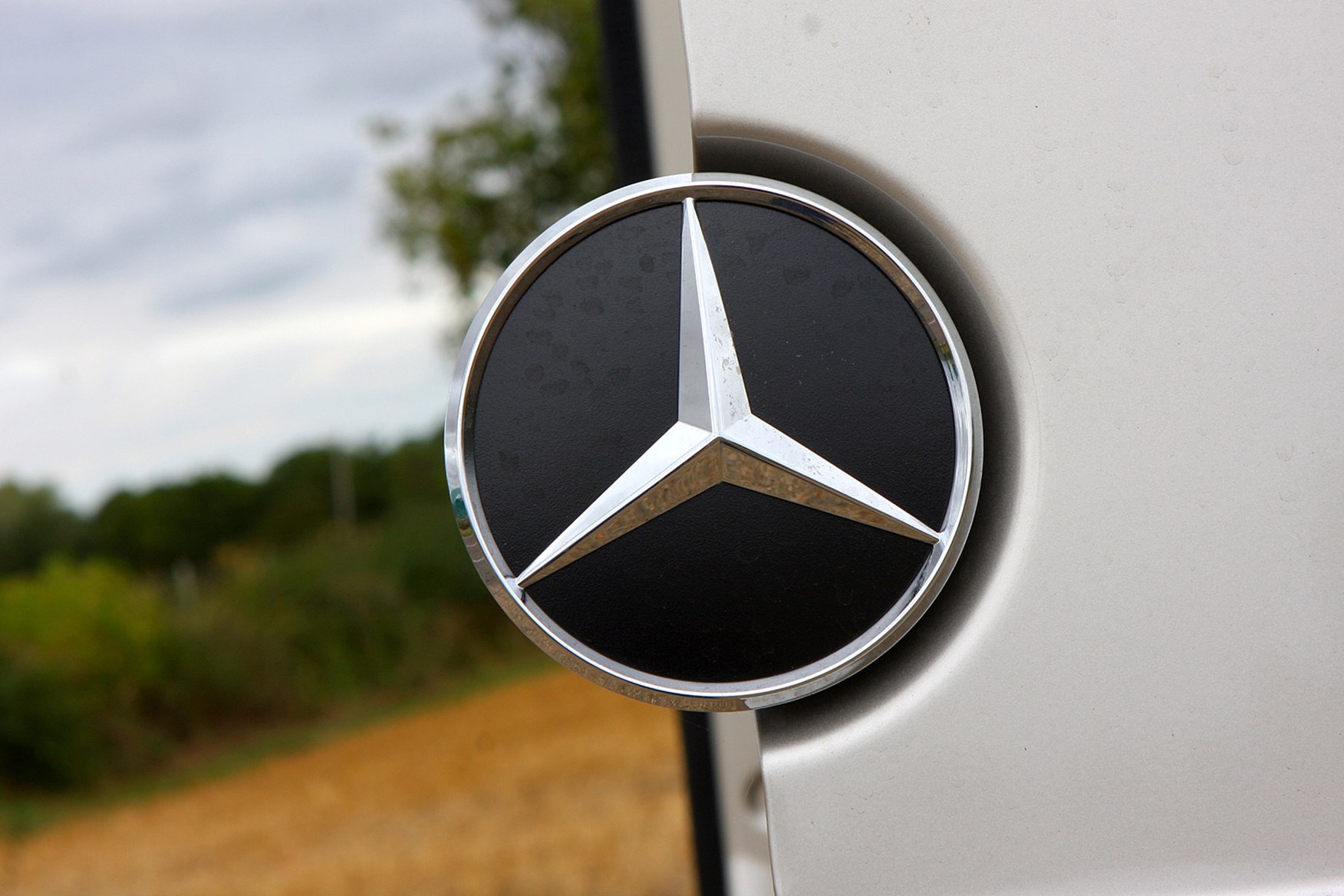 With an extra ratio over the standard six-speed manual gearbox, it's not even particularly bad for the fuel economy, and should reduce clutch replacement costs as it prevents the driver causing unnecessary damage.
Four-wheel drive versions of the Sprinter are limited to an optional five-speed auto - but these aren't exactly likely to be frugal anyway. They are impressively capable off-road, however. For a van.
There's a distinctly quality feel to the interior of the Sprinter.
The materials used are hard-wearing and the cabin looks not just functional but attractive. It's a no-nonsense design that works well, even if the infotainment options are really starting to feel their age now, and expected luxuries such as DAB radio aren't included as standard.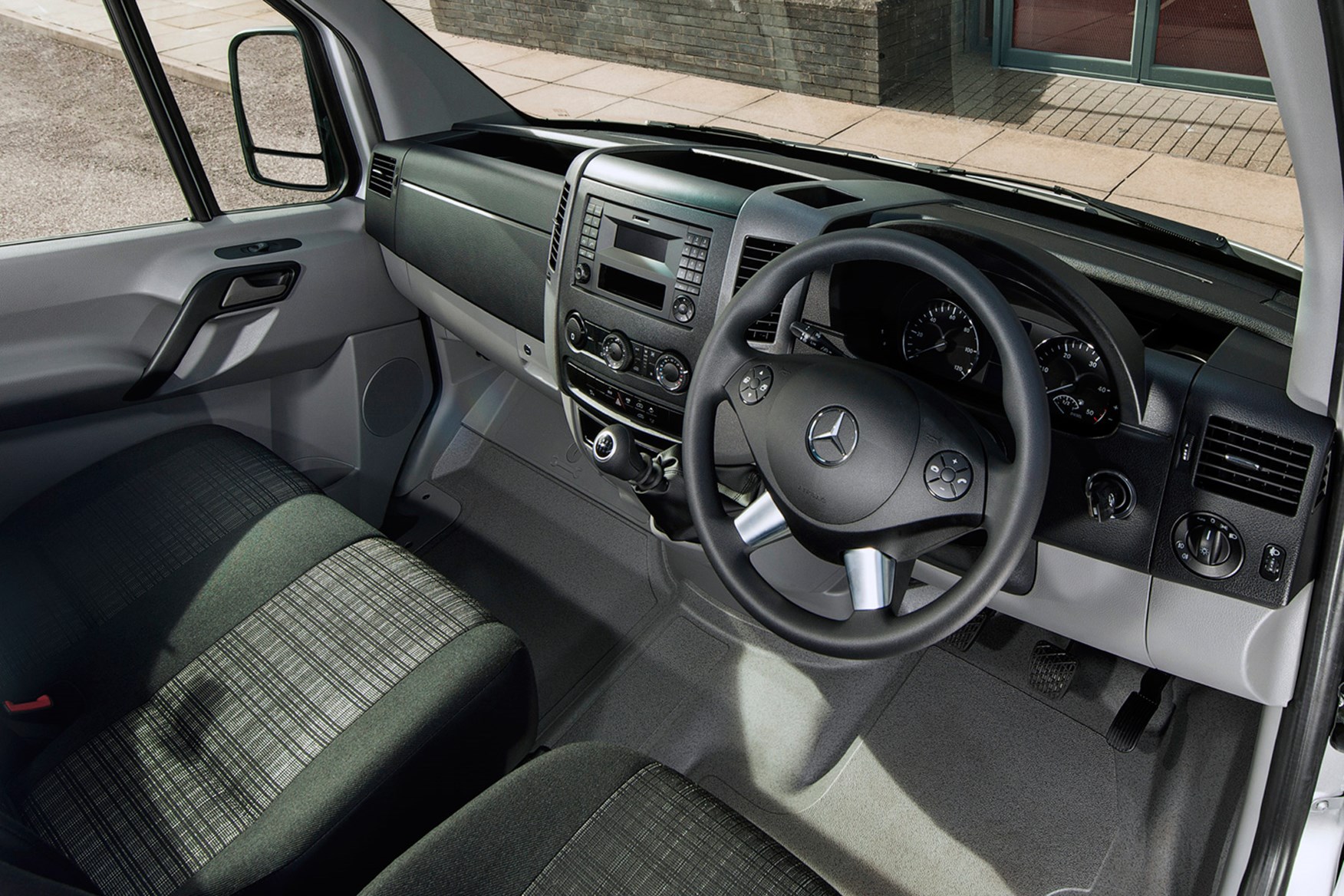 Bluetoooth, a speed limiter, cruise control, a full bulkhead and a multifunction steering wheel are all included, however.
The redesigned seats are supportive and more comfortable than the previous van, while a new fabric means they're also harder-wearing.
The gearlever's high positon on the dashboard means it's very easy to operate, but the handbrake is less convenient, and something of a stretch to reach.
Mercedes Sprinters are not cheap - but that's not the same as saying they're poor value for money.
Mercedes Sprinter warranty and servicing
New examples get a three-year, unlimited mileage warranty, for example, and you get free roadside assistance for up to 30 years (!), as long as the servicing is carried out by an official Mercedes-Benz Vans service centre.
So while Mercedes' own servicing isn't the cheapest, it could save you the additional cost of an annual roadside recovery package. The Mercedes MobiloVan roadside assistance service has a great reputation for timely response, too.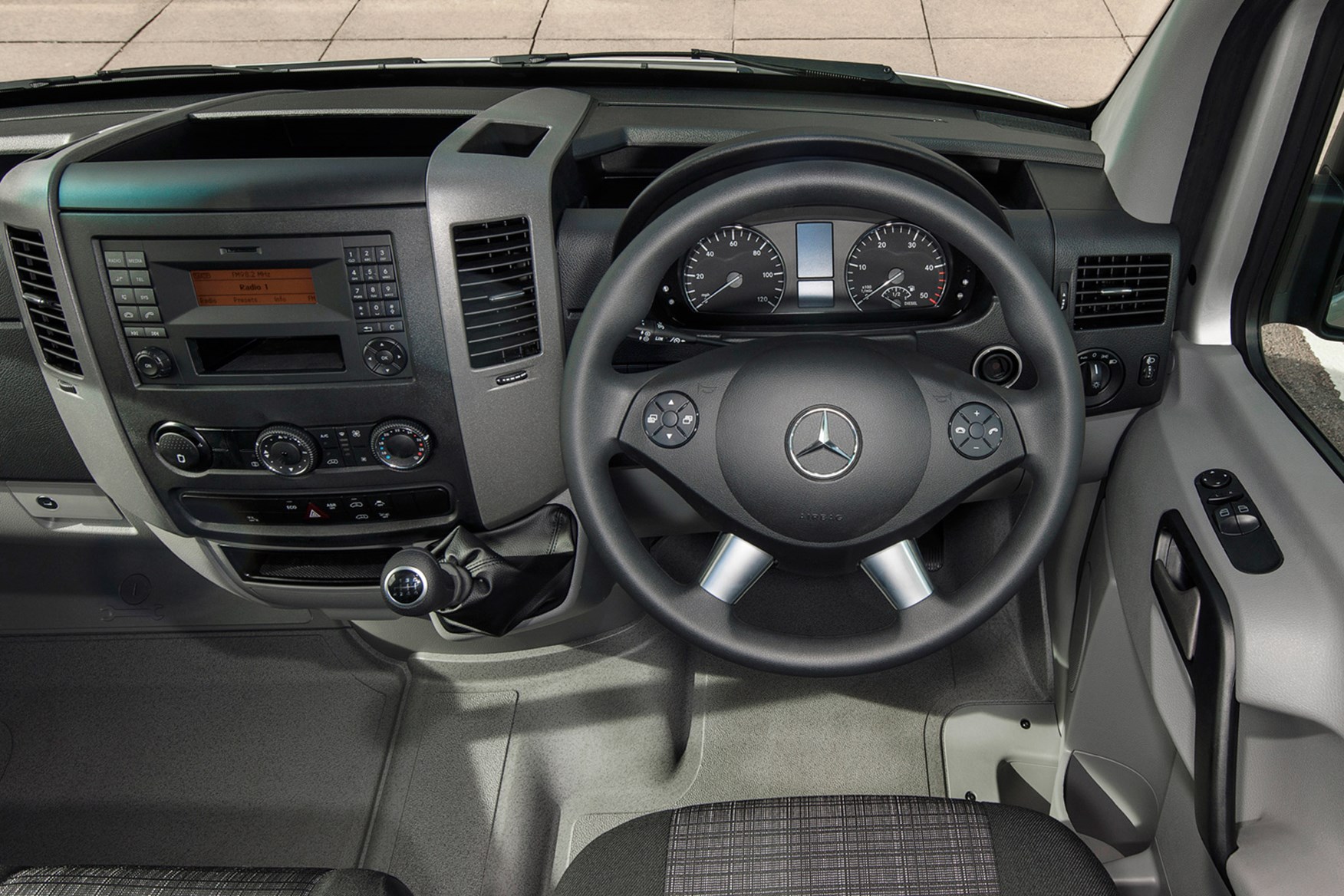 Service intervals are as high as 37,000 miles - but the exact distance will vary according to the instructions of the van's on-board computer, which monitors the vehicle for wear. So how far you can really go between services will depend on driving style and usage.
Mercedes Sprinter fuel economy
Strong build quality makes these heavy vans - which is why their payload isn't especially high. For the same reason, on-paper fuel economy isn't the greatest, with the current range offering a 40.4mpg claimed average at best.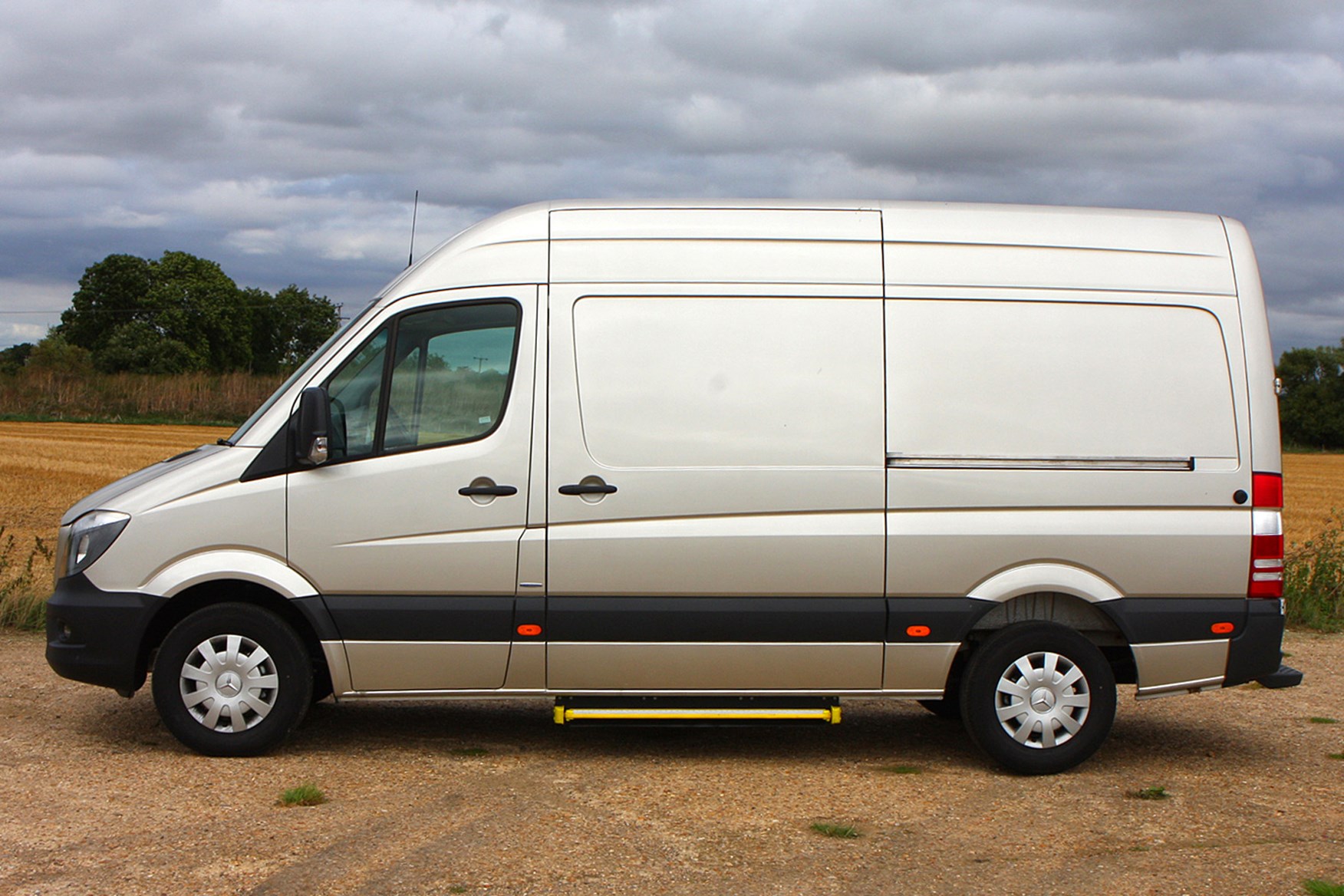 To achieve this you'll need to buy the BlueEfficiency Plus variant, which includes a whole host of fuel-saving measures, above and beyond the regular BlueEfficiency package, which is available on a wider range of models.
Non-BlueEfficiency Sprinters struggle to top 40mpg - and that's in testing. Out in the real world, you're likely looking at mid-30s mpg if you drive sensibly.
Mercedes Sprinter reliability shouldn't cause you too many issues. This is a very well-established product at this point, and usually comes top in the FN50 van reliability survey.
All those parcel couriers don't drive this van by accident - if you want to do intergalactic miles before replacement, the Sprinter is an excellent choice.
As we've come to expect from Mercedes-Benz, safety is a big part of the Sprinter's repertoire. There's a raft of kit installed which aims to keep drivers, pedestrians and other road users safe.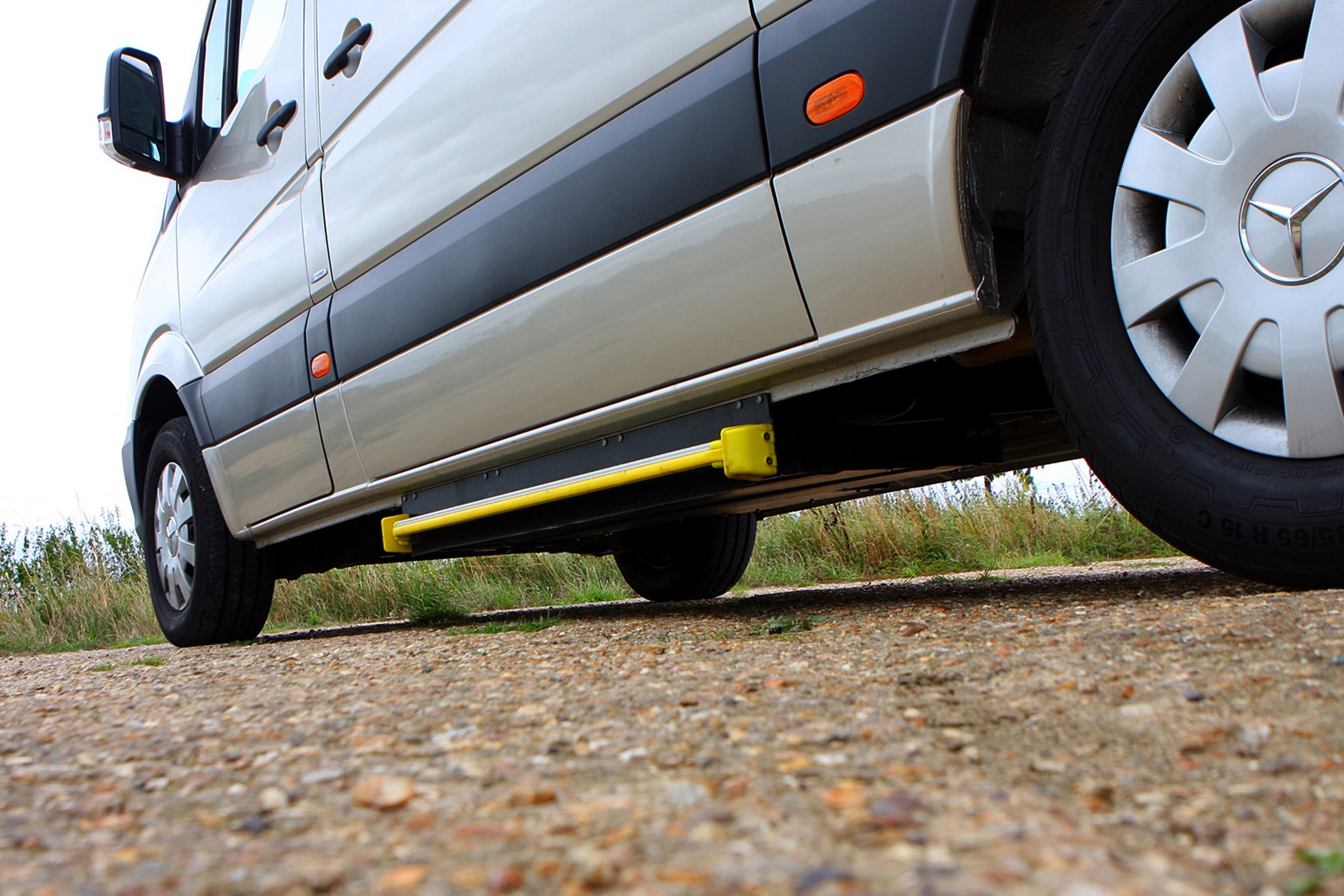 In addition to the usual ABS, traction control and brake force distribution systems, particularly advanced electronic stability control (ESC - though Mercedes labels it Adaptive ESP) is installed, which automatically adjusts its behaviour to account for load weight in the back.
The Sprinter also gets roll-over protection and even a system that dries the brake discs if they get wet, reducing stopping distances.
Then there's Crosswind Assist, which can detect side winds and compensate for them by automatically activating the brakes in order to stop the Sprinter being blown off course. It works so well you probably won't even notice it taking action.
On top of all that you get airbags, although which optional extras you choose will dictate how many you get and where they're situated.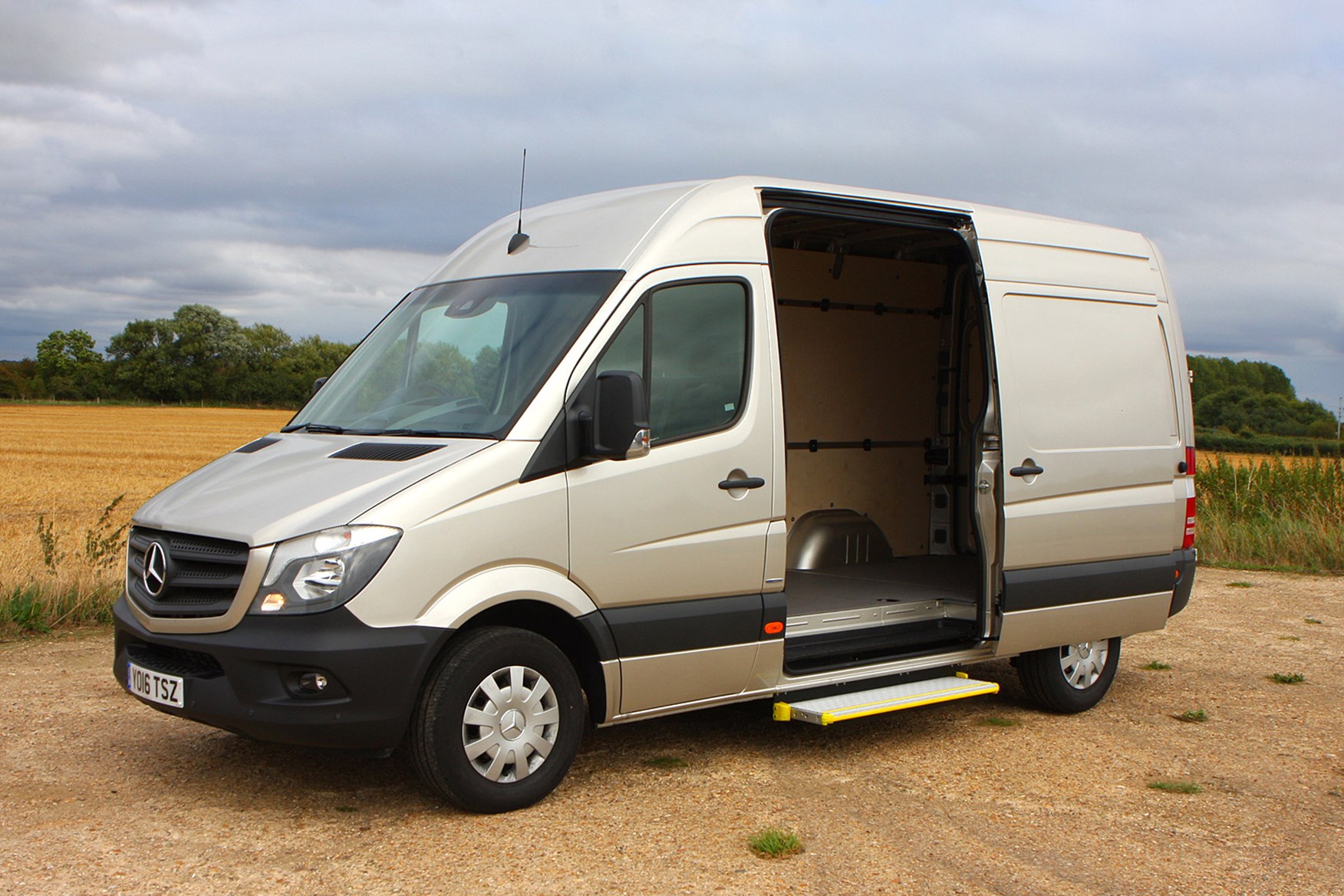 For pedestrians, the whole front of the van has been designed to mitigate the effect of an impact with a human being.
Stand-out optional safety extras include:
Collision Prevention Assist (which warns of a potential collision)
Blind Spot Assist (which warns of a vehicle in your blind spot)
Highbeam Assist (which automatically toggles the high beam headlights)
Lane-Keeping Assist (which aims to prevent the van drifting out of its lane without driver input)
You can also order towing equipment, which then means you get a stabilisation system for towing trailers too.
As for security, all Sprinters come fitted with remote locking and an immobiliser - but you'll have to pay extra for an alarm system as this is optional rather than standard equipment.
Which Mercedes-Benz Sprinter is best for me?