SsangYong Korando review (2013-on)
PROS
Smart looks, not obviously a van
Powerful, efficient 2.2-litre diesel
Very good value
Five-year unlimited mileage warranty
2,000kg towing capacity
CONS
Regular vans more practical
No bulkhead as standard
High load-height
Gearbox worries
Summary
The SsangYong Korando is a medium-sized SUV passenger car, but in common with rival vehicles such as the Dacia Duster and the Mitsubishi Outlander, it is available as a light commercial vehicle – now badged the Korando CSE.
SsangYong calls it a van, and in this guise, the rear seats are removed and replaced with a flat load floor that stretches from the tailgate to a lip just behind the remaining pair of front seats. The Korando commercial keeps its conventional rear side doors, but the glass is fixed and tinted black for additional security.
Aimed at people who need a van but don't want to look like they do
A similarly-sized van will still carry far more, but conversions like this are aimed at buyers looking for something that doesn't instantly scream commercial vehicle when it's parked on the drive. They are also likely to place a greater than usual emphasis on driving and comfort – the Korando CSE is as car-like from behind the wheel as its non-LCV siblings.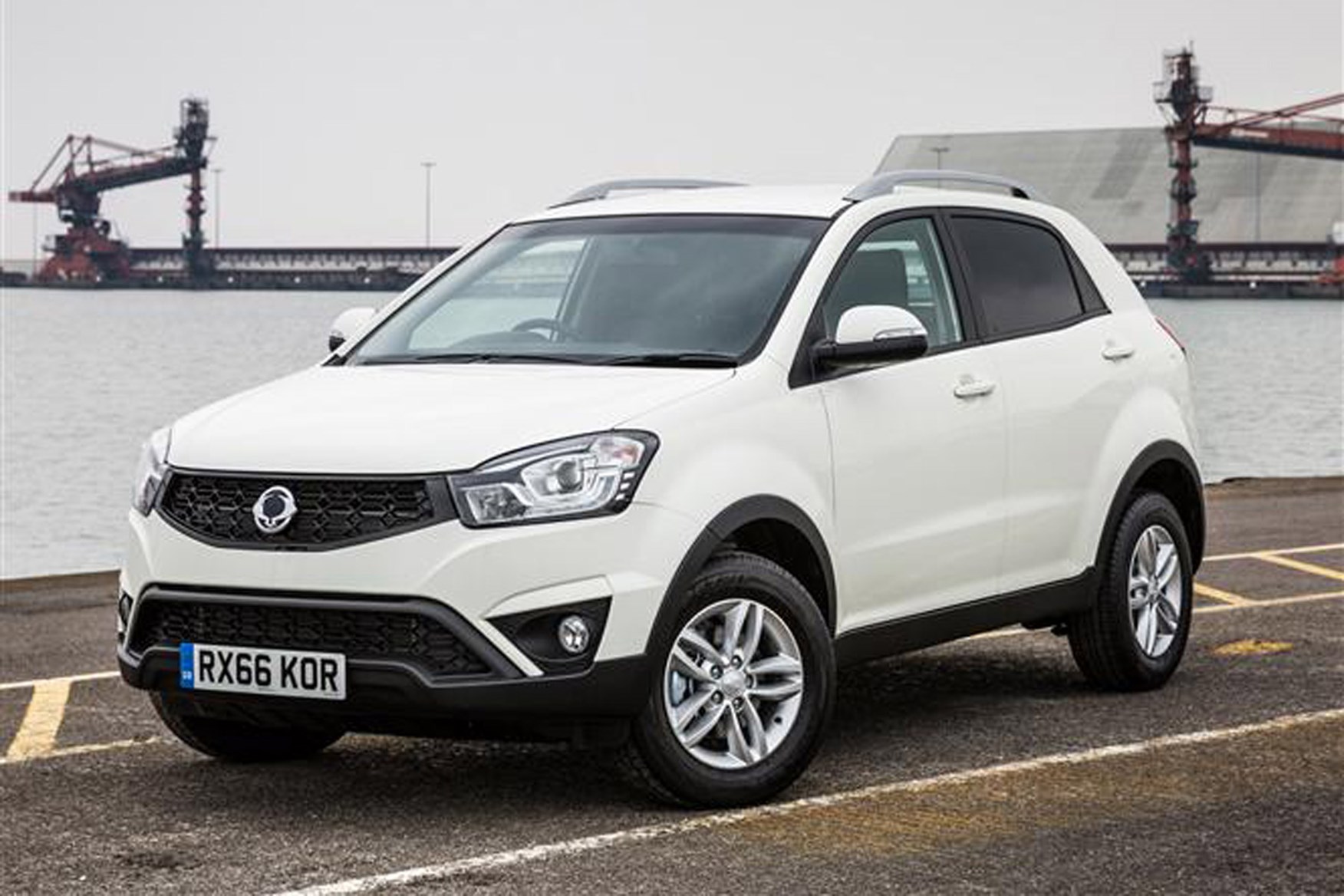 Being SUV-based, compared with a traditional van it also offers the prospect of greater ground clearance and even some off-roading ability, and indeed the Korando CSE is available with a choice of front-wheel drive or four-wheel drive, the latter labelled the CSE 4x4.
Korando commercial van model history
The model was first introduced in 2013, when it launched as the Korando CS (or CSX with four-wheel drive) and was powered by the regular version's then current 2.0-litre turbodiesel engine producing 149hp and 360Nm of torque.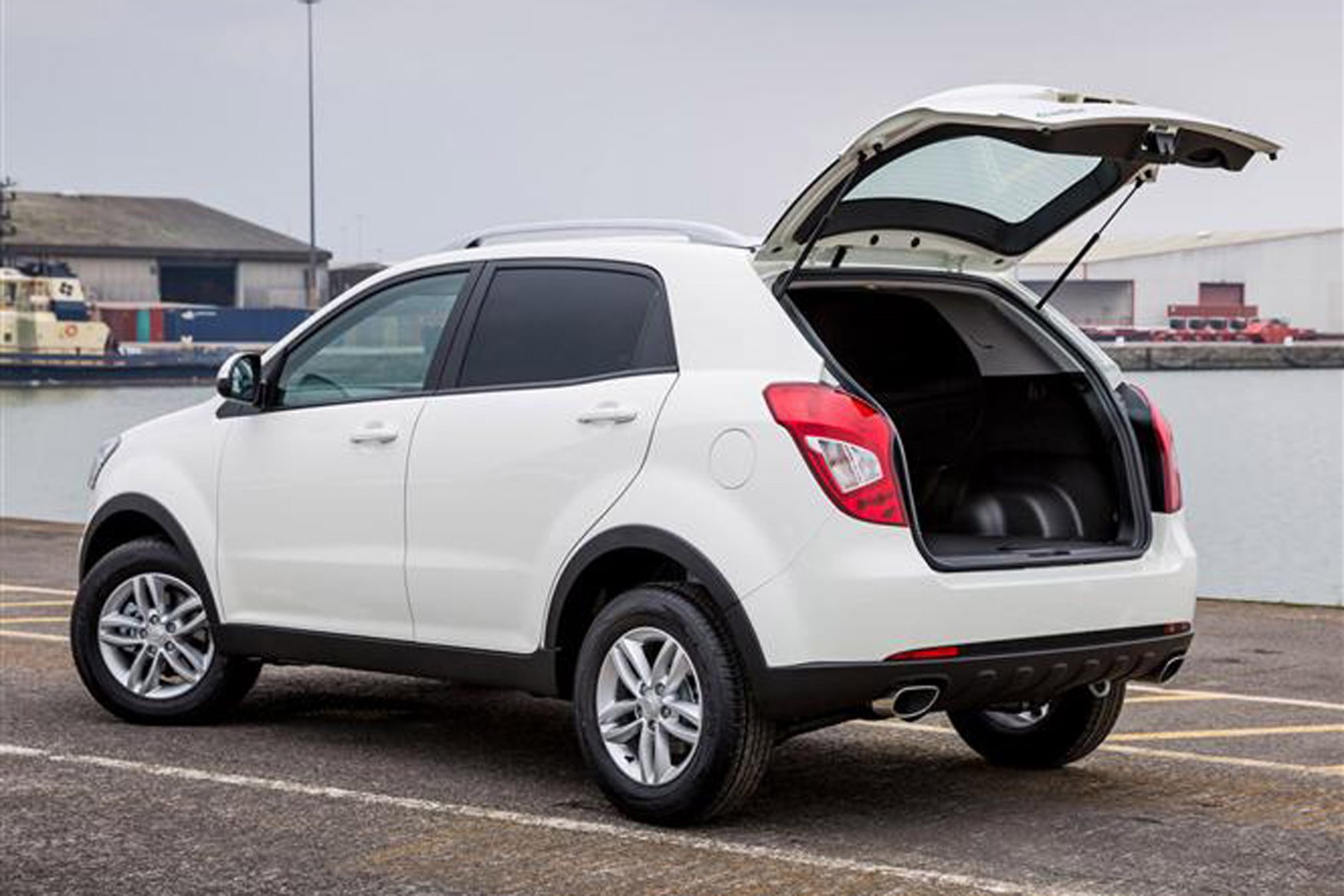 However, in 2016 the CSE was updated with the introduction of SsangYong's more modern 2.2-litre turbodiesel. This is a Euro 6 engine, making it cleaner and more efficient – so it uses less fuel – but at the same time it is also more powerful, producing 178hp and 400Nm. This is the version we have driven for this review.
Exceptional value
Regardless of engine, the Korando commercial has always majored on value. The pricing is low, standard equipment levels are high, and as with all SsangYongs, the Korando CSE comes with a five-year, unlimited mileage warranty.
With an exterior design by Italian styling house Giugiaro it's a good looking vehicle, too.
Continue reading our Ssangyong Korando review to find out more.
Skip to our full verdict on...
While the Korando CSE may not be a match for a conventional van when it comes to practicality, it counter-punches with its car-like driving experience. If your cargo capacity needs are small but you have a lot of miles to cover – delivering precious samples to customers, for example – then you'll certainly be more comfortable in one of these than a compact van such as the Fiat Fiorino.
Fitted with the larger yet more efficient 2.2-litre turbodiesel engine introduced in 2016, the Korando is a fast, composed commercial. The ride is a touch firm – which helps limit body roll in the corners, always a concern in a high-riding SUV-type vehicle – and it can feel a little bouncy on rougher surfaces when driven unladen, but compared with an ordinary van it still seems like luxury.
Refinement and performance
The 178hp engine is generally refined as well as powerful, although it does get noticeably noisier if you wring it right out to the top of its revs; fortunately, with 400Nm of torque 1,400-2,800rpm you rarely need to thrash it that hard to make good progress, regardless of how much you're carrying.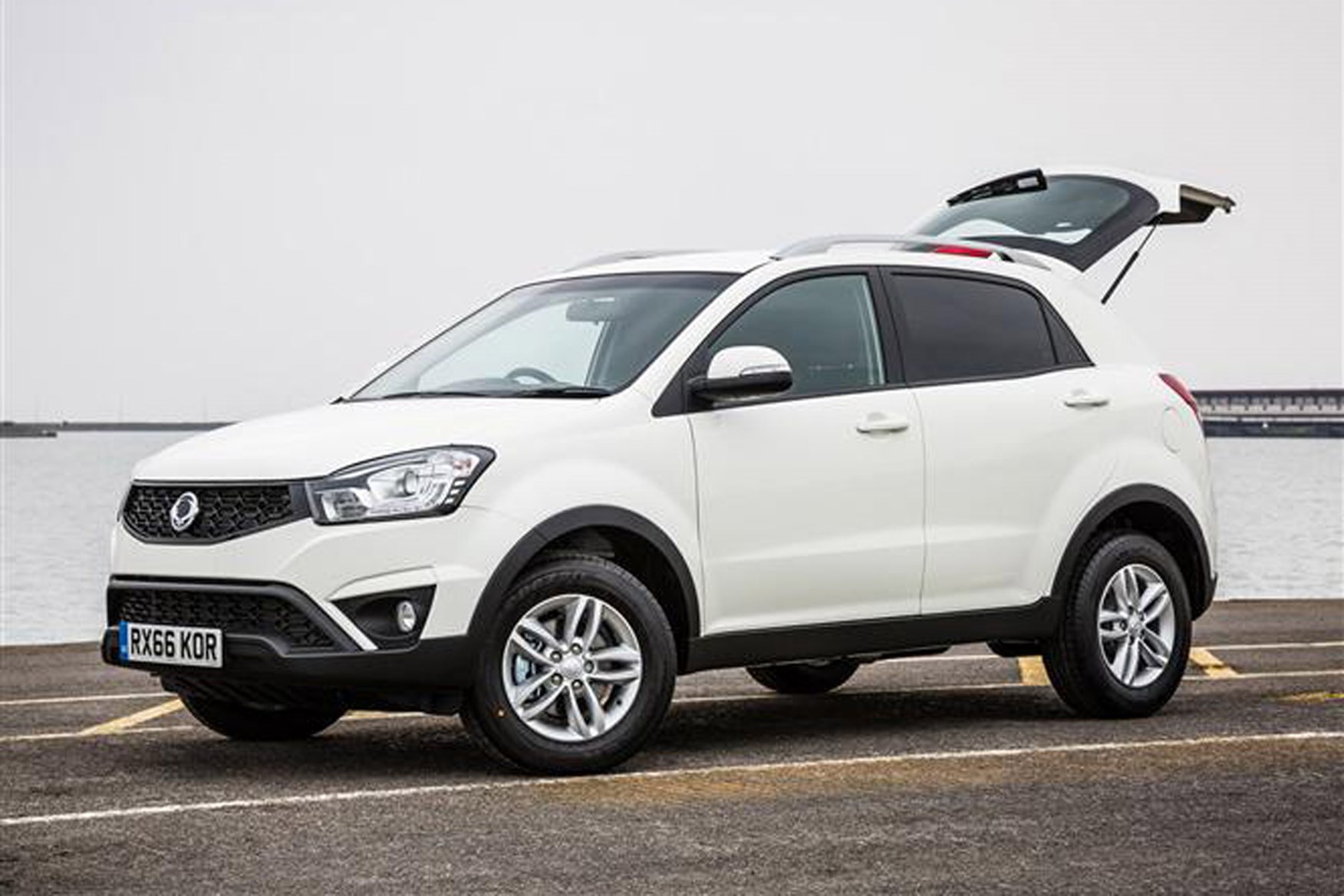 The Korando's greatest weakness from a driving perspective is the steering, which doesn't give you a great deal of feedback. And while the six-speed manual gearbox has a surprisingly sweet mechanical action, it did rather blot its copybook during our drive by refusing to select reverse at one point. Not even pumping the clutch would free it; instead we had to drive forward slightly – luckily there was room to do so. We fear this might be a weak point for reliability further down the line.
Four-wheel drive
The Korando commercial 4x4 uses what SsangYong calls a Torque-on-Demand all-wheel drive system. This means it functions largely as a front-wheel drive vehicle to save fuel but if it starts to detect the front-wheel slipping automatically directs engine torque to the rear as well to boost traction.
You can also lock it into a 50:50 front:rear split using a button. This lock mode works up to 25mph, and is intended to help you cross particularly slippery surfaces such as wet grass, or improve start-up traction when towing on loose surfaces like gravel.
Climb into the front seats of the CSE and you could be in an ordinary Korando – which is, of course, the point. There's a car-like dashboard, modern instrumentation and clearly laid-out controls that are finished with silver accents in a manner you just don't see in regular vans.
The steering wheel adjusts for reach and rake, the driver gets lumber-support adjustment and the seats are finished in what appears to be a hard-wearing fabric. The steering wheel and gearknob are wrapped in leather as a further little touch of luxury, and as a high-riding SUV-based vehicle, you get a commanding view of the road ahead.
Standard equipment is generous, with all of the following included in the asking price:
Front electric windows
Air-conditioning
Heated lower front screen (to unfreeze the wipers in cold weather)
Electric, heated door mirrors
CD radio with iPod and Bluetooth connection, six speakers
16-inch alloy wheels
You can pay extra for rear parking sensors – though with the glass rear window visibility is better than most vans and this is a relatively compact vehicle – and a Kenwood touchsreen infotainment system with sat-nav and DAB radio is also available as an option.
The disadvantages
What you don't get inside the cab area of the Korando is the same degree of practical storage that you would expect from a regular commercial vehicle, this being limited to the relatively small door bins, the glovebox, cupholders and centre console cubby.
We also suspect the plastics may be more susceptible to damage than the tough stuff fitted in most vans – though if part of the reason for buying the Korando is that you want a nicer cabin then you're probably going to look after it better anyway.
Idiosyncrasies of this kind of conversion include having switches in the front for rear electric windows that no longer exist and that the inside of the rear doors retain all their trimming – which is surely at risk of damage from whatever's placed in the load area. A plain, tough door-card would make more sense, but both these curiosities are present in other SUV-derived commercials, too.
The introduction of the Euro 6 specification 2.2-litre turbodiesel sees fuel economy increase to 53.3mpg – up from the 47.1mpg achieved by the preceding 2.0-litre engine. At the same time power increases 19% and torque goes up 11%, so the engine should be straining less for the same performance, improving fuel consumption out in the real world as well.
SsangYong has achieved Euro 6 without resorting to AdBlue, so you will not have the added expense of topping this up.
There was a modest increase in the purchase price of the Korando at the time of the new engine's introduction, but this remains an inexpensive vehicle. Prices start from £13,995 (ex VAT) or £16,737 OTR (2-wheel drive CSE) to £15,295 or £18,297 OTR for the CSE 4x4
Service intervals are every 12,500 miles or 12 months, whichever comes sooner; SsangYong doesn't have a huge number of dealers, but the pricing is reasonable, as befits a budget brands.
With no VOSA recalls on the Korando and no sign of significant evidence to the contrary, it would seem that although they're cheap, SsangYong builds convincingly reliable vehicles. Indeed, the passenger version of the Korando appears to have gone down very well with buyers, especially after the introduction of the 2.2-litre engine – though there have been minor reports of electrical niggles and occasional gearbox worries.
SsangYong certainly has confidence in its products, as it includes a five-year unlimited mileage warranty. Which should give you further peace of mind.
As standard, the Korando commercial has open access to the rear load area and glass windows rather than steel panels all around – and even if the ones in the side are blacked out the rear screen is not. So it's not the most secure area to leave valuable tools or other equipment. On the other hand, because it doesn't look like a van, it's also not likely to attract thieves in the same manner.
An alarm system is available as an option
In terms of safety, the Korando six airbags as standard when most conventional vans only come with one, and is fitted with electronic stability control with active roll-over protection (an additional measure added due to the vehicle's tall SUV ride height) and Hill Start Assist (which holds the vehicle on the brakes to stop it rolling backwards when pulling away on slopes).
You also get active head restraints, which are designed to reduce the risk of whiplash injury in the event that you're rear-ended by another motorist. Should this happen, you'll probably be glad you invested in the optional bulkhead, which we recommend that you do.
Which Ssangyong Korando (13-18) is best for me?