Volkswagen Crafter review (2006-2011)
PROS
Broad range
Impressive quality
CONS
Some may find the looks too aggressive
Summary
After a production life spanning over thirty years and two model generations, the VW LT was replaced by this striking looking brute, the first-generation VW Crafter.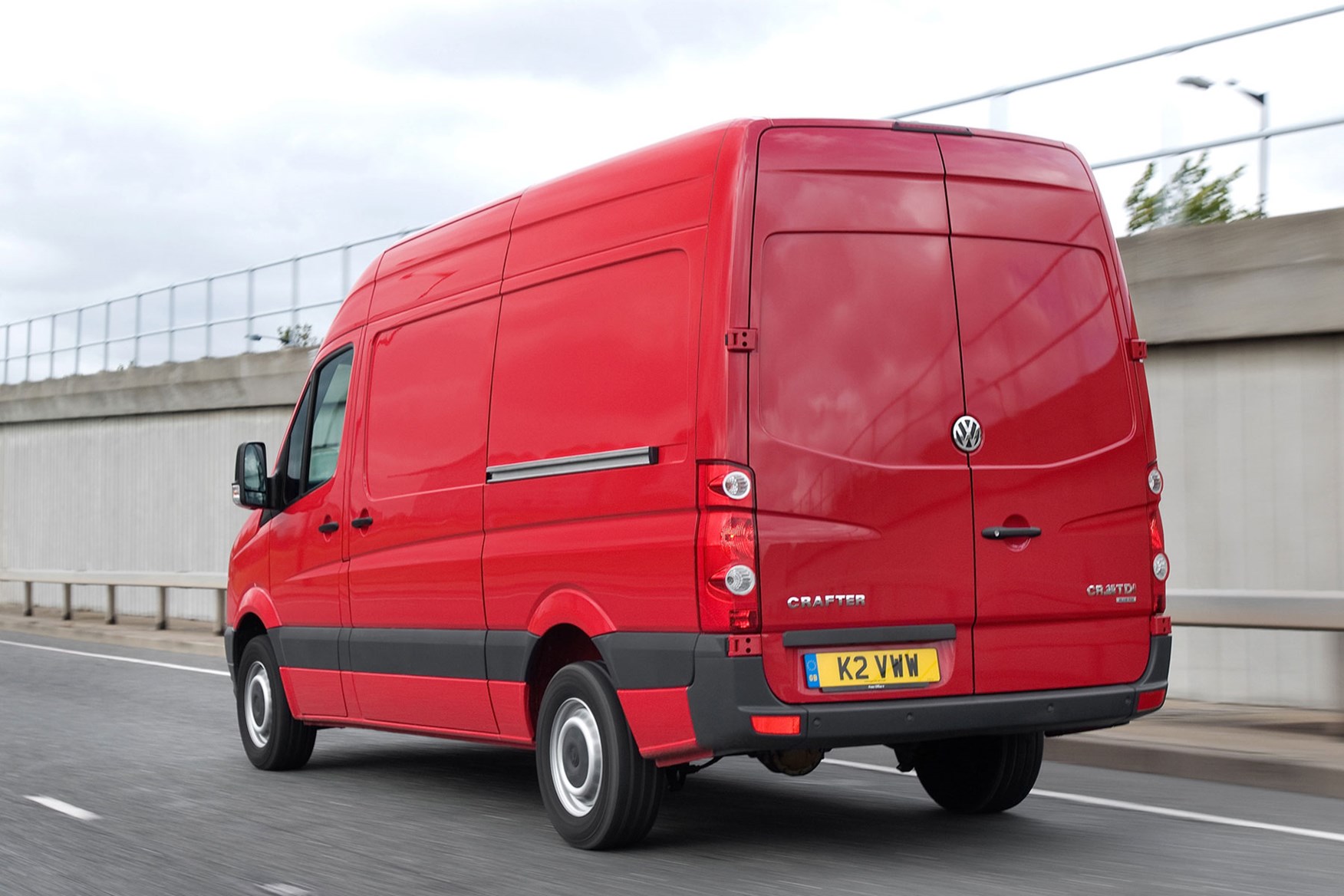 The Crafter is the product of a joint development between Volkswagen and Daimler-Chrysler, so it shares much with the 2006 model Mercedes-Benz Sprinter.
The bodies look identical from the sides and they share the same suspension and underpinnings.
Also much of the interior including the buttons and switchgear are common not only between the Crafter and Sprinter, but a number of other Mercedes-Benz models too, which is surely no bad thing.
Skip to our full verdict on...
This Crafter's 2.5-litre five-cylinder TDI engine was offered in four different outputs of 89, 109, 136 and 163hp.
The ideal engine choice will depend upon the body specified and the loads carried of course, but the 109hp offers the best combination of economy and performance for most requirements.
The 89hp engine is a slow performer even unladen, while the most powerful version is really quite potent.
All models are rear-wheel drive and there are a number of different axle combinations depending upon the model. All are fitted as standard with a six-speed gearbox, while a six-speed automatic is optional on the two mid-range engines.
The Crafter is pleasing to drive, its suspension (which varies from model to model) delivers a smooth ride with limited body roll. It's also pretty refined, which is a particular advantage for minibus applications.
Next to the Mercedes-Benz Sprinter with which it has much in common, the Crafter offers the best accommodation in its class as far as the cabin is concerned.
The steering wheel adjusts for height and reach, and the gearlever sprouts from the dash close to the steering wheel, for a clear footwell as well as ease of use.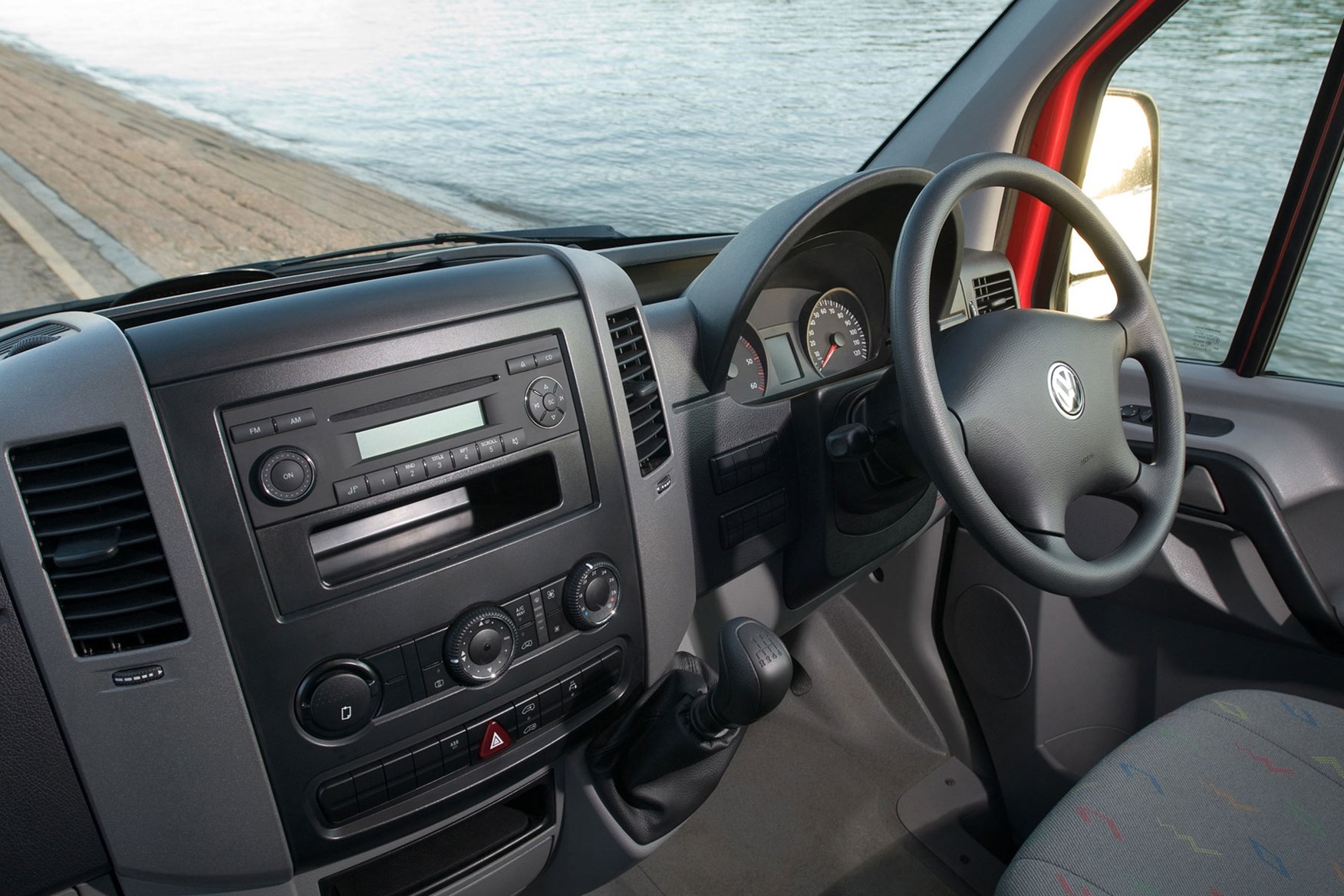 The cabin features many storage areas and can include overhead and under-seat storage options
A large glass area gives good visibility and the view to the rear is shown through double door mirrors.
All models come with a good level of standard equipment including electric windows and a stereo system.
Numerous optional extras can also be specified including powered side doors, automatic headlights and windscreen wipers (which activate when it's dark or raining), heated front screen and parking assist with door mirror mounted indicators to show the distance of objects to the rear.
Despite being bigger and heavier than the model it replaces, plus conforming to more stringent (Euro 4) emissions requirements, the Crafter is almost as economical as its thrifty predecessor.
Servicing inspections are needed after 50,000 miles, with only an oil change at the 30,000 mile or two-year mark.
VW engineered it to be more cost effective to repair, with easily removable bumpers and other easily replaceable components.
The engine, although newly fitted with common rail injection and particulate traps is tried and tested with proven reliability.
Previous LT models were respected for their durability too.
The long service intervals make it critical to ensure the oil level is checked periodically, although oil level and temperature sensors are fitted.
The Crafter delivers impressive levels of roadholding and agility for a vehicle of its class thanks to relatively sophisticated suspension.
It's also equipped as standard with ABS brakes and electronic stability control to further enhance its stable on-road manners and reduce the possibility of sliding or skidding in difficult situations.
A driver's airbag is fitted as standard, and passenger, side and head airbags are available as options.
Which Volkswagen Crafter (06-11) is best for me?