View all Vauxhall Astra reviews


Vauxhall Astra Sports Tourer
Review
Current Model
Spacious Astra estate is a good all-rounder, but lacks badge appeal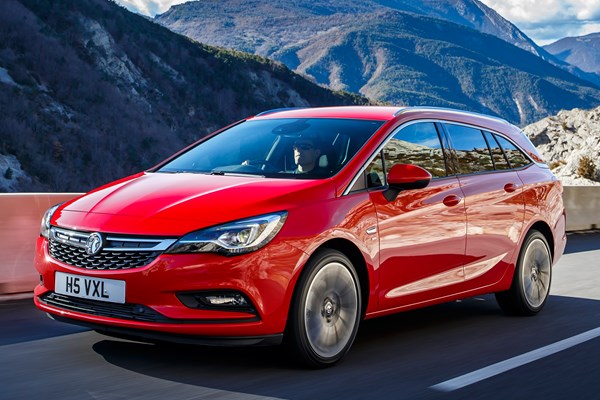 PROS
High tech levels
Better than ever to drive
Improved interior space
Reduced running costs
CONS
Doesn't set any class standards
Rivals are roomier
Lacks enticing image
PROS
High tech levels
Better than ever to drive
Improved interior space
Reduced running costs
CONS
Doesn't set any class standards
Rivals are roomier
Lacks enticing image
Verdict
Following on from the 2015 launch of its hatchback sibling, the spacious Vauxhall Astra Sports Tourer is the estate car member of the family.
Like the Vauxhall Astra hatchback, the Sports Tourer is the seventh-generation of estates to wear the name, its lineage stretching back to 1980.
Even though it has one of the largest boots in its class and more room for passengers than its predecessor, the British-built Sports Tourer won't have things all its own way in the mid-sized family estate market.
There's fierce competition in the forms of not just the Ford Focus Estate and Volkswagen Golf Estate, but other players such as the capacious Honda Civic Tourer, Peugeot 308 SW and Skoda Octavia Estate.
Lighter, more spacious body
An impressive 135kg has been shaved from the Vauxhall Astra Sports Tourer's heft in spite of it being slightly larger than the model it replaces, and employing high-strength steel in its construction.
Like the hatchback, it rides on an all-new, lighter underbody – being less heavy allows for compact, more efficient engines as well as a size reduction for other components, like smaller brakes.
This reduces the Astra Sports Tourer's thirst for fuel, aided by improved aerodynamics which match the hatchback's wind-cheating performance.
Despite being lighter, the latest Sports Tourer's structure is also more rigid, allowing engineers to fine-tune the handling to an impressive degree. It's set to sate more enthusiastic drivers with its wieldiness just as the hatchback does.
No surprise that the interior is as accommodating for passengers as the Astra hatchback: four six-foot tall adults will easily sit comfortably while the back seat accommodates three child seats – a rarity in a car that's not a traditional MPV.
Efficient engine range
Save for the entry-level 1.4-litre petrol with 100hp, all of the other engines in the Vauxhall Astra Sports Tourer line-up are turbocharged.
The petrol range is fleshed out by a three-cylinder 1.0-litre motor with 105hp, a further pair of 1.4s with 125hp and 150hp, respectively, and topping the performance side of the range, a 1.6-litre with 200hp. That's the one to go for if a 146mph top speed and a 0-62mph sprint of 7.2 seconds are at the top of your priority list.
Diesels are expected to make up the majority of sales: all are 1.6-litre versions of Vauxhall's 'Whisper' CDTi unit in 110hp, 136hp and in Biturbo form, 160hp.
With a claimed average of 83.1mpg and CO2 emissions of 89g/km, versions of the 110hp engine with the fuel-saving Ecoflex pack and riding on 16-inch wheels will minimise running costs.
Well-equipped, simplified range
Almost mirroring its hatchback counterpart, the Vauxhall Astra Sports Tourer line-up consists of four trim levels – there's no Energy grade for the estate range – but many of the features offered are more commonly associated with more expensive cars.
Both SRi and Elite trims come with Vauxhall's online concierge service, OnStar, as standard. Press the OnStar button just above the rear-view mirror and you're put through to a Luton-based call centre. Need directions to a restaurant? The OnStar representative will present a range of alternatives with the directions to your chosen one sent straight to the sat-nav.
If you drive a lot at night you'll be impressed with the illumination of the optional Intellilux LED matrix headlights. Not only do they offer a directional function when cornering, the automatic main beam prevents oncoming drivers from being dazzled.
Vauxhall Astra Sports Tourer model history
March 2016 – All-new seventh-generation estate version of the Astra launched with a broad range of petrol – 1.4 100hp, 1.0 Turbo 105hp, 1.4 Turbo 125hp and 150hp, and 1.6 Turbo 200hp – and diesel – 1.6 in 110hp, 136hp and 160hp – engines. Trim hierarch almost mirrors the hatchback with Design, Tech Line, SRi, SRi Nav, Elite and Elite Nav specifications.
Read on to find out how we rate this spacious-yet-compact family estate by reading the Parkers full Vauxhall Astra Sports Tourer review.