Vauxhall Insignia Sports Tourer review
Current Model
Vauxhall's family barge is more practical than ever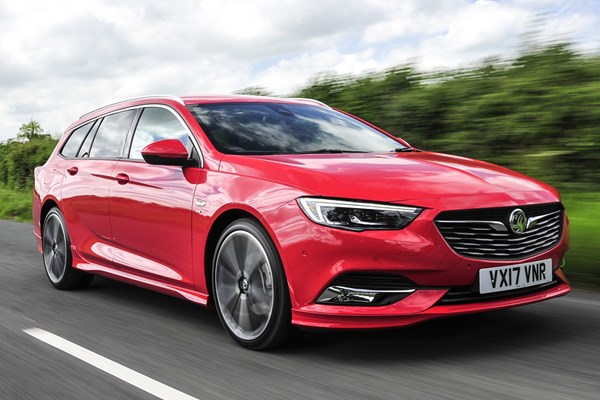 PROS
Impressive practicality
Strong standard kit levels
Comfortable ride
Sleek looks
CONS
Dull to drive
Some lacklustre engines
Still feels a little cheap compared to rivals
Dated infotainment system
PROS
Impressive practicality
Strong standard kit levels
Comfortable ride
Sleek looks
CONS
Dull to drive
Some lacklustre engines
Still feels a little cheap compared to rivals
Dated infotainment system
Vauxhall Insignia Sports Tourer rivals

The Vauxhall Insignia Sports Tourer is the estate version of the Insignia Grand Sport, and promises greater practicality, equipment and value for money than the previous-generation model, which was launched back in 2009.
To achieve this, Vauxhall has increased the size of its flagship estate – it's now longer than an Audi A6 Avant – and stretched the distance between front and rear wheels by a colossal 92mm. The upshot is a spacious and roomy cabin teamed with a boot capacity of up to 1,665 litres with the rear seats folded, which is enough to compete with rivals such as the Mazda 6 Tourer, Ford Mondeo Estate and Skoda Superb Estate.
And yet, the space race is only half the battle in today's multi-faceted large estate car class. The Skoda is superbly comfortable, the Mazda great to drive and the Mondeo an all-round contender, so what else does the Vauxhall have up its sleeve to compete with the class leaders? Read on to find out:
Bags of equipment for your money
As always with Vauxhall there's a vast selection of trim levels to choose from, from the base Design spec right up to the top-of-the-range Elite Nav.
All models come as standard with 17-inch alloy wheels, air-con, keyless entry and keyless ignition, a seven-inch infotainment screen, Bluetooth phone connectivity plus Apple CarPlay/Android Auto and Vauxhall OnStar assistance.

There's more too, as Vauxhall attempts to bring the Insignia Sports Tourer in line with the cutting-edge equipment found on rival cars. Optional equipment includes a head-up display, autonomous emergency braking, wireless charging and adaptive LED lighting.
Six available engines are a weak link
We've no complaints about the sheer diversity of the engines on offer - customers are able to choose from super-efficient 110hp 1.6-litre diesels and 260hp 2.0-litre turbocharged petrols should they wish.
However, even the all-new 1.5-litre petrol doesn't feel as punchy as the figures suggest, and offerings from rival manufacturers are crisper and more enjoyable to drive.
Over on the diesel front, and the 1.6-litre Turbo D is torquey but harsh at the top end, and ultimately feels old-hat. We've not driven it yet, but we reckon the 2.0-litre Turbo D will be worth its weight in gold over smaller displacement models.
Big body, big boot, big practicality
Vauxhall couldn't exactly hike up the dimensions of the Insignia Sports Tourer and not make it any more practical. Thankfully, the maximum boot capacity has grown by 135 litres to 1,665 litres with the rear seats folded down, and 560 litres with them in place.

Space in the back seats is up there with the best-in-class Skoda Superb Estate, providing ample legroom even with the front seats set back. The level of headroom is also impressive but remember that the optional double panoramic sunroof reduces space dramatically.
Comfort over cornering
The Insignia Sports Tourer is a softly-sprung family barge and it makes no apologies for it. Try and drive it enthusiastically like you would a Ford Mondeo or a Mazda 6 Tourer and you'll quickly feel the body roll significantly as you move from bend to bend. This is not a car to be rushed.
However, grip levels are high and when driven normally the big Vauxhall is a safe, comfortable and relaxing car to drive.