Volkswagen Beetle Dune Coupe (2016 - 2018) review
Dune model adds style – and cost – but not substance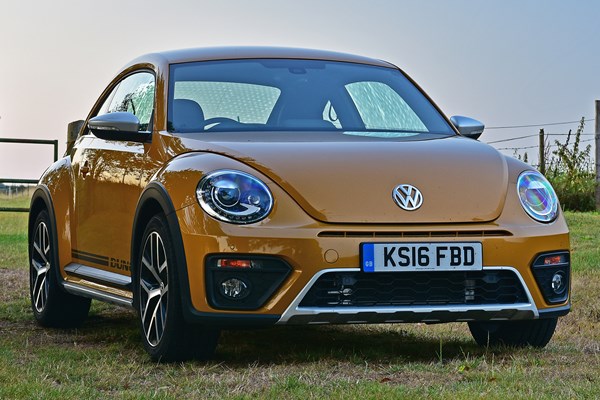 PROS
Looks like nothing else
Satisfying to drive
Bright, cheery interior
Large discounts available
CONS
Extremely high finance costs
Cramped rear seat accommodation
Not much standard equipment
Off-road style over substance
Only one petrol and diesel
PROS
Looks like nothing else
Satisfying to drive
Bright, cheery interior
Large discounts available
CONS
Extremely high finance costs
Cramped rear seat accommodation
Not much standard equipment
Off-road style over substance
Only one petrol and diesel
Volkswagen Beetle Dune Coupe rivals
The standard Volkswagen Beetle is a car that prioritises design over practicality. The Dune version, however, ups the ante, boasting suspension that has been raised by 10mm plus chunky unpainted plastic body mouldings and silver skid plates at both ends – all in the name of style.
Confirming the Beetle's position as more of a fashion statement than a 4x4, all-wheel drive is not even on the options list. This may be no off-roader, but it does hark back to the "Baja Bugs" of the 1960s – modified Beetles designed to take on California's Golden Coast.
As for rivals, there's nothing else that can match the Dune's retro looks and jacked up stance. Closest in concept is the Mini Paceman, a three-door, high-riding stretched Mini, followed by the Nissan Juke and DS 4 Crossback, which both boast much more modern styling.
Large premium over standard Beetle
Another area where the Dune stands out is in costs. The price tag of around £21,000 to £25,000 not only seems steep compared with Mini and Nissan alternatives – and represents more than a £2,000 premium over conventional Beetle equivalents in Design trim – but it's hugely expensive in finance terms too.
Spread the cost over four years and you can expect to pay around £330 per month (with a £2,000 deposit). This is an enormous 50% premium over the Dune's most similar rival, the Mini Paceman Cooper, which will set you back around £220 per month (with the same contract terms).
As a result, drivers could afford to upgrade to the significantly more powerful Paceman Cooper S or diesel Cooper SD and still save around £75 per month – totalling approximately £3,500 over four years. Despite boasting around twice as much power as the Dune – and all-wheel drive – the range-topping Mini Paceman John Cooper Works is only about £10 more per month than the Volkswagen.
Consequently, the Dune is not a car that makes any rational sense in terms of costs, a sentiment confounded when you compare prices with the Nissan Juke. A similar 1.2-litre petrol model will set you back around £170 per month, while even the rapid Juke Nismo RS is about £260 per month.
Inflated monthly finance bills but big cash discounts
So expensive is the Dune in finance terms that you can drive a near-£9,000 pricier – and much faster, more upmarket and more desirable – Audi TT for a very similar monthly payment.
Be aware, however, that Volkswagen is offering a £3,000 discount to cash buyers across the range, making the Dune far better value to those who have cash to spend or plan to finance the car with a loan.
Other Volkswagen Beetle Dune (2016 - 2018) models: