Aston Martin Vantage review
Current Model
Long overdue replacement for Aston's best-selling sports car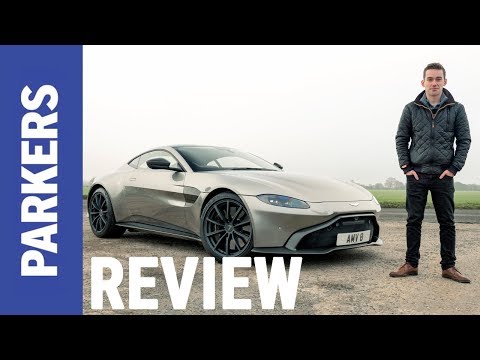 Enlarge
1

videos
Enlarge
22

photos
PROS
Responsive, powerful, characterful V8
Agile rear-wheel drive chassis
Head-turning looks
Comfortable and sporty driving position
CONS
High price
Agile, but could be lighter
Interior quality disappoints in places
Firm ride, road noise
PROS
Responsive, powerful, characterful V8
Agile rear-wheel drive chassis
Head-turning looks
Comfortable and sporty driving position
CONS
High price
Agile, but could be lighter
Interior quality disappoints in places
Firm ride, road noise
Aston Martin Vantage Coupe rivals
The latest Aston Martin Vantage has been a long time coming – the last model arrived in 2005 and, even though production only ended at the beginning of 2018, the wait for its replacement almost felt like an eternity. In the second quarter of 2018, the British manufacturer's best-selling sports car finally made its return.
It's longer, wider and taller than its predecessor. Plus, the firm's partnership with Mercedes-Benz means the engine and infotainment system has taken a dramatic turn too, but is it for the better?
The Aston Martin Vantage counts the Porsche 911 Carrera GTS and Turbo as rivals, along with the Jaguar F-Type SVR and Mercedes-AMG GT. Unlike the 911 Turbo and F-Type SVR with their four-wheel drive systems, the Vantage is more akin to the rear-wheel drive AMG, featuring a front/mid-mounted engine. This means it sits ahead of the driver, but behind the front axle for better weight distribution and more agile handling.
In fact, the Vantage use the same twin-turbocharged 4.0-litre V8 engine from Mercedes-AMG, which produces 510hp and 685Nm of torque. According to official figures, the Vantage accelerates from 0-62mph in 3.7 seconds, has a 195mph top speed and achieves 26.8mpg with a CO2 output of 245g/km.
What is an Aston Martin Vantage?

Under its steel bodyshell, the Vantage rides on an evolution of the aluminium chassis first seen on Aston's larger DB11 – the double-wishbone front and multi-link rear suspension hardware is identical, for instance – but Aston claims that overall the structure is 70% new.
Despite the use of aluminium, the Vantage is quite heavy at 1,630kg – similar to the AMG GT and 911 Turbo Coupe, though over 150kg heavier than a rear-wheel drive Porsche 911. Even so, the near 50:50 weight distribution and electronic rear differential should help with the way the Vantage drives.
When it comes to styling, you have a range of colour combinations to go for, from a restrained black and red interior to a more striking finish with Copper tan, Lime Essence or Yellow Tang. So the Vantage is back, but with its price hike and large titanium front grille that bears a slight resemblance to the Vulcan hypercar. It's not quite the same as it used to be either.
Is it still a sports coupe to lust after? Read the Parkers full review to find out