Audi A6 3.0 TDI Quattro long-term test review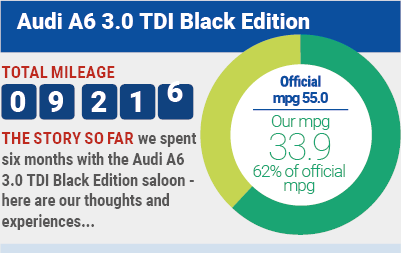 It seems fitting to wave goodbye to our long-term Audi A6 saloon on the very week the next-generation car was unveiled to the public at the Geneva motor show.
But that doesn't mean we're happy about seeing it go. Considering it was launched way back in 2011, which is centuries ago in car terms, it feels every bit as proficient as some of its far more recent rivals.
In particular, we love the 3.0-litre V6 diesel engine. It's stupendously powerful, delivering its 272hp and 580Nm of torque in huge waves interspersed with smooth gearchanges from the seven-speed S Tronic gearbox. This car embarrasses bona-fide performance cars.
We weren't quite so keen on the sub-35mpg fuel economy during our time with the A6, though. That's a long way off the 55mpg Audi claims is possible. In fairness that number was obtained using the old NEDC testing regime, which is far from reflective of real-life driving – we'd suspect the WLTP procedure that will become the industry standard over the next few years will highlight that cars like this aren't quite so good on fuel.
Huge range, dirty shoes
The fact that this A6 has a 73-litre diesel tank does mean its range is usefully long, though. During our testing you could absolutely count on 600+ miles between fill-ups, and with a little concentration and longer motorway jaunts, 750 miles was possible. Incidentally, hitting the claimed economy would liberate 867 miles of maximum range.
I could definitely have done without spilling smelly AdBlue fluid all over my shoes, though...
It was interesting to drive a different A6 too, fitted with air suspension to highlight the gulf in ride quality. We were surprised our car came out on top, considering it didn't have the £2,000 optional extra.
But it was our epic road trip to Aachen's Christmas market in Germany that really highlighted the A6's talents as a supreme long-distance cruiser. We covered thousands of miles with relative ease, and came back thinking this car on winter tyres an almost unbeatable combination for safe, cold-weather driving.
Everyone seems to want SUVs these days, but our humble saloon does most things as well and some things even better.
The Parkers Verdict
Audi's set to replace the A6 Saloon later in 2018 with an all-new model, fitted with the latest tech and engines we've already experienced in the most recently launched bigger cars in its range, the A7 Sportback and A8.
We're sure it'll represent a step forward in almost every measurable way, but it's difficult not to worry that there isn't a huge amount that needs fixing here. More driver-assistance technology is one area that could do with improvement, but this version of the A6 remains an extremely compelling proposition. It's a serious pair of shoes to fill.
By Gareth Evans
---
Update 11: The ride of our lives
As recently as a couple of years ago, Audi's S Line models (which our Black Series is based on) were notorious for their overly harsh ride quality – usually through a combination of large wheels and rock-hard suspension for that 'sporty' look and feel.
Commenters regularly complained about an experience so uncomfortable they needed chiropractic help after a short drive.

Okay, so that's probably an exaggeration, but things were pretty bad. We have some first-hand experience to call upon here – a previous team member once got a puncture in his A1 S Line on the motorway, but because he was so used to a choppy ride he was unaware of the incident, and just continued to the next services rather than pulling over immediately. That could have been disastrous. He was lucky it only cost him a tyre.
But what's that got to do with our A6? Well, we're pleased to report Audi seems to have fixed the problem. The ride, even on non-adaptive suspension, is very good indeed.
Audi A6: do I need air suspension?
The 20-inch alloy wheels mean it's a little firmer than it would be on tyres with taller sidewalls, but the way it absorbs bumps and ruts in the road, settling down within fractions of a second when you demand a direction change, had me wondering why on earth you'd pay for the £2,000 adaptive air suspension.
We did get a chance to test said air springs, in fact. While the A6 was away having its damage fixed (see update 6), a replacement A6 Avant was provided with that box ticked on the options list. We were astounded at the difference, but not in a good way.

Sure, road imperfections were dealt with better in isolation than the standard suspension, but the A6 never seemed to settle down. On some A-roads and motorways I even had a passenger complaining of motion sickness, which isn't ideal. Luckily it wasn't bad enough to warrant a hose-out.
So while our A6's ride is a touch firm, it's a whole universe better than Audi used to make buyers settle for. It's also a better solution than forking out for air.
By Gareth Evans
---

Update 10: Operation Christmas Market pt2
Heading out onto the highway again, for lunch we stopped at another service station near the German border and had what we remember as one of the best burgers we'd ever eaten. Freshly prepared and cooked, our experience of places like this on our travels was remarkable considering the nightmare many UK motorway rest areas are. Observe:

In anticipation of Germany's fabled autobahns, which feature sections of highway with no speed limit, we set the A6's speed limiter to 106mph. This was the maximum speed the manual suggested on winter tyres. The car's capable of 155mph flat-out, but I wasn't going to risk a blowout at those speeds and the possibility of turning my co-driver and I into a set of statistics.
As we entered the city of Aachen it quickly became clear that we had no idea where the Christmas market actually was. This established university town was a maze of cobbled streets but just as the light began to fade into a misty evening we steered into what was clearly the right area.
Fairy lights illuminated pedestrians ambling in one direction along the cobbled streets. We picked a multistorey car park – easily one of the tightest on earth in a car that still felt rather portly – parked up and investigated what Aachen's Christmas market was made of.

Which is to say, mainly gingerbread and sausage. No great surprise there. The market itself is held in a number of squares that surround the city's impressive cathedral, and for that reason there's a gothic feel to the whole arrangement.
This was counterbalanced somewhat by myriad yellow posters plastered everywhere; on walls, bins, lamp posts and even some folks' mobility scooters, featuring the nuclear emblem. Clearly a protest was afoot, about which we'd learn a lot more later...
Leg six: going nuclear
We explored, bought a number of gifts for friends, family and colleagues, and left for our overnight stop in Amay in a light snow shower.

As the fog drew in and the shower turned into a mini-blizzard on our 90-minute drive to our hotel, visibility dropped significantly. It was all the more eerie, then, for aviation warning lights on the titanic cooling towers of a nuclear power station to emerge from the mist.
It took us a while to figure out what we were looking at, but it soon transpired that we'd booked ourselves a room on the front doorstep of Tihange nuclear power plant – the very facility they'd been protesting against in Aachen. Built in the '70s on the river Meuse, it's feeling its age now, has experienced a number of nuclear 'incidents' and many want it decommissioned. Small world, I suppose, but that's the point. No-one wants to live near it.

We took a little time the next morning to reflect on the A6's huge diesel engine, and the parallel with this power station. They seemed such a good idea a decade or two ago, but both are rapidly falling out of favour as cleaner energy solutions become a more realistic proposition.
Leg seven: the final stop
Our next destination, and 'A6', if you will, was the beautiful French town of Arras. It was also setting up for a Christmas market of its own, but wasn't quite there yet so we were able to take a pleasant tour of the middle of the square and the surrounding impressive architecture.
This was a bit of a hidden gem for CJ and I – it was the place we knew least about and we weren't expecting much, but driving away we agreed it's somewhere we'd go again.

Nosing the Audi out of town and back onto the autoroute, we settled in for a fairly high-speed run through snowy northern France on our way back to Calais. This leg was uneventful, which was a blessing in disguise for what came next…
Back in the UK
As the train doors open on The Tunnel and we head back towards the M20 in a reversal of our route a few days previous, it immediately became clear this was to be the worst part of the journey. Even before you hit the motorway lane discipline fell away to nothing and motorists seemed to put on their blinkers to all occurring around them.
We subsequently spent more than three hours to get back to CJ's place in Cambridge, at which point I dropped him off and headed directly out into this famous city's infamous rush hour.
They're currently doing a major widening project on the A14 and frankly, just avoid the area at times like that. It felt like I crawled right back to the A1M, so it was a fine relief to get back onto my familiar country lanes near home and rediscover the A6's finely balanced handling and sledgehammer performance one more time before I put it to bed for the evening.
Britain's roads: reassuringly disappointing.
The Parkers Verdict
My main conclusion to this adventure is that we should have asked more of our A6. It shrugged off everything we threw at it with aplomb and got home feeling like we'd not been anywhere at all. This sort of journey is exactly what an executive saloon like this is best at, and we couldn't really fault it. A lesson for next time…

---
Update 9: Operation Christmas Market pt1
I'd been wanting to visit a German Christmas market for ages, and in early December it hit me. Why not plan a pre-festive season road trip in the Audi? I'd been told that Aachen held one of the top 10 best in the world, so naturally that seemed like a good idea.
But to make matters slightly more interesting, myself and my learned colleague CJ decided to make a round trip of it. We'd not only go to Aachen – a relatively simple drive by our standards – but to five other relatively major cities beginning with the latter A on the European mainland.
After a session route-planning on a mapping programme we came up with the following itinerary:

The Channel Tunnel from Folkstone to Calais
Calais to Antwerp for an overnight stay
Antwerp to Amsterdam
Amsterdam to Arnhem
Arnhem to Aachen for the Christmas market
Aachen to Amay for an overnight stay
Amay to Arras
Arras back to Calais, Tunnel and then home
The time we'd allocated for this was to leave on Wednesday afternoon, hopefully returning home early afternoon on Friday. How did we get on? Read on to find out…
Car preparation
Before setting off I made sure the A6 was ready to go. That included checking pressures in the set of Dunlop winter tyres we'd previously had fitted. Checking Audi's manual it called for 38PSI, so that's what all four were set at, and while I was at the filling station I treated the car to a tank of premium diesel. Total cost was £84.37 for 60.31 litres of fuel, and 50p for a few minutes' compressed air.

I also made sure we had all the kit required for driving in the countries we were visiting – breathalyser, hi-vis jackets, warning triangle and spare headlight bulbs – and that the headlights we've been so fond of so far will automatically adjust for driving on the right. Lots of cars do this now, which means you don't have to use those irritating stick-on reflectors with their invincible adhesive.
Leg one: Tunnel dash
Leaving our office at precisely 16:22 UK time, we pointed the A6 towards France and headed off down the A1, onto the A14, M11, M25 and M20. It was a relatively clear journey, allowing us to catch the 20:20 train over to Calais.

Part way down the M11 we noticed a funny foible with the A6's multimedia system. It likes to let you know that your smartphone is running out of battery, but it does this at 40% charge, which is about as useful as an inflatable dartboard in today's top-up-when-you-need-to plug-in culture.
I'd been in the office all day, so my battery was below 40%, but I knew full well I wouldn't have to charge it for at least another few hours even if I was using it almost constantly. This relegated what could be a neat little feature into the realms of the useless.
Pulling up to the border security and customs at The Tunnel, we had our first reminder that the A6 is a large car. The cones laid out to provide lanes for motorists seemed perilously close to our flanks, and driving the car onto the train itself made for more than a few sudden intakes of breath. I was glad of the thicker sidewall on the winter tyres we'd had fitted – with the lower-profile rubber on the previous wheels the hideous noise of a kerb/alloy interface was a distinct possibility, but as it was we were fine. This is almost definitely a placebo effect, however. Onwards to France…
Leg two: and then it rained
Venturing onto the right-hand side of the road on CJ's first stint, with the instrument panel advising the headlights had switched accordingly, and onto the French Autoroute we were caught in a deluge. It started as light rain and steadily intensified as went further towards Belgium until we were driving in so much hail and road spray it was almost impossible to see.

Certainly the flat-fronted lorries on the same carriageway were struggling to maintain lane positioning around us, and in many other cars it'd have felt dangerous.
Not so in the A6, though. Its solid-feeling driving controls (with steering in Dynamic mode an absolute must) and compliant ride along with ironclad build quality meant we felt hugely assured, even in the worst of conditions.
We got to our hotel in Antwerp at 23:40 local time (22:40 UK time) and settled down for some rest before heading out at 08:00 to our first photo opportunity of the trip, the Museum aan de Stroom, situated on a picturesque marina on the city's waterfront.
Leg three: in search of windmills
After our museum visit we got caught in rush hour in Antwerp, complete with roadworks that seemed to gum up the entire city. I'd taken over the driving from CJ again and took a number of wrong turns, which I'll happily blame on the navigation system despite obviously being my fault.
We spent an hour or so leaving the city, by which time we were starving and so stopped for bacon and eggs at a Belgian service station. All thoroughly civilised.
Our next destination was Amsterdam, but how to prove we'd been?

A photo beside a windmill would do the trick.
Leg four: sat-nav silliness and Arnhem's Aardvark
The trip from Amsterdam – which was a surprisingly simple city centre to extricate ourselves from – to Arnham was complicated dramatically by the A6's nav system completely failing to recognise what looked like a relatively new major road system, sending us off in totally the wrong direction. Valuable time wasted.
It was at this point we decided we'd begin to rely on a smartphone-based app instead of the Audi for the final decision on which way to go. We'd been playing with Waze for most of the journey – a crowd-sourced navigation and user-interactive owned by Google – and it had so far been very reliable at both predicting our time of arrival and sending us on routes that didn't have a lot of traffic.
Guided directly to the city centre, we stopped for a photo opportunity next to something else with a lot of As: the Feestaardvarken sculpture (below, clearly).

Keep an eye out next time as we finally make it to Aachen and its world famous Christmas market...
---
Update 8: highly demanding
The A6 has been more demanding than usual recently. It's using fuel at the normal rate – which is to say it's burning through diesel at around 33mpg pretty much constantly – but on top of that in the past few weeks it's asked me for engine oil and AdBlue.
Now, I've run countless cars in my time at Parkers that have needed nothing more than regular fuel, so both of these requirements were met with a little consternation, but one ended up being far more irksome than the other.
While the hardest thing about topping the oil up was convincing the chap on the forecourt that I didn't need the whole five litres that were on 'special offer' instead of the one litre maximum the car was asking for, topping up the AdBlue was far more distressing.

If you've fuelled an A6 then you'll know where the AdBlue filler cap is – it's directly next to the hole the diesel goes into.
But it has a funny-looking attachment on it, which is the first obstacle. Out came the manual, and it transpires those clever folk at Audi have made it the very same size as the wrench supplied to tighten wheel nuts if you need to fit the spare. Very sensible, but you'll need to get the spare out to access it, so this isn't a job you'll want to do on a petrol station forecourt at 3am in the rain.

You've got 1,500 miles between the car warning you it's running low on AdBlue and the engine stopping altogether, so there's ample headroom there to plan and do this job in a safe, controlled environment.
Another tip for you: don't buy cheap AdBlue. I can't comment on the quality of the fluid itself, but can't emphasise strongly enough how important a neatly designed bottle/nozzle arrangement is.
My chosen brand of additive didn't have a good design, resulting in an airlock between car and bottle. This is only remedied by shaking the end of the nozzle, which meant I ended up with urea all over my shoes. Don't be that person.

There's also no indication how much AdBlue you've actually put into the car, and when approximately 80% of it ended up saturating my otherwise finely fettled socks, that's a suboptimal situation.
It wipes off, by the way.
Just in case you were wondering.
---
Update 7: Back and better
You'll remember from the previous update that the A6 had been in the wars. Thanks to a highly inconsiderate numpty deciding to drive into the side of the car while I was en-route to the airport, I was worried it'd never be the same again.
Since the car belongs to Audi it went back to the company's HQ to fix, so my worries were completely unfounded because it didn't just come back as good. It's better.
The reason for this is the fitment of some new wheels – not because I fancied a change of style, but they're smaller to allow the fitment of some Dunlop Winter Sport 3D winter tyres.

As you'll read soon, I have a trip to Europe coming up, and some of the countries I'm intending on visiting require the use of winter tyres during icy conditions.
I've yet to do any meaningful testing on them at this point, but one thing's immediately clear: the A6's ride quality has dramatically improved. Measuring 18 inches in diameter, the sidewalls are far bigger than on the 20-inchers on it previously.
An extra amount of sidewall equates to a lot more air in the tyre, and that means better compliance over bumpy roads without what seems to be much of a handling sacrifice.

I don't even think they look that bad, either. When you're driving in those countries in Europe where they're a legal requirement, you often see winter tyres on steel wheels simple because they're cheaper to buy than alloys, but in this case we're fortunate enough to have a set of proper wheels bolted on instead.
I'll go into these tyres' performance in more detail once I've tried them on ice and snow, but suffice to say my first impressions are good.
Mileage: 6,755
Fuel economy: 38.4mpg
---
Update 6: Hit and run
I reckon I'm covering at least 60,000 miles per year in cars, so it's fair to say that statistically an accident is only a matter of time.
What I'd hadn't banked upon, though, was someone crashing into the A6 and then making off from the scene, leaving me with a lot of damage and no-one to pay for it.
I was on my way from work down to Heathrow Airport (again) to catch a late-night flight to go to review the Maserati Levante. On the A405 I came to a stop in the second row of vehicles at some traffic lights leading onto a two-lane roundabout.

And thinking back on it, I'd noticed the chap in the white Ford Transit Courier before anything had happened. He'd been aggressively swerving between traffic to get ahead of the cars around me, but ended up aside me as we waited for the lights to change.
The split-second the green lamp illuminated he was off, trying his level best to barge between the two cars in front.
As he tried to position his car between lanes on the roundabout I had to use my horn to warn him that I was in his way. He heard it and immediately swung back into his lane extremely abruptly, at which point he must have miss-timed his subsequent dart behind my car and there's no other way of saying it: I'd been T-boned.
My first thought was to pull the car over so we could swap details, but at this point it became clear that my new-found adversary had gone. He was nowhere to be seen.
Pulling off the road and into a side street, the priority now was calling the police. Dialling 101, I was put through to Hertfordshire Constabulary who requested I log the issue online within 24 hours on their website. Clearly this wasn't to be an urgent case.
The damage wasn't as bad as it could have been, but even in the dark I could tell there was white paint and metal-deep scratches down both passenger-side doors. A short test drive and the car behaved perfectly, with no warning lights, noises or other worrying sensations. I took the decision to continue to Heathrow.

Since reporting the bump online as instructed I've heard nothing at all back from the police. I wasn't even given a crime number, because according to the website this only happens if the crime is investigated. Lawyers are able to request one – for a fee – so that's the only thing I could say to the company insuring the A6. Sadly it looks like it'll go down as a no-fault claim, but one that's likely to affect my personal insurance premiums and not the driver of the white van. It's entirely likely he wasn't insured anyway.
So if you're reading this article: thanks a lot.
By Gareth Evans
---
Update 5: can't handle the pressure
It only ever happens when you have somewhere you need to be. I was en-route to the airport and while I wasn't going to miss the plane, time was tighter than I'd usually leave it.
Barrelling down the A45 towards Wellingborough and BONG! The Audi signals discontent. A warning on the dash showed the below, and thoughts of waving at my Airbus as it passes overhead at 36,000 feet came flooding into my brain.

The protocol to follow here is to pull over as soon as is safely possible, get out of the car and check all four tyres for damage or under-inflation. This I did, and there didn't seem to be anything wrong whatsoever. What a relief, given what James suffered only a few weeks prior in the update below.
Erroneous tyre pressure warnings are a common occurrence on modern cars. They can be caused by multiple issues including temperature, speed bumps and kerbs.
It is frustrating having to pull over and check when you're in a hurry, but I'd much rather be warned of a possible problem than not at all.
By Gareth Evans
---
Update 4: our A6 suffers an early incident
As I squeeze the throttle on our brand-new Audi A6 long-termer, 1.8-tonnes of German executive saloon wafts up the M4 slip-road heading west out of London. The sky is blue, the traffic is lighter than normal and the A6 should be the ideal companion for a work trip to the Cotswolds. What could possibly go wrong?
Thud. The back of the car steps out of line and the safety systems immediately kill the power to the wheels. Almost simultaneously a yellow symbol flashes up on the dashboard, accompanied by the message 'underinflated rear right!'

The A6 had just suffered a blowout at 65mph and, admittedly, dealt with it very well indeed. Reassuring, when a quick search on YouTube throws up numerous times when drivers weren't so lucky. In fact, the baulk of that drama came with that exclamation mark incongruously tacked onto the end of the dashboard warning message.
Big wheels, but easy to change
Cue a swift manoeuvre onto the hard shoulder to inspect the damage. I breathe a sigh of relief as I spot that the alloy has come out unscathed – even if the tyre is as flat as a pancake.

Thankfully, the A6's 20-inch wheel was easy enough to remove and replace with the space-saving spare – the hardest bit being trying to lift the huge alloy into the boot. Having said all that, we'd always strongly recommend you call out a breakdown patrol if your vehicle suffers a flat tyre on a busy high-speed road. Remember, more than 1,500 people are killed or injured each year on the hard shoulder.
Tyre swap could have been slicker
A quick call to Audi's booking centre and we got the car penned in for an afternoon appointment at Slough Audi, one of the only dealerships within striking distance to have the correct size tyre. However, it was clear on arrival that the dealership's service department wasn't expecting us.

Apparently, our tyre change had been provisionally booked-in (but not confirmed) during the timeslot usually reserved for the service team's afternoon meeting, something which according to the service advisor we spoke to, isn't meant to happen. This meant that what should have been a slick in-and-out trip to the dealer, turned into a rather more drawn out affair which took around two hours.
Ignoring the breakdown in communication, however, that's not a bad turnaround time for what ended up being a drop-in tyre replacement.

The cause of our puncture? I can't be sure, but the slice in the tyre indicates that a damaged cats-eye could have been the culprit. The fact is though, is that it could have happened at any place and at any time. So, if you have the choice be sure to spec a car with a space-saving or full-size spare wheel. It could be a life-saver.
Update 3: The screen of dreams
There's a multitude of approaches to multimedia screens in cars these days, but I reckon the one in our Audi A6 is among the neatest around.
It's not a touchscreen, which opens up a can of worms in itself – personally I'm much happier controlling these systems using the more intuitive haptic and rotary combination than having to take my eyes off the road to reach for a screen anyway – but others love to be able to control everything using the screen.
However, it's the way it nestles itself into the dash when the car is off that I'm most impressed with. It's such a simple, elegant answer to a question that many other firms struggle with. Mercedes-Benz is a prime offender here, with its screens looking like someone's superglued an iPad onto the dash.
The Audi approach means that when the car's switched off there's a simplicity to the cabin design that makes it feel far more cohesive.
And the other point is theatre. It's very cool to have the screen fold out when you push the metal engine start button.
Sadly, it's unlikely this feature will be continued in the next A6 as the game has moved on significantly, which is another reason we're happy we're getting to spend time with the current model.

---
Update 2: Early impressions
Two weeks into our time with the A6 and we're just beginning to get under the skin of Audi's large saloon.
Over the past 14 days we've done a couple of airport runs that highlighted its talent for covering a lot of ground extremely quickly.
The 3.0-litre V6 diesel motor has huge amounts of torque – 580Nm is available from just 1,600rpm - making overtaking the work of moments. It's a distinct advantage to the six-cylinder layout when compared to the four-cylinder engines also on offer in the A6 range, which naturally have to work harder to reach any given speed.

It'll be very interesting to keep tabs on the fuel economy, though, because usually with higher capacity comes bigger fuel bills. An alarming first-fill calculation showed 34.6mpg, when Audi claims 55mpg on the combined NEDC test. Just how carefully will we have to drive to hit that figure? We'll find out in a future update…
The S Tronic twin-clutch automatic gearbox suits the engine well too, with smooth changes up and down the gears, but we do wish the paddles on the back of the steering wheel felt a little better quality. They're plastic, and stand out in the A6 because the rest of the cabin's an extremely nice place to be.

Before I'd had a chance to drive the A6, a number of colleagues borrowed the keys so gave me their first impressions too. Most centred on the ride quality, or more precisely the lack of it.
This car's on 20-inch alloy wheels (which incidentally I reckon are the best match for the A6's styling), and based on some previous experiences with Audis in similar specification I quickly ensured my spinal surgeon was on speed dial.

I'm pleased to report I've yet to encounter anything approaching discomfort so far, though. In fact, the non-adaptive suspension works very well for my sort of driving. If we were being ultra picky, it's firmer than some rivals with air springs, but the trade-off for that is more engaging, predictable handling. More on that later.
And finally, a note on technology. Despite that fact this is an older design of car now relative to the BMW 5 Series and Mercedes-Benz E-Class, those two don't feature many things conspicuous by their absence on the A6.
The main notable exceptions are adaptive cruise control and any sort of active lane-keeping system – both features common in the modern executive saloon market, playing an integral part in the autonomous driving functionality most cars of this type will feature soon.
Could the next A6 drive you to work?
---
Update 1: Welcome to the Audi A6 3.0 TDI
Joining the Parkers fleet is a car that is often overlooked nowadays. The Audi A6 Saloon has fallen off the radar recently because relative to its most popular main rivals, the recently updated BMW 5 Series and Mercedes-Benz E-Class, it's now getting on in years.
The A6 was launched to high acclaim back in 2011. But that was then, and this is now – six years on, and the car industry has come on a very long way indeed.

However, we think the Audi A6 is still worthy of a place on the fleet, because its maturity is one of the endearing things about it. Cars are tweaked continuously by their manufacturers during their lifetime – both during official facelifts such as the A6's major overhaul in 2014, and also under the radar as and when required.
The result is that quite often, a later version of a car is significantly better than an early one.
So we're expecting big things.
What spec is our Audi A6 Saloon?
We've gone for a very newsworthy engine. It's a 3.0-litre diesel, at a time when that fuel is rapidly falling out of favour due to the Dieselgate scandal and the associated environmental implications.
But it's also capable of some startlingly impressive performance statistics considering it'll sprint from 0-62mph in 5.7 seconds. To put that into context, it's quicker than a Golf GTI Performance.

With claimed fuel economy of 55mpg and CO2 emissions of 138g/km – which incidentally also beats the aforementioned VW hot hatch – this is starting to look like one seriously impressive large saloon.
It has big appeal for company car drivers too, thanks to its blend of fairly competitive CO2 emissions and high performance. Throw in its great long-distance cruising capability, and it's starting to look like a compelling package.
Audi A6 Black Edition
Our car has been specified in Black Edition trim, which is top of the tree as far as non-Audi Sport A6s are concerned. So, it comes with a decent array of standard kit. Highlights from the spec sheet include:
20-inch alloys
S line and Black styling packs
Leather sports seats
Bose surround sound speaker system
We've also chosen a handful of optional extras on board. But not as many as as you usually find are fitted to cars like this. And that's due to its well-appointed Black Edition trim.
So, we have six optional extras:
Daytona Grey paint - £675
Technology Pack – high-spec multimedia system with sat-nav and smartphone connectivity - £1,625
Lighting Package – extra illumination inside and out - £265
Parking Pack – automatic parking with acoustic sensors all around the car - £810
Pre-sense Basic – prepares car for accident if car deems necessary - £260
Multifunction steering wheel – controls for multimedia and paddles for gearbox - £200
We'll be thoroughly testing these extras to see if we reckon they're worth it or not during our time with the car.
We're also planning on putting some serious miles on the A6. We're planning on taking it on some epic journeys, while taking time to pit it against its newer rivals in what should be the ultimate large saloon face-off.
Stay tuned as we find out what life's like during our Audi A6 Saloon long-term review.