Audi A7 RS7 Sportback (2013 - 2018) review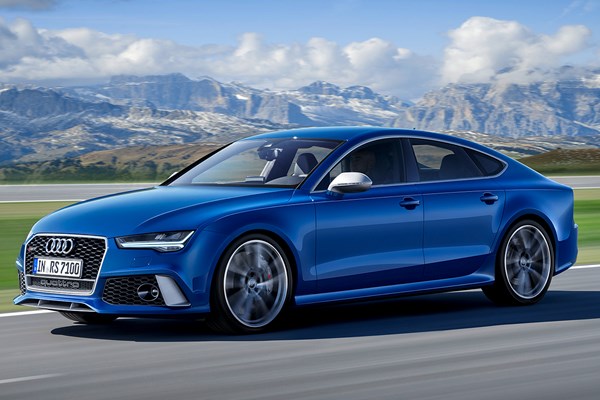 PROS
Sledgehammer performance
High-quality interior
Fuel-saving technology
Rare sight on UK roads
CONS
Not the most involving car to drive
Very expensive, especially with options
RS6 looks better value
PROS
Sledgehammer performance
High-quality interior
Fuel-saving technology
Rare sight on UK roads
CONS
Not the most involving car to drive
Very expensive, especially with options
RS6 looks better value
Audi A7 RS7 Sportback rivals
Meet the Audi RS7, an ultra high-performance version of the A7. There's already a hotted-up version of the A7 called the S7, which isn't what you'd call slow, but the RS7 is one step beyond.
It joins a long line of Audi RS performance models, all of which feature powerful engines and four-wheel drive. Mechanically, the RS7 shares many of its oily bits with the RS6 Avant estate.
Powerful V8 engine
That includes the engine, a twin-turbo V8 petrol unit generating 552bhp and an enormous 700Nm of torque. That's enough to propel the RS7 from 0-62mph in less than four seconds and, depending on specification, on to a top speed of 189mph.
As standard the RS7's top speed is electronically limited to 155mph but this figure can be raised to 174mph if you specify the optional Dynamic package, or even further to 189mph with the Dynamic Plus package – more on which in the Equipment section.
All RS7s are fitted with an excellent eight-speed automatic transmission which feels equally at home trundling along in traffic or at much higher speeds. A pair of manual shift paddles are included behind the wheel but the transmission will cope well with most situations while left to its own devices.
Thanks to engine technology such as cylinder shutdown and start-stop, the RS7 is capable of claimed average fuel consumption of 28.8mpg which is impressive given the car's performance. Drive the car reasonably hard, however, and you'll see much lower figures than that.
Aggressive styling
Audi describes the car as a 'five-door coupé-styled hatch', and it's a large and imposing car in the metal.
To distinguish the car visually from the A7 and S7, the RS7 has been given a different set of bumpers with gaping, angular air intakes at the front and a diffuser section at the rear along with a pair of large exhaust tailpipes. Its arches are filled by a set of huge alloy wheels (20 inches as standard, or 21 as an option) shod with extremely wide low-profile tyres.
There's no denying it's a car with plenty of presence – it looks very much a machine designed for clearing the outside lane of an autobahn. That's probably its most natural habitat, however. Despite a sophisticated four-wheel drive system and bags of grip, the RS7 isn't as much fun on a country road as you might imagine.
Numb steering
It features a variable rate power steering system, which alters the steering rate and weighting with speed. It's a clever system yet leaves the car feeling rather numb and hard to read. Ultimately the RS7 feels more a blunt instrument than a precise sports car.
That said, with all that performance on tap it's still an exciting and impressive machine to drive and with four doors and a two-seat rear bench it can carry four adults in comfort within its high-quality and well-finished interior.
Given that it's such a niche product it's likely to be a rare sight on UK roads. Should you be after a four-door coupé with a hatchback tailgate, supercar-humbling performance and the character of a GT car, step this way. While the imprecise steering makes it a frustrating drive and steep depreciation can be an issue, it's an impressive car that feels special.
The Audi RS7 Sportback is on sale in the UK from autumn 2013 with first deliveries in winter.
You can navigate our full Audi RS7 review by clicking through the sections below or at the top of the page.
Other Audi A7 (2010 - 2018) models: