View all BMW 4-Series reviews


BMW 4-Series Gran Coupe
Review
Current Model
One of the best driving coupes with added practicality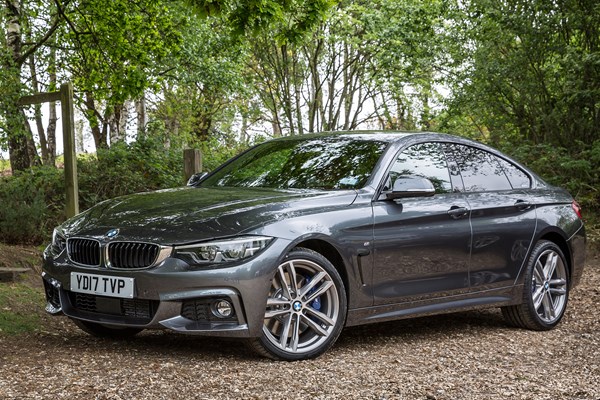 PROS
Looks
Practicality
Engine range
No price jump from Coupe
PROS
Looks
Practicality
Engine range
No price jump from Coupe
Verdict
More style than a 3 Series and more practical than a 4 Series Coupe, the new BMW 4 Series Gran Coupe fills yet another must-have niche for BMW. Imitating the larger 6 Series Gran Coupe, this new 4 Series Gran Coupe uses four doors, sharp looks and more space to offer the most complete package of the 4 Series range.
The BMW 4 Series with a hatchback tail
Although the looks would have you believe this BMW 4 Series Gran Coupe is a sleek saloon the design hides the hatchback tail, which opens to reveal 480 litres of space. That's the same as a 3 Series saloon, and 35 litres more than the 4 Series Coupe.
There's more headroom for rear passengers as well, thanks to a roofline that is 12mm higher and 112mm longer than that of the 4 Series Coupe; the car's length, width and wheelbase remain identical, however.
Sculpted rear seats give the impression of individual chairs, but a 60/40 split (a 40/20/40 option is available) means the carrying space can be expanded to 1,300 litres.
Seven engine choices
From launch there are five engines to choose from. All will be familiar to BMW owners or aficionados. Those concerned with economy as much as performance will be interested in the 418d or 420d, the latter also the only model available with the firm's xDrive four-wheel drive system from launch.
The range is bolstered by the 309bhp 435d xDrive and 254bhp 430d with choice of rear or four-wheel drive. Their power levels mean they'll both struggle to match the incredible 61.4mpg (and 124g/km CO2) offered by the 418d Gran Coupe though.
Purists will be more interested in the petrol engines, starting with the 420i and 428i four-cylinder turbos (with 181bhp and 242bhp) along with the range topping 302bhp 435i six-cylinder. Later the 420i will also be offered with the firm's xDrive system.
Efficiency and Dynamics
The firm's EfficientDynamics range of fuel saving measures have been employed in the 4 Series Gran Coupe and every model benefits from lightweight construction, improved aerodynamics, brake energy recuperation, start-stop and certain components only activated on-demand . ECO Pro mode (first seen on the 3 Series) can reduce fuel consumption even further thanks to your improved driving style.
Thanks to the wider track and suspension layout from the Coupe, as well as specific adjustments and reinforcements to allow for the taller body and extra doors, the 4 Series Gran Coupe should handle just as neatly as the rest of the range.
What you get for your money

Equipment levels mirror that of the two-door 4 Series Coupe and every 4 Series Gran Coupe sold in the UK benefits from parking sensors, heated seats, Xenon headlights, leather seats, dual zone air conditioning, cruise control, Bluetooth and DAB radio.
The automatic tailgate is standard, but a smart-opener feature can be specified at extra cost allowing for opening and closing of the boot via a simple sweep of a foot under the rear bumper. Prices match the Coupe it's based on.
Deal Watch March 2019: great value 4 Series Gran Coupe lease available
Parkers' leasing partner Zen Auto is offering 420d M Sport Professional Media models at £239 per month on a four-year contract, which makes this a lot of car for the money.* The deal looks like this:
Monthly cost: £239 (23 payments)
Upfront payment: £3,750 (plus £199 admin fee)
Total amount payable by customer: £9,446
Cash price: £40,815
Mileage allowance: 8,000 miles per year
Should you buy a BMW 4 Series Gran Coupe?
If there is a problem with this addition to the BMW range, it would be that it is beginning to crowd the market with high quality cars. Filling the ever decreasing gap between the 3 Series and 4 Series, this Gran Coupe is barely a car in its own right. It's still very good though.
The selection of engines is strong, with a good mix of performance and economy thanks to a range of fuel saving tech, while the handling is still tremendously thanks to the 4 Series chassis remaining untouched. If you're after a four-door Coupe with a bit more headroom, you're in luck.
Read on for the full BMW 4 Series Gran Coupe review