BMW 4-Series review
Current Model
The benchmark four-seat sports coupe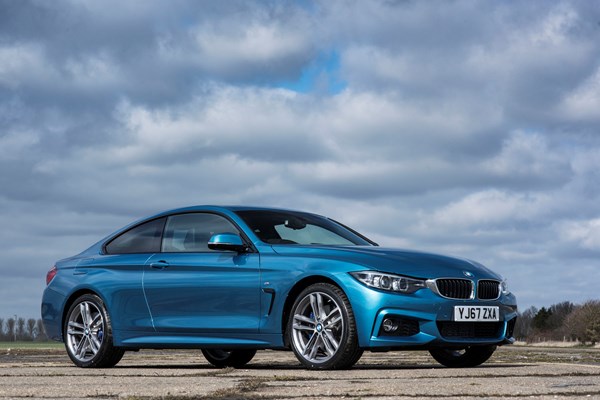 PROS
Broad engine range
Great all-rounder diesels
Sharp, sporting looks
Ballistic M4 Coupe
CONS
Limited practicality
Firm ride in M Sport models
Lacklustre four-cylinder engines
More expensive than 3 Series
PROS
Broad engine range
Great all-rounder diesels
Sharp, sporting looks
Ballistic M4 Coupe
CONS
Limited practicality
Firm ride in M Sport models
Lacklustre four-cylinder engines
More expensive than 3 Series
BMW 4-Series Coupe rivals
The BMW 4 Series Coupe replaced the 3, allowing the German firm to up the list price and present it as a sportier, more premium option. Its direct rivals are the Audi A5 Coupe and Mercedes-Benz C-Class Coupe, but buyers may also consider more left-field options such as the Audi TT, Lexus RC, the Toyota GT86 or Subaru BRZ twins, or even the Ford Mustang Fastback.
BMW 4 Series: as driver focused as ever
This model is all about the driving experience and the controls have been laid out with the driver in mind – though it's exactly the same dashboard as found in the 3 Series along with many of the mechanical parts.
There's been a thorough rework of the 4's configuration, however: the electronically assisted powered steering has been sharpened to deliver a more precise and responsive change of direction when the driver turns into a bend.
But what makes the real difference is the wider track, longer wheelbase and lower centre of gravity. In fact, it boasts the lowest centre of gravity of any car in the current BMW range and this has an effect not only on the stance of the car but the way it drives.
Choice of engines, gearboxes and all-wheel drive
There really is something for everyone here but the majority of buyers pick the frugal but feisty 420d, followed by the ballistic land-missile M4.
The third most popular option combines both attributes – the 435d is fast when needs be and good on fuel too, and boasts strong all-weather ability thanks to its xDrive all-wheel drive.
This is available on both lower powered diesels and the petrol 420i, but not on the higher power 430i or straight-six 440i.
A manual gearbox is available for some lower-powered engines, but the vast majority will be sold with BMW's excellent eight-speed automatic transmission.
BMW 4 Series Coupe: Equipment and technology
The 4 Series comes in two easy trims – Sport and M Sport, plus there's the standard M4 and then M4 Competition Pack (below).
Standard kit includes LED headlights and front and rear parking sensors, plus sat-nav (which is standard in all BMW models). There's a wide range of kit on offer as you sift through the optional extras, allowing you to spec a remarkably high-tech 4.
BMW M4 Coupe with Competition Pack
For performance enthusiasts, boost the performance of your M4 with the Competition Pack and you'll also gain adaptive suspension, larger 20-inch wheels and specific tuning for the electronic stability control and mechanical differential. You also get a 19hp power hike from the frenetic engine, dropping the 0-62mph time to just 4.0 seconds.