Audi R8 GT Spyder (2012 - 2012) review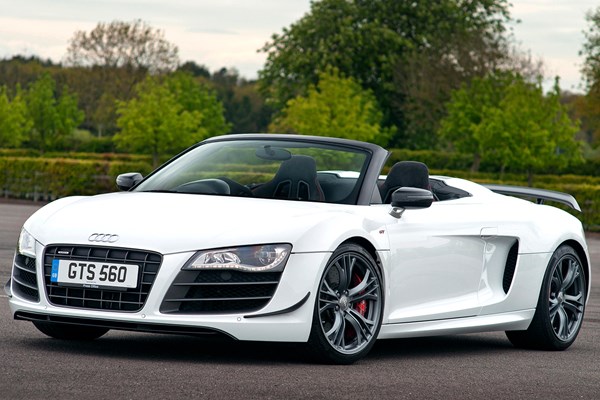 PROS
Blisteringly quick yet comfortable enough for everyday use, roof can be closed at up to 31mph
CONS
Thirsty, staggeringly high emissions of 323g/km of CO2
PROS
Blisteringly quick yet comfortable enough for everyday use, roof can be closed at up to 31mph
CONS
Thirsty, staggeringly high emissions of 323g/km of CO2
The Audi R8 GT Spyder is the flagship of the drop-top R8 range and it does not disappoint. There are quite a few visual differences that separate the GT model from the standard open-top car including contrasting titanium grey trim details, a front splitter with a dual lip, red GT badges, round exhaust tailpipes, an enlarged diffuser and dark LED lights in a clear-glass design.
The styling isn't the only thing that has changed because the R8 has been on a diet too. This GT version has shed 85kg and, as a result, weighs in at just 1,640kg. The engine frame is now made from ultra-light magnesium and further weight savings come from using lighter technical components in the transmission, wheels and brakes. Inside, the biggest weight-saving measure was achieved by using bucket seats with glassfibre-reinforced polymer and that saved 31.5kg in total.
The R8 GT is the most extreme version of the R8 yet: its glorious-sounding 552bhp V10 will accelerate prodigiously before topping at 197mph. On the road, it's pretty remarkable, debunking the theory that drop-tops don't handle this well (soft-tops usually feel less firm than their hardtop siblings). It's set a new standard when it comes to performance and handling but the great thing about the R8 GT is that you can still cruise along quite happily without mashing up your spine.
R8 GT Spyder rivals include the Porsche 911 Cabriolet, the Mercedes-Benz SL-Class AMG and the BMW 6 Series M6 but up against this impressive competition the R8 GT Spyder feels a little more special. It is entirely useable as everyday transport even though it looks much more 'supercar' than the rivals mentioned above do. This is a car that will appeal to a much wider and younger audience than that of its rivals, but they'll have to be minted to afford one.
Another bonus of the R8 GT Spyder is that if the weather turns sour the roof can be closed in 19 seconds while driving up to speeds of 31mph. So, does this car really outgun its rivals and have the Porsche, Mercedes-Benz and BMW trailing in its wake? Read our comprehensive Audi R8 GT Spyder review to find out.
Other Audi R8 (2007 - 2014) models: