View all BMW X2 reviews


BMW X2 SUV
Review
Current Model
Slinky SUV blurs the line between 1 Series and X1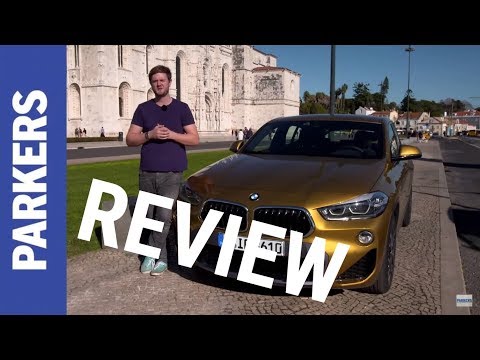 Enlarge
1

videos
Enlarge
39

photos
PROS
Distinctive looks
Fun to drive
Good standard spec
Easy to personalise
CONS
Smaller boot than X1
Less rear seat space too
Pricey from the off
Limited engine range
PROS
Distinctive looks
Fun to drive
Good standard spec
Easy to personalise
CONS
Smaller boot than X1
Less rear seat space too
Pricey from the off
Limited engine range
Verdict

The onward march of the crossover shows no sign of abating, with the BMW X2 filling a gap within the German firm's range that few appreciated even existed.
BMW refers to the X2 as a Sports Activity Coupe, essentially a more rakish version of the popular X1 SUV aimed at those who are less likely to have outright practicality at the top of their priority list, although it does remain a five-door.

It's aimed straight at the likes of the Audi Q2, Mercedes-Benz GLA and Range Rover Evoque.
BMW X2 ditches rear-wheel drive
Like the X1 it is based on, the X2 is available with a choice of four cylinder petrol and diesel engines, and either front- or all-wheel drive. Eight centimetres shorter, it sits seven centimetres lower with a different suspension set up and stiffer bodywork.
That means it offers a much more focused drive than typical SUVs, including BMW's own X1, with better body control and a firmer ride.

That means it offers a much more focused drive than the SUV upon which it is based, with better body control and a firmer ride.
Restricted engine choice
The only car available from launch was the all-wheel drive 20d xDrive diesel, followed by a 20i petrol and less powerful 18d version.
Opt for petrol and you're limited to a manual gearbox and front-wheel drive only; the 18d is the most flexible model with a choice of gearbox and drive.

The highest performance xDrive20d models come with an auto 'box and all-wheel drive as standard.
Four trim levels
You can choose between four equipment levels:SE, Sport, M Sport and M Sport X. As well as offering different amounts of kit, each spec looks different from the outside too.
Base-spec cars feature black external cladding, Sport models get a lighter grey colour with body matched wheearches, while M Sport X gains light-silver elements.

The top two trims also get a 10mm lower ride height, while the most expensive cars benefit from contrasting interior stitching, LED headlights, 19-inch wheels and two zone climate control.
The Parkers Verdict
The BMW X2 is quite a cool thing and a seriously polished product, but you certainly pay a premium for those of-the-moment SUV looks.
Desirable xDrive20d cars cost as much as a Volkswagen Golf R hatchback, which also comes with all-wheel drive and an automatic gearbox, plus a bigger boot.
While this X2 is good to drive for an SUV, it's not as much fun as a 1 Series Sports Hatch, and isn't as practical as a boxy SUV.
Thing is, there's not a lot of point applying rationality to an ever more emotionally driven area of the market, and viewed against its rivals alone, the X2 is really rather good.

Read on for the full BMW X2 SUV review