BMW X2 review
Current Model
Slinky, jacked-up family car is good to drive, but expensive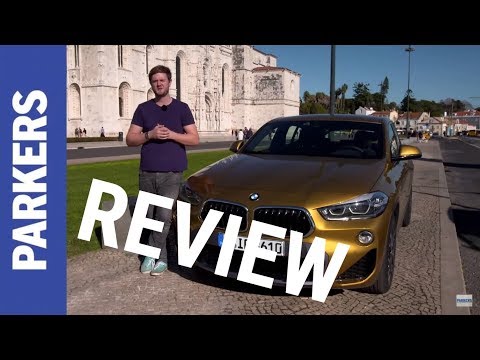 Enlarge
1

videos
Enlarge
39

photos
PROS
Distinctive looks
Fun to drive
Good standard spec
Easy to personalise
CONS
Smaller boot than X1
Less rear seat space too
Pricey from the off
Limited engine range
PROS
Distinctive looks
Fun to drive
Good standard spec
Easy to personalise
CONS
Smaller boot than X1
Less rear seat space too
Pricey from the off
Limited engine range
The onward march of the family-sized SUV shows no sign of slowing down, with the BMW X2 filling a gap within the German firm's range that few appreciated even existed. It's been designed to appeal to family-car buyers looking for a stylish, less-obviously SUV-shaped car that's good to drive and places looks over interior practicality.
BMW refers to the X2 as a Sports Activity Coupe, essentially a more rakish version of the popular X1 SUV aimed at those who are less likely to prioritise outright practicality, although it does remain a five-door. It's aimed straight at the likes of the Audi Q2, Mercedes-Benz GLA Jaguar E-Pace and Range Rover Evoque. It's a competitive market, but with lots of buyers out there looking to buy a car like this, it's understandable
BMW X2 ditches rear-wheel drive
Like the X1 it is based on, the X2 is available with a choice of four cylinder petrol and diesel engines, and either front- or four-wheel drive. It measures in at 8cm shorter in length and 7cm lower than its sister car, making it easier to use city-centre parking and smaller driveways..
As well as the new, squat design, the X2 gets a completely different suspension set up and a stiffer bodyshell, allowing BMW to fine-tune its handling and ride for a sportier feel. In simple terms. BMW promises that it offers a much more focused drive than typical SUVs, including BMW's own X1. The German firm says that it gives better body control at speed, more confidence in bends and a firmer ride.
These changes mean that the X2 promises that legendary responsiveness that the compay's products are so famous for, unlike the softer, more passenger-friendly X1.
A small range of petrols and diesels to choose from


If you're looking for a wide list of powertrain options, prepare to be disappointed. But what BMW does offer is an all-round selection of punchy and efficient engines, all of which suit the X2 very well indeed. When launched in 2017, the only version available was the all-wheel drive 20d xDrive diesel.
The range has expanded a little since then, with the arrival of the less-powerful 18d, petrol 20i and range-topping high-performance M35i. Opt for the popular 20i petrol, and you're limited to a manual gearbox and front-wheel drive, shared with the MINI Clubman and Countryman. It's powerful and efficient, proving to be a viable alternative to the default choice of diesel.
For those who are sticking to diesel, the 18d is the most flexible model in the range with a choice of manual or automatic transmission and front- or four-wheel drive. The highest performance xDrive20d and the impressive M35i models come with an auto 'box and all-wheel drive as standard.
Four trim levels for your X2

You can choose between four equipment levels: SE, Sport, M Sport and M Sport X, plus the standalone M35i version. As well as offering different amounts of kit, each spec looks different from the outside too. Base-spec cars feature black external cladding, Sport models get a lighter grey colour with body matched wheearches, while M Sport X gains light-silver elements.
The top two trims also get a 10mm lower ride height, while the most expensive cars benefit from contrasting interior stitching, LED headlights, 19-inch wheels and two zone climate control. Utilitarian is something you'd never accuse the X2 of being.
Keep reading to find out which version we would buy, and how it stacks up against its rivals, all of which set a very high standard indeed.