Mercedes-Benz GLA-Class review
Current Model
SUV looks with hatchback performance, but at a price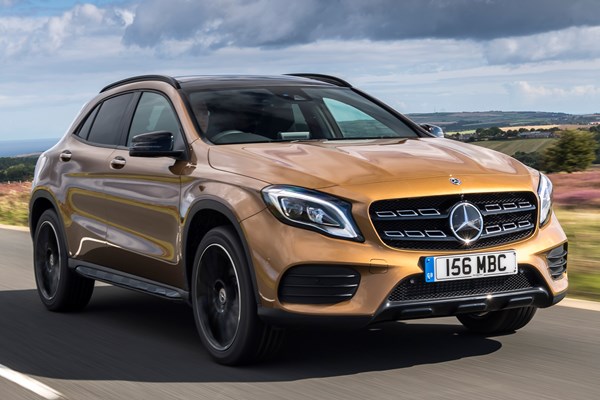 PROS
Chunky off-roader appearance
Diesel offers low running costs
Discontinued AMG offers high performance
Three-pointed star badge appeal
CONS
Few real advantages over A-Class
Lacklustre ride quality
Not that capable off-road
Lacks rivals' practicality
PROS
Chunky off-roader appearance
Diesel offers low running costs
Discontinued AMG offers high performance
Three-pointed star badge appeal
CONS
Few real advantages over A-Class
Lacklustre ride quality
Not that capable off-road
Lacks rivals' practicality
Mercedes-Benz GLA-Class rivals
Take a Mk3 A-Class hatchback, tweak the styling, give it a touch more height and you're left with this – the Mercedes-Benz GLA. It's a small crossover that's the brand's first foray into the compact end of the market, and rivals cars such as the Audi Q3, the BMW X1 and Volvo XC40. Pricier versions of the MINI Countryman and less expensive models within the Range Rover Evoque line-up also compete with the GLA.
It's not as tall as some of its rivals and even compared with the A-Class you don't sit a great deal higher up in the GLA. It feels broadly similar to drive, too, which may place the Mercedes at a disadvantage for those buyers seeking something more obviously SUV-like.
How big is the Mercedes-Benz GLA?
Usefully, the GLA has a bigger boot and a wider opening than the A-Class, with an extra 140 litres of space, although it's not really a car you'd describe as being super-practical. Gains in passenger headroom over its hatchback sibling are fairly negligible and the relatively low roof means it's not particularly easier to get in and out of.
What the GLA is, however, is more comfortable and refined than the A-Class, albeit not anywhere near as cosseting as its rivals. It's quiet on the road – although engine noise from the diesels ekes into the cabin.
How much equipment does the GLA have?
Among its premium rivals (think BMW X1 and Audi Q3), the GLA boasts a competitive amount of equipment. However, cheaper rivals – such as the Toyota C-HR – come with noticeably more kit for the same money.

With the range slimmed down to just two trim levels (Urban Edition and AMG Line Edition), all Mercedes-Benz GLA models come with Apple CarPlay and Android Auto, a reversing camera, keyless ignition, cruise control and a drive mode selector.
All-petrol engine line-up
With the 200 d and 250 d diesel engines discontinued in April 2019, the Mercedes-Benz GLA is now available with three petrols – GLA 180, GLA 200 and GLA 250 4Matic. We reckon the punchier, latter two engines are the ones to go for as the entry-level petrol can feel strained at times. A seven-speed DCT automatic transmission and all-wheel drive are also available, with both coming as standard on the GLA 250 4Matic.
On the road, the GLA is more comfortable and refined than the A-Class, albeit not anywhere near as cosseting as its rivals. It's quiet on the road – although engine noise from the diesels ekes into the cabin. Standard equipment levels are generous and, for some buyers, the chunkier styling may give it an extra layer of appeal.
Narrow customisation options
With just two trim levels and five exterior paint colours on offer, the GLA is perfect for those of an indecisive disposition – less so for those who enjoy customising a car until their heart is content. There is a selection of three alloy wheel designs, though, plus an extensive range of optional equipment and accessories including roof rails, a roof box, a bicycle rack and a ski and snowboard rack.
Mercedes-Benz GLA 2017 facelift
That 2017 makeover consisted of tweaked bumpers, revised grille designs, LED headlights and a few more chrome touches inside the GLA. The previously optional Off-Road Package became standard fit, giving the crossover 30mm of extra ride height.
It wasn't quite as good to drive as the regular Mercedes-AMG A45, yet the performance on offer from what was essentially a raised-up family car, rarely failed to impress. And yet, it was still as usable as a regular GLA, especially since the firm ride didn't feel a great deal different to the standard car's.
Mercedes-AMG GLA 45 performance version
Now discontinued, the GLA 45 was much provided proof that Mercedes-AMG was willing to lend its performance car building talents to just about any model in the manufacturer's range. Despite the raised ride height and more top-heavy profile, the GLA 45 was treated to a 381hp 2.0-litre turbocharged engine, good for 0-62mh in just 4.4 seconds.