BMW Z4 Roadster (2019) early drive review
Very early chance to sample BMW's new sports car
Driven on road and track in southern France
Keep an eye out for the full Z4 review coming soon
Very early chance to sample BMW's new sports car
Driven on road and track in southern France
Keep an eye out for the full Z4 review coming soon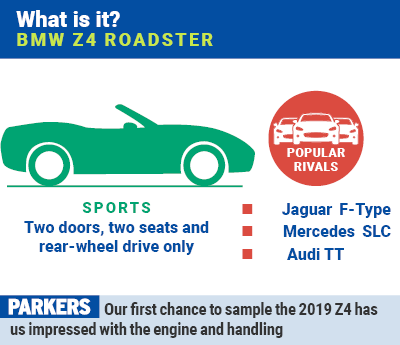 The third-generation BMW Z4 Roadster is a two-seat, two-door sports car that's due to go on sale in spring 2019. Parkers was invited for an early taste of the new car at the BMW's Miramas test track in southern France to see what it's like.
The 2019 Z4 Roadster will go up against the Porsche 718 Boxster, Jaguar F-Type Convertible, Audi TT Roadster and the Mercedes-Benz SLC when it hits the roads, but we're not expecting to see the finished article until the Paris motor show in October 2018.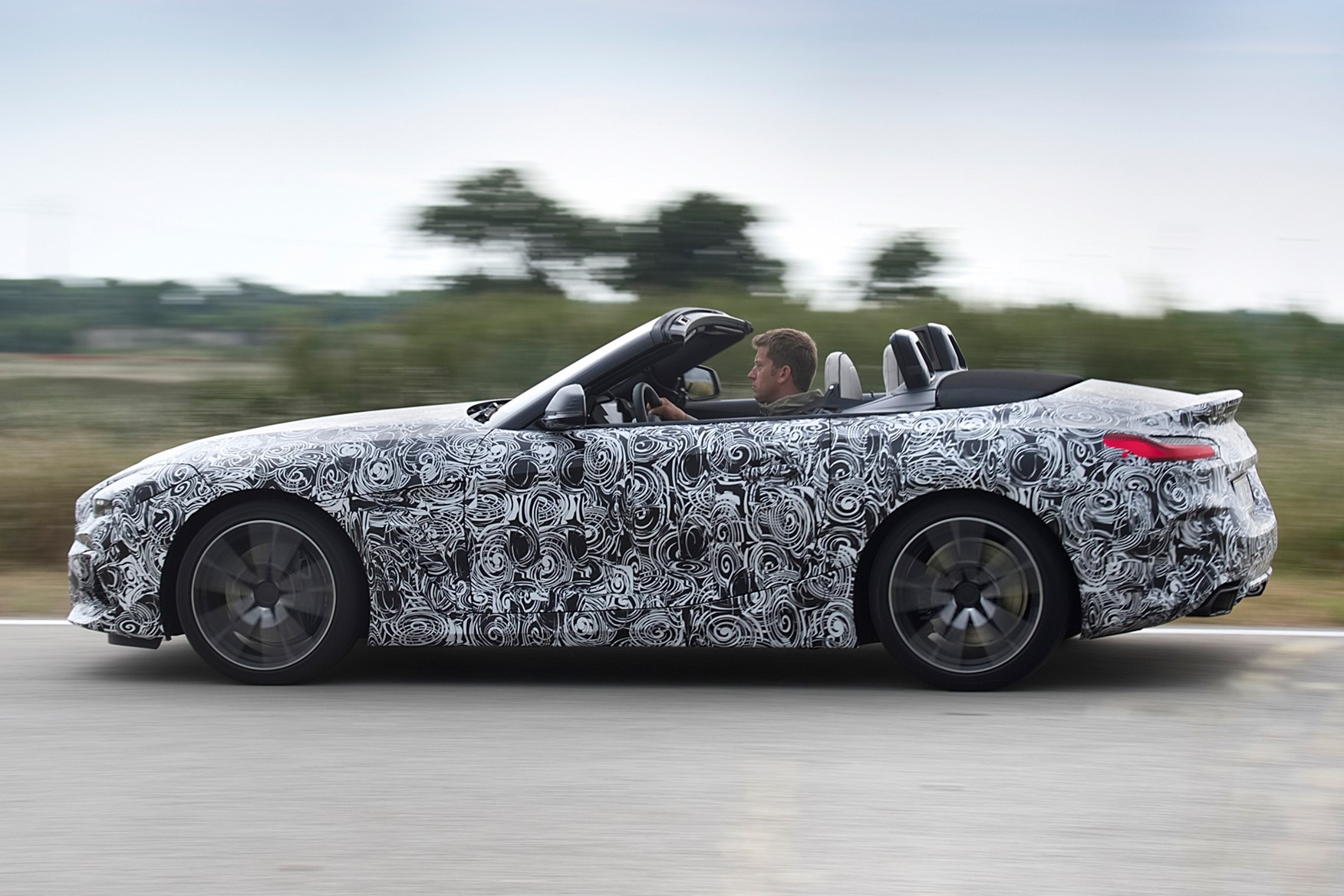 That's why all the images you see here show a heavily camouflaged Z4, and no details about the interior are forthcoming at this stage either. We were simply asked to evaluate the way it drives, both on a circuit and the roads around the testing facility.
New BMW Z4 2019 engine options
We're expecting there will be three engines in the 2019 Z4: 20i and 30i versions of a four-cylinder petrol, and the range-topping one we've drive here, a 3.0-litre straight-six turbocharged unit called the M40i.
While we have no performance figures at this point, as BMW has yet to formally test the new Z4, this motor is very similar to that used in the M140i/M240i and M2 – and we believe performance to be similar to the latter.
What's the 2019 BMW Z4 like to drive?
If you've driven either of the previous Z4s, it's a bit of a revelation. The first was too firm to be enjoyable, while the second was far softer and less fun to drive.
Thanks to adaptive suspension (standard on M40i models) and a clever electronically controlled limited-slip differential, the 2019 model manages to be better at both low- and high-speed driving. Its steering is very responsive to small inputs even in the Comfort drive mode, but dial up to Sport or Sport+ and it's riotous fun.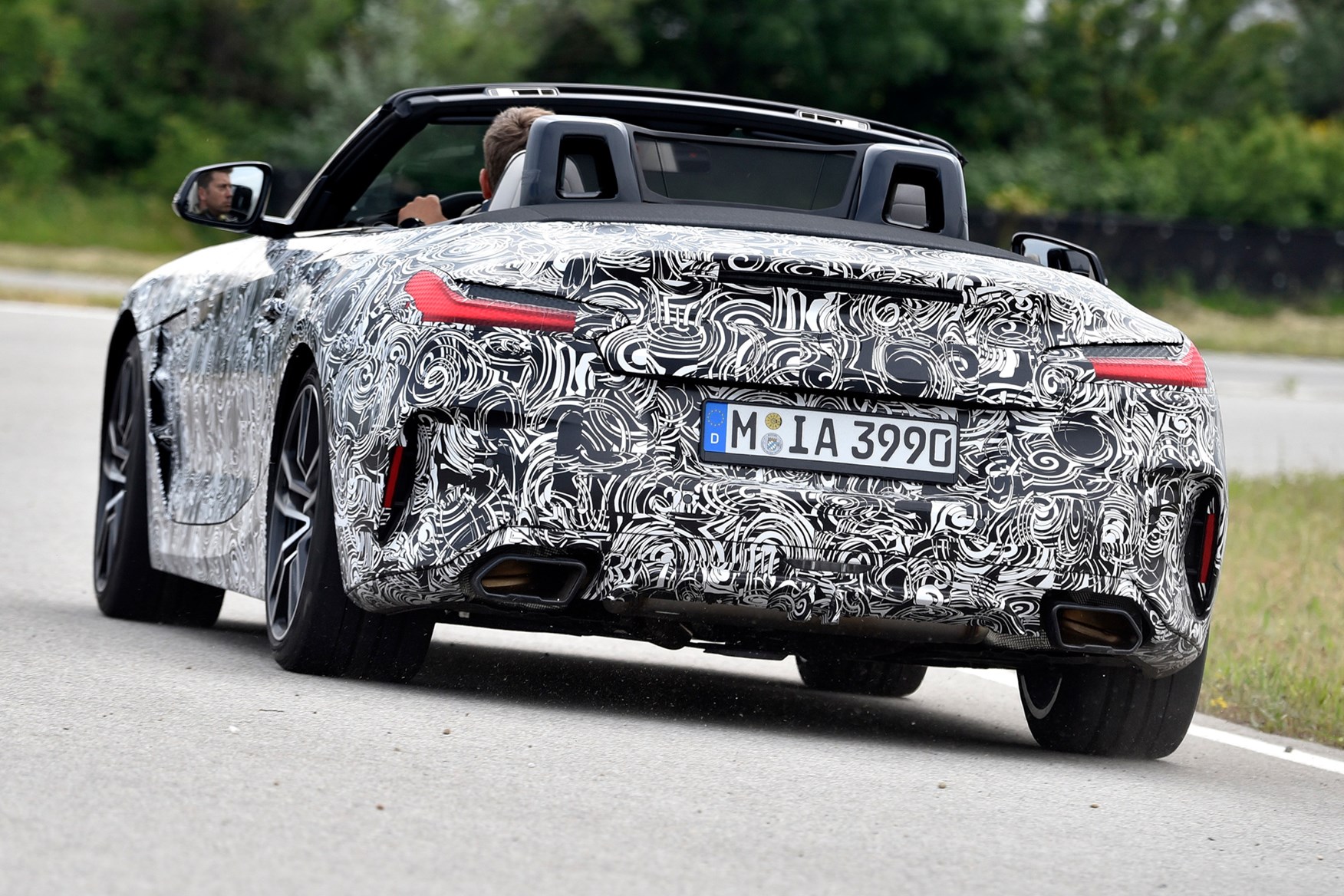 The car is able to almost eradicate body roll if you're driving seriously quickly, yet moving slower the suspension gets much softer and the steering gets lighter. It's a highly impressive machine in this respect, with two very different characters on call at the touch of a button.
Its 50:50 weight distribution helps here too, with the engine positioned so roughly two thirds of its weight is behind the front axle's centreline.
We found there was a very subtle shake through the car when tackling a mid-corner bump, but that's something we've come to expect in convertible cars like this. It's certainly not the worst out there in this respect.

The engine's great as well. BMW has worked to make it more responsive for the Z4 (a similar motor is available on several other of the firm's models) and that suits its sports car character well. It's hugely powerful too, so overtaking is simply not a problem, and sounds great.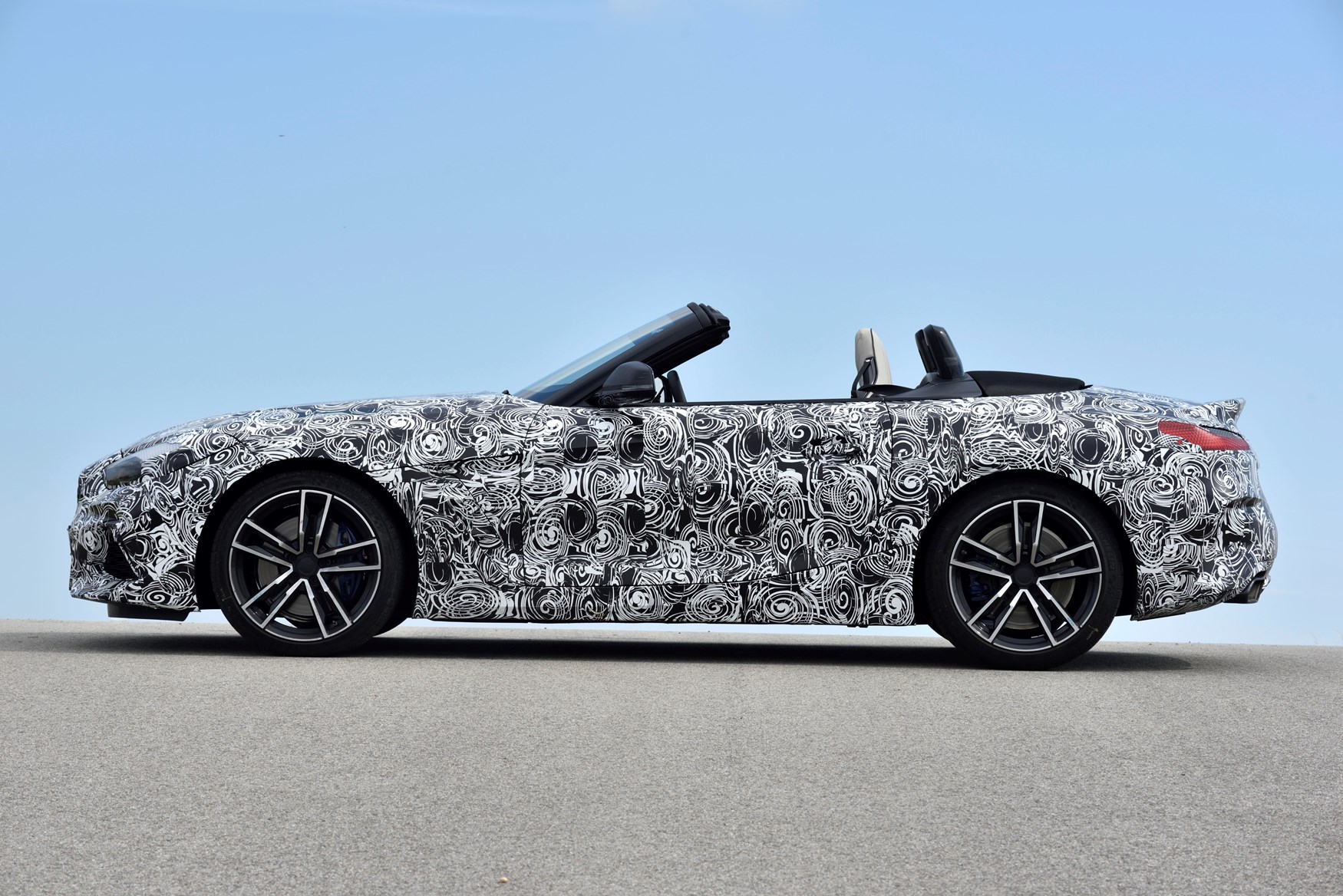 We've also driven the eight-speed automatic gearbox fitted here in other BMWs, and found it's an impressively smooth yet quick transmission. Paddleshifters behind the steering wheel allow you to take manual control if you like, which is very rewarding if you're driving quickly.
What else can you tell me about the 2019 BMW Z4 convertible?
The roof operates in around 10 seconds, works when driving at low speeds, and when lowered doesn't eat into the Z4's 265-litre boot. Its luggage capacity is significantly better than the F-Type's, but slightly down on the Boxster, which has a pair of boots front and rear thanks to its mid-engine layout.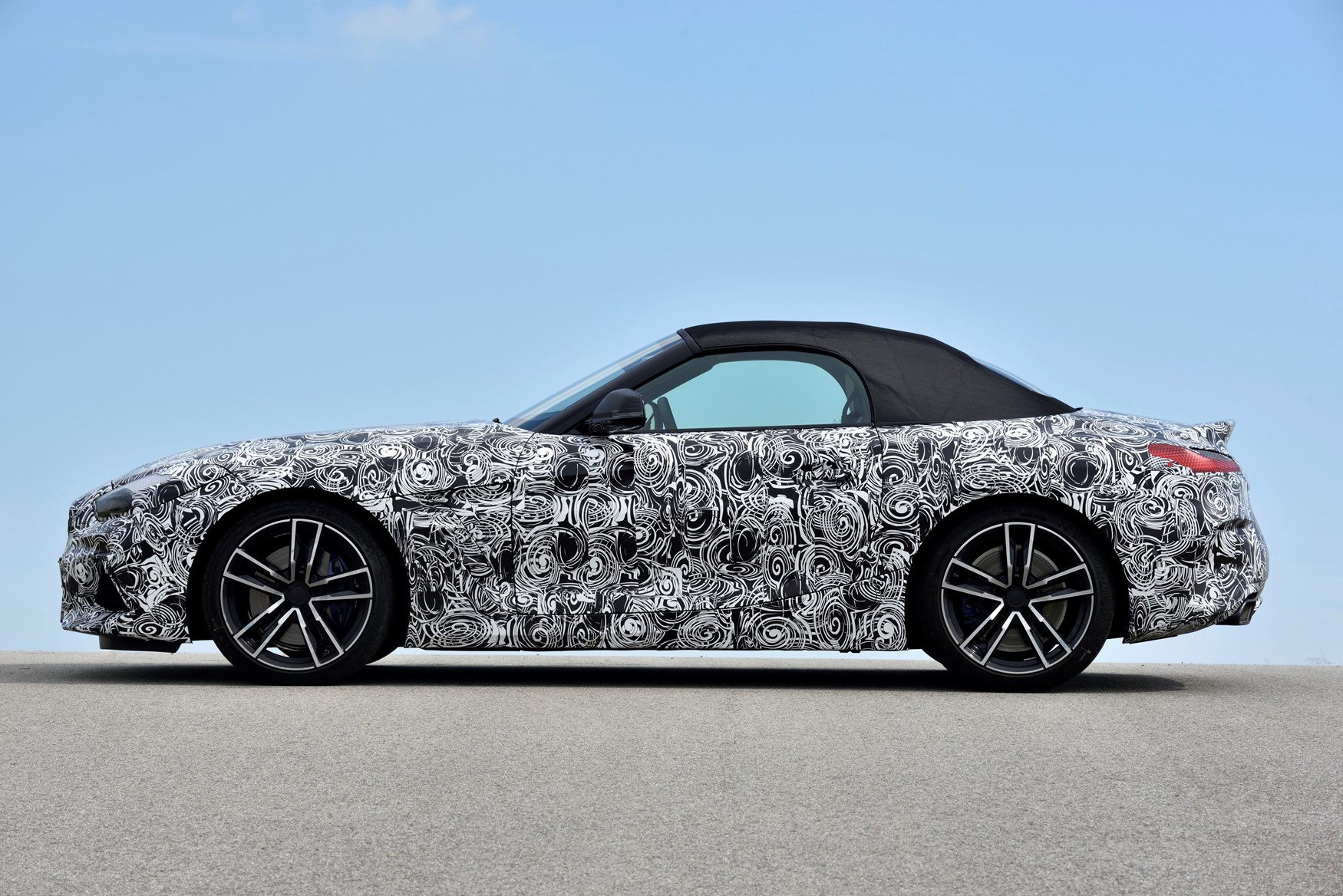 The Z4 will also feature a new design language for BMW's sports cars, aimed at differentiating it from other types of car in the firm's range such as the X7 SUV. Just take a look at the grille on that!
What we're expecting is something along the lines of the Z4 Concept, with a new mesh grille flanked by LED lights and a more aggressive styling language to go along with the Z4's new-found dynamic ability.
What's the 2019 BMW Z4 interior like?
We don't know much about the cabin design yet as it was completely disguised during our test, but can tell you the seats in our test car were great.
You're sat very low but they're highly adjustable so that shouldn't pose a problem. There's a pronounced step to get into the car thanks to a very wide sill, and the doors come up quite far relative to your shoulders, but it's not less practical than any other sports car of its type.
With the roof up visibility is hampered around the rear quarters, but there's every chance parking sensors and/or a reversing camera will feature on the Z4 anyway once trim levels and specification have been confirmed for the UK.
---
The Parkers Verdict
This is only a very early test of the new BMW Z4, but we've been impressed with what we've seen so far. It feels noticeably better to drive than the previous model, and potentially up there with Porsche 718 Boxster for outright fun.
That's seriously high praise, but to make sure we'll have to wait for the international launch later in 2018 to try the production version.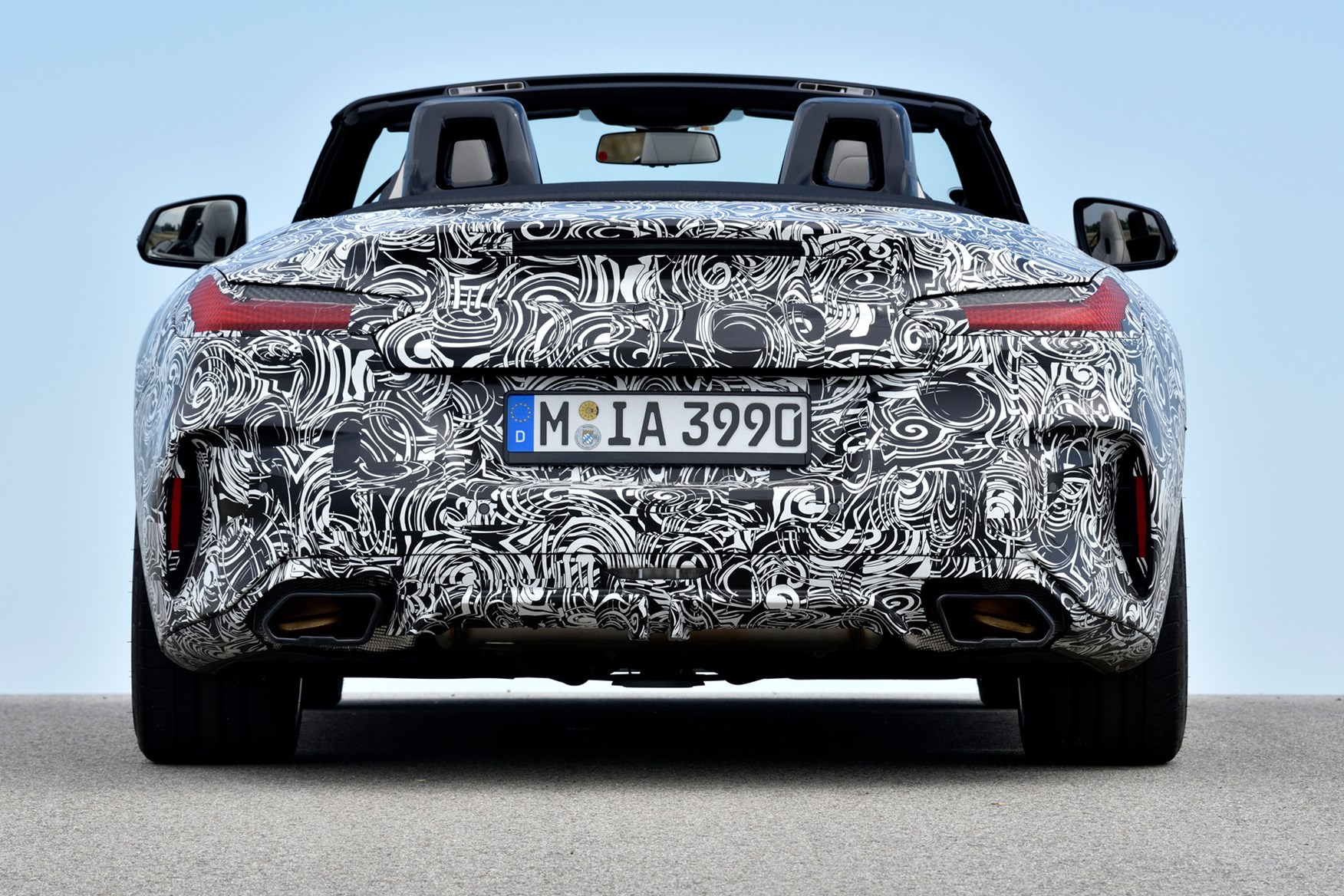 Keep an eye out for the full Parkers BMW Z4 Roadster review coming soon