France is one of the most popular destinations for UK holidaymakers and a lot of us drive there. Even if you're not staying in France itself, you still have to drive through it to get to the rest of Europe when using most routes out of the UK. So, it's worth reading up on the local traffic regulations before driving in France to avoid getting caught out and hit with a fine.
There's quite a lot to take in, too. French speed limits vary according to the weather, there's a long list of items that you're required to carry in your car by law and the country's government recently introduced a new low emissions zone that covers Paris and could ban you from driving into the city centre if you have an older car. Read on for everything you need to know.
Speed limits in France
France's speed limits work on a two-tier system. There's a set of limits for when the weather is dry and clear, and another for when it's wet and murky. If you've been driving for less than two years, the lower wet weather limits apply to you regardless of what the conditions are like.
In clear conditions, you're restricted to 50km/h (31mph) in built-up areas, 80km/h (50mph) on major out of town roads and 110km/h (68mph) on dual-carriageways and toll-free Autoroutes (motorways). Tolled Autoroutes have a higher speed limit of 130km/h (81mph). You may see other speed limits on certain roads and be aware that speed limits can change near motorway junctions and on hills.
Wet-weather speed limits are 50km/h in built-up areas, 70km/h (43mph) on major out-of-town roads, 100km/h (62mph) on dual-carriageways and toll-free Autoroutes, and 110km/h on tolled Autoroutes. If visibility drops below 50 metres, the speed limit drops to 50km/h on all roads.
Speed limit signage can be a bit confusing on French motorways as limits for cars, cars with trailers and lorries are signposted separately. The limit on slip roads is also signposted on the main carriageway.
Speeding fines in France
The French police used to have a reputation for ignoring speeding drivers but that's no longer the case. They don't go easy on foreigners, either. If you're stopped while driving in France, it will most likely be the Gendarmerie (military police) that you're dealing with. But there are other law enforcement bodies that can stop you on the road, like the customs police.
An on-the-spot fine will be issued if you're stopped for speeding. If you exceeded the limit by more than 40km/h (25mph), it's likely that your license will be confiscated on the spot. Someone else in your party will have to take over driving, or else the car will need to be recovered back to the UK at your own expense.
The standard fine for speeding in France and contravening other traffic regulations – such as not using a seat belt or dangerous driving – is €135. The French police also add points to your license depending on how far over the limit you were. If you're tearing down the Autoroute like Alain Prost on a hot qualifying lap, that fine can be as much as €1,500.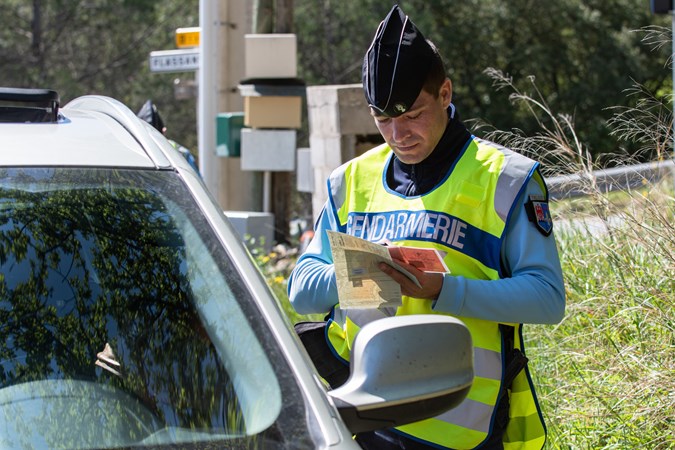 Using a speed camera detector
Among the rules for driving in France is a ban on using speed camera detection equipment, such as radar scanners and GPS trackers for fixed speed cameras. If you have a standalone device, leave it at home. If you use a satnav or navigation app that gives speed camera locations, make sure you turn that function off before traveling. Simply getting caught with a detector in your car could land you with a €1,500 fine, and the police have the legal right to confiscate the device.
Rules of the road
Here are some of the other rules you should be aware of before driving in France:
The minimum driving age in France is 18, even if your license qualifies you to drive at a younger age in your home country. However, you can ride a moped or motorcycle from age 16, providing its engine capacity is lower than 125cc.
French motorists drive on the right-hand side of the road and overtake on the left. However, on multi-lane roads or Autoroutes, drivers are allowed to overtake on both sides of slow-moving traffic. Coming from British roads, this takes some getting used to.
Vehicles coming from the right have priority under most circumstances – you'll see 'priorité a droite' signs at certain junctions. You may also see a stop line on the road when approaching a T-junction from any of the three directions. You must at least slow down and check to see if it's safe to proceed and be prepared to stop.
When approaching a roundabout, you'll see signs that say 'Cédez le passage', or 'Vous n'avez pas la priorité'. These indicate that traffic already on the roundabout has priority. You may also see the latter sign at other types of junction where you must stop and only proceed if there's no oncoming traffic.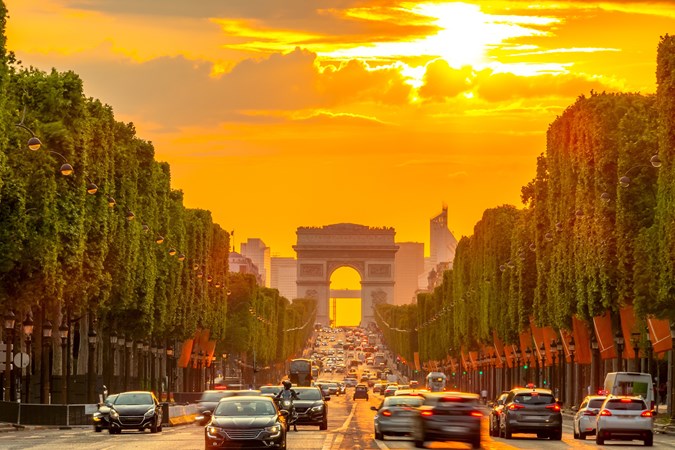 If you find yourself driving around the Arc de Trimophe in Paris, vehicles entering the roundabout have priority. The locals steam onto it with barely a glance, trusting the other drivers to give way. If you're a first timer, don't rush and follow a line roughly along the middle of the road. The inexperienced tend to come unstuck attempting to cut in and out of the various lines of traffic.
It's now illegal to wear headphones or earbuds while driving in France, regardless of whether they're being used for handsfree calling or listening to music. If you're caught using them, the Gendarmes can slap you with a €90 on-the-spot fine. This law excludes motorcycle helmets with integrated intercom systems.
Drink driving laws in France
Obviously, you should never get behind the wheel of a car after consuming any amount of alcohol. But, if you do, be especially cautious in France because the drink-drive limit is much lower than it is in the UK – a blood alcohol level of 0.05%, or 50 milligrams per 100 millilitres of blood. By contrast, the limit in England, Wales and Northern Ireland is 0.08%. The French limit is even lower if you've been driving for three years or less, just 0.02%.
Low emission zones
Several French cities including Paris, Lyon and Toulouse have introduced low emissions zones, or clean air zones as they're known locally. To drive into these areas, your car must have been built after January 1997 and be displaying a CRIT'Air sticker in the windscreen. You can order the sticker online at a cost of €3.11, plus postage. It can take up to six weeks to arrive in the UK, so order yours well in advance.
The sticker is tied to your car's registration number and specifies the amount of CO2 and nitrogen dioxide that your car emits. It also tells you where you can drive within clean air zones. There are six different colours that relate to the Euro emissions standard that your car meets.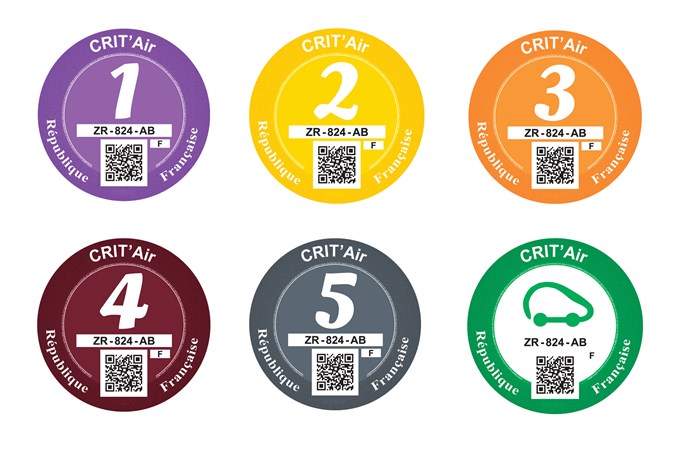 Purple Level 1 stickers are assigned to Euro 6-compliant petrol cars, yellow Level 2 stickers apply to Euro 6 diesels. An orange Level 3 sticker covers petrol cars that meet Euro 2 and 3 standards, and Euro 4 diesels. The brown Level 4 sticker is for Euro 3 diesels, grey Level 5 stickers are sent to Euro 2 diesels.
There's also a green sticker that goes on electric and hydrogen-powered cars. There are no emissions-related restrictions on where these cars can go.
Paris has the tightest restrictions on which cars can enter the city. Level 3, 4 and 5 vehicles have already been banned, Level 2 cars will follow in 2024. Which means you'll only be able to drive into the French capital if you have a Euro 6 petrol car, an EV or a fuel-cell car.
CRIT'Air stickers are valid for as long as they remain legible. Failure to display the correct sticker will result in a fine of €450. Ouch.
Things you'll need in your car
Most European nations require all motorists to carry a comprehensive set of documents and emergency items in their cars, and France is no exception. If you're road-tripping through several countries, make sure you've checked the requirements for each one and have bought the necessary items in advance.
In France you'll need:
Full, valid driving licence
Proof of insurance
Proof of ID (i.e. a passport or national identity card)
V5C registration logbook (or a VE103 document for rented vehicles)
High-visibility jackets for each occupant, within easy reach
Warning triangle
A spare bulb kit for the car's lights is also recommended but not compulsory.
French hire car companies will provide all of these items with your rental. If you've driven your own car from the UK, you need to fix beam deflectors to your headlamps to avoid dazzling oncoming drivers. Cars with LED headlights may have a setting that points the beam in the right direction.
You also need to fix a UK sticker to the rear of your car before you reach French soil. Now that the UK has left the EU, the old GB stickers and license plate badges are no longer recognised as national identifiers.
Winter tyres
New rules were introduced in 2022 requiring winter tyres to be fitted to all vehicles driving in certain areas of France between 1 November and 31 March. When entering one of these areas, you'll see a square sign with a red border showing an image of a winter tyre and a tyre wearing snow chains.
Winter tyre requirements are set by individual Departements (regions). Unsurprisingly, they're all mountainous areas in the Alps, Massif Central and Pyrenees. Of the 48 Departements covered by the rules, 34 have said that they'll actively enforce them. Full lists of the regions covered can be found online.
Most cars in the UK are fitted with summer tyres unless you request otherwise, so you'll probably have to get a set of winter tyres fitted to your car before travelling. If you get caught without appropriate tyres on your car, you face a fine of €135.
Emergency numbers
You can dial 112 from anywhere in Europe and an operator will connect you to the correct emergency service for the country you're in. Operators in France can communicate with you in French or English. Dialling 17 will connect you directly to the local police force. If your car has an SOS call button, it should work in France.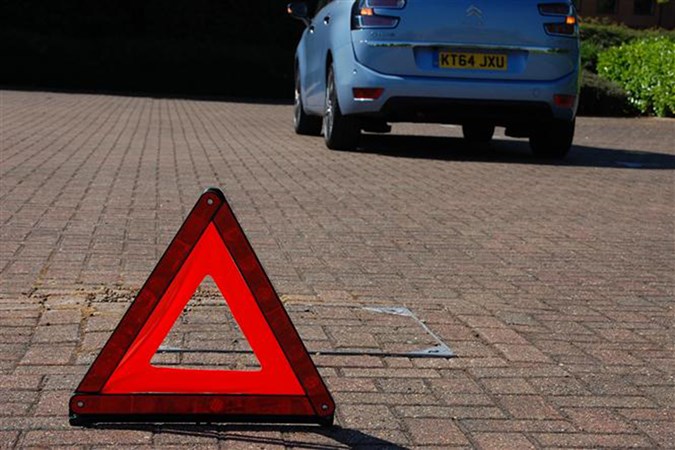 You should only use the hard shoulder on French motorways if it's completely unavoidable, for instance if the car breaks down. You should put on a high-viz jacket and set up a warning triangle as quickly as possible. Failure to do so can result in a fine.
If your phone isn't working, you'll find emergency telephones sited at 2km intervals along the carriageway.
Towing in France
Campervans and cars towing trailers or caravans cannot exceed 18.75 metres in length and 2.55 metres in width. There are no restrictions on height. However, there are restrictions on weight that affect the maximum speed you can drive at.
If the weight of the trailer or caravan exceeds the weight of the vehicle towing it by less than 30%, you're limited to a maximum speed of 65km/h (40mph). Over 30% and the limit drops to 45km/h (28mph). This could be an issue if you have a small-ish car with a high towing capacity – for instance, certain specifications of Skoda Karoq can tow 2,100kg but only weigh 1,650kg.
It's also illegal to tow one car with another on French roads, unless in the event of a breakdown. Even then, you can only go a short distance, essentially far enough to get the car out of harm's way. Towing a car on a trailer is allowed.
Insurance
Every UK car insurance policy includes a clause for driving in the EU. You'll have third-party cover at minimum, although some insurers do match the level of domestic cover. If not, you may be able to pay for an upgrade. You don't need to carry an insurance green card when driving in the EU.
It's also worth checking how long your European coverage lasts. Most insurers provide 90 days, some offer as little as three days. You may, therefore, need to pay extra for additional days.
If you're sharing the driving with someone who doesn't normally drive your car, it's best to add them to your policy as a named driver. Even if they have their own fully comprehensive insurance, they'll only have third-party cover when driving in Europe.
Breakdown cover
Make sure your breakdown cover remains valid if something goes wrong with your car outside the UK. Repatriating your car back home could cost thousands in recovery fees.