Towing is a highly useful skill for a car to have. Whether you're taking a trailer to the tip, pulling a trackday racer on a car transporter, moving a glider or, yes – going on holiday in a touring caravan – the best tow cars combine a multitude of skills, often having to juggle the duty of being a great family car with being powerful, stable, and heavy.
Weight is particularly important. As any skinny child on a seesaw knows, it's rather difficult to move something that's heavier than you. The Caravan Club recommends that inexperienced towers (which is most of us) tow no more than 85% of our car's kerb weight. That means towing around 1200kg with a typical 1400kg mid-sized SUV.
You'll need to have the engine power to get that much bulk moving, too, and the grip and stability to keep it on the straight and true even on twisting roads or during high winds. Diesel cars still reign supreme when it comes to towing, as their impressive torque figures aid in moving off with all that weight. However, hybrid and electric cars are beginning to come of age in the world of towing, too.
We've rounded up the best cars for towing below. Our list covers a variety of budgets and a range of towing requirements, suiting everything from a small trailer or two-berth caravan right up to a car transporter or massive twin-axle tourer.
Editor's choice: Skoda Karoq
Do-anything Karoq makes an excellent mid-sized tow car
Pros:
✅ Tows up to 1900kg
✅ Strong diesel engines
✅ Comfortable and flexible interior
Cons:
❌ Not particularly exciting
❌ Petrols are weedy
With an 85% weight match bringing a wide array of 1200-1300kg trailers and caravans within safe and easy reach, the Skoda Karoq makes for a cracking medium-sized tow car. The most powerful 4×4 diesel models will tow up to 1900kg, catering for all but the largest touring caravans.
The Karoq's safe and level handling – combined with four-wheel drive on some models – takes charge of a caravan or trailer, and the strong, torquey diesel engines tow with ease. The petrols aren't quite so impressive, with the 1.0-litre in particular not quite feeling up to the task of a fully laden car and caravan. If the Skoda doesn't grab you, you could opt for one of its closely related siblings, such as the Volkswagen Tiguan.
Read our full Skoda Karoq review
Skoda Karoq lease deals | VIEW OFFER
Mazda CX-60
A great big diesel capable of pulling anything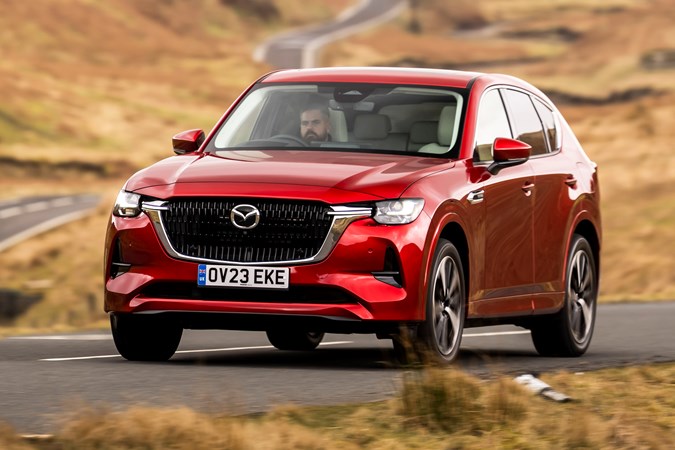 Pros:
✅ Cracking 3.3-litre diesel engine
✅ Up to 2500kg towing capacity
✅ Fantastic, high-quality interior
Cons:
❌ Firm ride
❌ Avoid the plug-in hybrid
The Mazda CX-60 is a car of two halves. The plug-in hybrid model is clunky, inefficient and nowhere near up to the standards of the best hybrid SUVs we've tested. The diesel, however, is a totally unique proposition, hiding a 3.3-litre, straight-six oil-burner under its long bonnet. This is tuned for impressive economy unladen, but paired with four-wheel drive and a healthy power output it also makes for a torquey, relaxed towing experience.
The CX-60's interior embodies the best Mazda traits – it's high-quality, straightforward, packed with equipment and much more luxurious than you'd expect from a mainstream brand. The sticking point is the ride – it's very firm and less cossetting than, say, a Toyota RAV4. It can be quite bouncy on a country road.
Read our full Mazda CX-60 review
Mazda CX-60 lease deals | VIEW OFFER
Land Rover Discovery
The ultimate towing machine
Pros:
✅ Tows up to 3500kg
✅ Powerful, refined engines
✅ Genuine space for seven inside
Cons:
❌Not very reliable
❌ A Defender is much cooler
The Land Rover Discovery has long been the popular choice for people who have something very big and heavy to tow. With a maximum towing limit of 3500kg, and a healthy 85% weight match of nearly 2000kg, it'll make short work of even a big, twin-axle touring caravan or a heavy car trailer. You won't struggle for power either, with a range of beefy, six-cylinder petrol and diesel engines.
And you can take the whole family with you thanks to the Discovery's seven-seat interior. A fantastic car, while it works – Land Rover's record isn't exactly stellar in this regard, and you should opt for a Toyota Land Cruiser if longevity and dependability is of more importance to you than plushness and ease of driving.
Read our full Land Rover Discovery review
Land Rover Discovery lease deals | VIEW OFFER
Volkswagen Multivan
The big MPV you can tow with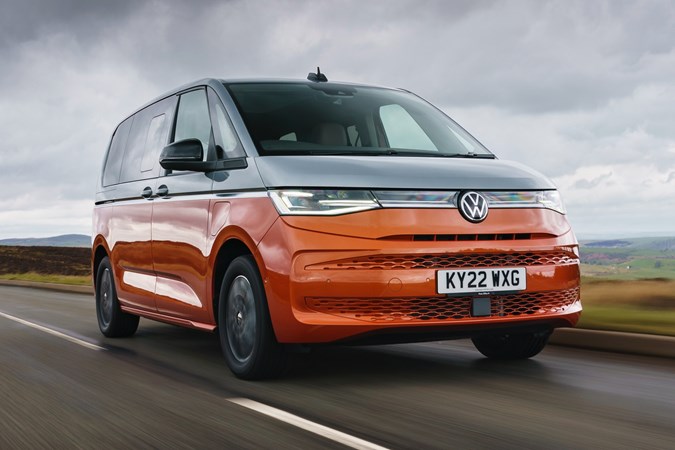 Pros:
✅ Wide body helps with visibility around a caravan
✅ Seats seven in comfort
✅ Plug-in hybrid model can tow too
Cons:
❌ Avoid the entry-level petrol
❌ Can get pricey
MPVs often make great towcars with torquey diesel engines and high kerbweights but they're a disappearing breed, especially in the UK. One of our favourites is the Volkswagen Multivan, and as well as being a brilliant large family car it also makes an excellent tow car.
The Multivan's very wide compared to a car or SUV, so you'll be able to see around even an eight-foot wide touring caravan if you use mirror extensions. The entry-level petrol is too puny for much hard towing work, but opt for one of the diesels or the 204hp petrol and you'll enjoy a 2000kg towing limit. The greener option – provided you charge up regularly – is the excellent plug-in hybrid, which can tow up to 1600kg. If VW were to offer a four-wheel drive model for greater traction, it'd be very hard to beat the Multivan in the towcar Olympics.
Read our full Volkswagen Multivan review
Volkswagen Multivan lease deals | VIEW OFFER
VW Golf
A great small tow car for lighter loads
Pros:
✅ Comfortable and stable to drive
✅ Powerful diesel engines, including a GTD
✅ Spacious inside for four
Cons:
❌ Infuriating infotainment
❌ Not much fun to drive
You don't need a great big SUV or MPV to tow effectively. The Volkswagen Golf makes a fantastic smaller towcar if you have a particularly wee caravan, or perhaps want to cart around something light like a small trailer. With a towing capacity of up to 1600kg for the diesels, and an 85% weight match of around 1100kg, it's not as lightweight as its dimensions would have you believe.
Those diesels are particularly torquey and that makes towing a breeze – especially if you opt for the powerful GTD model. VW's excellent DSG transmission also makes life easier in this regard. No, it's not as much fun to drive as a Ford Focus, or as plush inside as a Mazda 3, but the Volkswagen Golf is a better tow car than either.
Read our full Volkswagen Golf review
Volkswagen Golf lease deals | VIEW OFFER
BMW X5
The ultimate luxury towing machine
Pros:
✅ Not a bad engine to choose from
✅ Even the hybrid tows up to 2700kg
✅ Luxurious interior
Cons:
❌ It'll cost you
❌ Five-seat only
Luxury SUVs are often great to tow with. They're big, heavy and powerful – and loaded with convenience features that make life on the road a breeze. So it is with the BMW X5, which has everything to offer and it all up in a package that rivals the best luxury cars on sale.
Most models can tow up to 3500kg, but even the (fantastic) plug-in hybrid 50e and the (ballistic) X5 M will tow up to 2700kg. With a seriously hefty kerb weight, the 85% match is well over two tonnes, so even the biggest caravan should be well within reach. And in the X5, you'll arrive at your destination about as rested as it's possible to be.
Read our full BMW X5 review
BMW X5 lease deals | VIEW OFFER
Skoda Superb Estate
Hugely spacious, great to drive and clever to boot
Pros:
✅ A secure and stable tow car
✅ Space for five heavy packers
✅ Excellent engine range
Cons:
❌ Some safety kit optional
❌ Makes for a very long towing train
We're longstanding fans of the Skoda Superb here at Parkers. It's similar to the Karoq above, and shares some of that car's best features – such as torquey diesel engines and clever interior touches. But it's an estate car, so it's lower and better to drive.
And don't think you go sacrificing space just because the Superb is lower to the ground. Rear legroom is truly palatial, and the boot is vast too. It's packed with clever Skoda touches – such as the umbrella hidden in the front door or the ice scraper hidden in the fuel filler flap – and should prove a dependable and comfortable companion for years to come.
Read our full Skoda Superb review
Skoda Superb lease deals | VIEW OFFER
SsangYong Rexton
Dependable, low-cost heavyweight
Pros:
✅ Great value
✅ High kerbweight and good towing manners
✅ Capable off-road
Cons:
❌ Unrefined ride
❌ Not exactly desirable
SsangYong models have been popular with caravanners for a long time – as brands such as Kia move upmarket there's space underneath for a big, heavy, and uncomplicated SUV. Enter the Rexton, which is a popular large SUV for just those reasons.
The SsangYong's weight gives a very healthy 85% match of more than 1800kg, enough for a big tourer or car transporter, and while its 2.2-litre diesel engine isn't the most powerful (or the most refined) it's up to the task albeit at a fairly leisurely pace.
Read our full SsangYong Rexton review
SsangYong Reton lease deals | VIEW OFFER
Kia EV6
Electric towing isn't just possible – it's a pleasure
Pros:
✅ One of the best EVs available
✅ Long range (unladen)
✅ Electric torque makes towing easy
Cons:
❌ Limited range when towing
❌ Not all campsites allow charging
Towing with an EV might seem crazy, but there's method in the madness. For starters, nobody can claim they don't have the grunt to do it. EVs have bags of torque, available instantly, and so can pick up when towing faster than even a particularly powerful diesel. And their seamless power without any gears makes for a smoother experience.
Of course, you won't be able to travel particularly far. Kia's EV6 has a towing limit of 1600kg and that's pretty close to an 85% match – but with that much hooked up behind you, you'll probably see a maximum of 130 miles between charges. They'll be a highly pleasurable 130 miles, though, as the EV6 is excellent to drive – it's our favourite large EV at the moment. And with fast charging on board, you won't have to wait too long to top up provided there are suitably powerful chargers en route.
Read our full Kia EV6 review
Kia EV6 lease deals | VIEW OFFER
Hyundai Santa Fe plug-in hybrid
An excellent hybrid SUV for towing
Pros
✅ Big and heavy, secure when towing
✅ Excellent interior
✅ Powerful hybrid system
Cons
❌ Doesn't tow as much as the diesel
❌ Brittle ride
Another big SUV that's ideally suited for towing. Though the Hyundai Santa Fe is available with a 2.2-litre diesel engine that's capable of towing over 2000kg, the plug-in hybrid model is more wallet-friendly for company car drivers and still has a reasonable 1650kg towing limit. It certainly has the weight and the power to make short work of anything that lightweight.
The Santa Fe's seven-seat interior is spacious, premium-feeling and packed with equipment, while Hyundai's five-year warranty and highly-regarded dealer network should provide an extra level of reassurance. It's not as comfortable as, say, a Skoda Kodiaq, but it's bigger and better for family duties.
Read our full Hyundai Santa Fe review
Hyundai Santa Fe lease deals | VIEW OFFER
Tom Wiltshire is a Senior Staff Writer on Bauer's Digital Automotive Hub. He's written for numerous outlets, including Auto Express, evo and the Press Association, and now divides his time between Parkers and CAR. Tom's a committed Peugeotist but buzzes off almost any car that's tiny and silly. 
* These deals are indicative examples of some packages available as of 15 November 2022, but are subject to change without prior notice. Everyone's financial circumstances are different and the availability of credit is subject to status. Terms, conditions and exclusions apply. Parkers cannot recommend a deal for you specifically.