Best car for sun-seekers - BMW 4 Series
The BMW 4 Series takes the gold for myriad of reasons, chief of which is its adaptability. Different needs are easily covered because of the swath of engines on offer. They range from sensible diesels to a swashbuckling 510bhp petrol, with a few interesting and economical options in between.  No matter which engine you choose you'll be rewarded with a sharp steer and comfy ride.
And even if you're not in the slightest bit bothered about how a car drives, the 4 Series has a welcoming, easy to use, and comfortable interior. The lack of noise and vibration is really worth writing about here. We bet most people would find it tough to tell it was a convertible with the roof up – that's just how good it is. It's brilliantly built, easy to live with, and the electric roof can be taken down on the move. And that's before we get to the looks. It's not everyone's cup of tea, but most people can agree that it makes an entrance. Which is exactly what a sun-seeker wants.

RUNNERS UP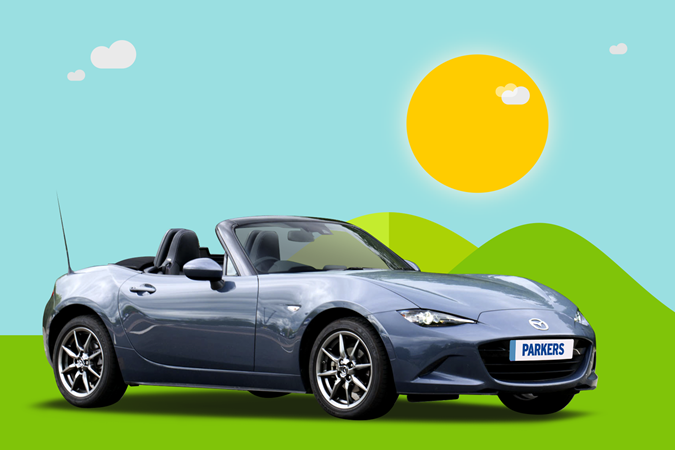 Last year's winner has been knocked off the top spot because of the sheer breadth of the BMW 4 Series Convertible's talents. But if you're after a more serious drivers' car, we can heartily recommend Mazda's little sports car.
One of the reasons it's so brilliant is because it has a classic sports car set up. Zingy engine up front, rear-wheel drive, and a manual gearbox in the middle. And then there's the price. Unlike the BMW you can get one for the same price as a family hatchback.
Best car for sun-seekers - VW T-Roc Cabriolet
You've gotta give it to VW. The T-Roc Cabriolet isn't the sort of shape you'd imagine turning into an SUV. But it really works. It looks different enough to stand out from the crowd and its SUV shape brings with it aces of practicality. It's a proper four-seat cabriolet with room for two adults in the rear.   
It's pretty fun to drive too, and it's a genuinely funky alternative to more serious four-seat soft tops.