When every other manufacturer is focusing on electric, Toyota's revealing an all-new car with an internal combustion engine. That's the benefit of getting into electrification early, of course, but a petrol Aygo is a shrewd marketing choice when there's still a few years to go before ICE sales are banned.
Most manufacturers are dropping their smallest city cars. Not Toyota – it's teased both the look of the next Aygo and the specification of a forthcoming city car; so we're joining the dots.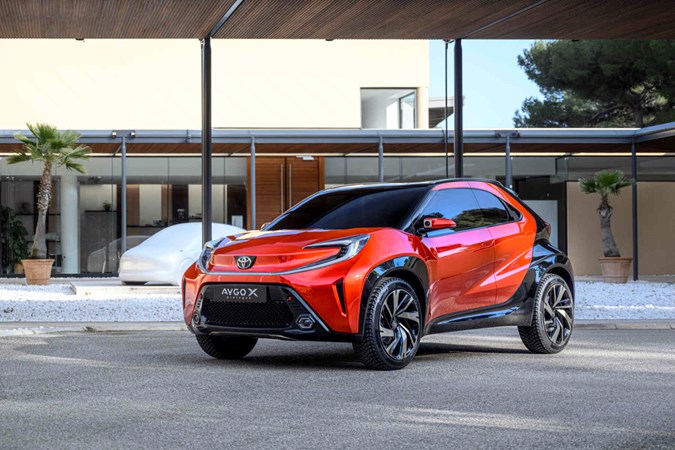 The next Toyota Aygo – 2022
First of all, it's a cut-down Yaris in essence. Based on the same TNGA modular architecture, the smaller, lighter car will benefit from the strong engineering that ensures the Yaris achieves class-leading safety. More importantly it unifies Toyota's small cars where previously, the Aygo shared components and engineering with Peugeot and Citroen models. With an annual target of 500,000 small cars made in Europe, the Yaris is being joined by the Aygo and the Yaris Cross rather than badge-engineered models.
> Revealed: Best new cars to look forward to in 2021
Second, Toyota has confirmed that its next 'A-segment model for Europe' will use internal combustion engines – almost certainly just petrol for the UK. As this is almost certainly the Aygo, this means there will be an affordable small car in the years running up to the ICE sales ban in 2030.
When many firms are having to introduce electric models to bring their average fuel ecomomy and emissions down, Toyota's head-start on electrification means it has a real advantage here; nearly all of its larger cars are well above average when it comes to being environmentally friendly so the Aygo could be very disruptive as a small, affordable and profitable car.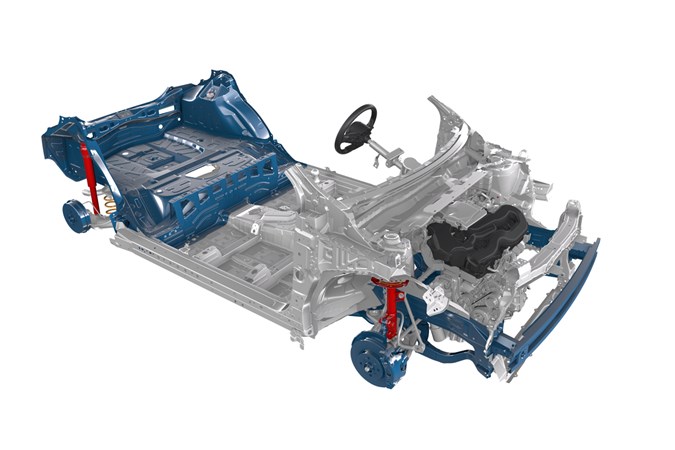 With Yaris-derived suspension as well, we expect the new Aygo to be rather fun to drive when it arrives.
No details have been revealed about the engine yet, other than there will be a non-hybrid model and it may be the case that there's no hybrid option at all, keeping that spot for the larger Yaris. As with the existing Aygo and its badge-engineered siblings, cost and affordability are what this car is about.
Aygo X Prologue
This is the clearest indication we have of what the next Aygo will look like. Note the dramatic tail lights – a theme shared with the Yaris – and the bold black glass tailgate that is a signature of the Aygo's cost-cutting cleverness.
Designed at Toyota's European studio in the South of France, the Aygo X Prologue is conceived around the idea of redefiniting what the 'entry point' for a car looks like.
There are some strong cues to link it back to the existing Aygo, such as the lower half ot he X motif in the front bumper, yet the shape is bolder, stronger and has more to tie it into Toyota's aspirational SUVs.
A higher driving position for a confidence-inspiring view of the road, large 19-inch wheels on the preview, and rugged wheel arch surrounds that hint at go-anywhere potential and strength all tie together to make, what will probably be the cheapest Toyota, feel every bit as good as the bigger models.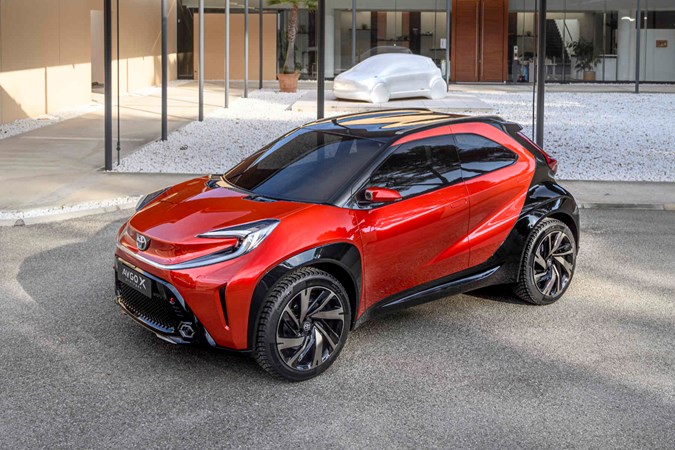 The bold two-tone roof mimics that of the RAV4 Plug-in Hybrid, while also adding attitude and a sporty wedge shape to the profile. This is further emphasised by the low hexagonal grille, foglights and front skid plate that contribute to a surefooted appearance.
As a concept there are bought to be things we'd like to see in a production car, but probably won't. These include a bicycle holder built into the rear skid plate, action cameras in the door mirrors, and integrated roof rails that blend into the rear lights. It's possible that two of these could make it to the finished car as options – and it's worth noting that Vauxhall once gained a lot of attention for building a bike rack into the bumper of the Vauxhall Corsa.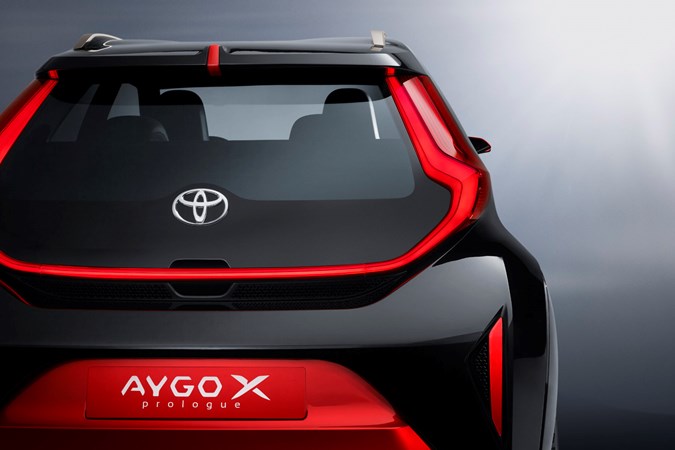 A full-width signature line at the front hints at the new lighting, though CAR magazine's spy shots suggest the minimalist LED array won't make it to production. The Chili Red paintwork may well do, though.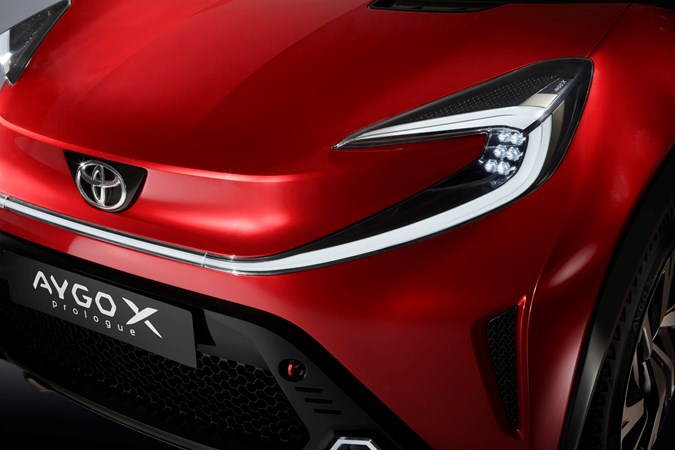 What this means for you
Petrol isn't dead yet – and neither are city cars, which we think is a good thing. Small, efficient and light cars are kinder in terms of the resources used to make them, and they also make towns and cities feel less claustrophobic and intimidating; how many times have you gone to cross the road and found your view blocked by some hulking SUV?
The Aygo is likely to be built in the same factory as the current model, Toyota having bought Peugeot and Citroen's share of the Kolin, Czech Republic plant, and taking that into account we expect that prices will be in a similar ballpark to the current model too (trade deals permitting).
The market for smaller, more affordable cars could be stronger than ever as the global economy adjusts to the costs of a pandemic. The Aygo is an extremely important model, not only for Toyota, but for drivers and families looking for the most cost-effective new car they can find without sacrificing quality or style.
Parkers will be among the first to drive the new Toyota Aygo, so check back soon as more details emerge

Further reading
>> 2030 new petrol and diesel car sales ban
>> Small and city cars reviewed
>> Best small cars 2021
>> Used Toyotas for sale
For all the latest advice, news and finance deals, sign up to the Parkers newsletter here.