For many, a small car is the best car for accomplishing almost all of their daily tasks. Small cars are great for singles, couples or small families, and work really effectively to help minimise the cost of running a vehicle.
We love small cars for their cheap purchase prices, low maintenance costs and compact dimensions. We love their efficiency, both in terms of space and fuel consumption, and we think that they make a welcome foil to increasingly bloated family SUVs and crossovers.
Despite all the positives of small cars, sales of SUVs continue to skyrocket while the supermini and city car markets have shrunk drastically in the last couple of decades. Still, that means that the cars that are left tend to be really good. We've rounded up 10 of the best here, including superminis, city cars, small SUVs and even some of the best small electric cars.
Best small cars 2023
Editor's choice: Skoda Fabia
The best small car on sale today, and Parkers award-winner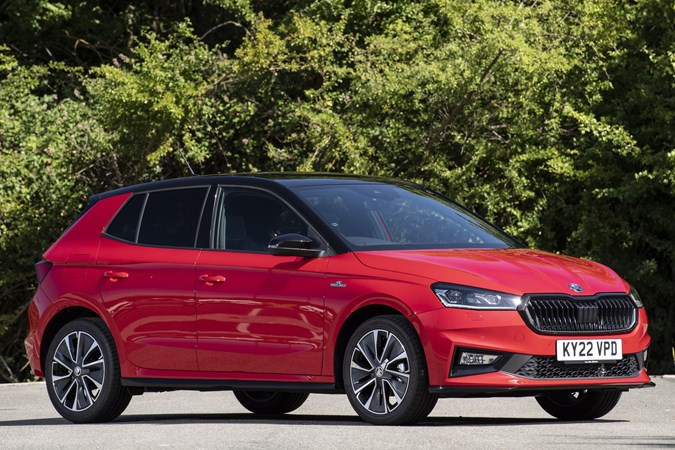 Pros:
✅ Great value
✅ Spacious, well-built interior
✅ A very grown-up choice
Cons:
❌ Petrol-only engine range
❌ Lacks a hot version
The Skoda Fabia is a brilliant small car. How good is it? Well, it's our 2023 Best First Car award-winner, and a firm favourite among the Parkers team – confirmed by how good a time we had running one for six months.
The Fabia is a very mature small car, with a spacious, well-built interior that doesn't rely on glitz or gizmos. It's also very comfortable to drive, with a range of efficient petrol engines. And though it's based on most of the same parts as a Volkswagen Polo, it's significantly cheaper to buy. What's not to like?
Read our full Skoda Fabia review
Skoda Fabia lease deals | VIEW OFFER
Renault Clio
Well priced, good to drive and a great first car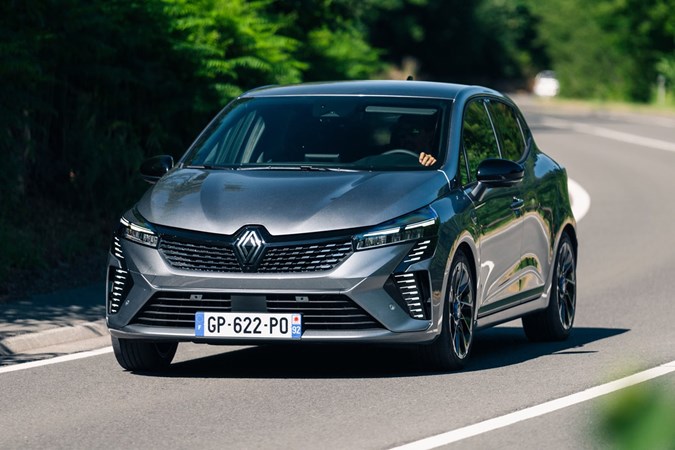 Pros:
✅ Spacious for its size, with a big boot
✅ Hybrid drivetrain offers impressive economy
✅ Plenty of equipment for the money
Cons:
❌ Hybrid model is poor
❌ Could be more refined
The Renault Clio is a multiple Parkers award-winner and a perennial European best-seller. This is the fifth-generation car and it's the best yet – a thoroughly mature small car with a big boot, quality interior and good driving manners. Now facelifted, there's even more to recommend it.
There's a hybrid model available – unusual for a supermini – but the basic 1.0-litre turbocharged petrol is the best engine option being a great blend between pace and efficiency. We also like the larger of the two infotainment options, which is standard on RS Line cars, as it makes the interior feel much more like a large, premium model.
Read our full Renault Clio review
Vauxhall Corsa Electric
Pros:
✅ Cheap to buy and run
✅ A decent variety of models to choose from
✅ Conventional inside and out
Cons:
❌ Disappointing range with inaccurate readout
❌ Not much fun to drive

Vauxhall's Corsa Electric adds battery power to one of the UK's best-selling cars, and it does so in a way that's instantly accessible to every one. This is as 'normal' as electric cars get – it looks like a Corsa and drives like a Corsa with an automatic gearbox.
Vauxhall claims a range of 209 miles between charging stops, though we've found this to be much closer to 150 miles in the real world. More annoying is that the range gauge is hopelessly optimistic, and therefore not too trustworthy – after some time with the car you'll soon learn what its limitations are, though.
Read our full Vauxhall Corsa Electric review
Dacia Sandero
Value champion is also a great small car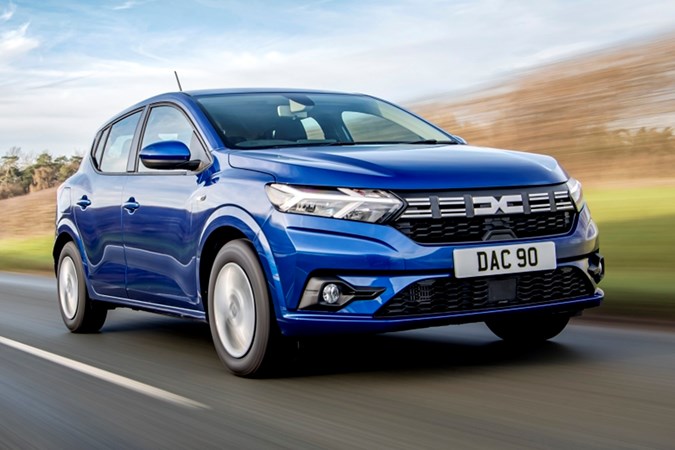 Pros:
✅ Spacious inside
✅ Rugged and solid build quality
✅ Low price tag no matter how you buy
Cons:
❌ Lack of modern safety equipment
❌ Feels its price in places
The Dacia Sandero is still one of the cheapest cars in the UK – but things have come a long way from the days where you could pick up an Access model for six grand with keep-fit windows, no central locking and a big hole in the dash where a radio should be. Nowadays the Sandero is a pretty modern-feeling supermini and you get the unspeakable luxury of kit like air conditioning and smartphone connectivity on all models.
What the Sandero lacks is the last veneer of modern equipment that makes new superminis reassuring places to sit. You don't get many assisted driving features – while you can get cruise control, there are no lane-keeping aids and this is reflected in the car's two-star Euro NCAP safety rating.
Read our full Dacia Sandero review
Dacia Sandero lease deals | VIEW OFFER
Mazda MX-5
A proper compact sports car – drop-top fun at its finest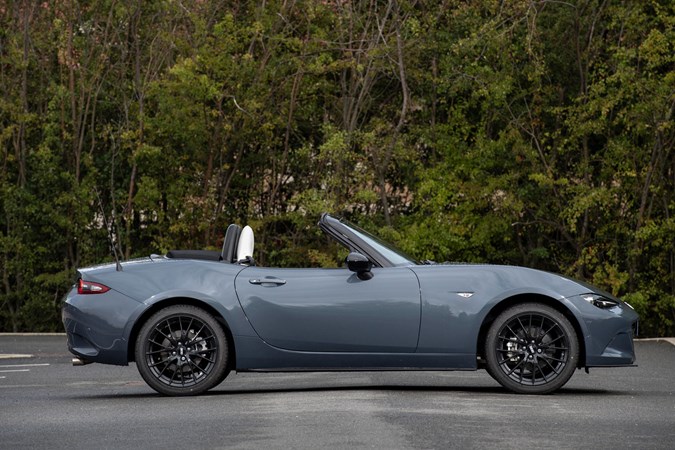 Pros:
✅ Brilliant fun to drive
✅ Affordable and well equipped
✅ Fabric roof is up and down in an instant
Cons:
❌ Small cabin, smaller boot
❌ Get used to being outrun by hot hatchbacks
The convertible sports car is another class of vehicle that's dying a death but Mazda would rather go under than discontinue its iconic MX-5. The latest generation stays true to the model's principles, being genuinely small, light and simple – and all the better for it.
If you're much over six foot you won't enjoy squeezing into the cabin, but it's worth it for the thrills that convertible motoring offers. Especially when it's this easy to experience – simply reach up and the fabric roof folds up and down in a jiffy. The 2.0-litre engine is genuinely quite rapid while the 1.5 is slower, but neither will trouble the best hot hatchbacks for outright acceleration. That's not the point.
Read our full Mazda MX-5 review
Mazda MX-5 lease deals | VIEW OFFER
Fiat 500 Electric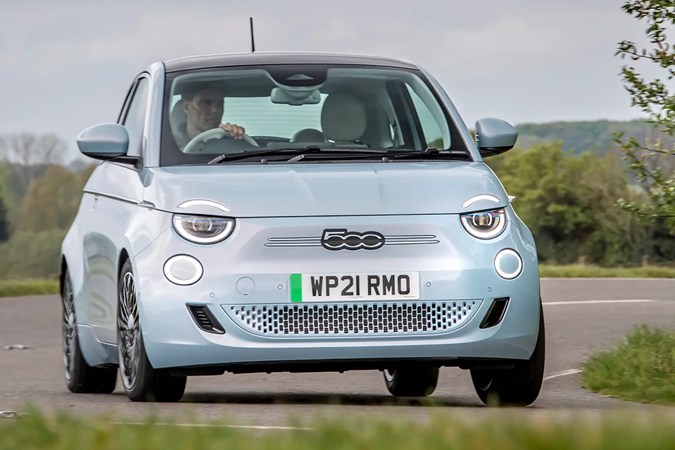 Pros:
✅ Fun to drive
✅ Easy to live with
✅ Well-built and eye-catching
Cons:
❌ Short range
❌ Expensive for such a small car
If you want a genuinely pocket-sized EV then the Fiat 500e is the best option out there. Making good use of its small 42kWh battery to deliver around 140 miles of real-world range the 500e is great to drive thanks to nippy performance, keen handling and a really aggressive regenerative braking system which makes one-pedal driving around town great fun.
The back seats and boot are tiny, admittedly, but this isn't something you'll be buying as a family car. It's a fashion accessory, a brilliant second vehicle or suitable as your only car if you live in town and don't need to ferry about anything large.
Read our full Fiat 500 Electric review
Fiat 500 Electric lease deals | VIEW OFFER
Skoda Kamiq
Practical, clever, and good to drive
Pros:
✅ Smart features on the inside
✅ Good at long distances
✅ Very spacious for its size
Cons:
❌ Not particularly exciting to drive
❌ Look elsewhere for hybrid or 4WD
Stretching the definition of 'small car' somewhat, as the Skoda Kamiq's an SUV large enough to take four rugby players in comfort. But it's the smallest SUV Skoda makes, and is based on the same underpinnings as the equally brilliant Fabia supermini.
The Kamiq isn't exciting, but it's immensely practical with a massive boot and loads of clever little storage tricks inside. It's powered by a sensible selection of 1.0 and 1.5-litre petrol engines, it's comfortable to sit in and easy to drive. Nothing to get the heart racing, then, but if you like packing everything up to and including the kitchen sink then this is the small SUV for you.
Read our full Skoda Kamiq review
Peugeot 208
Posh supermini is Europe's best-seller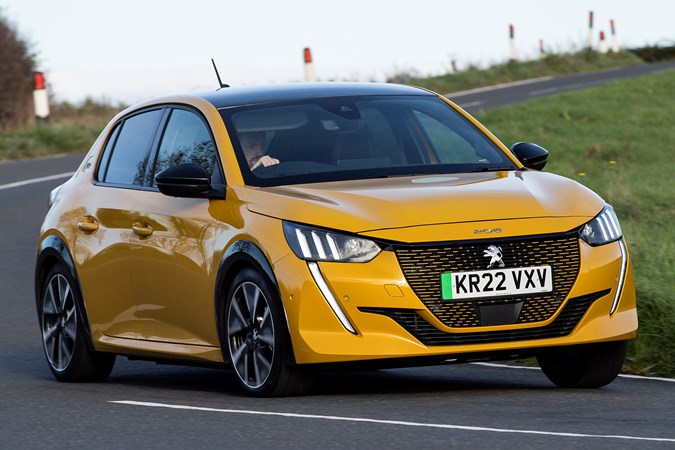 Pros:
✅ Good-looking inside and out
✅ Well equipped
✅ Excellent choice of engines
Cons:
❌ Expensive to buy compared with rivals
❌ Driving position won't suit everyone
Peugeot has been responsible for some of the best superminis of the past decades, and the 208 continues that theme of success – it even topped the European sales charts in 2022. It sells well in the UK too, where customers appear to like its combination of good looks, a premium interior and a posh image. You can choose from a couple of nippy and efficient petrol engines or the all-electric e-208.
You do pay a price for this, and the premium over the mechanically identical Vauxhall Corsa might sting until you compare the two cars side by side – you get what you pay for on the inside with Peugeot's fit and finish and material choices. Just make sure the quirky, high-set driving position suits you before you buy.
Read our full Peugeot 208 review
Peugeot 208 lease deals | VIEW OFFER
Ford Puma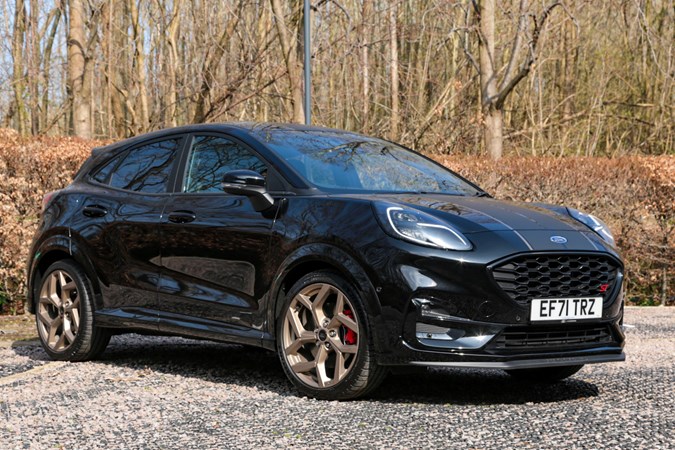 Pros:
✅ Practical, with a useful boot
✅ Excellent fuel consumption
✅ Great to drive
Cons:
❌ Petrol-only
❌ Interior feels a little outdated
Another multiple Parkers award-winner here – the Ford Puma is, we think, the best small family SUV around. It's so good that it takes the edge off Ford discontinuing the iconic Fiesta – the Puma may be larger but it drives like a car half its size with great handling, satisfying steering and a supple ride.
It's also remarkably practical, with the underfloor boot compartment known as a 'Megabox' a really useful space for wet gear, muddy boots or just stuff you don't want cluttering up the main boot. Add in a range of efficient and peppy mild hybrid engines and you have a winning formula. Want even more zing? Opt for the brilliant Puma ST.
Read our full Ford Puma review
Ford Puma lease deals | VIEW OFFER
Kia Picanto
The best city car out of a small bunch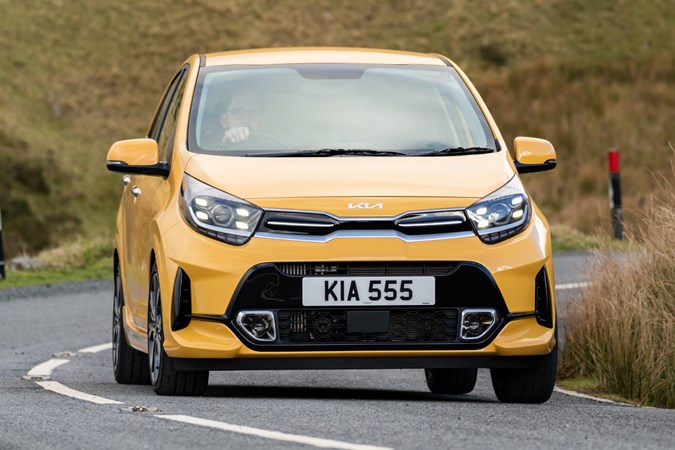 Pros:
✅ 1.0 turbo is terrific fun
✅ Currently the UK's cheapest car
✅ Mature, spacious interior
Cons:
❌ Basic engine sluggish
❌ Not as stylish as some rivals
There are only around half a dozen true city cars on sale these days, but the Kia Picanto leads a very compact pack thanks to how grown-up it feels both on the road and in the cabin. Those downsizing from a larger car won't feel too shortchanged by the equipment on offer here, such as heated seats and a large, clear touchscreen infotainment system.
Equally, those choosing the Picanto as a first car or a city runabout won't be intimidated by its compact dimensions, perky (if not exactly rapid) engine range and light controls. Basic models are also very cheap to purchase, and all Picantos benefit from the firm's amazing seven-year warranty.
Read our full Kia Picanto review
---
Why we love small cars
They're ideal for nipping around towns and cities – and manufacturers have even figured out how to make them bearable on longer motorway journeys, which is more than can be said of the small cars from the turn of the century. So, it's not surprising that they're common amongst driving instructors and their graduates.
Manufacturers have also made rapid progress with the interiors of their superminis. Gone are the cheap plastic dashboards and poor quality trim of the 1990s. Nowadays, drivers can have a similar level of equipment as some of the most expensive cars on sale, with clever infotainment systems, climate control, fancy stereos and niceties such as Android Auto and Apple CarPlay available (if you're prepared to spend the extra cash).
Small cars also lend themselves well to electric mobility, mostly because they're so light. Some of the EV choices are a bit on the expensive side, (such as the Honda e) but the secondhand market for electric cars is growing.
Tom Wiltshire is the Senior Staff Writer for Parkers. He's worked across print and web reviewing cars, writing news, performing tests of automotive products and – in one particularly memorable incident – measuring the height of a vehicle in pancakes.