View all Citroën C4 Cactus reviews


Citroën C4 Cactus review
Current Model
Comfortable and easy to live with, but too flawed for most drivers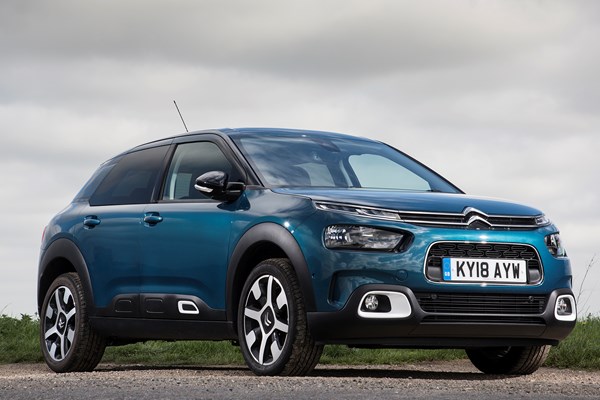 PROS
Light, efficient and distinctively styled
Useful levels of practicality
More comfortable than old Cactus
Good value for money
CONS
It's lost some of its character
Handling takes some getting used to
Over-reliance on touchscreen
Lacks rugged build quality of some rivals
PROS
Light, efficient and distinctively styled
Useful levels of practicality
More comfortable than old Cactus
Good value for money
CONS
It's lost some of its character
Handling takes some getting used to
Over-reliance on touchscreen
Lacks rugged build quality of some rivals
Citroën C4 Cactus Hatchback rivals

On the surface of it, Citroen C4 Cactus is a mid-life facelift of the car launched in 2014. But the update is mainly strategic – the 2018 updates are intended to make this car appeal to more mainstream buyers, as it replaces the outgoing C4 hatchback – a forgettable rival to the Ford Focus, Renault Megane and Vauxhall Astra.
So, it isn't an all-new car, but it has an all-new job. In the interests of finding more buyers, Citroen elected to tone down the old car's more quirky styling elements, and reduce the size of its distinctive Airbumps. The only body panels that have been carried over unchanged are the roof and wings.
The refreshingly-styled interior receives a new centre console, retrimmed seats, and an upgrade to its safety systems and infotainment package. As it's replaced the C4, it's now classified as a hatchback (no longer an SUV).
That may seem insignificant, but it signals a shift in Citroen's product strategy where the Aircross-labelled C3 and C5 take over as the only SUVs in the French manufacturer's range.

Citroen C4 Cactus (2018): same dimensions, prices, tweaked styling
Despite its switch in status, the 2018 C4 Cactus hasn't had a size reduction. Instead, the exterior styling has been overhauled with a new front-end and more prominent Citroen badge, revised headlamps and rear lights, a smooth body-coloured tailgate, plus the introduction of subtle gills in the front and rear bumpers. It does weigh 50kg more than before, though.
Controversially, Citroen's patented Airbumps, which made their debut on the C4 Cactus back in 2014, are now far less prominent. While they remain on the lower parts of the doors like on the smaller C3, protection on the front and rear bumpers is gone.
Citroen C4 Cactus: now with more customisation options

Like with many other Citroens, the C4 Cactus comes with the potential for a number of customisation options – including 31 possible exterior combinations. This comes from a choice of nine body colours (including Emerald Blue, Sport Red and Cumulus Grey) and four colour accent packs. Opting for one of the latter adds splashes of colour on various parts of the Cactus's bodywork.

The theme of customisation continues on the inside with five different ambiences, including Metropolitan Red, Wild Grey and Hype Grey – all of which tweak the colour of items such as seat fabric, armrests and dashboard panels.
The overall effect inside is a subtle lifting of the car's perceived quality, as well as making it a more inviting place to spend time in. That's down to the warmer colours, softer seats, and added air of restfulness. This is not accidental.
Array of safety kit and technology
To help keep its occupants safe, the C4 Cactus houses an impressive suite of safety and driver assistance systems. These include Active Safety Brake (autonomous emergency braking), traffic sign recognition, lane-departure warning, fatigue alert (reminds the driver to take a break if they've been driving for too long), driver attention alert (detects of the driver is dangerously tired) and blindspot monitoring.
Other useful features include a reversing camera, automatic parking, hill-start assist and headlights that follow the trajectory of the car's steering wheel to increase vision when cornering at night – a feature Citroen first employed in the legendary DS back in 1967.

Drivers who like to connect their phone's contacts and music library via the car's infotainment system will also enjoy the fitment of Android Auto and Apple CarPlay.
All-new Progressive Hydraulic Cushion suspension
Citroen claims its new suspension arrangement equipped with Progressive Hydraulic Cushions will provide a superior ride quality, harking back to the days when the French marque was famed for its comfort. The C4 Cactus is the first European model to receive the technology after it was debuted on the C5 Aircross in China.
We can confirm that the company has succeeded in these aims, with the Cactus offering a cossetting ride, and soft-yet-supportive seats. As before, steering lacks feel, so keen drivers might not feel conident – but there's no need to worry, as the Citroen handles tidily and safely, with ample levels of grip to play with.

The Advanced Comfort seats use a new high-density foam that's 15mm thicker than that used on the original C4 Cactus, and play an important role in the car's improved ride comfort.
Although some sufferers of back pain might worry about a softer driver's seat, the underlying support is excellent, and the seat's shape encourages you to adopt a correct driving position.
Extensive practicality and interior storage
Boasting greater elbow and knee room than the original C4 Cactus, the revised model is a comfortable place to spend time. It also provides a boot capacity of 358 litres with the rear seats in place, increasing to 1,170 litres with the rear seats folded down.
That puts it on a par with the Ford Focus and Vauxhall Astra, although the original C4 Cactus's high loading sill remains. Interior storage is said to be another highlight, with a number of cubbyholes and spaces to put the usual family-car bric-a-brac. For example, the rear door pockets are capable of carrying two 1.5-litre water bottles, while those in the front can house another one each.
Rear room is acceptable, rather than class-leading, but comfort for passengers is good thanks to the soft padding in the rear. Those of a claustrophobic nature might object to the rear windows, which don't open fully; they pop open like a two-door car, but for some, that won't be enough.
Three petrol and one diesel engine on offer
Base-model C4 Cactuses are powered by the non-turbo PureTech 82 petrol engine, with more premium models propelled by turbocharged PureTech 110 and 130 versions of the same motor. The non-turbo 82hp version will only be offered until June 2018, due to it not meeting the latest Euro6.2 emissions regulations.
There's a BlueHDi 100 diesel, while a punchier 120hp version will join the line-up later in 2018, but has not been confirmed for UK sale. A five-speed manual gearbox is fitted as standard to the lower-powered petrol models, as well as the diesel.
Meanwhile, a six-speed EAT6 automatic transmission is optional on the PureTech 110. If you drove the recalcitrant ETG automatic on earlier Cactuses then fear not – it's not the same transmission.
The PureTech 130 has a six-speed manual as standard.