Citroën C4 Picasso Estate (2013 - 2018) review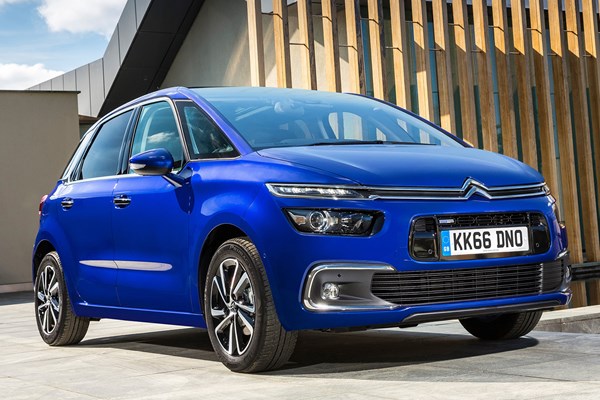 PROS
Space-age looks
Practical
Economical
Good to drive
CONS
You may not like space-age looks
Fiddly digital control interface
Sparse entry-level model
3D tail-lights not standard
PROS
Space-age looks
Practical
Economical
Good to drive
CONS
You may not like space-age looks
Fiddly digital control interface
Sparse entry-level model
3D tail-lights not standard
There's no doubting that the latest-generation Citroen C4 Picasso stands out from the crowd. The five-seater MPV has morphed into a futuristic looking machine, with a particularly eye-catching headlight treatment.
Underneath that striking skin it's built upon a brand new platform which enables more space for luggage and passengers than the previous C4 Picasso.
More interior space
Despite being slightly shorter in overall length than the car it replaces, the Picasso's front and rear wheels have been spaced further apart to free up more room inside. There's an extra 40 litres of luggage space in the boot compared with the old car and theres are plenty of neat storage solutions in the cabin.
Rear passengers get three individual seats which can be slid forwards and backwards independently and tilted or folded flat to release more luggage space. The front passenger seat can also be folded flat to allow longer items to be carried.
Relatively small overall dimensions (it's only around 10cm longer than a Citroen C4 hatchback) and an impressive turning circle make it easy to park and to thread through urban traffic.
The cabin sports a futuristic dashboard design features a digital display split between two screens – a seven-inch touchpad and a 12-inch HD screen. It is controlled by a set of buttons which are a little difficult to fathom, so make sure you've got the manual to hand the first time you use it.
Better fuel economy and lower road tax
Although two petrol versions are available, diesel-powered Picassos are expected to make up the bulk of sales. Of the four diesel engines offered, the most popular is expected to be the e-HDi 115 which marries decent performance with a claimed average of more than 70mpg.
Improved aerodynamics and an enormous weight saving of 140kg compared with its predecessor have improved the Picasso's emissions and economy across the range.
The cleanest engine available is the e-HDi 90 Airdream diesel unit with a six-speed semi-automatic gearbox, which emits only 98g/km of CO2 – a figure which Citroen says is a first for this type of car.