Dacia Sandero review
Current Model
Bargain basement prices but rich in roominess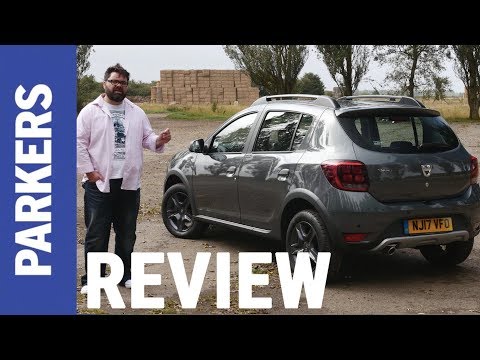 Enlarge
1

videos
Enlarge
83

photos
PROS
Most affordable new car in the UK
Roomy cabin and practical boot
Most models are well-equipped
Efficient engine range
CONS
Rivals are more fun to drive
Standard kit is poor on base model
Diesel engine hikes price
Interior quality is off the pace
PROS
Most affordable new car in the UK
Roomy cabin and practical boot
Most models are well-equipped
Efficient engine range
CONS
Rivals are more fun to drive
Standard kit is poor on base model
Diesel engine hikes price
Interior quality is off the pace
The Dacia Sandero holds a pretty significant crown – since its launch in the UK, it's been the country's cheapest new car. With a price tag that starts at less than £7,000, buying a new car doesn't get any cheaper than this – and the Sandero even competes favourably with some used models.
You might be expecting the Sandero to be a tiny, no-frills city car for that price. But you'd only be half-right, as it's actually a rival for superminis such as the Ford Fiesta and Vauxhall Corsa in terms of size, while competing with the smaller Ford Ka+ and Vauxhall Viva in terms of price.

How does Dacia do it? Well, the company's actually a sub-division of Renault, and as a result it has access to the company's vast back catalogue. While the Sandero is ostensibly a new car, it's actually based on components inherited from the Mk3 Renault Clio – a car launched in 2005.
Not only does Dacia not have to foot research and development costs for its components, it builds its cars in Romania – where labour costs are cheaper than most of the rest of Europe.
Modern petrol and diesel engines
Despite its aged underpinnings, the Sandero uses current Renault powertrains – a pair of petrols and a diesel.
If you want that headline-grabbing low price, you'll need to opt for the least powerful engine. It's a 1.0-litre, three-cylinder petrol that makes do without a turbocharger, and as a result puts out just 75hp – but surprisingly, given the Dacia's generous dimensions, it doesn't feel too underpowered. It replaced a 1.2-litre four-cylinder with the same power output back in 2016.
Those after a little extra pep can opt for the 90hp 0.9 TCe – a turbocharged three-cylinder petrol, which is more appealing on paper but has a rather lumpy power delivery that some may not get along with.

The pick of the engine range is actually the smooth and superbly efficient 1.5-litre dCi diesel – but it commands a significant price premium, meaning it only really makes sense for very high-mileage drivers. Clearly, none of the engine choices will attract those who value driving thrills, but for making relaxed progress they do the job just fine.
Function over form
At 320 litres with the seats in place, the Dacia Sandero's boot is one of the largest in the small hatchback sector, and all models get a 60/40 split rear bench as standard, although it's worth noting that it doesn't fold completely flat.
More frustratingly for a car where you'd expect practicality would be centred upon, there's no external way of opening the tailgate save for using the key. At least there's a release lever down at the side of the driver's seat.
The remainder of the cabin really is no frills – even higher-spec Sanderos still feel on the cheap side with masses of hard, hollow-sounding plastic. Nevertheless, it feels pleasingly robust in its construction, with no sense that anything flimsy will fall off in your hand.
Spartan entry-level model
Just like the larger Dacia Duster SUV, there are three trim levels in the Sandero range: Access, Essential and Comfort.
Although it's the entry-level Access model with the temptingly low sticker price, in reality you are buying a very basic car, without electric windows, stereo equipment or air conditioning.

It's the middle-ranking Essential model that hits the sweetest spot in the Sandero range as it includes a number of features buyers have come to expect as givens these days, such as remote central locking and air-conditioning.
Most Sandero buyers, somewhat surprisingly, opt for the range-topping Comfort specification, but it's not one we would recommend given that at the top end of the range you're into the price territory of more conventional – and polished – superminis.