View all DS 3 reviews


DS 3 Cabrio (2015 - 2018)
Review
Sophisticated cabin, fun to drive, ideal for fashion-conscious city-dwellers.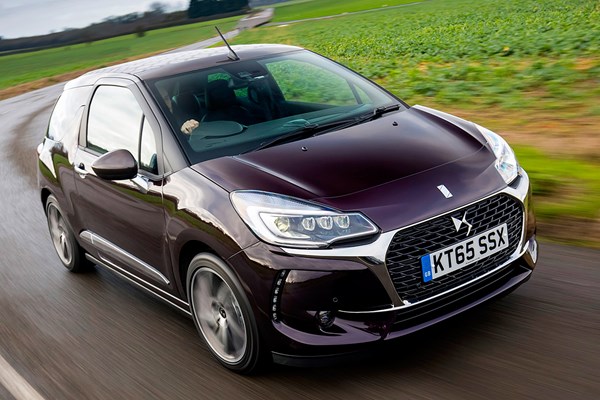 PROS
Nippy handling
Upgraded cabin
Modern features
Large boot
Lots of tech as standard
CONS
Lack of storage options
Firm suspension
Missing latest safety kit
PROS
Nippy handling
Upgraded cabin
Modern features
Large boot
Lots of tech as standard
CONS
Lack of storage options
Firm suspension
Missing latest safety kit
Verdict
Rebranded and updated for 2016, the new DS 3 Cabrio features a freshened design, new equipment and the latest efficient engines.
Targeting young, fashion-conscious drivers looking for an extra dose of luxury, it's a replacement for the Citroen-badged version of the 3 following DS's split into a separate 'premium' brand. It takes big steps forward as a premium alternative to rivals like the MINI Convertible, Fiat 500C and Vauxhall Adam Rocks, with some higher-spec models potentially appealing to Mazda MX-5 buyers.
Grown-up looks
Following in the footsteps of the latest DS 4 and 5 ranges, the revised 3 Cabrio features the new face of the brand. Most noticeable is the revised vertical grille design - dubbed "DS Wings" - with chrome bars which splay out beneath the headlamps.
Those lights have also been revised, combining LED and xenon technology, with scrolling indicators in a package DS calls LED Vision. They lend the 3 Cabrio a striking, more sophisticated look.
Personalisation options
An important part of the DS 3 Cabrio's appeal is the customisation options available, and this latest version will have a choice of 78 colour schemes and four fabric roof options.
That's only half the story though, with a range of interior design schemes including a Topaz dashboard, distinctive 'watchstrap' leather upholstery and a range of new alloy wheel designs. According to DS there are a staggering three million possible combinations for car buyers to make their 3 Cabrio unique.
Seven engines
The engine line-up is expected to mirror the hatchback's with five petrol options and a pair of frugal diesels to choose from.
Emissions across the range don't exceed 129g/km of CO2 and company car drivers will be particularly pleased with the BlueHDi 100 diesel, which is especially low at 87g/km.
Convertible comfort
The designers at DS were keen to focus on comfort during these latest revisions. The roof can be opened and closed in 16 seconds at motorway speeds while both road and wind noise have been reduced.
The DS 3 Cabrio is available in six trims: Chic, Elegance, Prestige, Prestige Plus, Performance and Performance Black. A small price hike is implemented across the range to take into account the range of additional equipment on offer.
As standard all cars come with a seven-inch colour touchscreen, Bluetooth connectivity, air-con and Active City Brake - a system which helps to prevent low-speed collisions. Other new equipment available across the range includes front and rear parking sensors and a reversing camera.
Contemporary features like Apple CarPlay and MirrorLink are also available, plus drivers can download the MyDS app which will inform you when the car is ready for a service, where it is parked and how much fuel you've got left.
DS is keen to emphasise that the Performance model is not a hot hatch derivative, but rather a luxury version which sits right at the top of the Cabrio range in terms of kit and available power.
Could this stylish soft-top city car be your next new car purchase? Read on for the full DS 3 Cabrio review to find out what it's like in more detail.