Fiat 500 C review
Current Model
Won't sate driving enthusiasts, but brimming with character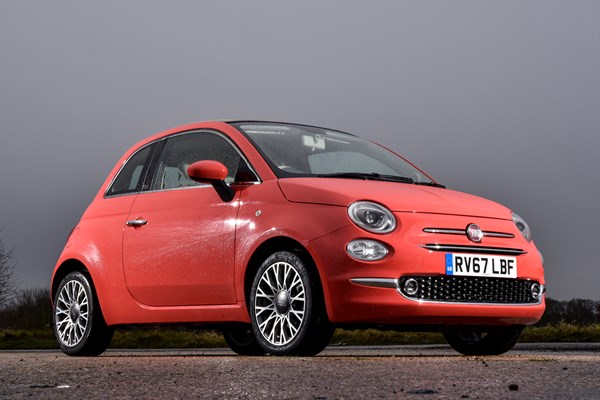 PROS
Appealing retro looks
Easy-to-use electric roof
Eye-catching colour schemes
Economical engines
CONS
Roof-down rear visibility
Lacks rear seat space
Boot on the small side too
Odd driving position
PROS
Appealing retro looks
Easy-to-use electric roof
Eye-catching colour schemes
Economical engines
CONS
Roof-down rear visibility
Lacks rear seat space
Boot on the small side too
Odd driving position

Arriving a year after its hatchback stablemate, the Fiat 500C – the C is for convertible – has been a strong-selling mainstay in the popular city car range, offering fresh air fun courtesy of its electrically operated roof.

It's not a full convertible as can be seen side-on, where the body panels mirror those of the conventional three-door version – in other words, it doesn't feel completely open when you have the roof retracted.
As a tiny, urban-centric runabout, it has no direct rivals. Its closest competitors – the DS 3 Cabrio and MINI Convertible – are superminis rather than city car-sized, while the Citroen C1 Airscape, Peugeot 108 Top, Toyota Aygo Fun-roof and Vauxhall Adam Rocks Air's fabric tops are essentially full-length sunroofs, with ordinary tailgates behind them.
How does the Fiat 500C's roof work?
Most obvious of differences between the 500 hatchback and 500C is the roof, with a design that harks back to the fabric sunroof on the 1950s original.
Using the same body sides as the hatchback means that the 500C retains much of its structural integrity, while maintaining almost identical interior dimensions – in other words, a cosy space for four adults.
Fully electric in operation, the roof concertinas up to a first stage just behind the rear seats, but pressing the button again retracts it completely.

The glass screen flops forwards to rest on top of the boot's parcel shelf, with the top portion of the roof folding up on top.
It's a simple-yet-clever solution, but because it doesn't fold completely out of sight under a cover, rearward visibility is somewhat hampered.
And, as discussed in the Comfort section, the fully retracted soft-top acts as an air scoop at speed, filling the passenger compartment with blustery, cool air that the heating system is unable to counter.
What engines does the Fiat 500C have?
Over the course of the 500C's life-cycle, both 1.3-litre MultiJet diesel and 1.4-litre petrol engines have come and gone, leaving a fairly restricted choice of motors from 2018 onwards.
Most popular is the four-cylinder 1.2-litre non-turbo petrol, producing an adequate 69hp, but the more interesting choice is the 0.9-litre turbocharged TwinAir pair.
These two-cylinder powerplants have a deliciously offbeat soundtrack – imagine a swarm of seriously peeved wasps trapped in a metal bucket – and enjoy being revved. The lower-powered version musters 85hp, the lustier one 105hp.

Be aware that the 500C's engines are fine for city use, but tend to be tiresomely noisy on longer motorway slogs, so consider carefully the roads you tend to drive on.
Manual gearboxes are standard, but the Dualogic automated transmission is available with the lower-output 500Cs. It's less sophisticated than a conventional automatic, meaning the gearchanges aren't especially smooth.
If you want your 500C with even zestier performance, then head across the Fiat showroom floor and look at the more powerful Abarth 595 Convertible and 695 Convertible instead.

Mild updates to keep the Fiat 500C fresh
Fiat first nipped and tucked the 500C in 2014, with an array of additional seat upholsteries and a digital display in the instrument binnacle.
This was merely a precursor to a more substantial suite of updates in 2015. Along with tweaked engines to comply with more stringent emissions standards, there were minor styling revisions including modified grille designs, LED day-running lights up front and trapezoidal-shaped LED tail lights, with a body-coloured centre section.

Although frequently peppered by appealing limited editions, the standard 500C line-up of specifications is rather constrained.
Entry-level Pop and one-rung-up Pop Star are exclusively available with the 1.2-litre engine, while all powertrain permutations are available in combination with the more luxurious Lounge and sportier S trim levels.