View all DS 5 reviews


DS 5 Hatchback (2015 - 2018) review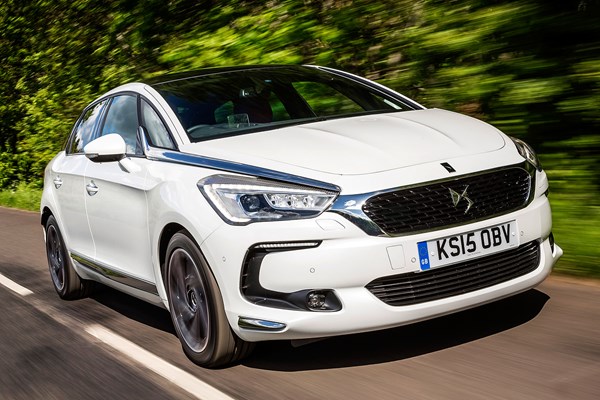 PROS
Distinctive styling
Economical engines
Luxurious interior
Supple ride quality
CONS
Cramped rear seats
Rearward vision poor
Hybrid very expensive
PROS
Distinctive styling
Economical engines
Luxurious interior
Supple ride quality
CONS
Cramped rear seats
Rearward vision poor
Hybrid very expensive
If you're thinking the new DS 5 looks somehow familiar, then you're right. It's not every day a new car brand is launched, particularly one with premium aspirations, but that's exactly what Citroen has done with DS and its first model, simply called 5.
Over the course of 2015, the cars previously known as Citroen DS3 and DS4 will join the new DS 5 in losing all of their Citroen identities and gaining a more distinctive new DS one, complete with a different grille. It's a modern interpretation of that fitted to the iconic 1955 DS which lends its name to the new marque.
Pigeonholing the DS 5 remains a difficult mission, given its upmarket feel and unusual styling. Whether it's a hatchback, compact estate or even a five-door coupe is a point of conjecture, so its natural rivals can be anything from Audi's A5 Sportback, BMW's 4 Series Gran Coupe or even Volvo's V60.
Facelift and name change for DS 5
Name change aside, the latest DS 5 is nevertheless a facelift of the car launched back in 2012. It's substantial – not in terms of bodywork changes, for only the bonnet, front bumper and grille arrangement are different – but in terms of the thoroughness of the rebrand.
DS has gone as far as de-Citroening the logos from the windows as part of the makeover and when you buy one of the latest models it's DS Automobiles, rather than Citroen, that appears on the registration document issued by the DVLA.
There's a handful of other changes to complement the rebirth: the headlights are similar to those on the DS 3 and feature a trio of LEDs alongside Xenon bulbs on Prestige models, the ride height has been slightly increased and within the plush cabin the dashboard has been lightly re-fettled with 12 buttons removed for a cleaner look.
Revamped petrol and diesel engines
Lurking behind the new grille is a range of revised turbocharged petrol and diesel engines which already see service in a variety of Citroens and Peugeots, together with the unusual diesel-electric Hybrid.
Petrol fans will only be able to choose the 1.6-litre THP 165 in lower-specification Elegance trim, where it's solely available with a six-speed automatic transmission.
Elegance trim's your only choice too if you want the lowest-emitting diesel: the 118bhp, 1.6-litre BlueHDi 120 comes with a six-speed manual gearbox and emits just 104g/km.
Choose either of the 2-litre diesels – in BlueHDi 150 (manual gearbox) and BlueHDi 180 (automatic) forms and you can have either of the two standard trim levels on offer.
With a claimed 68.9mpg and 0-62mph time of 10.6 seconds, the 150 version hits the sweet spot combining decent performance with impressive economy. The 180 doesn't feel appreciably quicker and its engine's more audible while it delivers that extra performance.
It's unlikely to be a big seller but the range-topping Hybrid models (just) top the DS 5 low emissions table with 103g/km. Be aware the only gearbox available is the slow-shifting ETG automated transmission – it's not the smoothest of driving experiences.
All DS 5s, barring the four-wheel drive Hybrid, send power to the front wheels and feature stop/start functions to reduce fuel consumption while stationary.
Improved ride comfort
Raising the DS 5's ride height is not the only suspension modification that the car's benefited from as part of its rejuvenation.
When the Citroen DS5 was launched one of the chief criticisms levelled against it was the overly-firm ride quality. DS has sought to rectify that with special dampers that significantly reduce its harshness, especially over sharper ruts and pot holes.
While it doesn't waft along with the same pillowy-soft grace of its historic namesake, the DS 5's much more comfortable and relaxing to drive over longer distances than before. It's definitely a car that responds better to gentler inputs from the driver, reinforcing its comfort-biased nature.
Find out more about this intriguing take on the luxury family car segment by reading Parkers' full DS 5 review.