Citroën DS3 Cabrio (2013 - 2015) review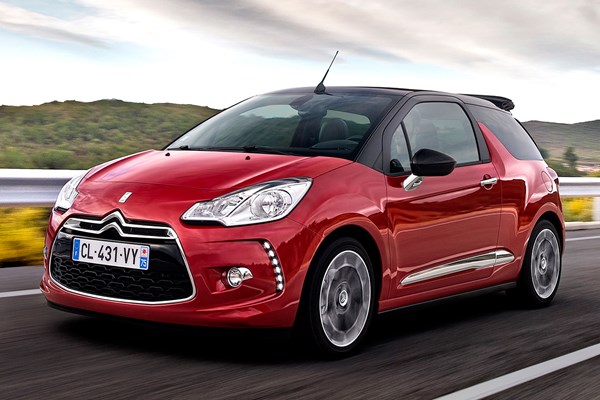 PROS
Drives like the conventional hatchback model
Roof can be closed in 16 seconds at speeds of up to 75mph
CONS
No diesel option
Rear visibility poor with the roof down
PROS
Drives like the conventional hatchback model
Roof can be closed in 16 seconds at speeds of up to 75mph
CONS
No diesel option
Rear visibility poor with the roof down
Citroën DS3 Cabrio rivals
The Citroen DS3 Cabrio is the French firm's convertible version of its popular stylish hatchback – and it can close its roof at speeds of up to 75mph.
Based on the popular DS3, the new derivative boasts a fabric soft-top which, as well as being operable above the national speed limit in the UK, takes just 16 seconds to close.
Colourful customisation
There is a choice of seven colour schemes available for the paintwork, eight upholstery styles, seven alloy wheel styles and a choice of three roof designs too. This means myriad customisation options for those wishing to drive around in something a little different.
The material the firm has used for the roof has excellent sound insulation properties, meaning acoustics are similar to that of a hatchback when the roof is shut. You don't suffer any handling penalty for choosing the drop-top either, which is refreshing.
There's room enough for five occupants inside the car, while boot space is a class-leading 245 litres. There's even a 60/40 split rear bench, which is unusual for a cabriolet hatchback.
To open the boot there's an unusual 'circular' upward mechanism which allows the plastic tailgate lid to be opened even when parked up close to obstructions.
Low emissions
A trio of petrol engines power the DS3 Cabrio. The lowest-emitting is a 1.2-litre unit which puffs out CO2 at a rate of 112g/km. Its claimed average economy is 58mpg.
Aerodynamically the DS3 Cabrio is identical to the hatchback, which means CO2 emissions can be kept nice and low for fair running costs. The car is 25kg heavier than its tin-top brethren, which really isn't much of a penalty compared to similar models from other manufacturers.
Other Citroën DS3 (2010 - 2015) models: