Ford Edge review
Current Model
Ford's large SUV is priced and equipped to sell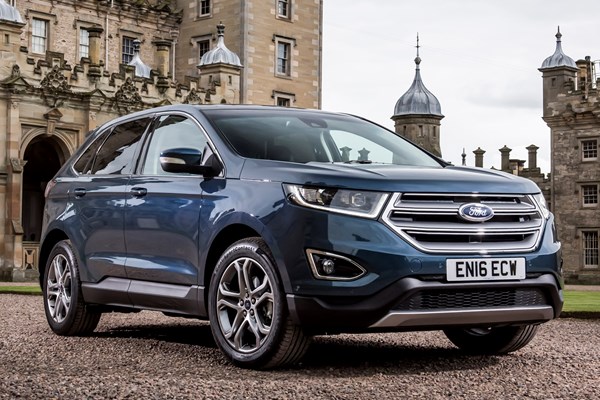 PROS
Ford's most practical SUV to date
Plenty of equipment for the money
Noise cancellation means quiet cabin
High comfort levels for both rows
CONS
Neither engine is especially fast
Automatic gearbox a little dimwitted
No seven-seat option available
Rear headroom tight with glass roof
PROS
Ford's most practical SUV to date
Plenty of equipment for the money
Noise cancellation means quiet cabin
High comfort levels for both rows
CONS
Neither engine is especially fast
Automatic gearbox a little dimwitted
No seven-seat option available
Rear headroom tight with glass roof

Not a car for shrinking violets, the Ford Edge is the first large, North American SUV from the company to hit British shores since the gas-guzzling Explorer more than a decade ago. What's different this time around is that pair of diesel engines make it much more appealing to customers than its predecessor.
Ford Edge: a large, good-value family crossover
Being around the same size as the upmarket Volkswagen Touareg but priced more closely to theHyundai Santa Fe, Ford hoped that the Edge would replicate the success of the Volvo XC60 and appeal to a market of affluent, family-oriented buyers. While that's not happened, the Edge is proving itself to be a popular choice in this sector.

With a glut of diverse upmarket off-roaders including the Jaguar F-Pace, Land Rover Discovery Sport and Mercedes-Benz GLC available for similar money, the challenge for Ford is to match the plush feel of these models but for a much lower like-for-like price. While it doesn't quite pull this off, even in flagship Vignale guise, it feels fine given how much the Edge costs.
Ford Edge: engineered for global markets, refined for the UK
The Canadian-built Edge has been engineered to sell around the world, adapted slightly for regional tastes.

To ensure that more than just a North American SUV foisted upon Europeans (see Explorer above), Ford has spent a lot of money on the car's engineering and construction so that it can handle the stiffer suspension and sharper steering needed for faster, more winding roads in this contentinent. It has also added additional soundproofing to meet the refinement levels expected by European buyers.
Largely it's proved successful, being a sharper, more enjoyable steer than the Mondeo range that it shares its underpinnings with.

Ford Edge: pair of diesel engines, four-wheel drive standard
There are two 2.0-litre diesel engines available: a 180hp unit and a 210hp bi-turbo version of essentially the same motor. The less powerful version comes with a six-speed manual, while the 210hp motor is only available with a six-speed PowerShift automatic. Four-wheel drive is standard across the range.
Depending on wheel size, CO2 emissions vary between 149-152g/km, with fuel efficiency quoted at between 47.9-48.7mpg. All Edges just dip under the 10-second 0-62mph acceleration benchmark time.
Three Ford Edge trim levels available
Compared with other Fords, the Edge's range structure is pleasingly straightforward.
From its arrival in the UK in early 2016, the base Zetec spec included 19-inch alloy wheels, a DAB radio, tinted windows, a lane-keeping aid, rear-view camera, powered bootlid and a host of other useful kit, although this entry-level version was discontinued at the start of 2018.

At that point, the former mid-range Titanium became the entry point to the range, with a leather lined Vignale featuring extra chromework and a mesh grille reaching showrooms by autumn 2016.
For those looking for something more aggressive - with less chrome-look trim and more body-coloured addenda - the Edge Sport fitted the bill until mid-2017 when it was replaced by the ST-Line, although it's worth remembering that these versions are no faster than other models in the range.
Facelifted Ford Edge for 2019
Shown early in 2018, the Edge is in line for a fairly significant facelift, although Ford has cleverly managed to complete the makeover without changing any of the bodywork save for the plastic bumpers and trim pieces.

Up front are more aggressive, shallower headlamps flanking a narrower, but wider grille, while the rear end has lost its distinctive full-width tail lamp in favour of a more compact design with gloss black elements.
Mechanical changes include three 2.0-litre diesel engines with 150hp, 190hp and an EcoBlue range-topper with 238hp.
Orders in the UK will open in autumn 2018, with first deliveries in early 2019.