Ford Focus RS long term test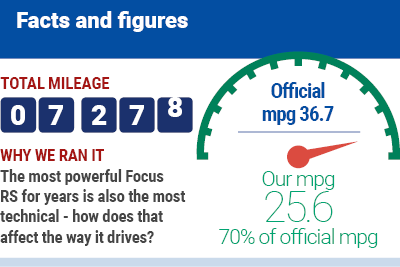 Ford's ultimate hot hatch left its mark on the team
The story of our Ford Focus RS...
Update 1: Welcome
We're going to run a Ford Focus RS for three months

Once you've stripped away the spoiler, big-bore exhaust pipes and Recaro bucket seats, the main attraction of a fast Ford Focus (and indeed most fast Fords) is the balance of performance and everyday usability. The speed is important, but equally vital is the ability to fit child seats to the back row or get a new lawnmower in the boot.
Previous ST and RS versions of the Focus have slotted into this mould perfectly; weekday racers and blast-to-the-train-station entertainers that settled down into the rigours of errand-running or family life on the weekend.
This new Ford Focus RS is the fastest and most extreme version of the breed yet. It has 345bhp, an all-wheel drive system and can race from 0-62mph in 4.7 seconds - so it's fair to say it's got the performance side of things sorted. But does that hike in speed mean compromising its everyday charm?

We've got the keys to one of the most exciting hatchbacks the Blue Oval has ever produced with the intention of answering just that question.
Typically it was delivered in the pouring rain, as you can see from the picture. A finickity sports car would be grounded by such weather - not a problem for this all-wheel drive Focus.
Make sure you check back here regularly to see how we're getting on. We'll also be tweeting updates from @ParkersNews using the hashtag #RSlife.
By Adam Binnie, New Cars Editor
---
Update 2: Calculating fuel economy
Let's get this out of the way early on - how much does the RS cost to run?

Without wishing to harpoon the bubble of excitement surrounding this Ford Focus RS in only the second update, we need to do some housekeeping.
Our long-term test cars are subjected to a rigorous gamut of evaluations, including a fuel economy check (gallons used divided by miles) calculated without using the car's internal computer for accuracy.

Seeing as the old Focus RS featured a characterful 2.5-litre, five-cylinder engine, and this one makes do with a smaller four-cylinder job, we're expecting the trade-off to be found at the petrol pump, but only time will tell what difference this new engine will make.
If you can't decide whether the running costs of the RS (36.7mpg claimed) make it prohibitively expensive compared with a standard car or even an ST (41.5mpg claimed), keep an eye on the figures at the bottom of each update - we'll add new ones every time we fill up.
Delivery mileage: 1,856
Fuel economy: 36.7 (claimed)
By Adam Binnie, Deputy Road Test Editor
---

Update 3: First impressions
The Focus RS starts to get under our skin

I've had a pretty packed couple of days in the Ford Focus RS on a variety of different roads, including a long motorway cruise, some weekend family-errand running and a couple of B-road blasts thrown in for good measure. Here are a few first impressions.
Focus RS vs Mercedes-AMG A 45
Going to Silverstone for a Mercedes-Benz event seemed like the perfect opportunity to stretch the Ford's legs. I knew it would be good on the smaller roads leading to the motorway but I didn't realise it was such a decent cruiser. The car feels super stiff but on the flip side it's quite forgiving, plus the cabin is quiet while you're idling down the motorway in sixth gear. You could commute in it without much bother.
With the Focus parked up I had the opportunity to drive one of its big rivals, a Mercedes-AMG A 45. This hot hatchback costs £10,000 more than the RS and packs an extra 30bhp. Like the Ford it has all-wheel drive but is also automatic only.

Considering the RS does pretty much everything the AMG does for £10,000 less, it's hard to argue against its value for money. However, you'll notice that penny-pinching in the cabin, where the AMG is considerably nicer. It also feels a lot more serious than the RS. At their core these are similar cars but they'll appeal to very different people.
All-conquering all-wheel drive?
We've also been clocking up some serious miles along the windy roads around our Peterborough HQ where the RS feels so at home. It's a fantastic driver's car, with stacks of grip, plenty of communication at the limit and ferocious power delivery.
The big question mark hanging over the RS is the all-wheel drive system. It adds grip in the corners meaning you can carry more speed, but this doesn't always increase driver enjoyment (VW Golf R, we're talking to you).
Not the case in the RS, which feels balanced and adjustable, and vitally more alive than its car-on-rails rivals. We'll give the RS a full performance shake-down later, but it's been great fun so far.
Versatile driving dynamics
Some slightly calmer drives around town highlighted a rather large turning circle but few other problems. Balancing out the easily accessible pace is an affable nature at low speed - keep the revs down and you can potter around quite happily.
In fact if it wasn't for the hard suspension your passengers wouldn't guess what they were in - the VW Golf R with its sophisticated adaptive dampers does a better Jekyll and Hyde job though.
Best of all because it's a Ford Focus, an ISOFIX child seat goes in to the rear row with ease and there's loads of room for passengers. You get all that bonkers performance and drift-mode silliness in a car that's just as happy loaded up with the family on a drive to the garden centre to pick up loads of essential supplies.

I've got a few annoyances though - the optional Recaro seats are set quite high, the multimedia system still lags behind its rivals, and having to do 100-point turns in narrow streets is an unwelcome reminder of how the RS would rather be up a Welsh mountain.
In reality though, you won't really care about any of those - you'll just want to drive. It's actually agitating having the RS sat outside your house not being driven. You'll find excuses to take it out, and while out will end up taking twice as long as needed because you found a good road. The last time I felt this way about a car was (rather tellingly) Graeme's Ford Fiesta ST long termer. Apparently there's just something about a fast Ford that gets under my skin.
Delivery mileage: 2,145 miles
Fuel economy: 25.5mpg (calculated)
By Adam Binnie, New Cars Editor

---
Update 4: To Recaro, or not to Recaro...
Are the optional chairs worth the extra cash?

After spending some time with the Focus RS, we've been paying attention to the optional Recaro 'shell' seats fitted to our car. They look great and play a big part in differentiating the RS cabin from a standard Focus. They would be top priority on the options list for some of us in the Parkers team too, but the reality of this £1,145 option hasn't taken long to sink in...
Open the door and you'll spot the sizeable height difference between the seat base and the floor – especially over a typical Focus. And once you realise how you haven't had to lower yourself onto the seat quite as far as you may have expected, you'll find that they're fixed-height.

Anyone used to perching in a Fiesta will be in familiar territory here, while taller drivers might find themselves struggling for headroom - especially if you plan to wear a helmet for a track day. Unfortunately smaller drivers may still struggle to see over the wheel too…
If you are lucky enough to suit these seats however, they are comfortable enough to use. With enough support to endure long journeys and a shape that doesn't destroy rear legroom, there won't be much compromise over the standard items.

Just bear in mind that these don't come with heater elements fitted either so you'll be in for colder winters...
We'll delve into the other options as time goes on, but we have spotted a particular one which we would love to have.
If you're lucky enough to live in France, Ford have released a 50th anniversary special to commemorate the GT40 winning the Le Mans back in 1966. Finished in black just like ours, we've now developed a sense of envy thanks to those stripes.

If those Recaro shell seats aren't for you, how would you feel about a set of stripes instead?
By Lawrence Cheung, Web Producer
---
Update 5: Black and blue
Our Focus RS changes colour

No prizes for noticing that our once Shadow Black Ford Focus RS is now very much Nitrous Blue. Unfortunately, our last RS suffered a cracked bumper from a minor bump on a roundabout and to prevent us from being RSless for too long, Ford replaced it with another.
Seeing as I didn't get to drive the first one, piloting EK16 LNP was plunging into virgin territory.
Will it impress a naysayer?
I have to post a disclaimer before I say much else – as a teenager immersing myself as much as was humanly possible in cars, the allure of hot hatches passed me by. I was much happier lusting over the sales catalogues of something grandly Gallic – read "large, French saloon" – than I was with wings, splitters and spoilers plastered all over the bodywork.

Surely now, as a mature-ish 40-year-old (yes, the camera does lie, clearly), something as rabidly wild as the third iteration of Focus RS is going to be as appealing as Michael Gove quaffing tartiflettes at a Boris Johnson soiree.
Nestling down into those Recaro shell seats proved issue-free, although as we previously reported, they're set too high. They're one of the few lifts the interior's got; save for some blue flashes on the instruments, the rest feels – disappointingly – ordinary. Perhaps therein lays its charm.
The RS's speed can't fail to impress
Starter button depressed, clutch pedal released and throttle floored. My God this thing shifts, feeling every bit as quick as its 4.7-second 0-62mph time suggests.
It's not simply the speed, though. There's a sonorous snarl barrelling down the twin drainpipe exhausts, popping and crackling as you sharply lift off the throttle. It's intoxicatingly laugh-inducing to the RS's occupants, making drivers of overtaken cars shake their heads in disdain in equal measure.

Who'd have known I'd enjoy hooning around so much? Averaging a pitiful 20mpg from my first tank says much…
So the handling? In all honesty I need more time in the 2016 Ford Focus RS before I can make a clearer judgment, but early impressions are mixed. While I was pleasantly surprised by how effective the traction and damping were, the whole Race and Drift mode thing left me feeling cold.
They work effectively, but those initial encounters felt contrived and artificial, as though I wasn't wholly in control of how the RS was responding to my inputs. So, a longer drive's required and I can hear Scotland's North Coast 500 calling.
Overall mileage: 4,673 miles
Fuel economy: 20mpg (calculated)

By Keith WR Jones, Continuity Editor
---
Update 6: Is it a proper Fast Ford?
We hand the keys to our resident RS expert

The Ford RS badge dates back to the late 1960s so any new car wearing it not only benefits from some serious heritage, but adds to it as well. Has this newest addition, the Ford Focus RS, earned a place alongside a collection of legends like the Sierra RS Cosworth, Escort RS Mexico and Fiesta RS Turbo?
To answer that question we enlisted the help of our own Fast Ford expert and former Max Power man Percy Lawman. He's owned (and fettled) no fewer than five RS Fords going back nearly 35 years, so it's fair to say he knows his RS from his elbow. Here's what he thought after driving the Focus RS…
My cars from the 1970s and 80s included an extremely loud Burton Escort RS2000, first- and second- generation Escort RS Turbos and both a "whaletail" Sierra RS Cosworth and a Sierra Sapphire Cosworth 4x4.

At first glimpse this Focus RS looks a little lost when sitting among some of the other metal in the Parker's car park, but on closer inspection you can see that something special could be hiding under the wrapper. Hinting at this are RS logos etched into the rear spoiler, RS badging on the front grille and rear tailgate and a set of 19-inch black alloys.
Subtle looks under the bonnet too
Under the bonnet I'm busy looking for all the gizmos that older RS cars are famous for. Sadly it's something of an anti-climax as the engine and most components are hidden under a top-end cover with a rather uninteresting Ford Performance badge. Braided hoses, anodised fittings and a large intercooler seem to have been forgotten. Maybe I was spoilt with the wonderful induction noises created by twin side-draft 45 Webers, monster K&N Filters and the four-inch straight-through stainless exhaust system on the mk1 Escort, or the amazing bright red rocker cover and top-end of the Cosworth-engined Sierra – they were powerplants to drool over.
Open the doors and the cabin is comfortable but the eye-popping features I expected didn't materialise. The Recaro seats are comfortable but I missed the tall, raised side sections of the old RS bucket seats. These are also set quite high, seemingly demoted to an almost semi-sports position. The turbo boost gauge looks lonely and a bit diminutive compared with the older cars, which had a larger three-gauge set-up showing oil temperature and pressure. The in-yer-face reminder of how much turbo boost you are running is not the order of the day here.
On the road
So far I'm not convinced but 35 years of development and technology could easily change my opinion. Let's fire her up. On tickover the slightly burbly exhaust note puts a grumpy look on my face - I keep thinking 'Janspeed' and 'Burton Performance'. What seems to be missing is something of that old-school bad-boy element. You feel it's got some attitude but is reluctant to show it.

Out onto the road and the clutch - although slightly heavier - is easy to use, unlike the on-off cerametallic paddle ones I had fitted to both 80s Sierras. I spent a few minutes playing with the different engine and handling modes while cruising down some of the local minor roads to get the initial feel of the car.
At low speeds the Focus RS feels somewhat lumpy but the faster you go the better it gets and the more feel is fed back to the driver. I took two corners faster than normal, and the RS felt extremely confident with no hint of getting out-of-shape, and an even quicker run produced the exact same result. The car is wonderfully positive with a superb all-wheel drive system – almost guiding itself round corners like it was following a radar track. It's very easy to drive, you point it where you want to go and the car does the rest.
I then take to a faster B-road with longer sweeping bends – the RS takes it all in its stride making very light work of the task in hand with the 235-section Michelins feeling extremely sticky. Enter the requisite agricultural vehicle that appears from nowhere - on braking the vented Brembo discs work exceptionally well and reminded me of my six-pot AP brakes fitted to the Sierra Cosworth – you could stop it on a sixpence. That's old money for those born after 1971.

Time for an overtake. This is where owners of older RS turbocharged models would cringe at the lag on some of the earlier cars. On my own Sierra "whaletail" with a standard Garrett T03 turbocharger fitted it felt like you waited a lifetime for anything to happen – then all hell broke loose with the dump valve violently hissing at you as you hit the limiter. Not so with the Focus, where the power is pretty well instantaneous. Floor the throttle and it's off. Changing up to about 5,500rpm produces a double crackle from the exhaust – a pleasant reminder that it's not just another Focus diesel repmobile.
The Parkers Verdict
A direct comparison of the Focus RS against any of my cars is a bit difficult because of the changes in technology. After an hour or so in some historic RS models and you'd feel like you'd just gone a few rounds with Mike Tyson - it was a real battle – not so with the Focus. It's not a fight but a combination of man and metal working seamlessly together and the results are quite stunning.
Overall I think it's a bit subdued and subtle from the outside - you could park it next to a VW Golf GTI and it wouldn't stick out like a sore thumb. When you drive it though it really shows its strengths – it definitely deserves the RS badge.
Of course, you could go the extra mile and create a real bad-boy version with the enhanced array of aftermarket upgrades and goodies which have always been an option for the RS range. How does 500bhp sound?
By Percy Lawman, Production Manager
---
Update 7: The family test
How does the Focus RS fare as a family car?

In our last report we asked whether this Ford Focus deserved its RS badge, and our Fast Ford expert Percy Lawman decided that it most certainly did.
Now though we're asking whether it still deserves to be called a Ford Focus. In essence it's a five-door family car with a big boot and space in the back for passengers, regardless of what's under the bonnet.
Has this core value been corrupted by the pursuit of speed and the ability to drift? This time we've called on Mother&Baby web editor and closet petrolhead Sophie Knight to investigate...

Could the RS be a family car? On paper and in theory, yes. In Normal mode, the ride was comfortable, the speed was impressive, but you could pop to the shops with your toddler in the back without drifting around corners and roundabouts. The ride might be a tad too hard for a newborn, however, even in its softest mode – and in any of the firmer settings, I would definitely recommend investing in a good bra.
The rear doors don't open particularly wide, so getting a toddler in and out could have been easier. But his car seat fitted in easily, with plenty of little-leg room.

The boot space, naturally for a four-wheel drive, was compromised, but our pushchair fitted in (it's a Cosatto Fly – it folds up with one hand, neatly, so doesn't take up too much room – and goes in the boot of a Fiat 500).

The speed of the RS is impressive and this motor made me smile every time I drove it, yet it's remarkable how it switches from being a supercar to a (relatively) standard Ford Focus at the push of a button. The way it handles corners is outstanding, and yes, finding somewhere safe to test out the 'drift' mode is certainly worth it, although the smell of rubber reminds you how much the tyres wrapped around the stunning wheels cost.

It seemed appropriate that the book I was reading just before testing out the Ford Focus RS was Roald Dahl's 'The BFG', as both feature whizz-pops and whizz-bangs. Ford missed a trick, though, by not adding the pops on the downshift – the sound was addictive and we certainly would've welcomed more of them. Kudos on the brakes, Ford, as they are almost as impressive as the speed – it's easy to come to a stop about half a mile before your junction if you forget just how good they are.

This could suit a family where half the time the car is used for commuting or running the children to nursery and the shops, nicely pootling along in Normal mode. Then after hours, at weekends, it turns into the sporty hot hatch for longer trips, impressing the speed demon inside, and reminding you that having children doesn't have to kill your adrenalin addiction. You drop the kids off at their grandparents', flick the switch into Sport, drop it down a gear and whizz-pop your way into the sunset.

In reality though, would we bother? When you've got little ones, would you invest in a £35k car that you will not be able to prevent being covered in jam and baby wipes and all the necessary crumbs that go hand-in-hand with them? Would you happily spend £1,000 on new tyres after wearing them out razzing around after the school run, when that could be spent on a new pushchair, car seat, baby monitor and school shoes? Possibly not. But it would certainly make the journey home from school more fun.
Overall mileage: 4,901 miles
Fuel economy: 22.5mpg (calculated)
By Sophie Knight, Mother and Baby Magazine
*Thanks to Cosatto for lending us the pushchair and car seat for this feature.
---
Update 8: from ST to RS - turning up the volume
How does the Focus RS compare to a Focus ST?

As a current Focus ST owner, I can't deny that the arrival of the RS at Parkers has been quite an exciting one. The added visual drama, four-wheel drive system and extra 100hp over the ST has certainly built up anticipation that's rarely seen over a humdrum Ford Focus.
The thing is, I'm expecting the RS to be better, but by how much - considering the extra £6,000 it costs over an ST-2?
Cue the RS. Thanks to its gaping grilles, extra air intakes, big rear wing and twin exhausts, the yellow ST suddenly looks a touch more ordinary when parked next to the bright blue RS. Both cars are sitting on optional 19-inch wheels but the ones on the RS look more special too, and despite it lacking the wide, flared wheelarches of its predecessor, there's enough here to evoke a love-or-hate reaction.

Open the door and it's more of a mixed bag; if the RS has a pitfall it will be found in here. If you stick with the standard seats, you'd be hard pushed to notice any difference in here from the ST, save for the blue stitching and dials. For some, the eye-catching yellow inserts of the ST's seats look more special and further brighten up the interior.
That's enough looking, get driving
After spending far too much time inspecting the RS, the starter button is finally pushed and… well, it's louder inside but you soon realise this is still an everyday hatchback. It's the same with the ride too; you'd expect the suspension to be bone-jarringly firm but in Normal mode, it's very similar to the ST on its optional 19-inch wheels.
Initially the RS feels like an ST Plus in many ways; put your foot down and thanks to the all-wheel drive system putting its power down evenly, the RS is less uncouth than the ST under acceleration. Funnily enough, the sensation of speed isn't quite as brutish as the figures on paper suggest.
It's only when you reach a few bends that you notice where the big difference is. There's an extra depth of excitement thanks to quicker steering that only requires two turns lock-to-lock (compared to the ST's 2.75 turns), and the all-wheel drive system brings a greater level of confidence, especially in the wet.

You can sense where your money goes here and the sum of its parts results in a drive that leaves you tingling afterwards. It's not perfect though. The exhaust that pops and bangs when hot is partially successful in adding extra theatre, but the additional augmented sounds on the inside is less so. We suspect this comes from the speakers but it sounds worse than the ST, being too artificial.
Would I consider trading in the ST?
If finances would allow, it would be a resounding yes. The Focus ST packages a good balance in everyday usability with hot-hatch performance, but the Focus RS brings a welcome dose of fun for your juvenile side that's largely absent in the more mature ST. The longer-lasting appeal of the RS is more than skin deep.
Overall mileage: 5,270 miles
Fuel economy: 23.7mpg (calculated)
By Lawrence Cheung, Web Producer
---
Update 9: Mountune upgrade, the easiest decision in the world?
We reckon the optional Mountune pack is a no-brainer

Back when we ran a long-term Ford Fiesta ST-3 we described the £599 Mountune performance upgrade as "a must-have for any enthusiastic Fiesta ST owner."
Handily the Blue Oval has just announced a similar power hike for the already quite powerful Focus RS. Hand over £899 and in return you'll get an extra 25hp and 40Nm of torque.
This takes the headline figures of the Focus RS to 375hp and 510Nm of torque, good enough for a 0-62mph time of 4.5 seconds - two tenths quicker.
Best of all, you retain your Ford warranty (three years/60,000 miles from the original date of purchase) and the work takes just an hour and a half.
We'll reserve full judgement until we've driven one but on first impressions the Ford Focus RS Mountune feels like an absolute no-brainer.
Adam Binnie, Deputy Road Test Editor
---
Update 10: Better than a Fiesta ST200?
Ford's smaller hatchback is much cheaper but is it a tempting rival?
Here's an odd problem: someone is offering you the keys to a Ford Focus RS or a Fiesta ST200 - which do you choose?
This is the situation in which we found ourselves for a couple of glorious nights this month thanks to a diary clash with our long-term RS and the arrival of a Fiesta ST200, wearing inexplicable German numberplates.
Although not natural rivals, the two fastest versions of Ford's brace of current hot hatchback heroes are actually quite similar in their offerings, with impressive pace, entertaining handling and innate practicality too.
As such it was genuinely difficult deciding which to drive, despite the smaller car being nearly £10,000 cheaper, quite a bit slower and nowhere near as technically impressive as the all-wheel drive Focus.

The Fiesta ST is a thorn in the side of many performance cars because it's so good and so cheap (relatively speaking) - it's not so much what it physically offers, but the amount of fun it somehow manages to deliver at low speeds. And that's the key - you don't have to be really going for it to enjoy this car, so you can enjoy it for a larger proportion of time.
You might have noticed that this Fiesta is a shade of fashionable primer grey. It's the only colour you can have an ST200 in, and it denotes a number of changes under the bonnet. Chiefly there is more power (200hp, predictably), shorter gearing and some changes to the suspension that have now been taken on by the rest of the ST range. This will cost you £22,745 - a cool £5,000 more than a standard ST-1...
In terms of the way both cars drive, the smaller Fiesta is certainly missing the outright acceleration of the Focus, but it delivers its power in such a punchy, characterful way that I didn't really miss the faster car. Handling-wise the Focus is grippier but the Fiesta felt more balanced, neutral and ultimately involving when carrying speed into a corner - you actually feel like you're in control rather than some microprocessors and a special all-wheel drive (AWD) system doing all the hard work for you. You also don't need to be going hell-for-leather to enjoy it.

I expect the ultimate decision will come down to whether you need the extra space and doors of the Focus RS, and whether the larger car's additional speed and AWD grip appeal more than the Fiesta's scrabbly front-wheel drive nature and keeness for lift-off oversteer - the term used for the playfulness of the rear end when you come off the accelerator mid-corner.
Look at it this way though: a similarly powered ST-1 Mountune can be bought for well under £20,000. That's a lot of change from the £30,000 Focus RS for a car that is in a lot of ways more fun to drive.
By Adam Binnie, Deputy Road Test Editor
---
Update 11: UK drive vs the launch
How has our impression of the RS changed since it was launched?

"You never forget your first RS launch," said the Ford PR person as we stood in an office overlooking Circuit Ricardo Tormo just outside Valencia, Spain. Safe to say he was right about that.
The roads had been stunning, the track spectacular and a thoroughly good time was had by all. We even got to try Drift Mode in controlled circumstances (not something we were comfortable doing on the road over here), and consequently destroyed some tyres - as you can see below.

It's a funny thing, this feature, because if you know how to slide a normal rear-wheel drive car then you'll struggle to get the RS to skid. You have to forget what you know and just bury the throttle with some steering lock on, letting the sophisticated rear axle do its thing.
As a keen track driver I found it more fun, and more rewarding, to use the Race Mode setting and go very quickly. It's possible to have the RS moving impressively in this setting too if you switch off the traction- and stability control systems, but it requires a lot of commitment and confidence, even on a race circuit.

As you can imagine, with a launch event like that it would have been the easiest thing in the world to ignore the fastest Focus's foibles altogether and wax lyrical, but alas as ever on Parkers there were pros and cons to my full review.
So armed with my initial observations of the car, I was excited to grab the keys in the UK and see how my initial review translates onto UK roads. I'd planned a drive to the Cotswolds to find out.
Riding rough on our roads
The first thing to say is the ride quality is firm. In fact, on some poorer roads it's verging on choppy. However, the neat trick Ford's chassis engineers have pulled here is to retain the Focus's wonderfully playful set-up but sprinkle just enough compliance into the suspension that it retains composure on poor road surfaces.

I have to admit to being a little sceptical about how the Focus RS would drive on pockmarked British roads. Around Valencia the roads were top-class, with glass-smooth surfaces and not a lot of traffic, so it was difficult to judge how a car will ride on the horrors we have over here – such as the A14, which comprised the first stint of my trip to the west.
Focus RS gives us cabin fever
With cruise control engaged it was a pleasant enough experience, though I did wish the system was radar-guided so it could lock onto the speed of the car in front. The A14 is notorious for being stacked with lorries travelling between the M6 and the large container ship ports on the east coast, so speed does vary considerably.
In fact, the whole cabin lacks a bit of sparkle. The Focus range is just starting to feel its age a little now, and more recent cars – such as the new Renault Megane– are now a clear step ahead. I found the optional bucket seats too high as well, just as I mentioned in the initial review.

But those are small niggles on what is otherwise a spectacularly good car. In some ways it feels like it was designed specifically for a British B-road; the handling is incredible and matched perfectly to the engine's output. Heading into the picturesque countryside of Gloucestershire towards my destination I was giggling like a schoolboy within minutes. This car has an inherent eagerness. It just begs you to play.
We want to make more noise
In fact, my only gripe about the way the RS drives is the engine note: with performance like this I want it to sound better, especially from the inside. It needs to be louder and more purposeful, ideally with more popping and banging when you lift off the throttle.

Does that make me sound like a child? Well that's what this car does to you.
I'm pleased to report that my assessment that "no other hatchback drives this well" still applies. Only the vastly more costly BMW M2 comes close, and technically that's not a hot hatch at all, despite being based on the 1 Series platform.
By Gareth Evans, Road Test Editor
---
Update 12: Ford Focus RS to North Coast 500
We give the RS a proper send off
Drives to Scotland have been a regular part of my life since childhood, but the run up in the Ford Focus RS was going to be especially memorable as I was tackling the North Coast 500 for the first time.
That said, I wasn't expecting a stop for a tank of super unleaded at the M6's Southwaite services, just shy of the border, to be the first event on the trip to leave an indelible mark, but encountering 50 Belgian Hells' Angels blocking the exit road was an interesting moment.
It was with relief that the remainder of the drive to my Inverness base was uneventful. Well, as uneventful as it's possible to be in an RS.
What is the North Coast 500?
Speak to your friends who are really into driving and they'll be the exception rather than the rule if they've not heard of the NC500. Succinctly, it's a 500-mile (okay, 516 in reality) loop heading west from Inverness, over the Applecross Pass and Kylesku Bridge, across the northern coast and back down from John O'Groats.

Even a cursory glance at the squiggly ribbon of the layout on a map should be enough to whet your appetite.
Naturally, as someone who lives and breathes cars, I first heard about the NC500 on that mainstay of BBC Sunday night viewing – yes, Countryfile. Unsurprisingly, the gist of its coverage centred around walking parts of the route or even – shudder – cycling it.
Attention grabbed, my thoughts were instead about what rapid point-to-point car would be an ideal choice to lose my North Coast virginity. As soon as I knew the Focus RS was coming in to the office I realised I couldn't let the opportunity pass.
Stop and go
It's too simplistic to describe this third iteration of Focus RS as simply another fast Ford, as there's much more to it than 350hp-worth of rapidity. If you're going to drive quickly, you need to stop sharply and the standard-fit Brembos were more than up to the job, displaying only a mild amount of brake fade during a particularly eager – and twisty – descent down the Applecross Pass.

That torquey EcoBoost engine's flexible, with precious little turbo lag in evidence. It'll trundle along at 40mph in sixth gear – keep above that level and it's almost like driving an automatic, although if you want to hasten your getaway from bends at that speed then it's necessary to drop a gear or two.
It's not just 'go' and 'whoa', either, this thing corners with perplexing levels of adhesion powering through and out of corners where other cars would still require speed being scrubbed off to ensure you didn't wash wide into oncoming traffic.
Not that there's much traffic along the NC500, and it's to Alanis Morissette levels of irony that almost every car you do come across is along the many, many miles of single-track road, punctuated with passing places that some other drivers are seemingly oblivious to.
Four driving modes
So, that caveat? That's the RS's driving mode button alongside the gearshift and the effects of pressing it.

Whenever you restart the Focus it's defaulted back to Normal mode, presumably precautionary, but a minor niggle all the same, once you've found the set-up that delights you the most.
It's undeniably brisk in Normal but soon begins to feel too safe, too grippy, too assured, too much "I'm ready for the next level."
That next level's Sport, with a welcome increase in steering weighting, throttle response, slip angles through corners and aural accompaniment. You can turn off the traction control completely as well as firm-up the suspension, but save the former and ignore the latter. The stiffer damping setting might work well on track but up a winding Scottish mountain road, it'll have shaken your teeth out before you've bitten into your first Empire Biscuit.
During the deluge that seemed to follow me as I traced the NC500's topography for much of the journey, Sport made the most sense, allowing a little rear-end waywardness without feeling too twitchy.

When the roads were dry, the summer sun beating down on the coarse asphalt helping to generate heat in the tyres, one mode out of all four stood out as being my RS Happy Place: Race, with traction control off, and the dampers on soft(er); all-wheel drive and electronic stability software working in unison for the common goodness of fun.
What a joyous hoot of a thing to be in charge of, ripping into corners, the rear of the car sliding out wide in a deliciously adjustable fashion, drainpipe exhausts crackling away, barking encouragement to press on that fraction harder.
I'll confess, it did feel a little synthetic during my first encounter, a bit too digital for me in a car I was hoping would be steadfastly analogue, but ultimately times change and if you don't progress with them you're left behind. Learn to have faith in the car and you realise it's still at your command, albeit with computer assistance.
And the fabled Drift mode?
The Focus RS's ability to be hooned, accompanied with billowing tyre smoke as the rubber screeches in protest is well known, but it wasn't something I expected to be able to take advantage of across a series of hairpins, switchbacks and steep gradients.

That was until I reached a deserted parking plateau along the Applecross Pass. Rain had doused the ironed-out surface, bestowing it with a Steinway piano-esque glossy blackness. Were the conditions right for playing the Ford?
Spot selected, I ushered the Focus into position, turned the steering lock full to the left, engaged first gear and selected Drift. Clutch out, throttle down and behold, a perfect – okay, not at all bad – double pirouette, all within a circle a Smart would have struggled to turn right around in.
Not quite how Ford's engineers had envisaged its use, I'm sure, but grin-inducing nonetheless.
Is it all glowing?
No car's perfect and spending over 1,000 miles of close-quarter driving with the RS revealed a few aspects that didn't enamour me as much as the driving experience itself did.

Fast Fords have always been supercars for the everyman but the RS's interior feels so ordinary – save for those excellent, but optional, Recaro shell seats at £1,145. Some blue flashes on the instruments and similarly sapphire stitching barely lift it from a mid-range Zetec. Would a leather-topped dashboard have added much to the unit price?
What else? Well, short of the foibles that prevent the regular Focus being top of the family hatchback class – cramped cabin, short on boot space, fiddly Sync2 multimedia system and lower cabin quality than some rivals – there's little that's RS-specific that grates.
You could argue that the roar from the tyres is irksome when you're simply plying a motorway but if they were narrower there'd be significantly less grip for cornering.

In an ideal world I'd like an even softer suspension setting, for when the road surface is especially broken and undulating. Greater compliance wouldn't need to make the RS all floppy, just sufficient enough to soak up the worst ruts and stop my sandwiches from being vibrated onto the floor from the passenger seat.
Final thought
If there's even an ounce of you that enjoys driving then scratch that itch and head north, but like my next visit, endeavour to spread the trip over a few days so you can explore and enjoy the attractions en route.
Driving the North Coast 500 would undoubtedly be an epic experience in any car, such is the breathtaking beauty of the north of Scotland, but the Focus RS with its staggering performance, handling repertoire and visceral soundtrack amplify it.
What a location. What a road. What a car.

By Keith WR Jones