Mazda 3 review
Current Model
Sleek five-door handles fabulously, but isn't the most practical family car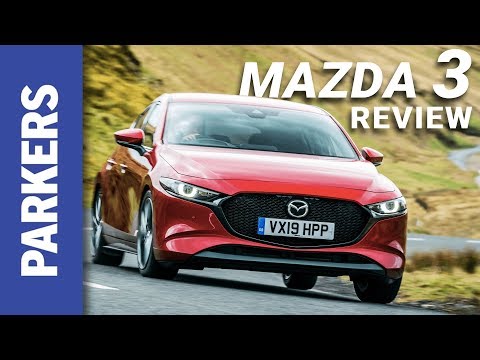 Enlarge
1

videos
Enlarge
64

photos
PROS
Engaging handling
Gorgeous looks
Well-built interior
CONS
Lacklustre entry-level petrol
Cramped rear seats
Large blind spots
PROS
Engaging handling
Gorgeous looks
Well-built interior
CONS
Lacklustre entry-level petrol
Cramped rear seats
Large blind spots
Mazda is unapologetic about doing things differently, and with this latest generation of 3 it's remained true to form. From its range of naturally aspirated (non-turbocharged) petrol engines to its striking styling, the 3 aims to offer buyers an alternative to the usual crop of European hatchbacks.
Competing in the family hatchback sector it's up against some tough rivals - the Ford Focus, Volkswagen Golf, Honda Civic and a competitive swathe of others. Mazda here is focusing on the driver, bucking some now industry-wide conventions in the process.
If the styling's a little too bold for you, keep your eyes peeled from October 2019 when the slightly more conservative four-door Mazda 3 Saloon arrives in showrooms. It's still rakish, but it only shares its bonnet and windscreen with its five-door stablemate.
Simple engine line-up
Just two engines were available from launch in May 2019 – a 122hp 2.0-litre petrol (Skyactiv-G) and a 116hp 1.8-litre diesel (Skyactiv-D), which was discontinued before 2019 was over. The petrol isn't turbocharged like most of its rivals but uses mild hybrid technology for a small pick-me-up. Given current trends, both of the 3's engines are quite large capacity given their low total power output, but by and large the diesel feels the more eager thanks to its maximum pulling power being generated at lower engine revs. Sadly, it didn't last especially long and was withdrawn from the line-up due to slow sales.

Thankfully, an alternative was added to the range in October 2019. It's Mazda's all-new petrol engine technology named Skyactiv-X. The engine has the tagline of providing the fuel efficiency and torque of a diesel mated with power and high-revving nature of a petrol engine - the Japanese firm's suggesting MX-5 performance with the economy of a Mazda 2.
Generously equipped Mazda 3 Hatchback
Every Mazda 3 available in the UK is armed to the teeth with safety technology first and foremost and every one even has a head-up display as standard, as Mazda says it means less distractions for the driver. Higher-spec cars have equipment like larger 18-inch alloys, a 360-degree parking camera system and electrically adjustable front seats.
In terms of practicality, the Mazda 3 won't win any accolades for the most space or most flexible interior. The rear seats are cramped for full-sized adults and the boot (in terms of outright volume) can be beaten by most of its significant rivals.