Hyundai i10 review
Current Model
Cheap to buy and run, with a cast-iron warranty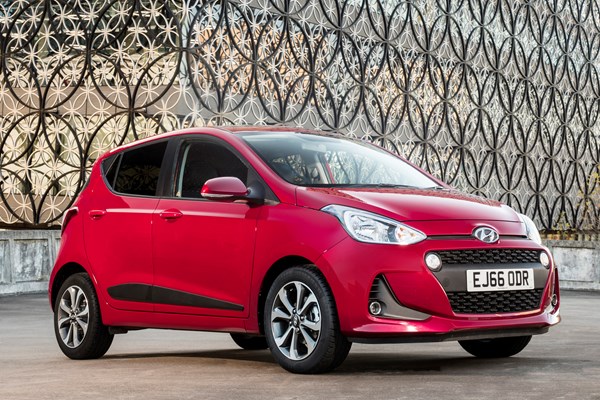 PROS
Spacious, well-made interior
Refined, economical engines
Feels like a larger car to drive
Comprehensive warranty
CONS
Smaller engines lacks power
Thirsty Automatic version
Lacks appeal for enthusiastic drivers
Base 'S' sparse
PROS
Spacious, well-made interior
Refined, economical engines
Feels like a larger car to drive
Comprehensive warranty
CONS
Smaller engines lacks power
Thirsty Automatic version
Lacks appeal for enthusiastic drivers
Base 'S' sparse

There's been a wholesale change in philosophy for the second-generation Hyundai i10, with the company claiming the new city car is one people will choose to buy rather than feel they have to.
In a class that includes the Volkswagen Up!, Toyota Aygo and the MG3, that's a bold claim. So is the i10 now no longer the emergency purchase it once was?
Hyundai's bigger baby
After selling 110,000 examples of the first-generation i10 in the UK since 2008, the firm would be forgiven for playing safe and keeping things as they were. Instead, it's opted to inject a more quality feel into the i10 and subsequently increased its desirability.
Despite this, the company managed to keep prices low, meaning that this more grown-up supermini competes with less rounded rivals – be it in terms of size or polish.
The Hyundai i10 has managed to appeal to a wider target audience while retaining existing customers too. Its own research suggests 31% of buyers in this category cite styling as their primary purchase factor and the i10 features the company's 'fluidic sculpture' design language. In other words, it looks more interesting than before.
The Turkish-built i10 was designed in Germany specifically with the needs of European customers in mind. Compared with the old car, it is larger, inside and out, as well as being more practical than before.
The Hyundai i10's mature driving experience
Further reinforcing the i10's grown-up feel are excellent dynamics, which ensure it's more stable and agile than before. The result is accomplished – it's not particularly sporty but feels like it could take urban crawls and motorway jaunts in its stride.

Combined with additional sound isolation materials and improved aerodynamics, you'd expect the noisiest part of the car to be the engines - except they're pleasantly hushed too, only becoming particularly audible under hard acceleration.
Although the interior's devoid of soft-touch plastics, it's all well-assembled, using good quality materials. Unusually for a car of this type the i10 has an almost complete absence of exposed metalwork inside.
Refined and frugal petrol engines
Backed up by Hyundai's impressive five-year, unlimited mileage warranty, the i10 is likely to provide years of faithful service. And with standard electronic stability control, tyre pressure monitoring and six airbags it should prove to be a safe place to be too, when put through the rigours of Euro NCAP safety testing.
Two petrol engines are on offer – a three-cylinder 1.0-litre, with and without BlueDrive fuel-saving measures, and a four-cylinder 1.2-litre. At 65.7mpg and 98g/km CO2 the 1.0 SE BlueDrive is the cheapest in the range to run.
On paper the new i10 is a sufficient enough leap forward to put the more established European players under pressure, but is it a convincing package in the flesh?