Hyundai Ioniq review
Current Model
The Ioniq delivers class-leading economy and efficiency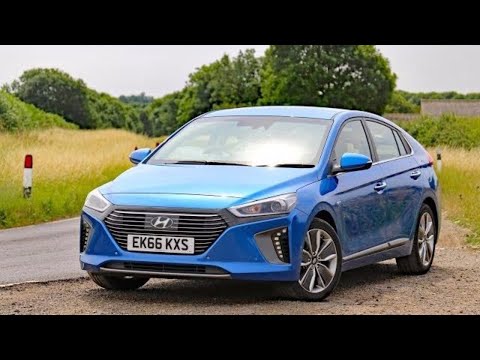 Enlarge
1

videos
Enlarge
51

photos
PROS
Extremely competitive pricing
Hybrid gets dual-clutch gearbox
Electric gets impressive range
Cheaper and better warranty than Prius
CONS
Hybrid still quite noisy, albeit works well
Electric inconvenience still not for everyone
Some interior plastics are unappealing
Prius still more efficient
PROS
Extremely competitive pricing
Hybrid gets dual-clutch gearbox
Electric gets impressive range
Cheaper and better warranty than Prius
CONS
Hybrid still quite noisy, albeit works well
Electric inconvenience still not for everyone
Some interior plastics are unappealing
Prius still more efficient
Hyundai Ioniq Hatchback rivals

The Hyundai Ioniq takes a unique approach to the dedicated hybrid and electric car market. A standalone model, distinct from the rest of the Hyundai range, the Ioniq is the only car in the world available in Hybrid, Plug-in Hybrid and Electric variants in the same bodystyle.
The Ioniq Hybrid combines a 1.6-litre petrol engine with an electric motor and a small battery pack, driving the front wheels via a six-speed dual-clutch automatic gearbox.
It is capable of travelling on electric power alone, but only for short distances – in most circumstances petrol and electric work together, boosting performance and (hopefully) saving fuel.
It is a direct rival for the Toyota Prius, and has similar aerodynamically optimised styling; the Kia Niro is based on the same platform and technology as the Ioniq Hybrid, but has more of an SUV-style appearance.
The electric battery-powered Hyundai
The Ioniq Electric has a much larger battery pack, a more powerful electric motor, a single-speed automatic transmission and no petrol engine at all. This means zero tailpipe emissions in motion. Planning ahead to make sure it's got enough battery charge for your next journey.

Since total range is a claimed 174 miles, and an 80% recharge is said to take just 23 minutes using a 100kw super-rapid charger, it may not be as inconvenient as you think.
A full recharge can be completed in a few hours using a domestic electricity supply. Rivals for the Ioniq Electric include the Nissan Leaf, BMW i3, Volkswagen e-Golf and Renault Zoe.
Ioniq: distinctive without looking alien
Both Ioniq variants have the distinctive, aerodynamically swoopy silhouette of an eco-car, but are intended to have wider-reaching appeal than the slightly awkward and wilfully 'different' looking Prius and Leaf.
Of the two Ioniq variants, the Hybrid has the more conventional styling, with a slatted grille and blue accents inside and out. The Electric version looks a little more daring, with a grey blanking panel in place of the grille at the front.
Generous observers might suggest gives it a Tesla-esque futurism. We'll let you decide. It also gets copper-coloured accents in place of the blue. Others may think it looks too much like an appliance.
Ioniq spec levels
The Hybrid is available in SE, Premium and Premium SE trim levels, the Ioniq Electric in Premium and SE. Fitted equipment is generous on both, with DAB radio, Bluetooth connectivity, cruise control and a rear parking camera as standard.

It gets an excellent sat-nav (with live updates, Apple CarPlay and Android Auto) included from Premium upwards. In fact, standard kit is so comprehensive, the only range-wide option available is metallic paint.
A 17-inch alloy wheel upgrade is offered for the top-spec SE Premium Hybrid, replacing the standard 15-inch alloys; the Electric comes on 16-inch alloys only, with no option to upgrade. Just remember that bigger wheels bring greater CO2 emissions and therefore tax bills...
Typically competitive pricing
The Electric version is cheaper and travels further on a charge than an equivalent Leaf, and the can be said for the EV and PHEV versions compared with their rival from Toyota.
Both versions come with Hyundai's five-year, unlimited-mileage warranty, with coverage for the battery components extended to eight years (albeit perhaps confusingly, this is limited to 125,000 miles).