View all Volkswagen Tiguan reviews

Volkswagen Tiguan Estate (2008 - 2016) review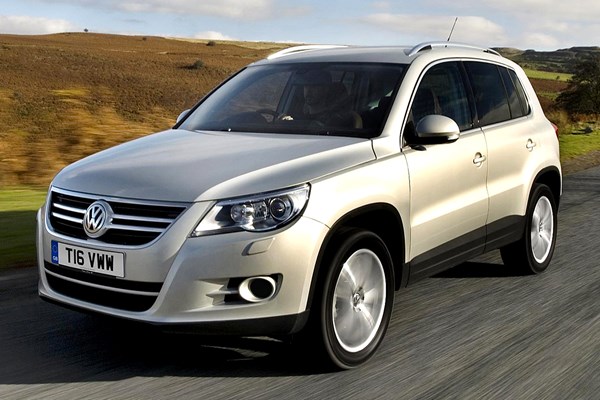 PROS
Neatly styled
Robust interior
Comfortable and safe on the move
Off-road version available
BlueMotion versions available
CONS
Alternatives are better value for money
1.4 TSI engine feels sluggish
PROS
Neatly styled
Robust interior
Comfortable and safe on the move
Off-road version available
BlueMotion versions available
CONS
Alternatives are better value for money
1.4 TSI engine feels sluggish
Volkswagen's first small off-roader is neatly styled, well equipped and powered by some impressive engines - it needs to be, as it's pitted against some of the best 4x4s around including the BMW X1, Honda CR-V and Ford Kuga. It looks similar to the Golf hatchback, although most of the main components are unique to the Volkswagen Tiguan, while inside it's well built, comfortable and there's plenty of room.
There's a choice of models with either two or four-wheel drive along with low emissions BlueMotion versions but whatever you choose, the Tiguan is really designed for on road use. However there is the option of an 'Escape' model which is fitted with underbody protection and shorter overhangs for added off-road ability. In June 2011 the Tiguan was given a minor refresh. There were small aesthetic changes to the exterior and interior, while some improvements were also made to the engine range.
Wide model choice
Volkswagen has added and widened the Tiguan range during its life so that it now includes several Bluemotion models. These versions offer better fuel economy and lower emissions than many rivals, with the 2.0 TDI in 109bhp form providing 53.3mpg and 139g/km carbon dioxide emissions. These are decent figures, though the likes of the Skoda Yeti and Mazda CX-5 better them with some ease.
At the other end of the scale, VW also offers the Escape version of the Tiguan that has improved entry and departure angles for better off-road driving. While this is of limited interest to most Tiguan buyers, it does mean the VW can compete on a more even footing with the Land Rover Freelander and Nissan X-Trail that have serious off-road credentials.
High list prices
Like many Volkswagen cars, the Tiguan is almost reassuringly expensive and goes a long way to justifying list prices that are, in many cases, higher than those of rivals. Buyers are reassured the Tiguan will recoup more of its cost when it comes time to sell, which helps to offset the higher initial prices, but there are now many very strong contenders for the Tiguan that are both cheaper to buy and of equally high quality and driving ability.
Read on to see the Parkers verdict in our full and comprehensive Volkswagen Tiguan review.