Jeep Grand Cherokee review
Current Model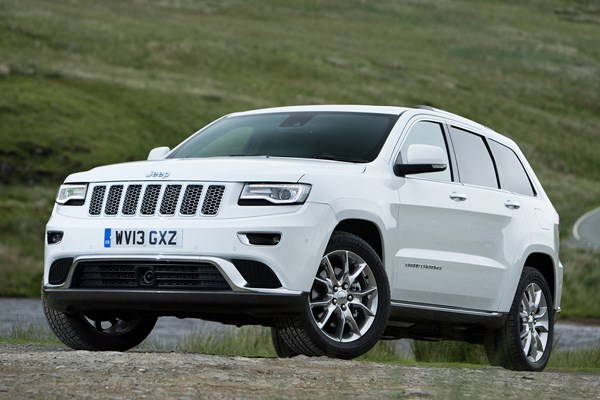 PROS
Strong performance
High equipment levels
Off-road capability
CONS
Low-rent interior
Poor fuel efficiency
Weak residuals
PROS
Strong performance
High equipment levels
Off-road capability
CONS
Low-rent interior
Poor fuel efficiency
Weak residuals
The Jeep Grand Cherokee is designed to offer on-road refinement with Jeep's legendary off-road capabilities. It's a car you should be able to use on a day-to-day basis while still being able to cut the mustard on the rough stuff.
People will recognise that it's a more modern, upmarket version of the previous model but underneath lies a new platform, that's shared with the 2012 Mercedes-Benz M-Class, as well as an all-new 3.0-litre V6 diesel engine. Fuel economy and CO2 emissions have been improved, while power and refinement betters the previous generation.
Despite the increased levels of on-road sophistication the Grand Cherokee's still very capable off-road. Inside the Jeep benefits from lots of equipment and a refined cabin but there are some low-quality feeling materials and a lack of detailing in areas.
It's hoped that the Grand Cherokee will appeal to successful business people, or those with active young families, but it's got some serious competition from the Japanese, German and British brands. Does the big off-roader offer up a winning combination or are Jeep's designs stuck in a rut?
Strong performance
The Jeep Grand Cherokee now comes with a 3.0-litre V6 turbodiesel engine that packs 247bhp or an entry-level version with 187bhp on Limited and Laredo models.
At its most powerful the diesel Grand Cherokee covers 0-62mph in 8.2 seconds and thanks to a very generous 550Nm of low and mid-rev shove it can overtake most slower traffic with surprising ease for a car of this size and weight. In comparison the lower-power model takes another two seconds to complete the same test.
Another new addition for 2013 is an eight-speed automatic gearbox - up from the previous model's five-speed unit - which is smooth in operation and suits the Grand Cherokee well in its bid to compete with the likes of the BMW X5 and Mercedes ML.
Only a little tell-tale diesel grumble from the engine lets the side down now and then.
Poor fuel economy
A combined fuel consumption of 38.0mpg might not seem too wicked for a large SUV, but when compared to its competitors the Jeep Grand Cherokee looks a little thirsty.
It's worth noting that despite the lower power, the 187bhp diesel engine Grand Cherokee doesn't emit less CO2 (198g/km) than the 247bhp model and economy is exactly the same too.
Other Jeep Grand Cherokee models: