View all Lamborghini Aventador reviews


Lamborghini Aventador Roadster
Review
Current Model
Opentop Italian V12 supercar is among the best of a dying breed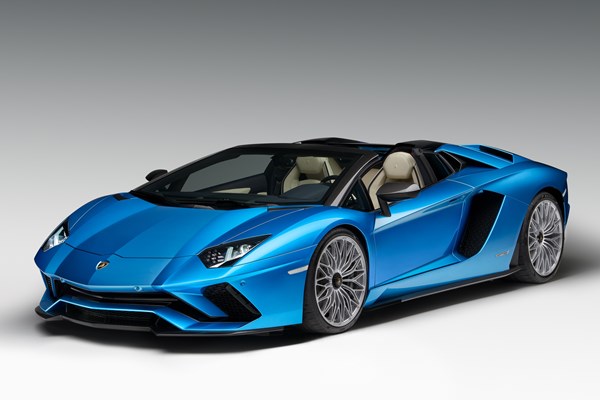 PROS
Fantastic performance
Stable handling
Facelift S far easier to live with
Looks like nothing else
CONS
Less practical than Coupe
Early models difficult to drive slowly
Roof panels need storing somewhere
Not much luggage space at all
PROS
Fantastic performance
Stable handling
Facelift S far easier to live with
Looks like nothing else
CONS
Less practical than Coupe
Early models difficult to drive slowly
Roof panels need storing somewhere
Not much luggage space at all
Verdict

The Lamborghini Aventador Roadster certainly makes a statement. Its space age looks and supercar dimensions appeal to those who are happy and willing to shout about their wealth.
It isn't really a car aimed at your average UK car buyers, in fact. The roof comprises a pair of panels that manually remove, and these are stored in the luggage space under the front bonnet. If you've done this, there's no space for luggage, so it's one or the other. Not exactly Skoda levels of practicality there.
Lamborghini's wonderful V12 engine…
However, that's not what the Roadster is about. Its main brief is as an excitement generation device, and it fulfils this impressively. Over the years since its 2012 introduction there have been a handful of versions – Roadster, Roadster Superveloce (SV), S Roadster – but all used the same howling 6.5-litre V12 and an automated manual gearbox with paddleshifters on the steering column.
This engine is among the very wildest currently available in any car, with a stratospheric 8,500rpm redline. With the roof off it's an almost otherworldly experience.

It's best driven using the paddleshifters rather than letting the gearbox change gears for you, though: otherwise the experience gets extremely jerky and a little unpredictable.
Aventador Roadster gets magnetic suspension, all-wheel drive
You don't need to worry about the handling. Thanks to huge tyres and all-wheel drive there is a fantastic amount of grip on offer, and the Aventador uses large brakes that'll stand up to any abuse. Its suspension is magnetic and as such can be adjusted almost instantaneously between a firm ride with no bodyroll and a relatively comfy set-up ideal for bigger-mileage trips.
Earlier models were a little unwieldy at lower speeds, however, but this was addressed in the 2017 facelift that introduced rear-wheel steering as standard on the S Roadster's line-up, helping its low-speed manoeuvrability as well as its stability when going quickly.
Well-appointed cabin
There's less space inside the cabin of the Roadster compared with the Aventador Coupe to make room for the roof mechanism, but most drivers should still be able to find a comfortable driving position with the electrically adjustable seat and steering wheel.

In fact, you get a fairly decent spread of equipment as standard, but the overwhelming majority of Roadsters will be personalised to the original owner's tastes. Lamborghini obligingly offers various colours and textures of bodywork, with satin and matte particularly popular, alongside painted brake calipers and varying styles of wheel design.
And then there's the carbonfibre. You can order all manner of trim in the lightweight black material, from the engine cover to valve cap covers.
The Parkers Verdict
The Roadster is slightly flawed in its conversion to an opentop bodystyle, but of course there's the added theatre of the wind in your hair as you stretch that brilliant engine to its full potential.
We can't think of many more thrilling ways to spend more than the average UK home costs.

Read on for the full Lamborghini Aventador Roadster review