Maserati GranTurismo review
Current Model
Attractive Italian four-seater coupe with V8 power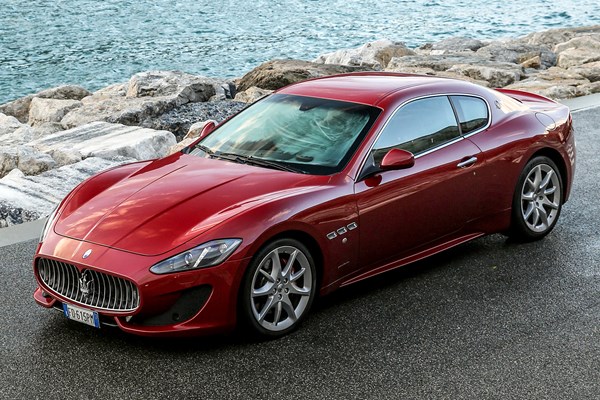 PROS
Stunning looks inside and out
Powerful and characterful engines
Impressive comfort and handling mix
Simple range with lots of personalisation
CONS
Not much driver assistance tech available
Drivetrain technology is getting on a bit
Rivals have more engine and gearbox options
Running costs are going to hurt
PROS
Stunning looks inside and out
Powerful and characterful engines
Impressive comfort and handling mix
Simple range with lots of personalisation
CONS
Not much driver assistance tech available
Drivetrain technology is getting on a bit
Rivals have more engine and gearbox options
Running costs are going to hurt
Maserati GranTurismo rivals

The Maserati GranTurismo coupe is the culmination of years of tradition. It's a rival to the Bentley Continental GT, Porsche 911 and Aston Martin DB11 – all cars with a significant past to call upon – and so has a mighty job to do just to compete.
But what of this history? Back in 1957 the Italian carmaker installed a large engine, sending power to the rear wheels, under the long bonnet of the four-seater A6 1500. And so began a heritage for building beautiful grand tourers, followed by the stunning 3500 GT and a number of other desirable vintage models that command big money on the classic car market.

Grand tourers are cars that are powerful, great to drive and comfortable over long distances – vehicles that really make you want to take the car rather than fly.
There's a convertible version too, known as the Maserati GranCabrio, with very few differences in spec and trim.
Stunning Pininfarina looks
And on sheer looks alone we'd say the GranTurismo fits the bill perfectly. Originally penned by famed design studio Pininfarina, which is also responsible for stunning cars from the likes of Alfa Romeo, Ferrari and Lancia, it has a timeless elegance to its sweeping lines that really catches the eye.
The only engine choice on offer since introduction in 2007 is a V8 petrol, available as a 4.2-litre in early models and latterly a 4.7-litre, with power up to 460hp in the fastest versions.

A number of variants have been on sale over the GranTurismo's 10-year lifecycle, including a performance-focused MC Stradale model that's due to go off sale in 2018.
However, you won't find much to complain about when it comes to driving, regardless of which one you choose. The GranTurismo's rear-wheel drive layout and brilliant engines lend themselves to that cross-continent jaunt almost perfectly.
Some of the gearbox options available over the years are a little lacking in involvement, but in the main this is a car that handles long distances with ease.
It helps that the seats are extremely comfortable, and the ride quality we've experienced on later cars equipped with adaptive Skyhook suspension has been very impressive indeed.
Maserati GranTurismo facelifted in 2017
An update was launched in 2017 to prepare the GranTurismo for a few more years on sale, with a view to replacement in 2020. The range was simplified, with just one engine and gearbox on offer – the 4.7-litre 460hp V8 with the six-speed automatic gearbox – and two trims: sporty MC and more luxurious Sport.
Just don't ask us why they're named that way…

Other notable improvements on this update include the addition of the 8.4-inch touchscreen multimedia system from the Ghibli, Levante SUV and Quattroporte, and a new Harman/Kardon speaker system as standard-fit.
Maserati GranTurismo MC Stradale
In 2011 a faster two-seater version of the GranTurismo, called the MC Stradale, was launched. This bespoke model featured a special transaxle gearbox, which means instead of being bolted to the back of the engine it sits on the rear axle, improving weight distribution.

Buyers of this highly specialist car enjoyed a 10hp power hike to 450hp and torque of 510Nm, representing a 20Nm improvement. Those numbers, along with a 110kg weight reduction over the GranTurismo S, made for a 0-62mph sprint in 4.6 seconds.
Other performance tweaks included carbonfibre-backed race seats, Brembo carbon-ceramic brakes, specialist Pirelli tyres and a unique suspension configuration.
Then in 2013 a four-seater version of the MC Stradale was launched.
Maserati GranTurismo Sport
Unveiled in 2012, the GranTurismo Sport featured just the 4.7-litre V8 motor with 460hp and 520Nm of torque, which made for 0-62mph in 4.7 seconds when fitted with the optional robotised manual transaxle gearbox mentioned above (known as MC Shift) and 4.8sec with the standard ZF six-speed automatic gearbox called MC Shift Auto.