View all Porsche 911 reviews


Porsche 911 Coupe
Review
Current Model
Porsche's raised the bar again with its iconic sports car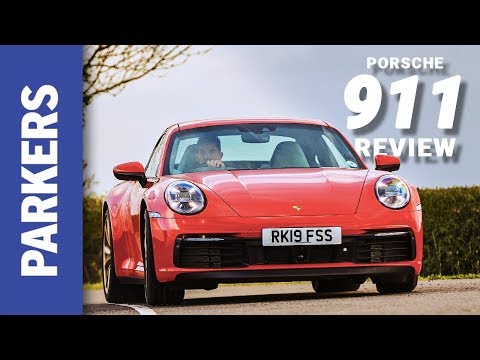 Enlarge
1

videos
Enlarge
0

photos
PROS
Appetite-whetting performance
Sublime, adjustable handling
First-rate build quality
Technology complements the experience
CONS
No manual transmission (for now)
Limited initial range of choices
Vast and expensive array of options
Does it look too similar to its predecessor?
PROS
Appetite-whetting performance
Sublime, adjustable handling
First-rate build quality
Technology complements the experience
CONS
No manual transmission (for now)
Limited initial range of choices
Vast and expensive array of options
Does it look too similar to its predecessor?
Other Porsche 911 models:
Verdict
You might need a doctorate in forensic analysis to know for sure, but this is the all-new eighth-generation Porsche 911 Coupe. No, honestly it is.
Stylistically, it's the most careful of automotive evolutions (again), primarily because 911 buyers want their car to be unmistakably a 911. Simple as.
Known internally as the 992-type, the Mk8 911 faces its traditional foes of the Aston Martin Vantage, Audi's R8 Coupe, Ferrari's 488, the Lamborghini Huracan Evo and the Mercedes-AMG GT, although none of those features the Porsche's historic rear-engined layout.
What exactly is the Porsche 911 Coupe?
There'll be a whole family of 911 variants over the coming years, but initially British customers are limited to the Carrera S and Carrera 4S Coupes, the latter with four-wheel drive.
It's safe to expect the Coupe range to be topped and tailed by 'regular' Carreras, as well as more powerful GTS, Turbo, GT3 and GT2 versions – but some of those won't make an appearance until the early 2020s.
Similarly, the Coupe won't be the only bodystyle on offer, with replacements for both the 911 Cabriolet and 911 Targa in the pipeline.
As with all generations of 911, the latest model has a pair of small rear seats that can be folded over to boost its luggage-carrying ability, while the styling gives a mild update to themes from the outgoing model, even though the bodywork is fresh. The newcomer's recessed, continuous LED light bar and electric pop-out door handles look particularly slick.
How fast is the Mk8 Porsche 911 Coupe?
Given that there will be significantly quicker versions of the eight-generation Porsche 911 Coupe to come, you'd be forgiven for imagining the launch-spec Carrera S and Carrera 4S might not be all that fast. Not a bit of it.
Porsche has tweaked the twin-turbo, horizontally opposed six-cylinder engine (think of it as a V6 with a 180-degree arc between the cylinder banks) to produce a rude 450hp, representing a 30hp increase.
This inevitably makes the new models quicker than their immediate forebears. Both versions complete the 0-62mph acceleration sprint 0.4 seconds faster than their predecessors: the Carrera S requires a scant 3.7 seconds for the benchmark, the additional four-wheel drive traction of the 4S shaving 0.1 seconds off that.

Opt for the Sport Chrono Package and you can slither a further 0.2 seconds from both of those times. Top speed for the Carrera S is 191mph, while the slightly heavier four-wheel drive Carrera 4S tops-out at 190mph.
In spite of that rapidity, Porsche's official claims are that the new 911 Coupe will return around 31mpg depending upon the model, with CO2 emissions between 205 and 206g/km.
The conduit between the engine hanging beyond the rear axle and the driven wheels is a new eight-speed PDK dual-clutch automatic transmission. We do expect a manual – probably an updated version of the existing seven-speeder – but it's not available straight away.
Will there be an electric version of the Porsche 911 Coupe?
Yes, we're expecting a plug-in hybrid version of the Mk8 911 to join the range within a couple of years of launch, given Porsche's expertise with E-Hybrid versions of both the Panamera luxury saloon and Cayenne SUV.
It's theoretically possible – but unlikely at this stage – that a fully electric 911 could form part of the range later in the model's lifecycle providing Porsche doesn't feel it will negate from the sports car range's overall appeal.
Porsche is producing an electric-only range, the Taycan, a four-door sports coupe set to go on sale towards the end of 2019.
What else do we know about the Porsche 911 Coupe?
Technology marches on and has swept the 911 along with it. This is immediately obvious in the cabin, where an analogue rev-counter is flanked by a pair of adaptable screens, while the multimedia system is controlled by a 10.9-inch touchscreen.
Further advances that debut on the eight-generation 911 Coupe include Wet mode that monitors for damp surfaces and preconditions various safety and control systems in anticipation of the inferior traction being available.
Additionally there are two web-based apps that Porsche claims enhance the 911 ownership experience.
Road Trip helps enthusiasts plan long, 'experience' journeys with pre-prepared routes along with points-of-interest and hotel recommendations, while Impact calculates financial contributions that 911 drivers can make to offset their CO2 footprint. How popular that one proves remains to be seen…
Should I buy a Porsche 911 Coupe?
If you've been reticent about plumping for the Mk8 911 because of the increase in technology, then allow us to allay those fears.
This is a seminal moment in the sports car genre and all of that electronic trickery complements the driving experience, heightening the pleasure experienced at the wheel. Albeit it a price.

Read on for Parkers' Porsche 911 Coupe full review