Maserati Quattroporte review
Current Model
Luxury Italian saloon offers something a bit different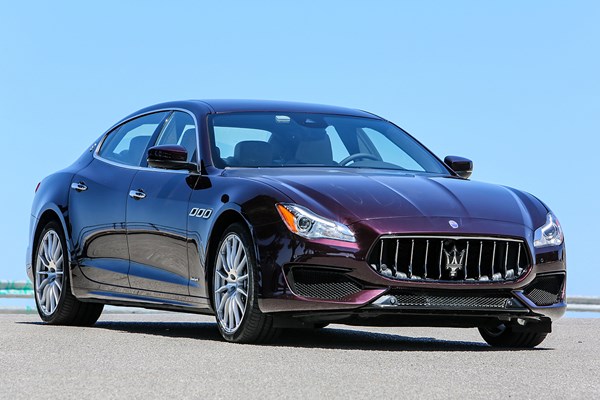 PROS
Immense presence
Air of exclusivity
Sporty driving experience
Petrol engines' aural drama
CONS
Lacks cutting-edge technology
Pre-facelift interiors feel cheap
Un-limousine-like ride
PROS
Immense presence
Air of exclusivity
Sporty driving experience
Petrol engines' aural drama
CONS
Lacks cutting-edge technology
Pre-facelift interiors feel cheap
Un-limousine-like ride
Everything sounds better in Italian – something the Maserati Quattroporte (literally 'four-door') has proved through various generations since 1963.
Mainstream large saloons have serious names that would look equally at home on a submarine or piece of construction equipment - the Mercedes-Benz S-Class, BMW 7 Series and Audi A8 – for example. Those, along with the Jaguar XJ and Porsche Panamera, are the Quattroporte's chief rivals.
This Italian offering is something a bit different then. A car with a name that sounds romantic and intriguing and an engine line-up that delivers equally sensational aural drama.
Range lacks rivals' complexity
Following the range's 2016 facelift which introduced a sharper grille design and increased levels of technology, you've got three flavours of Quattroporte to choose from: standard, GranLusso and GranSport.
The latter two differ visually, as well as in ethos, with the GranLusso focused on being more cosseting and traditional, the GranSport appearing bolder and more aggressive.
Regardless, you can expect 19-, 20- and 21-inch alloy wheels, enormous brakes, a mechanical limited-slip differential and 'Skyhook' active suspension damping.
Equipment-wise there are driver assistance systems, the traditional Maserati analogue clock, supple leather interiors, sat-nav and a Harman/Kardon stereo system.
Two petrol engines and a diesel
The inclusion of a diesel engine was a first for the Quattroporte. It's produced by fellow Italian firm VM Motori rather than Maserati itself, and features AdBlue exhaust after-treatment technology to help reduce harmful emissions.
For the real world this is the one you want - a 3.0-litre, twin-turbo V6 that provides suitable mid-range grunt without costing the earth to run.
It's the V6 and V8 petrols that will set your knees wobbling though, thanks to a fantastic soundtrack and rapid performance, dispatching the 0-62mph sprint in 5.1 and 4.7 seconds respectively.
An eight-speed automatic gearbox links the engine to the rear wheels – the UK misses out on the four-wheel drive option - and allows you to tailor the driving experience between serene chauffeur-like smoothness, and rapid, punch-in-the-back-style shifts.