View all Mazda 3 reviews

Mazda 3 Hatchback
Review
Current Model
Mazda's Ford Focus-fighter looks distinctive, is great to drive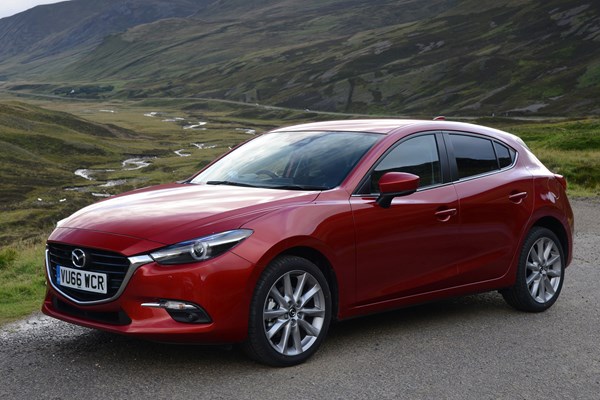 PROS
Distinctive looks
Economical petrol engines
Good to drive
CONS
Interior feels a little dated
Rivals more practical
Lacks some sparkle
PROS
Distinctive looks
Economical petrol engines
Good to drive
CONS
Interior feels a little dated
Rivals more practical
Lacks some sparkle
Verdict

The Mazda 3 goes head to head with some mighty popular family hatchbacks including the Ford Focus and Volkswagen Golf - two of the UK's bestselling cars. Then there's the Vauxhall Astra and SEAT Leon to contend with plus a raft of other models including the Hyundai i30.
There's even a sleek Fastback (saloon) to choose from too, though we're not sure of the booted car's merit in hatchback orientated UK.
Mazda makes great play of what it calls SkyActiv technology, which in layman's terms means that the engines, gearboxes, bodywork and chassis have been made using ultra-lightweight materials and innovative construction methods.

This means in theory Mazdas should be better on fuel and kinder to the environment than rival cars of a similar type as well as being better to drive.

Certainly CO2 emissions are low in comparison to the immediate competiion, and the diesel 3 in particular makes a sound company car choice - though tightening tax thresholds are now seeing this advantage dwindle.
Glamorous exterior, functional interior
Designed with Mazda's 'Kodo' brand identity in mind, the curvaceous hatchback bears a strong family resemblance to the CX-5 small 4x4 and larger Mazda 6 range of saloons and estates. There's no doubt it's one of the most distinctive family cars on the market.
It's certainly the boldest interpretation of the family look yet, with a deep front grille, curved wings and scalloped bodywork along the sides.

Inside it's rather more plain, though quickly recognisable to any Mazda cognoscenti. Shades of the CX-5 and 6 cabin are present, though there's a distinctive and easy to read instrument cluster and tablet style touchscreen sat-nav for those so equipped. Otherwise materials are robust and feel of high quality.
The firm claims the cabin has liberated more space for occupants than in the previous car, with class-leading shoulder room, but we found the rear bench a tad tighter than some of its rivals - for legroom especially. We'd also like to see a larger boot in the hatchback, that while lengthy is a touch on the shallow side.
Mazda 3 Skyactiv petrol and diesel engines

From launch, the new Mazda 3 range consisted of three petrol engines and one diesel, all equipped with a six-speed manual gearbox as standard – though a six-speed automatic is an option.
Kicking off the range is the 1.5-litre petrol engine producing 102hp at 6,000 rpm and 150Nm of torque at 4,000 rpm. Mazda says it will average 55mpg and emit 119g/km of CO2, and while it's not the most exciting version in the range it is one of the most worthy, and perfectly capable of hauling the 3 and a small family around.

There's a pair of 2.0-litre petrols with either 120hp or 165hp. Their peak torque is identical (210Nm) and doesn't arrive until 4,000rpm and the result is they feel less perky than the smaller capacity turbocharged engines found in many of the 3's rivals. Still, they're smooth and free-revving, and many will appreciate the sharper throttle response they offer.
Pick of the bunch is the 2.2-litre diesel which mixes the strongest performance (0-62mph in 8.1 seconds) with the highest economy and lowest emissions; 68mpg and 107g/km.
Smooth and refined, there's little penalty to be found with the diesel, and thanks to its lightweight construction it feels almost equally agile as the petrol cars.
Is there a new Mazda 3 MPS hot hatch?
Not this time around, no. Performance fans will have to investigate the MX-5 instead. The Mazda 3 Sport Nav is simply a trim level, and isn't any sportier than the rest of the line-up.
Latest technology
SE, SE Nav, SE-L, SE-L Nav and Sport Nav trim levels make up the Mazda 3 range, and on the top models you'll benefit from a range of active safety technology including automatic city braking, radar cruise control, lane departure warning, blindspot reduction and automatic high-beam headlights.

All derivatives feature a large media display screen in the centre of the dashboard controlled by a rotary wheel on the centre console and internet connectivity including Facebook and Twitter operation is available. The top-level models get a head-up display, a digital speedometer and the option of leather seats with electric adjustment for the driver.
The Parkers Verdict
Its unusual looks will ensure the 3 doesn't appeal to everybody, but we think its sharp handling and clever, intuitive cabin features alongside low-cost engine options mean it should at least make your shortlist.

Read on for the full new Mazda 3 hatchback review